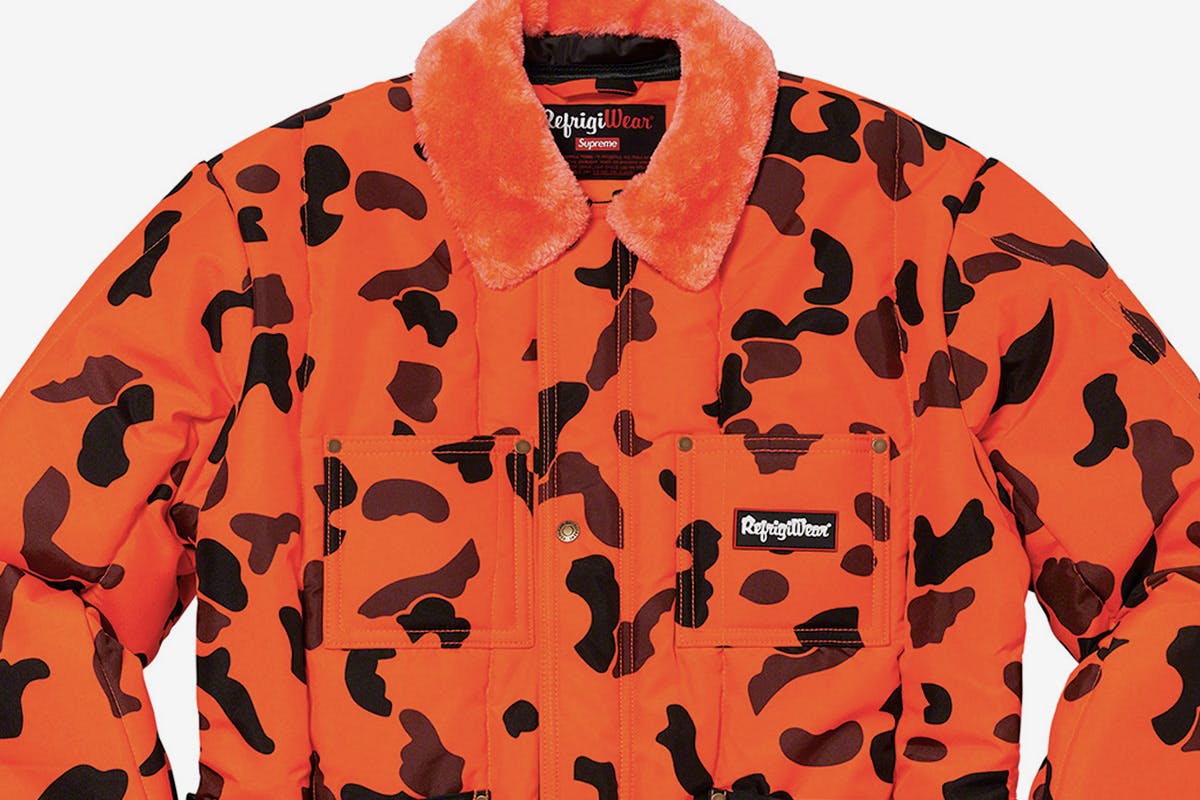 When Supreme's recent Fall/Winter collection was announced, it was collaborations with the likes of Colgate and Jacob & Co. that got most people talking. But dig beyond the surface and you'll find that, as always, there are several tie-ups with lesser-known names that are well worthy of getting excited about.
Supreme will release its collaboration with affordable workwear staple RefrigiWear this Thursday. It comprises two pieces: an iron-tuff jacket with a co-branded logo on the back, and a similar sleeveless version. Colors are optioned in black, teal, and orange camo.
So what is RefrigiWear? Outerwear for refrigerators? Well, yes. Kind of.
The historic outerwear brand dates back to 1954 when it was founded in Manhattan by entrepreneurial brothers-in-law Mortimer 'Mort' Malden and Myron Breakstone. It was Mort who sought an alternative to the ineffective uniform of bulky, layered wool when working in an industrial-sized refrigerator. He envisaged a new kind of outdoors wear, the kind suited to sub-zero temperatures.
Similar to Supreme, RefrigiWear prospered in New York City, where its tagline of "tough warm clothing for tough cold work" neatly surmised the garments' USP. The mainline introduced a heavy, industrial nylon fabrication that was water-repellent, anti-tear, and wind-proof, padded with a thermo-insulating material to lock in warmth. These pieces, known as "Iron-Tuff," were tested by one journalist who locked himself in a quick-freeze room (-60℉) for an hour. His report was that, while his eyebrows had frosted, he remained comfortable.
The brand grew in popularity, expanding from its original target customer of industrial workers to sportsmen and hunters. It became the unofficial uniform for those taking part in the annual 1,600km "sub-zero" Canadian-Alaskan dog-sled trek.
By the '80s, RefrigiWear had expanded into Europe, finding particular popularity in Italy. Nearly 40 years later, the label returns to its New York City origins with Supreme.
While many other brands are keen on only working with the biggest and most bankable companies out there, Supreme remains committed to shining a light on more under-the-radar gems that match up with its DNA and are in need of a contemporary profile boost. Think back to 2006 when it came together with 200-year old British knitwear label John Smedley or the 2007 collaboration with FILA, which arrived long before the Italian sportswear manufacturer re-entered the conversation thanks to its chunky FILA Disruptors kicks.
2020 has seen a number of high-profile collaborations such as Travis Scott x McDonald's and Dior x Air Jordan, but there was also an inverse trend of cool brands working with less fashionable heritage and outdoors labels. Pieces from the Eddie Bauer archive received the JJJJound treatment; Todd Snyder tapped unsung L.L. Bean; and further up the fashion chain there was Fendi x K-Way, the latter being a low-key Parisian brand known for its windproof and waterproof jackets.
If you want to up your outerwear game to withstand not just the freezing outdoors, but also the arctic conditions of warehouse refrigerators, then don't sleep this Thursday.