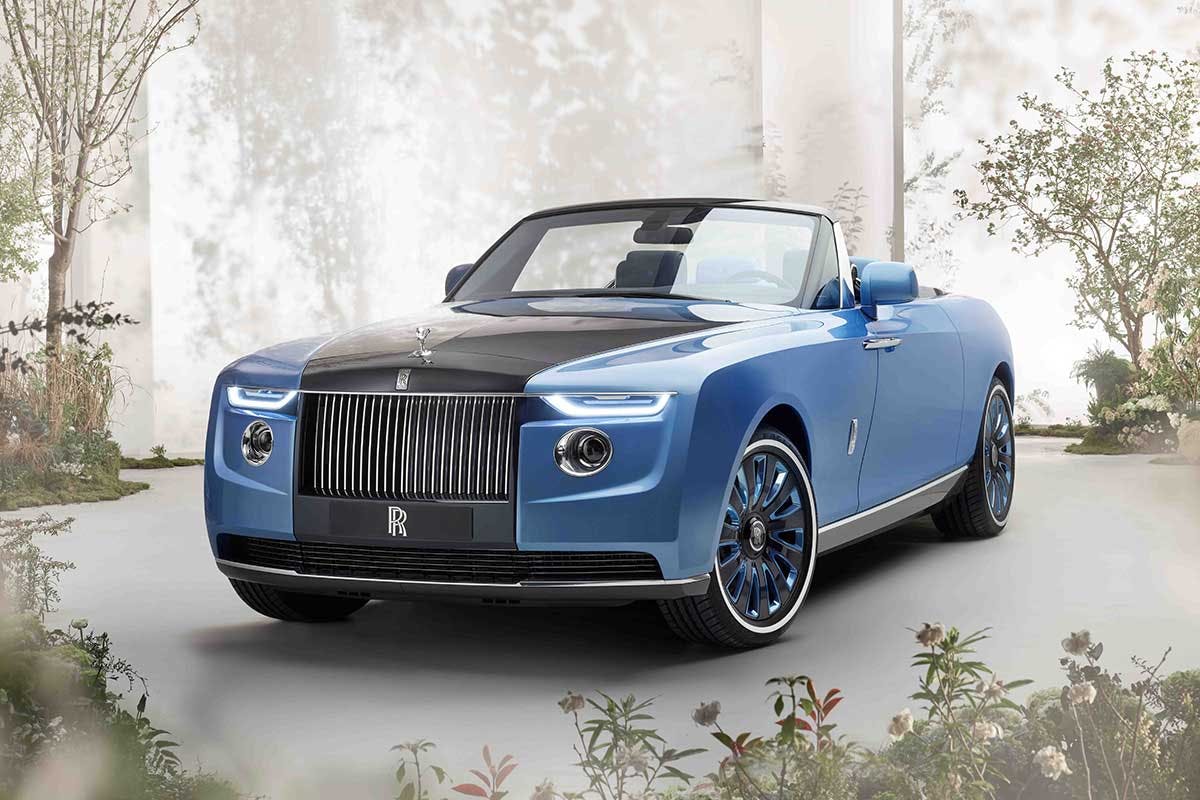 For the most part, cars are built with the express purpose of transporting people from Point A to Point B. But Rolls Royce's latest coachbuilt masterpiece, "Boat Tail," shuns that paradigm altogether.
"It is a hand-built Rolls-Royce in the truest sense of the world," explained a spokesperson for Rolls-Royce during the invite-only event that Highsnobiety attended, wherein the British automaker debuted Boat Tail in all its glory. "You can build 100-meter superyachts quicker than this car, which is entirely fabricated by hand."
To start, it's important to define what "coachbuilt" actually means. In the late 19th century, when only the wealthy could afford automobiles, car companies would only build chassis and coachbuilders would then craft each car's bespoke body. Rolls-Royce was one of the last companies to cease the practice, holding out until the second World War before transitioning to unibody production (the process of fusing the chassis and body).
Even as it began to focus on "production" models, Rolls continued to produce coachbuilt cars in extremely limited numbers for deep-pocketed patrons. And in 2018, Rolls-Royce kicked off a fully customizable Coachbuild program with the jewel box-like Sweptail. The one-off motorcar represented a renaissance of sorts for Rolls Royce, every detail tailor-made to meet exacting specifications.
In a luxury car space, where even "off the rack" models can run into the hundreds of thousands, it leaves a lot up to the imagination what it costs to drive home in your own coachbuilt Rolls (the brand won't confirm the final price). This brings us to the 19-foot-long Boat Tail, an inordinately opulent automobile made for a trio of clients who collectively contacted Rolls. It took four years for the first Boat Tail to be produced, though Rolls-Royce estimates that this car alone demanded the cumulative equivalent of 20 years in man-hours comprised of 1,813 exclusive new parts.
Stylistically, Boat Tail merges classic '30s-era Rolls design with elements of the J-class yachts favored by its three clients. Note that each of the to-be-three Boat Tails is similar in concept, but all will be personalized and the "however long it takes" production process promises further distinction.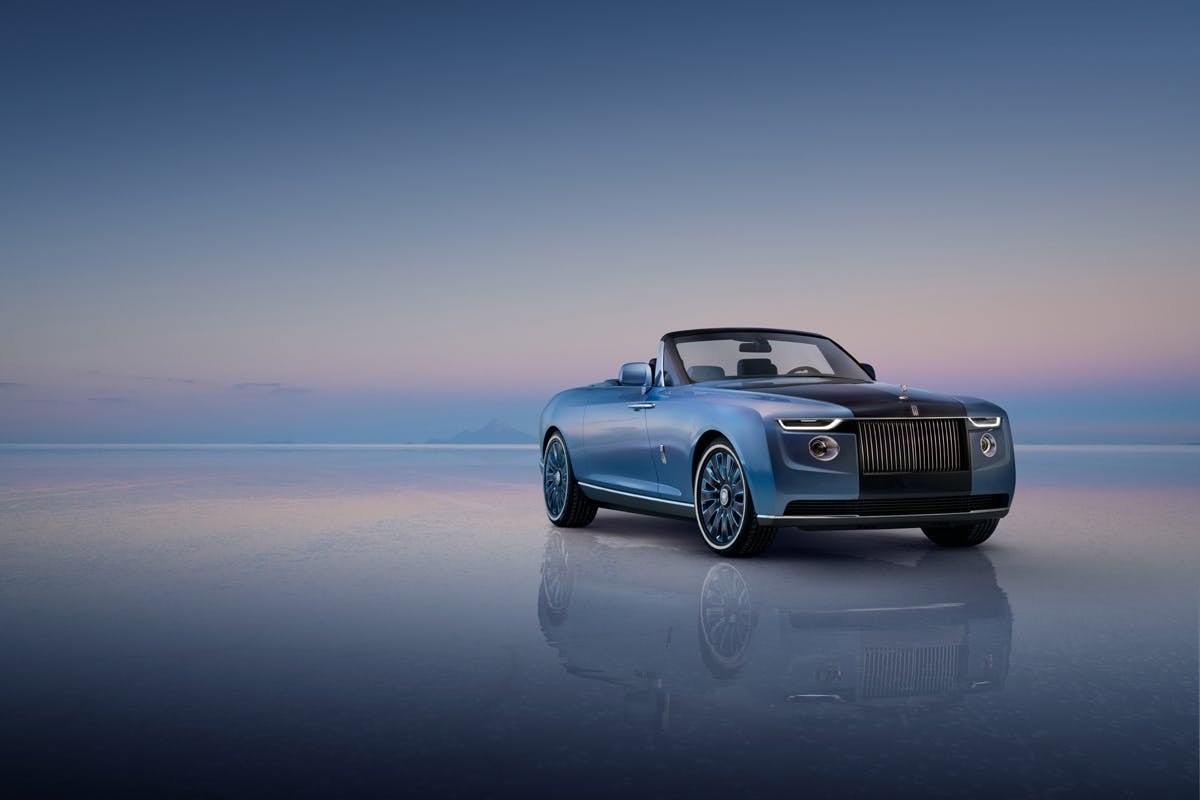 All Rolls-Royces are defined by materiality and process, and like all else with Boat Tail, the British manufacturer takes even those lofty tenets a step further. For instance, craftspeople used their gloved fingers to soften the automobiles' still-wet paint, itself specially made for these cars and imbued with subtle crystal flakes for a glistening veneer.
Hand-hammered to form, Boat Tail is shaped by a single piece of metal interrupted only by the doors. Despite the demanding detail that informed the fabrication, Boat Tail's resulting silhouette is a lesson in conscious reduction, mathematically equating continuous lines and scale for perfect presence.
Meanwhile, the transforming rear "deck" is what gives Boat Tail its name. A button-press shifts its synchronized butterfly panels 15 degrees skyward, revealing a temperature-controlled hosting suite accompanied by a polished and color-matched champagne refrigerator, engraved silver cutlery fabricated by Paris' Christofle, and, as a cheeky wink to Rolls' tradition of door-stowed umbrellas, a purpose-built parasol in anticipation of pleasant weather to come.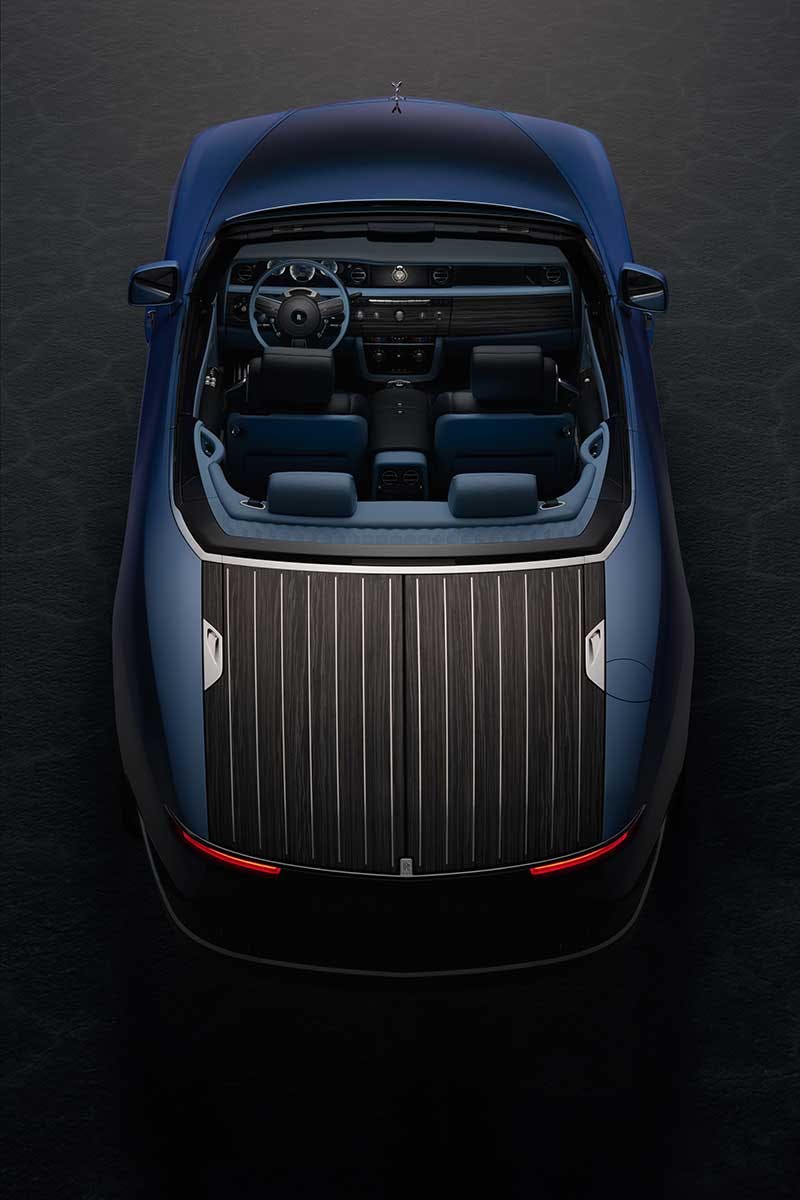 Cocktail tables are also tucked inside, accompanied by Rolls-designed, Promemoria-crafted interlocking stools cut from the technical fiber of Boat Tail's exterior and lined with leather identical to the interior.
Speaking of interiors, Rolls-Royce hasn't fully revealed Boat Tail's inside, perhaps to give its mysterious client an extra layer of an enigma, but a few over-the-top aspects have been divulged. For instance, the leather lining sports a metallic hue to mirror the exterior, stitched and piped with a more intense blue.
Laborious guilloché engraving burnishes the instrument panel, a nod to luxury timepieces taken several steps beyond the pale by the involvement of BOVET 1822. The Swiss luxury house was brought on board to collaborate with Rolls-Royce's master craftspeople to piece together radically redefined dashboard "clocks."
Specifically, Boat Tail boasts a pair of reversible timepieces three years in the making — one for husband and another for wife — that can be worn or placed within the Boat Tail's fascia in place of a conventional clock; suitably opulent centerpieces for an incredibly over-the-top car. There's even a drawer in the dash for extra watch straps.
"Boat Tail creates a sense of occasion and then serves it," the Rolls-Royce spokesperson explained. "It's not a means of conveyance, it is the destination itself." Is reductive opulence a thing? Rolls-Royce makes it so.
This story features reporting by Jonathan Schley.