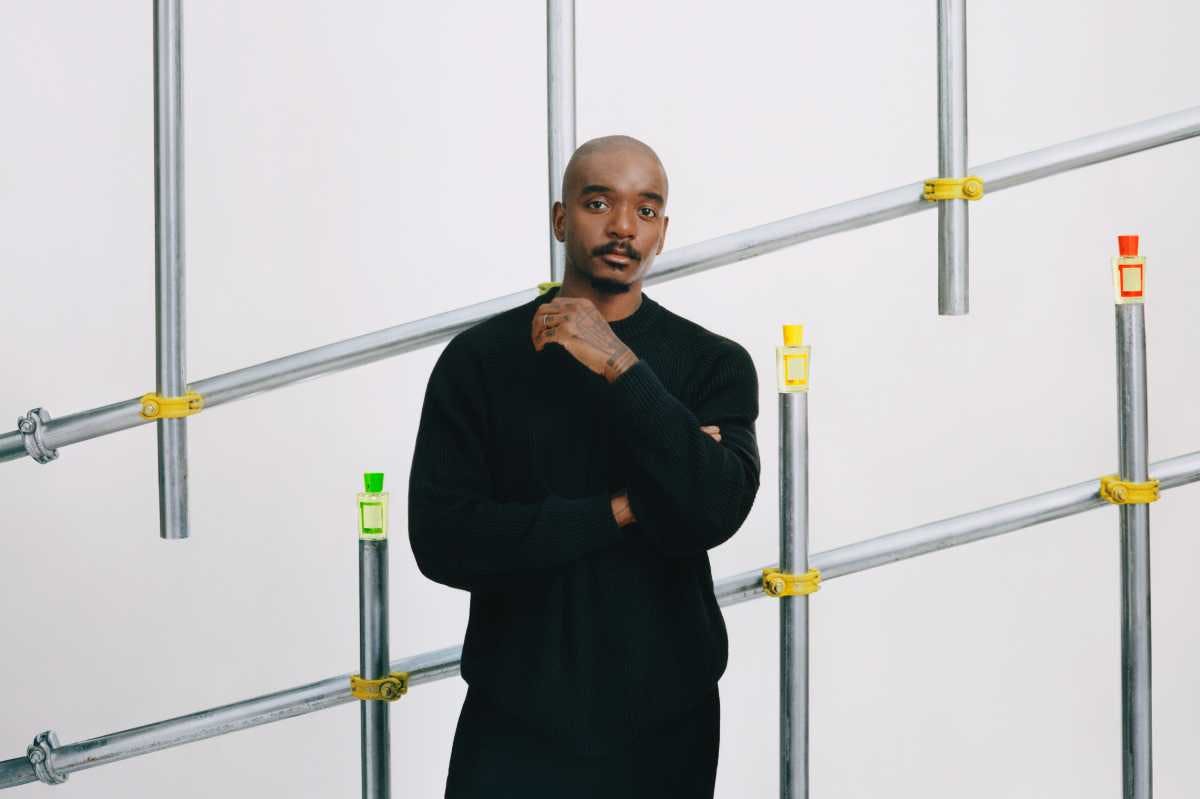 It was only a matter of time before Samuel Ross forayed into fragrance. The designer's creative output, spanning fashion, sculpture, and furniture, knows no bounds — so when Ross was introduced to the team behind Italian fragrance house Acqua di Parma, he saw an opportunity to innovate.
The pair first met after Acqua di Parma scented an installation showcasing Ross' recent collaboration with Hublot, an orange version of the watchmaker's Big Bang Tourbillon that sold out in less than 24 hours. Impressed by the impact of Ross and Hublot's team-up, Acqua di Parma reached out to the British designer to talk teamwork.
Brainstorming over several Zoom sessions with Acqua di Parma's Head of Product Development Paola Paganini, Ross decided to build a "parallel universe," as he puts it, for Acqua di Parma that would draw from the brand's background while anchoring its 100-year-plus history in the present and future.
Thus, a three-year partnership between Acqua di Parma and Ross' design studio, SR_A, was born. The pair's inaugural offering? A redesigned version of Colonia, Acqua di Parma's very first fragrance that launched in 1916 (that's 107 years ago, if you need help with the math).
"I wanted to start with a product that represented the notion of what it is to be an urbanite, what it is to move between cityscapes and landscapes," Ross said. Traveling frequently between London — the location of SR_A's headquarters, not to mention Ross' birthplace — and Milan, where the atelier for his fashion brand A-COLD-WALL* resides, Ross is a seasoned city-dweller.
Instead of tampering with the scent itself, Ross retooled the perfume bottle as a reflection of Colonia's innate sense of "urgency," a feeling that hit him the first time he smelled the fragrance — and a quality that anyone living in a bustling city is well-acquainted with.
Translating the intensity of city living to design, Ross updated the bottle in neon yellow, lime green, and Day Glo orange. "[These colors] are so relatable in terms of where they appear in one's engagement with the city," Ross explained. "You start thinking about padding surrounding scaffold. You start thinking of double yellow lines. You start thinking about emergency access signs."
In addition to industrial color theory, Ross looked to the work of architects Richard Rogers and Renzo Piano, two icons of urban design. While diving into their oeuvre, as well as the design culture of Italy and Milan, Ross developed the graphic that appears across all three brightly colored bottles: a rectangle of negative shape that he describes as a "viewfinder," a reference to the ways in which scent can literally and figuratively reframe a space.
The connection between scent and space is a concept that has always fascinated Ross. "The earliest [scent] memory I have is my grandmother's house in Brixton — the scent of Nag Champa incense filling the home and delivering an atmosphere of relaxation and sanctity," he recounts. To this day, Ross burns incense, typically Nag Champa or hand-rolled sticks from Calcutta, in his London design studio. "If you were to step in, you'd see a pile of incense ash and incense burners."
Ross' attraction to fragrance is less about scent and more about environment. "It's the visual, the process of the slow release of an incense stick over time, which I'm quite drawn to," he says, adding that there's a theatricality to the ritual of burning incense. These scented rituals extend beyond his studio — "In my apartment, the process of scent determines the vibe and the aura, whether it be essential oils or candles or incense or a diffuser. Scent as a tangible aspect to warm the spirits is so important."
Less than 12 months into his three-year journey with Acqua di Parma, Ross has plenty up his sleeve. He can't reveal too much, but he rattles off a list of territories that ADP and SR_A have yet to explore: "Enhanced retail spaces and installation spaces, bottle design, glass and form, literature. There will definitely be an expansion across other scents as time goes on as well."
So buckle up: Colonia is just a perfumed drop in Ross and Acqua di Parma's multiverse of scent.