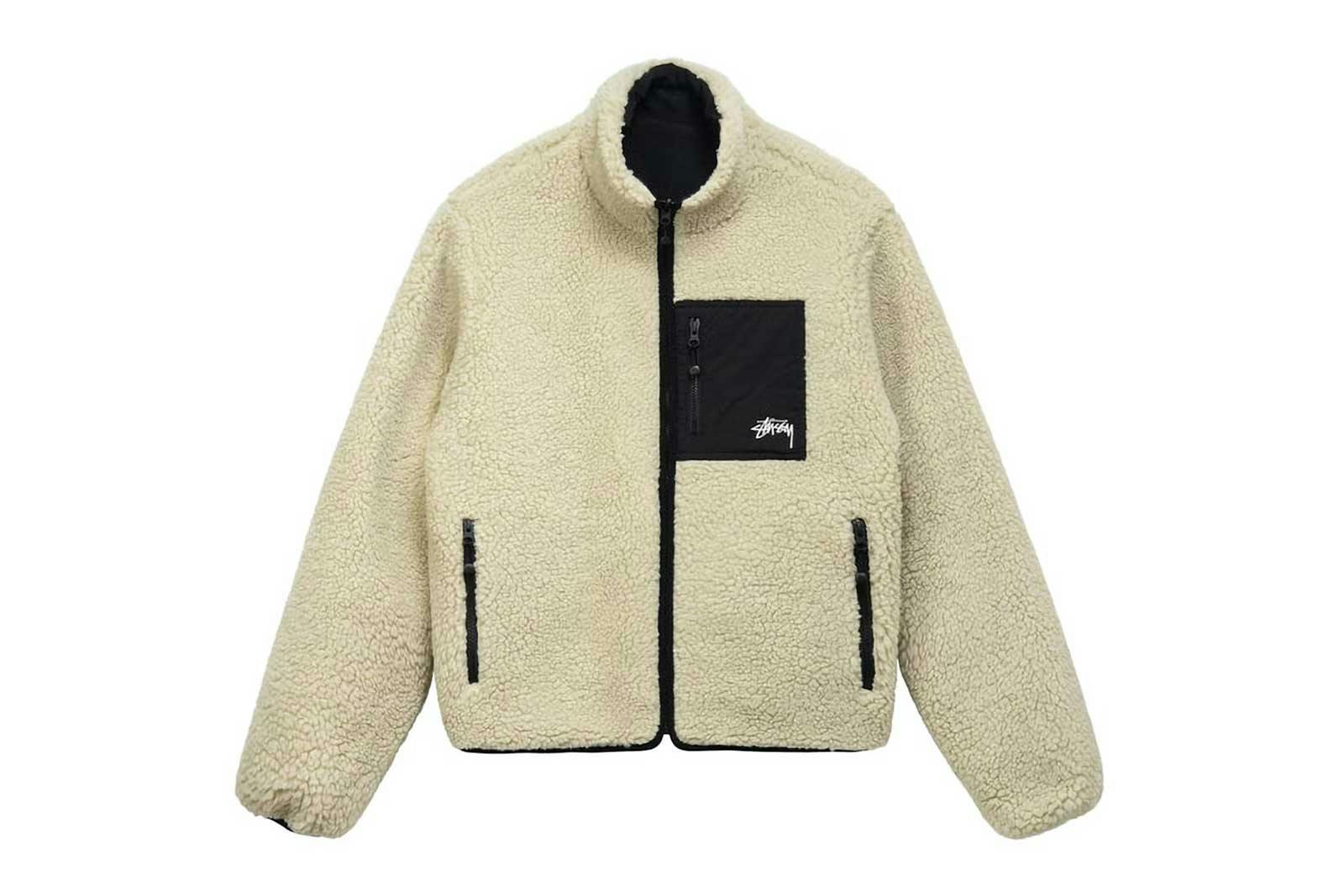 Tracking the whims of TikTok is a full-time job (trust me...) and it's impossible to tell what'll take off across the app until you're already in the middle of the next big trend. Birkenstock's Boston clog, Onitsuka Tiger sneakers, Dickies pants: so much of what hits is surprisingly utilitarian.
Well, sometimes, because TikTok loves viral luxury fashion as much as it does unassuming normal stuff.
Stüssy is right in the middle of the two lanes that fashion TikTok so frequently walks.
Though the longstanding streetwear label is already popular with the app's young consumer base for various reasons (affordable, cool, semi-exclusive), it never scored a proper viral hit until this one reversible 8-ball fleece jacket released as part of Stüssy's Fall 2022 collection in early October.
Then, Stüssy was inexplicably off to the race.
Videos of TikTokers unboxing and styling Stüssy's 8-ball sherpa, as fleece is sometimes known, have raked in millions of "likes," hundreds of thousands of views, and tens of thousands of comments over the past few weeks, prompting the jacket to instantly sell out online.
Unlike, say, UGG's platform boots, which leveraged an influencer gifting spree to swift fame earlier this season, Stüssy's 8-ball fleece wasn't promoted at all.
In fact, it didn't appear at all in the Fall 2022 lookbook, though models did pose beside a giant 8-ball sculpture.
It's one of those things that you can't really predict.
A core piece of Stüssy iconography, the 8-ball logo has been a part of the brand since the early days. It's been reproduced across T-shirts, hoodies, sweaters, keychains, rugs, water bottles, socks.
But only once it was printed across the rear of this reversible fleece jacket did the kids go wild.
"Literally the coolest fleece I've seen," one comment reads. "Sadly it became so populair [sic] on tiktok [sic] again the price raised insanely much," another moaned.
Indeed, all three colors of Stüssy's $220 fleece sold out the moment the collection dropped and the jacket has since become a resale nightmare for casual fans.
The most desirable beige color, for instance, is currently reselling online for upwards of $450, with especially hopefully scalpers trying to squeeze nearly four figures out of the jacket
The Stüssy 8-ball fleece is so omnipresent that backlash was inevitable, as some commenters pray for restocks (unlikely, knowing Stüssy) and others recommend alternative jackets, seemingly neglecting the fact that part of the Stüssy sherpa's appeal is the giant 8-ball on the rear.
Stüssy does a fleece every season and likely has more in store for its holiday collection but don't expect lightning to strike twice.
These kinds of fleeting TikTok trends come and go without rhyme or reason. Stüssy does appear to have more 8-ball goods in store for the near future (including layering pieces and sneakers) but it's just not any jacket that'll do the trick: it's this specific reversible 8-ball fleece that hits just so.
As one commenter posted beneath an entirely unrelated image on Stüssy's Instagram page, "We just want the 8-ball jacket tho."
Shop our favorite products