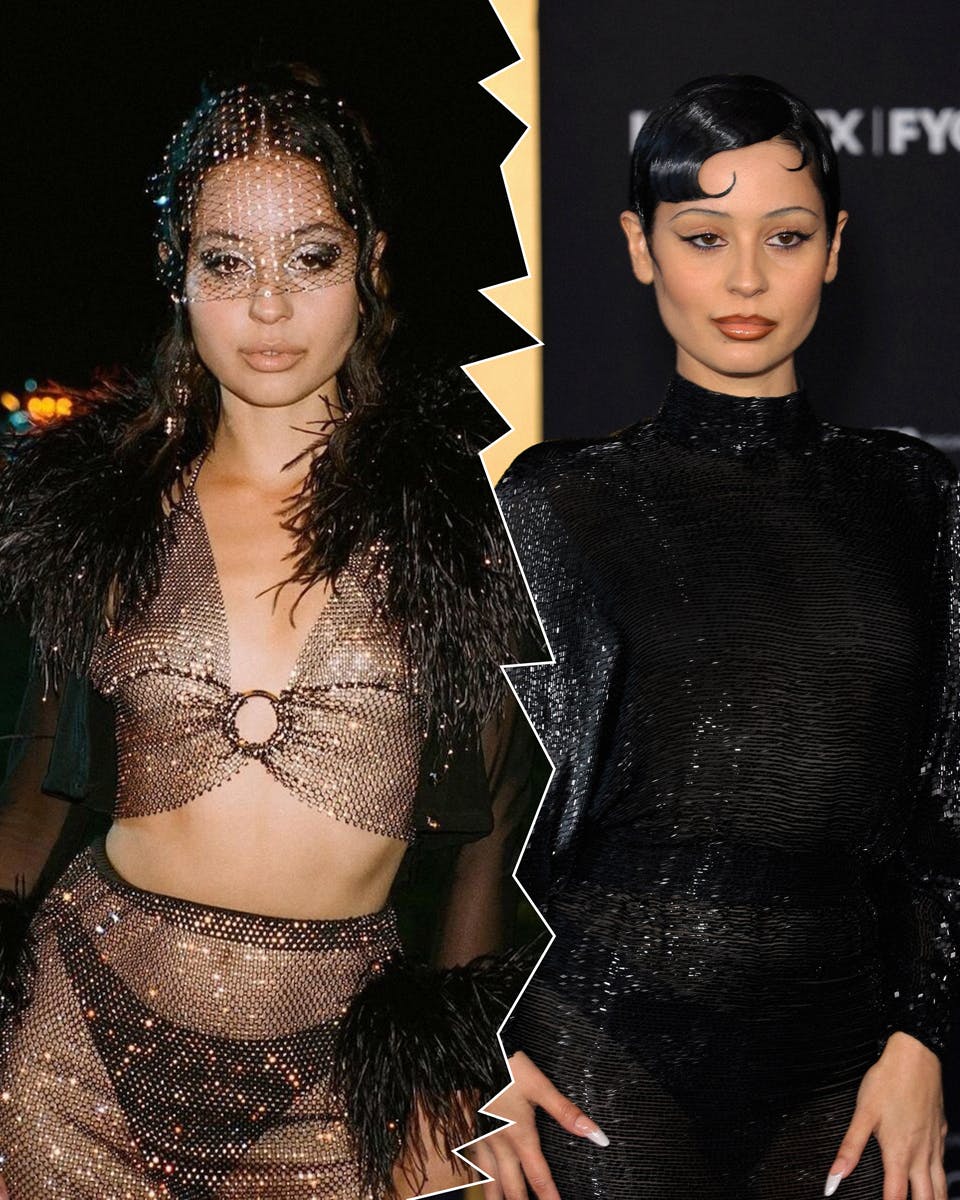 We never thought the day would come when Euphoria's Maddy Perez would meet her stylistic equal: Alexa Demie, the actress who portrays Perez on the hit HBO series.
On April 20, Alexa Demie did what she does best: a public pop-out after being MIA. She attended Euphoria's FYC event alongside her castmates, like Zendaya, wearing a killer see-through black glitter dress straight from the Norman Norell 1970 archives.
Demie even gave us a twirl, revealing her exposed backside and panty-covered bum (absolutely). She rounded off the look with a Agent Honeydew-esque finger wave hairdo.
Even off-screen Alexa Demie still oozes main character energy IRL. Still, it's no denying that look for the Euphoria event was quite on-brand for the actress who plays Maddy Perez — the show's on-screen and off-screen trendsetter.
Demie's latest look reminds me of one of Maddy Perez's looks from the series. Indeed, if Maddy saw Demie's ensemble, she'd likely hit her with her famous "Bitch, you better be joking" line.
Maddy Perez's winter formal look from Euphoria's first season had us stunned and questioning the institution's dress code at the same time as she showed up at the school-sanctioned event wearing a barely-there dress.
The outfit in question was a custom AKNA by Aidan Euan see-through Swarovski crystal-embellished two-piece skirt set, an ostrich-trimmed mesh cropped jacket, and a crystal-adorned veil.
Maddy Perez always delivers looks in Euphoria — thanks to the costume designer Heidi Bivens — that's why she's the show's most stylish character (duh). But then again, these looks would be meaningless without Alexa Demie's "it girl" appeal and demeanor, which enhances the character's unapologetic style moments.
Sorry Maddy, but Alexa Demie and her sheer bum-tastic gown win this battle. Without Demie, there'd be no proper delivery of Maddy Perez's famous one-liners or club dresses for high school classes.
Either way, we're getting more Maddy Perez and Alexa Demie. Some may call it an "L," but I think it's a euphoric win-win.
Shop our favorite products