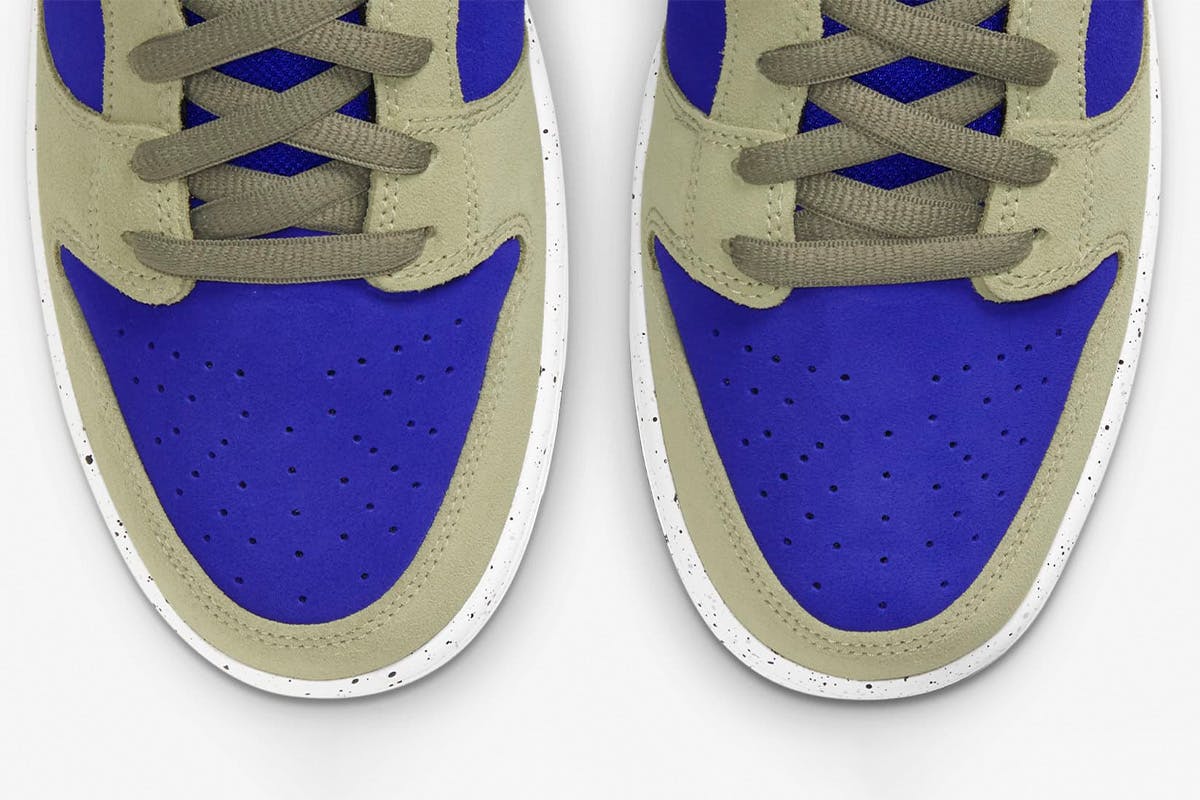 Few shoes can rival the year that the Nike Dunk has had. From cult sneakerhead favorite to the most sought-after staple, the Nike Dunk saw an unprecedented rise to stardom thanks to a string of high-profile collaborations and a little help from celebrities. And, while the part-court, part-skate silhouette is no stranger to four-figure price tags at resale, there's a host of Nike Dunks colorways from 2021 that won't destroy your bank account.
Of course, it's been easy to get caught up in the hype of the Nike Dunk over the past year or so. With releases ranging from Travis Scott to Ben & Jerry's and Grateful Dead, the Nike Dunk really has seen all sides of the collaboration spectrum and the results have been nothing short of unforgettable. But if you step away from the big-ticket collaborations, there's a world of Nike colorways on eBay that are more versatile and much easier on the wallet. Even better, eBay's new Authenticity Guarantee means that you can be sure that you're buying the real deal every time.
It's testament to the Dunk's popularity that this roundup only includes 2021 releases, and each one of them is as fire as the last. It's been a year for the ages for this silhouette, so how better to commemorate the (re)rise of the Nike Dunk than with one of these underrated 2021 colorways?
Shop our favorite 2021-released Nike Dunks on ebay below.
The prices listed are our lowest buy-now finds at the time of publishing. They are not exact and may differ.
Green Glow

(Available at 2 Merchants)
(Available at 2 Merchants)
We love pastels all year round, but when summer's on the horizon it feels rude to not have at least one highlight pastel palette in your rotation. The Nike Dunk Low Green Glow dropped on April 16 and it's a certified summer MVP.
White Black
It's not the first time that we've seen the Nike Dunk Low dressed in white and black, and we're still in love with it. If you're looking for a Dunk colorway to wear day in, day out, then this one should be top of your list.
Photon Dust
We've seen a few really successful white and grey Nike releases this year, and one of them is the Nike Dunk Low Photon Dust. Released on April 16, this pair features a supple white leather upper with almost tonal grey overlays for a pared-back finish.
Hyper Cobalt
March 12 saw the retro rerelease of the Nike Dunk Low Hyper Cobalt. The colorway pits Hyper Cobalt against a black backdrop to eye-catching effect. This pair isn't over-the-top, but it definitely doesn't sink into the background, either.
Dark Sulfur
If you're more into the retro appeal of high-tops right now, we don't blame you. Indulge your vintage desires with the Dunk High Dark Sulfur which, thanks to the two-toned palette, packs a punch but with moderation.
Orange Pearl
February 11 was a good day for Dunk fans as the Orange Pearl dropped. This women's colorway surely got the men jealous with its Sail foundations overlayed with Orange Pearl leather. Despite its name, Orange Pearl appears closer to pale pink.
Syracuse
Varsity colorways are a surefire win. We're yet to see a varsity-inspired color combination that we don't like. There's something intrinsically eye-catching about the two-tone palettes and Syracuse's orange and white iteration is testament to that.
Vast Grey
In a sneaker world that often rewards the designs that shout the loudest, it's sometimes the most minimal colorways that land the best. The Nike Dunk High Vast Grey dropped on February 25 and was an instant success. No surprises there.
Celadon
Nike SB launched in 2002 and can arguably be credited with keeping the Nike Dunk alive. This pair connects Nike SB and Nike ACG, two of the Swoosh's most favored sub-labels, and this premium suede pair leaves no questions as to why.
Coast
UCLA's pale Coast palette dressed this Nike Dunk Low back in January and we still think about it regularly. Subtle twists in the design like University Gold embroidery to the heel tab and tongue label give this pair a unique character.
Want to keep browsing? Head to the Highsnobiety Shop for more products that we love. Highsnobiety has affiliate marketing partnerships, which means we may receive a commission from your purchase.