 More people than ever are taking on trail-running as a sport, hobby, or way to stay fit. Over the course of the pandemic, people have reconnected with the outdoors. A lot of people that might have been considered full-time city dwellers before 2020 are now placing larger importance on surrounding themselves with nature.
Trail-running offers the perfect balance between exploring what nature has to offer and moving your body to stay physically fit and mentally sharp. You're hitting two birds with one stone: getting outside and away from the city, while simultaneously using that time to work out. It's no surprise, then, that people are looking to find the best trail running shoes for their level of activity.
Finding the right trail running sneakers — just like finding the right running sneakers or marathon training regime — isn't as simple as it seems. There are a number of factors that contribute to determining what the best trail running sneakers are for you. Everything from the terrain to the distance, to your budget, to your skill level needs to be kept in mind when picking out trail running shoes.
That's not to say you can't just pick up any old shoes (providing they fit) and hit the trails. You can. But if you want to optimize your experience, you might want to make sure you get the best trail running shoes for you. Our short guide below, compiled through personal experience and resources online, was created to help you make an informed decision.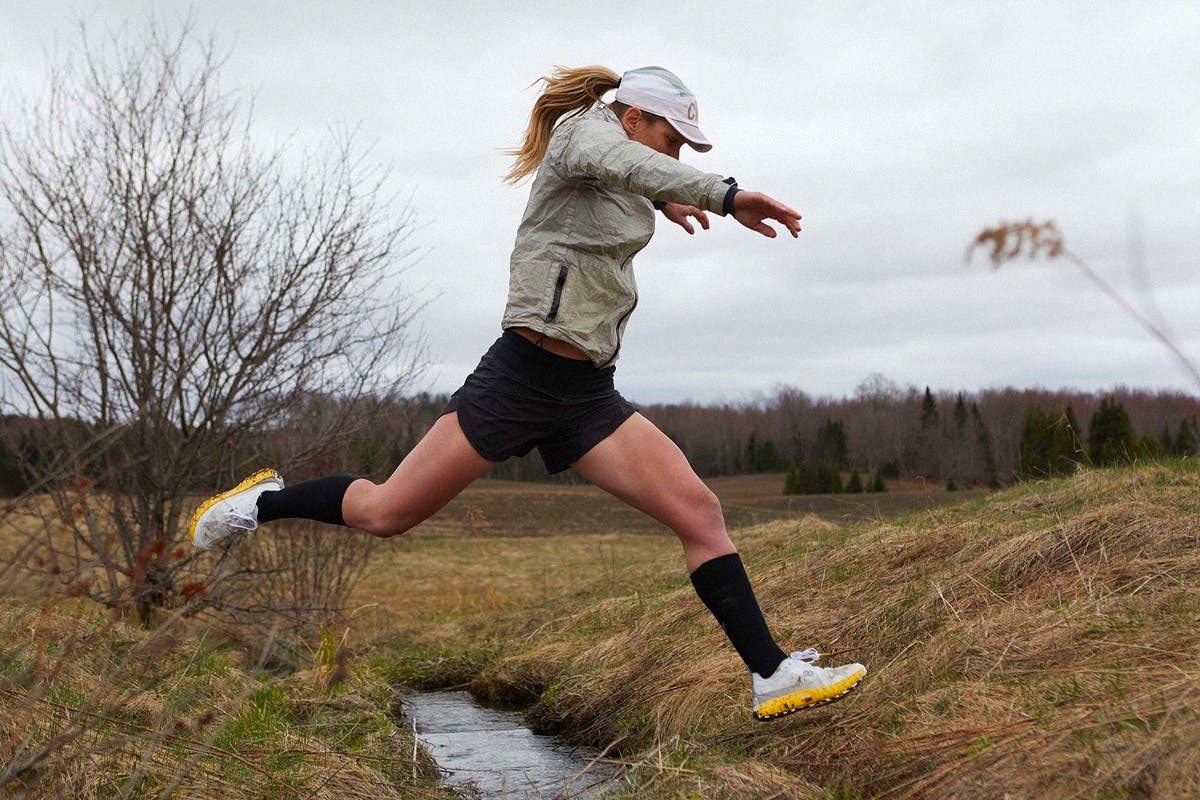 Read on to find out how to choose the best trail running sneakers for you.
How to choose the best trail-running shoes
To find the best trail running shoes for you, you need to know what you want to get out of the shoes. Good questions to ask yourself are how far you're going to be running, what kind of terrain you'll be running on, and in what kind of weather you'll be outside. If you're someone who runs on the track or on asphalt, you might already have preferences when it comes to the weight and composition of your running shoes. Some people prefer more stability and therefore a more rugged build. Other people want to be fast, regardless of where they're running and will sacrifice some support for a more lightweight shoe.
At the end of the day, the best trail running shoe is the one that fits the best, you feel comfortable and — above all else — safe to run in, as well as one that fits into your budget. Don't get too bogged down by brands or colors and, if you can, head to a store to try them out before buying them (I know, counter-intuitive on a post rounding up the best trail running shoes to buy right now).
Do my trail-running shoes need to be waterproof?
Again, this really depends on where you live, where you think you'll be doing most of your running, and what your personal preferences are. As a general rule of thumb, no, your trail running shoes don't need to be waterproof. Most trail runners are water and weather-resistant already, meaning you'll be able to plow through small puddles and mud without having to worry too much about getting your feet wet. This is due to the materials typically used on trail-running shoes, where nylon and neoprene are sometimes favored over the mesh used on traditional running shoes.
That being said, many trail running sneakers (and sneakers in general) are now being constructed using different types of weatherproofing materials or technologies, such as GORE-TEX. If you think you'll be running in inclement weather or through more muddy terrain, then waterproof shoes are definitely not a bad option to have.
How important is grip?
The name of the sport says it all. Grip is what sets trail running sneakers apart from normal running shoes. You're running in the outdoors, on trails that may or may not have been traveled before you. The chance that your ride will be relatively flat and bump-free is close to zero. But that's why people go trail-running. It's a much more intense workout that requires just as much focus as it does balance, speed, and timing. Trail running shoes with grip obviously are a big help. That's why a lot of brands will use outsoles with a heavy tread, to avoid slips and falls, and will often team up with specialists such as Vibram, ContraGrip, and Continental to construct said sole units.
How should trail-running shoes fit?
Trail running sneakers should be comfortable, first and foremost. Generally, it's said that the sneakers should be snug around your midfoot and arch area. This avoids you slipping back and forth in the shoe and gives you extra support so you don't twist an ankle unnecessarily. It also locks down your heel, which is very important regardless of what type of running you're doing. Important to note, is that you should leave at least a thumb-width of space at your toes. When trail running, you're running up- and down-hill, as well as over uneven terrain. This means your toes need a lot of space, otherwise they will be hitting the front of your shoe, which can cause pain and, in some cases, injury.
Scroll on for a selection of the best trail-running shoes to buy right now.
norda G+ Spike norda 001 Sneakers
These work well whether you are a veteran in the trail-running game or simply trying to ride the trail-running wave. The norda G+ Spike 001 is made with a Vibram sole that comes equipped with 20 carbide-tipped spikes. This means the shoe will keep you secure no matter how uneven the terrain. The brand's breathable and waterproof G+ Graphene upper will protect you from any unpleasant wet sock moments. It's a shoe that easily makes the top of the list this season.
Salomon XT-6 Advanced
The XT-6 is one of the best-looking sneakers out there...period. Amid the functional-wear hype, this shoe has emerged as Queen. It's built for rugged terrain, can handle harsh conditions, and comes in an array of stunning colorways (or triple black, like above). There is a reason why ultra-distance runners and sneakerheads consistently have these in their rotation.
HOKA One One Gaviota 3
If you need a shoe with a robust and springy outsole for running, the Graviota should be your top choice. If you want a chunky, stylish, black, low-maintenance sneaker for city nights that also doubles as a trustworthy runner, the Graviota should be your top choice.
On Cloudventure
The Cloudventures will look good on and off the hiking trail, making them a top choice for the season. Aside from the pleasing aesthetic, the shoes are light and built for comfort, thanks to the brand's CloudTecⓇ. You can easily get away with wearing these all day. If you're planning a longer run in the great outdoors, there's no better option.
adidas TERREX Two Flow Trail Running Sneakers
Streamlined and ready for off-road, adidas' Two Flow trail running sneakers are built for mixed terrain thanks to its Continental™ Rubber outsole. Pavement? Easy. Gravel? C'mon. Dirt trail? Not even a challenge. The shoe's gray, black, and neon color scheme is not too bad either.
Nike Wildhorse 7
The Wildhorse is a neutral running shoe in a head-turning package. An improvement on the previous iteration, the sneaker comes with a brand-new upper with better ventilation as well as Nike's beloved React foam.
New Balance Fresh Foam Hierro v6 GTX
New Balance has been quietly dropping some top trail running contenders. The Hierro v6 GTX is on that list. It's one of the more refreshing designs in this ever-expanding world of functional sneakers.
Mammut Sapuen Low GTX®
The Sapuen Low GTX is another all-terrain masterpiece from Mammut. The shoe sports an elastic GORE-TEX Tongue Construction and grippy outsole. Hugging your foot, Mammut's Flextron Tech will keep you from rolling your foot while out hiking across uneven areas. To top it all off, the blue and gray looks clean.
Nike ACG Mountain Fly Low
We can't seem to get enough of Nike's ACG Mountain Fly Low. Now in a chocolate brown? Please sign us up.
Want to keep browsing? Head to the Highsnobiety Shop for more products that we love. Highsnobiety has affiliate marketing partnerships, which means we may receive a commission from your purchase.