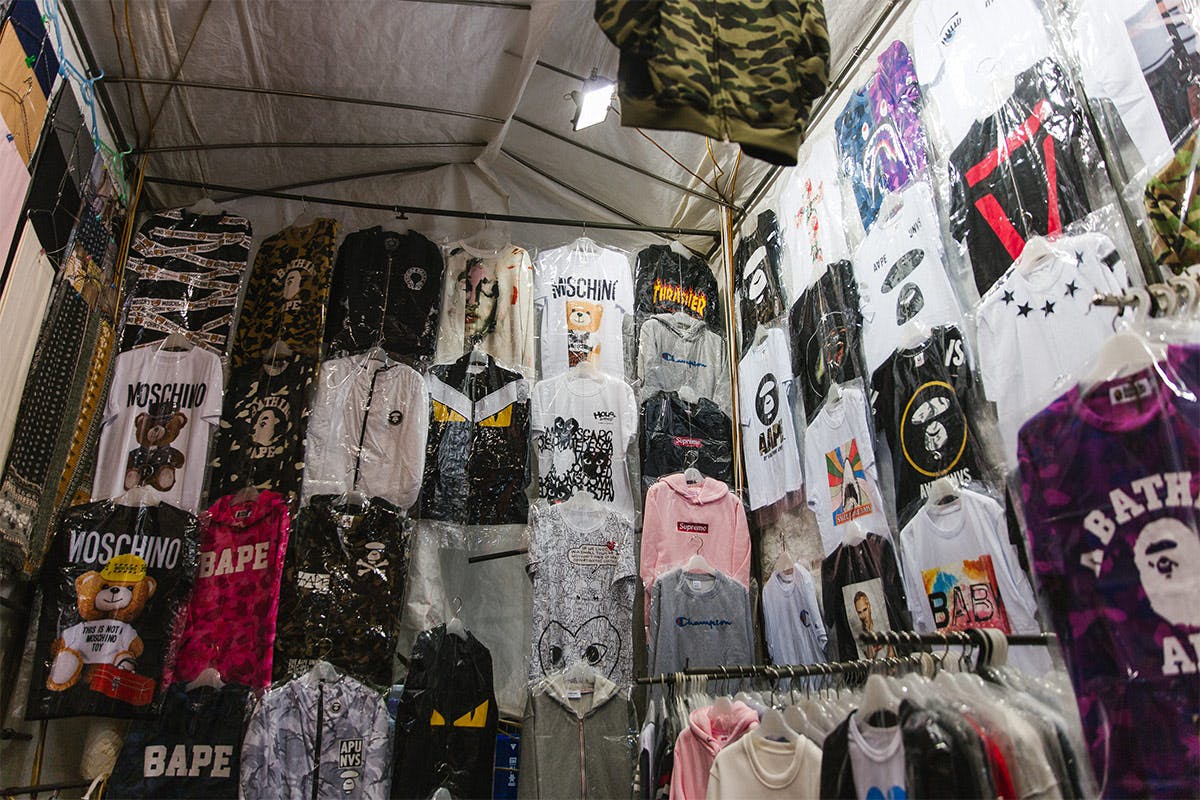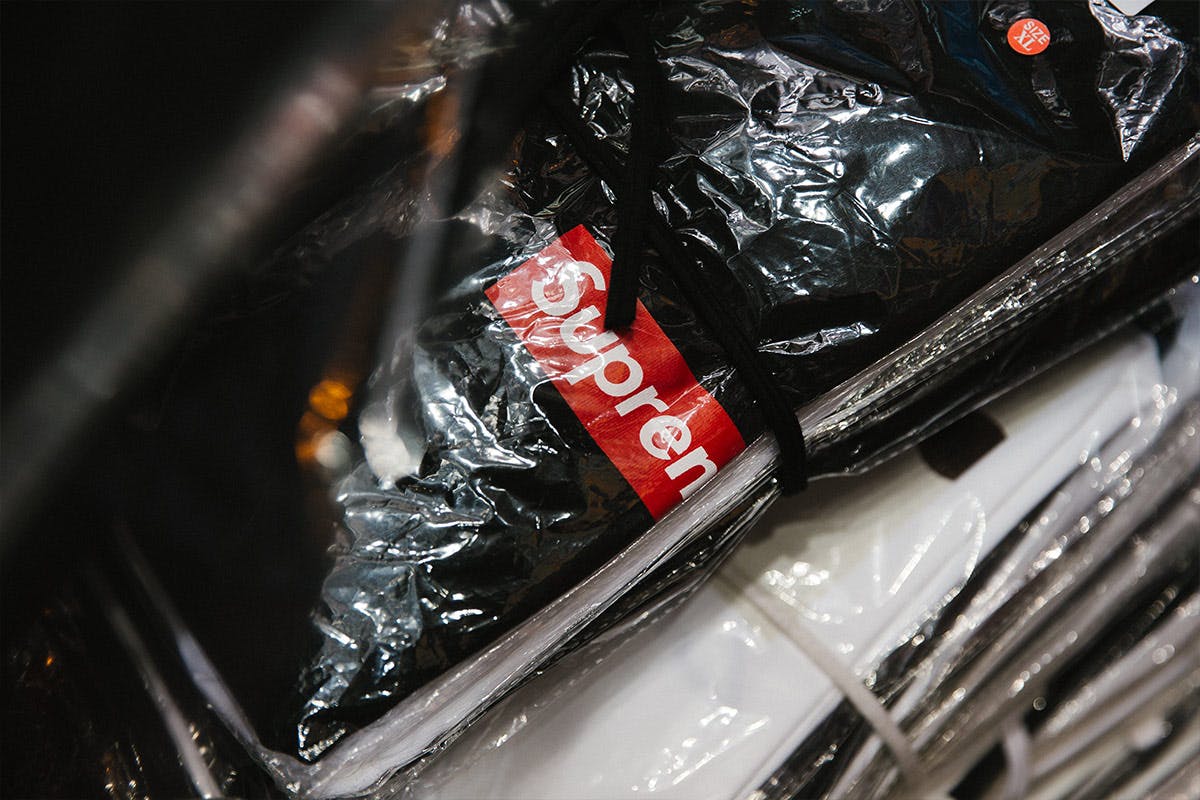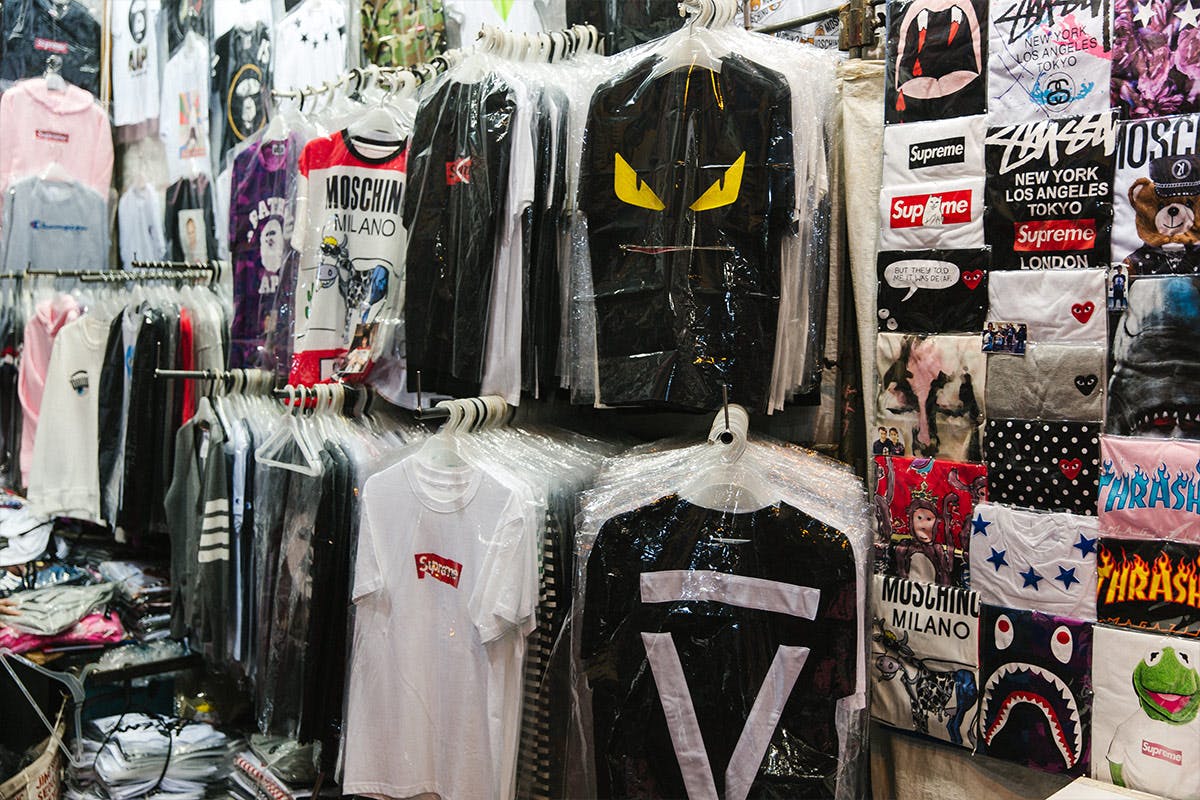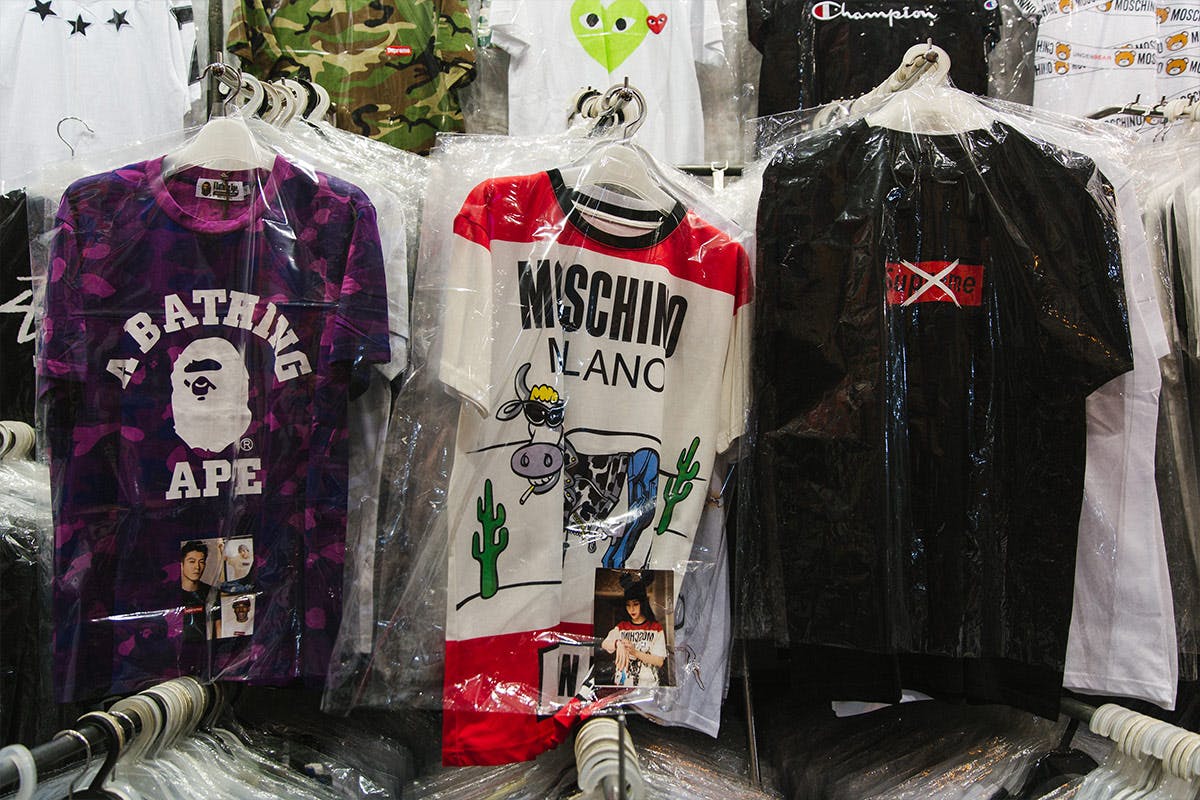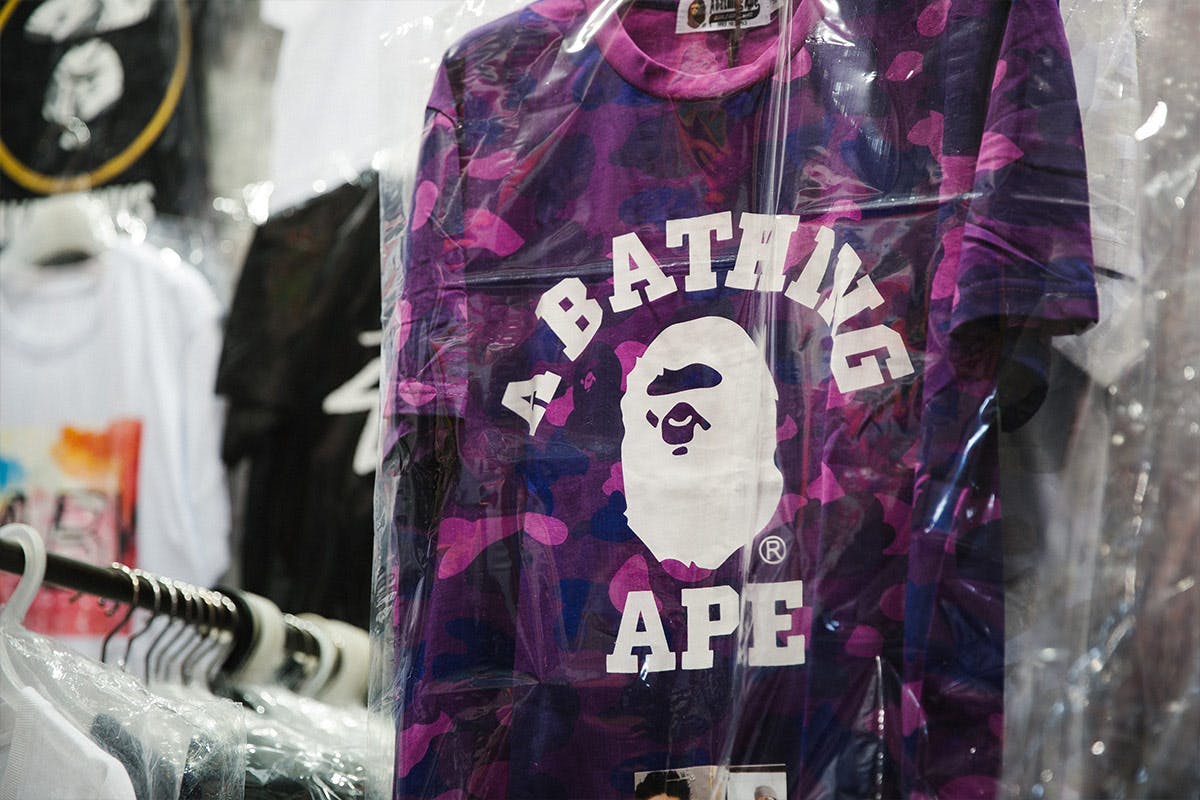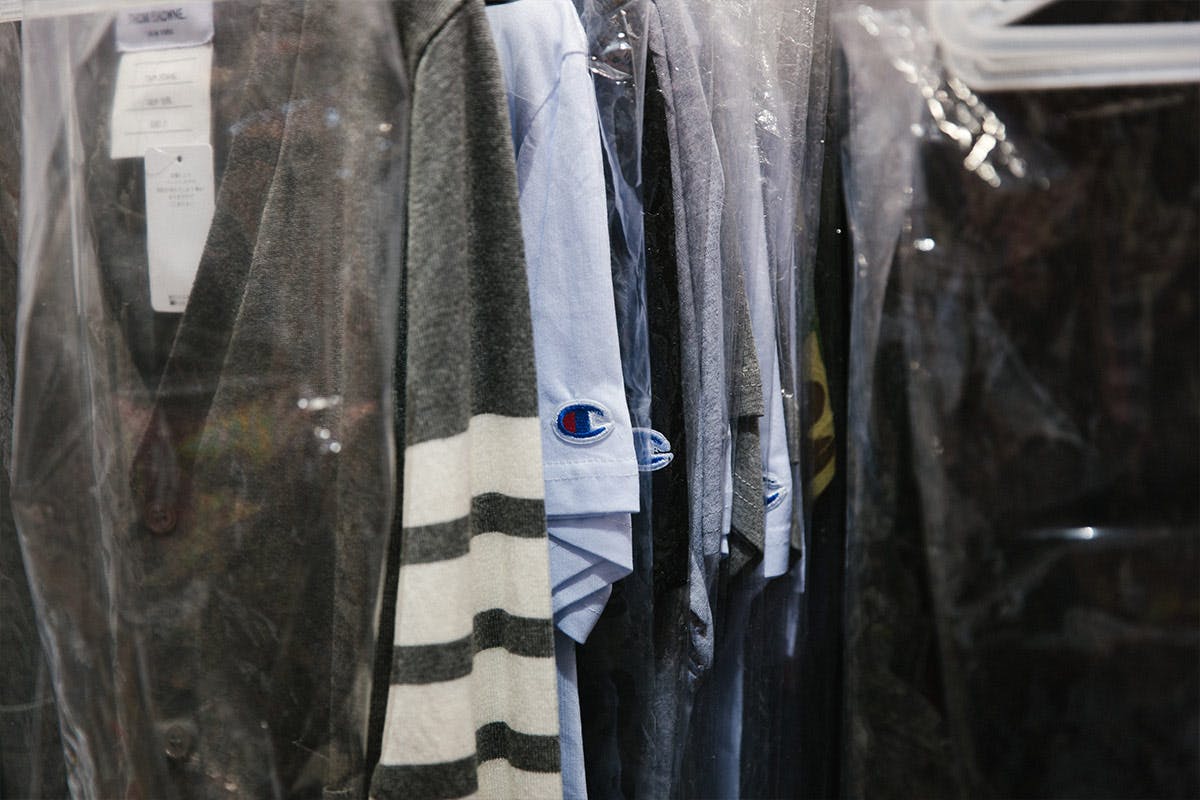 In our quest to show you how to world does bootleg, we continue our Legit Check series at the front gates of arguably the world's mecca for fake goods – Hong Kong, China. Hong Kong is place of many grey areas and contradictions. Amidst the recent efforts via the government on cracking down on fake goods, knockoffs continue to find their way into busy street stalls and arcade malls; it doesn't help that the factories producing the real McCoy (and the world's best fakes) are only a 30-minute train ride away.
Rather than venture to various locations in search for our outfits, we decided for a one-stop shop approach in a neighborhood notorious for bootlegs: Mong Kok. I'll admit, counterfeit goods aren't as overt as they used to be some 12 years ago when I would travel here with my family on summer holiday. Gone are the flock of boisterous street peddlers, and laminated, low-resolution printouts advertising an array of fake goods. Don't get me wrong, they still exist, they just aren't as in-your-face anymore.
Ever since the government's clampdown on the sales of fake goods — I want to say they really cracked down in 2005, when there would be weekly raids and large arrests on the streets — prices for non-official products have shot up. You have to understand that Hong Kong is one of the largest markets for luxury goods, so you can imagine the pressure HK officials were feeling at the time from the luxury brands invested in the city. The issue was also extending to the piracy of things like software and Hollywood films — the Triads in many cities made a decent hustle by selling pirated DVDs.
One of the bigger moves from the gov't was to issue a sort of certification denoting which stores have been authenticated, and can be quickly searched online for reassurance. One pitfall to this form of deterrence is that you can easily replicate the sticker, making a fake of something that was supposed stop fakes, so that you can continue selling fakes (#bootleginception). Sellers of fake goods have since smartened up, and use alternative channels such as social media as a means to shift their product, or you can just buy direct, thanks to websites in China like Taobao.
"Government issued legit check."
It's not my intention to take you too deep into the rabbit hole of bootlegging in HK, (let's get back on track with the phony fits) so here's a few PSAs, or PIFs as they are called in Hong Kong, just to give you a feel for city's stance on counterfeiting during the mid-2000s. One of my favs can be found here. You know things are getting serious when the city starts working with the state of California, and has the budget to enlist Jackie Chan and Arnold Schwarzenegger.
Now, onto the funs stuff. We started off by looking for what appeared to be knock-offs, but by law, if it is a certain percentage too close to the real thing, it gets confiscated. We had our eyes on a pair of these hybrid-looking Turtledove 350, but clear as day fake — I'm talking no BOOST, no heel tab, and the brand was something like "SpeedMaxxx." As we drew closer, the seller surprised us by busting out some near perfect English "You guys looking for some Yeezys?" We huddled around, and he brought out this large bag he was hiding under some newspapers. These were it! I just couldn't find a flaw. The only downside was that they were $900 HKD ($115 USD), which was out of our budget. The seller explained the risks involved in bringing them across the border, which is why he increased the market price in HK by three-fold.
Success followed after that encounter, and two hours of bargaining later, we had our outfits comprised of 12 items. For our selection we looked for value, yes, I know that's somewhat of a contradiction, but we needed to make sure colors were similar, printing was quality, logo exact, and really just how relevant the items would be to you guys, the readers. We'll be separating our haul into three categories in order to show you the level of fakes and why some of them still carry such a high price tag.
The Goods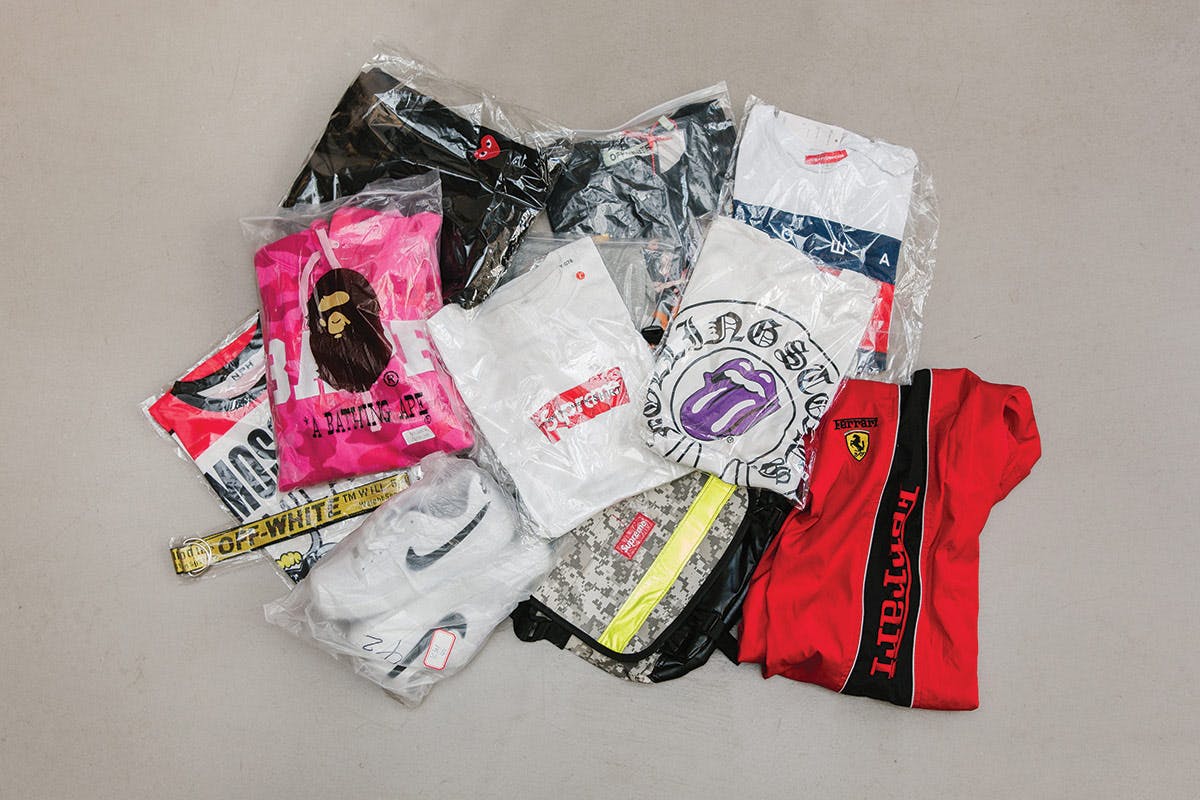 We tried asking for receipts...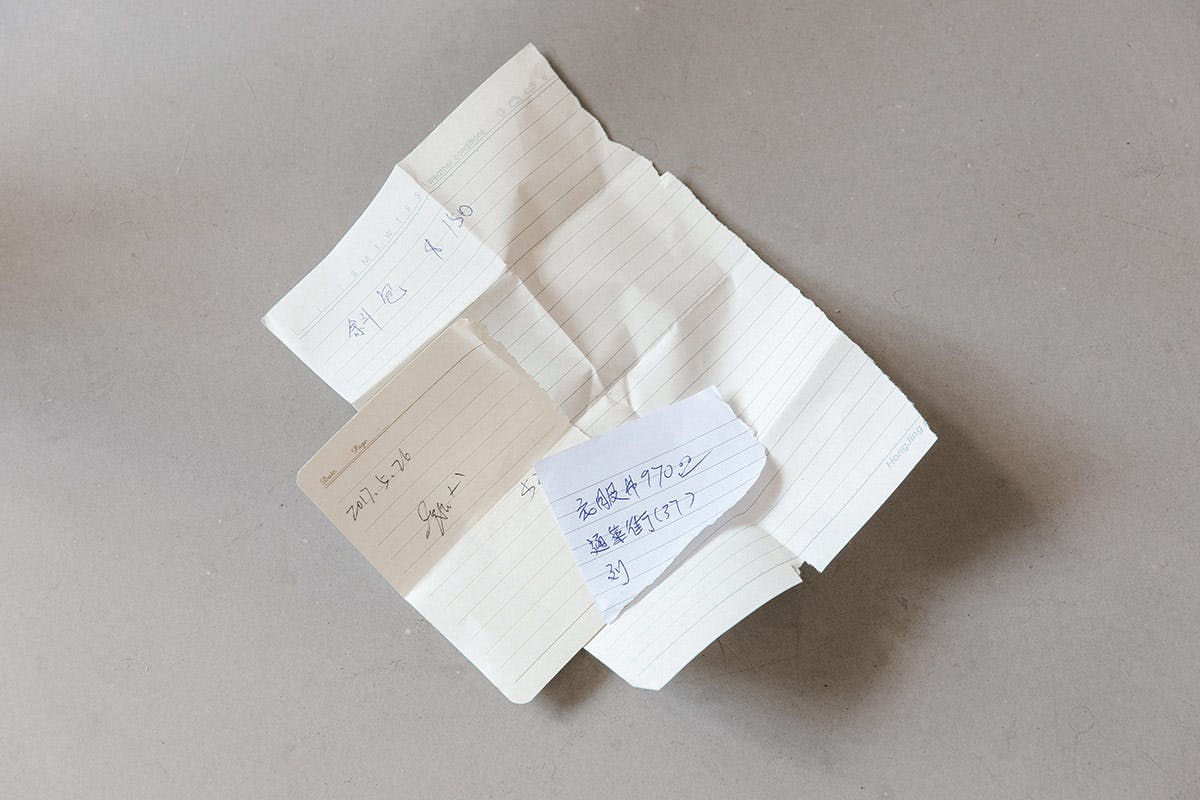 So Bad, It's Good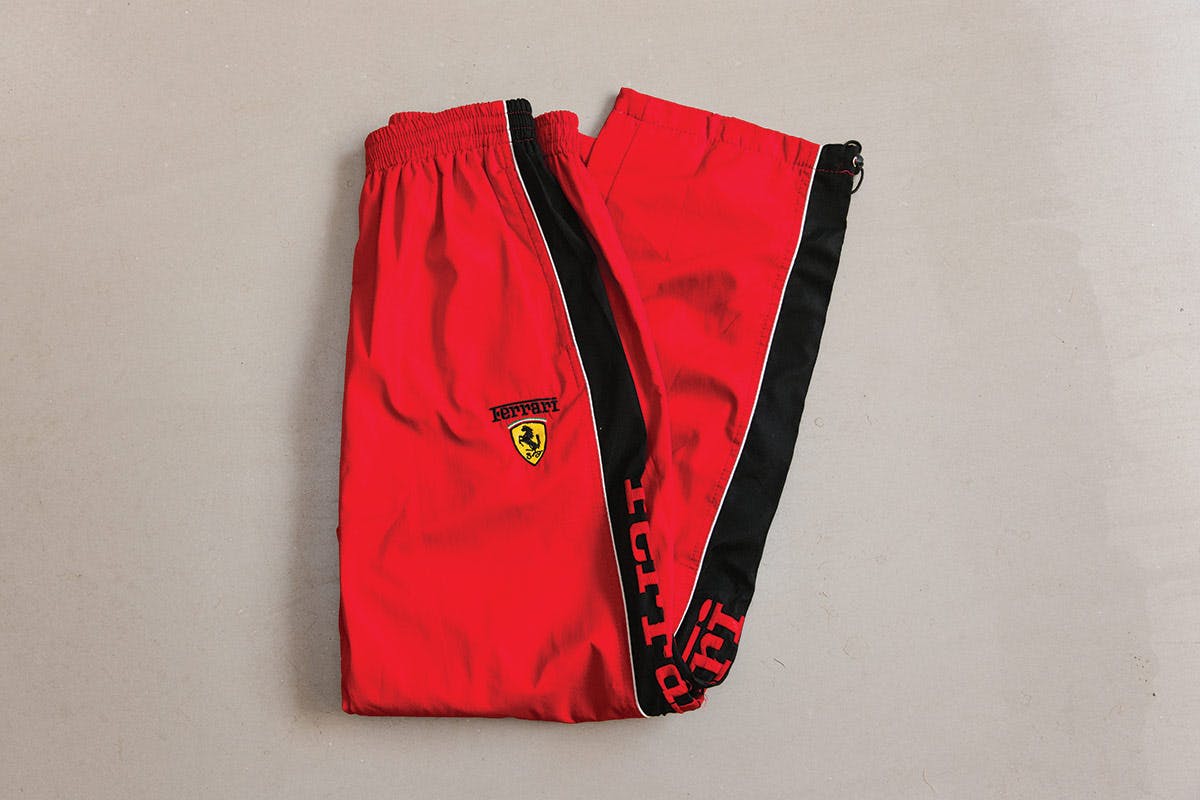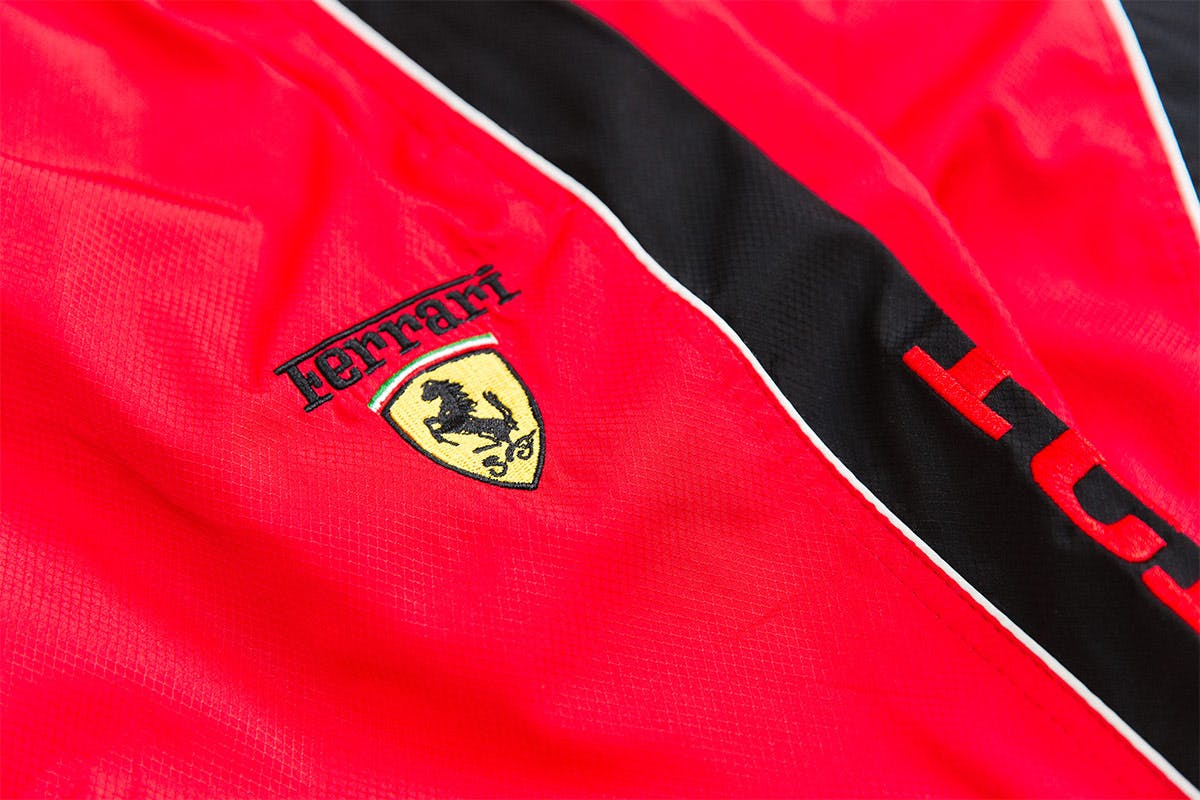 Price: 120 HKD = $15 USD
Quality: 8 out of 10. Embroidery is on point, colors are vibrant, cord locks are springy. These could work as athletic apparel on cold days, or even as warm-ups.
How it Fares: 9 out of 10. You know those people that drive BMWs and deck themselves out in BMW apparel so that everyone knows they've got an M5? Well this certainly is not the case, as when someone sees you with your bus card, they'll know what's up. I don't even think these were even produced by Ferrari in the first place. Can you imagine a full tracksuit?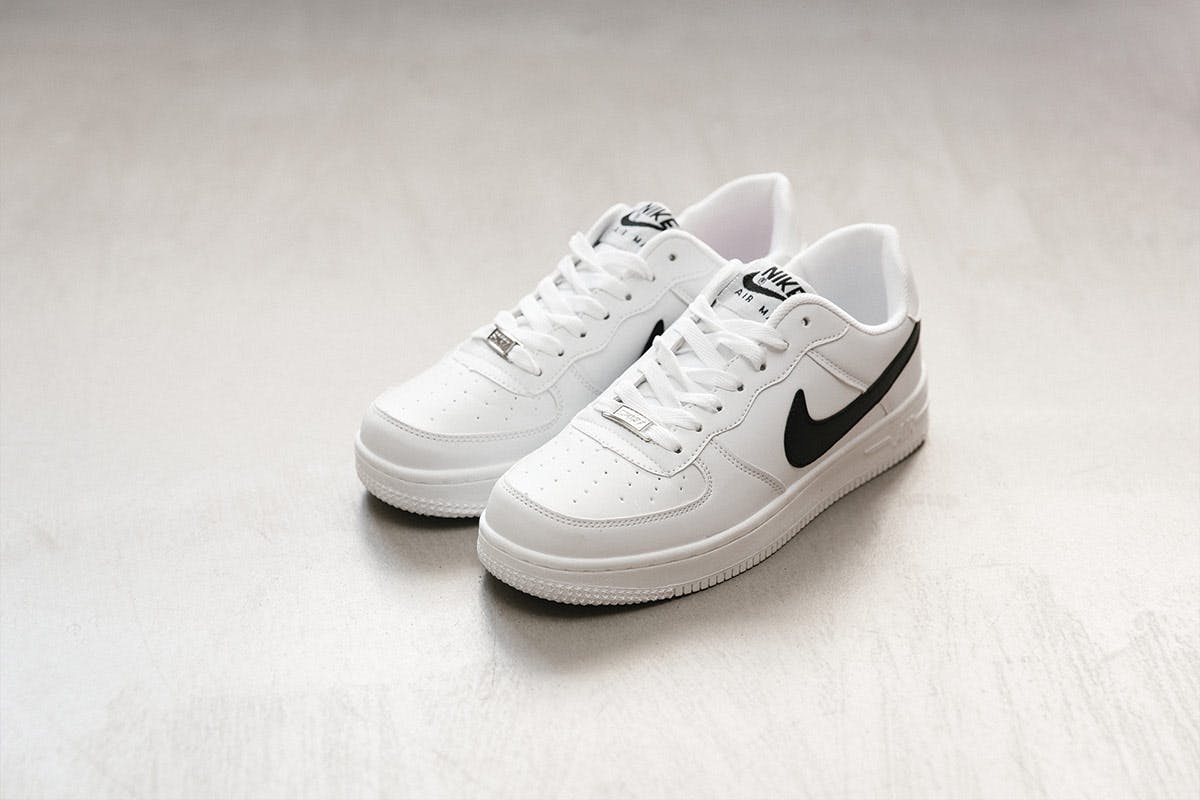 Price: 70 HKD = $9 USD
Quality: 6 out of 10. Not the best. They used real leather on these, which is where most of the points are coming from, but the heel cup feels like it will disintegrate if worn in the rain, and there is zero cushioning in the midsole. The deubré is also plastic and reads "sport."
How it Fares: 8 out of 10. I love these. As someone who goes through pairs of sneakers, this would be a good pair of throw-aways. Probably not the best for extended periods of standing, though. Best part is on the tongue, where it you will that these are actually branded as Air Max.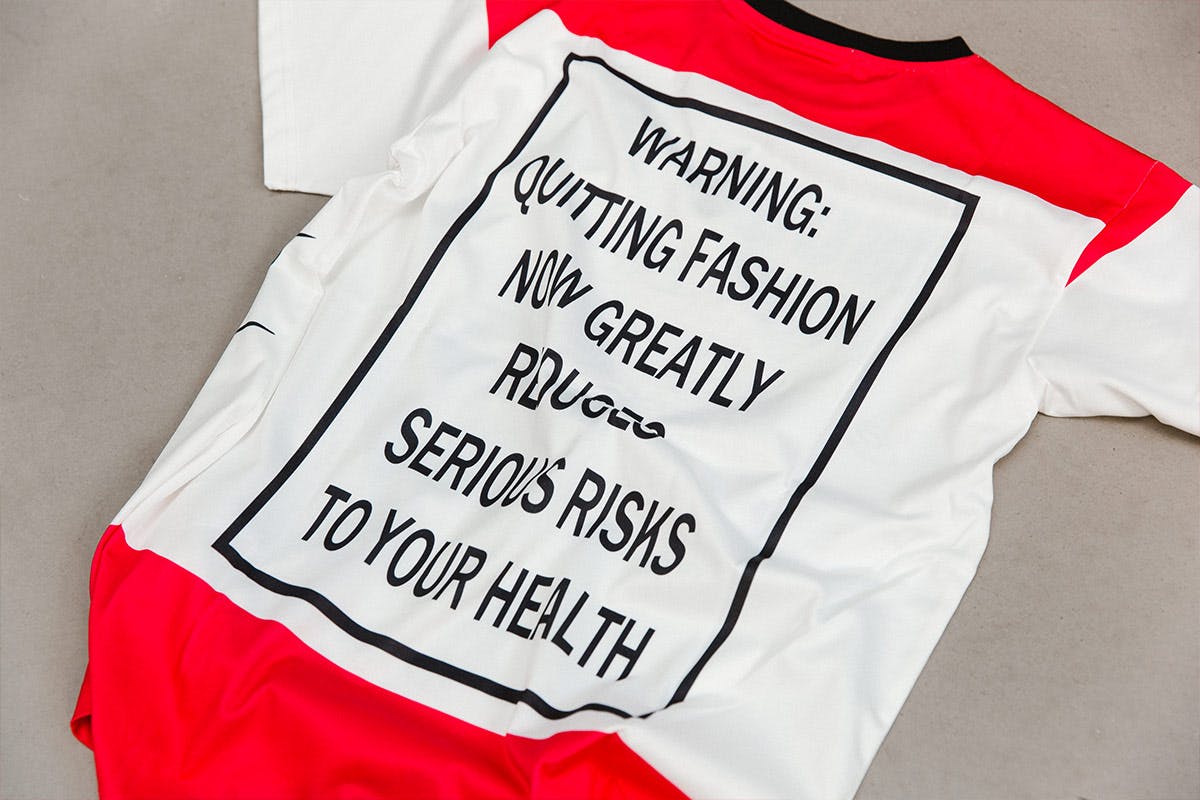 Price: 90 HKD = $12 USD
Quality: 5 out of 10. Ohhhhh fancy…. Except when you touch it, you know it's fake. I give this shirt 3 washes max in a Hong Kong laundromat before the colors start disappearing.
How it Fares: 7 out of 10. They've done Jeremy Scott wrong for this one. I think the original for FW16 piece was in cotton, and ¾ in sleeve length. This is in polyester, and the collar tag doesn't even say Moschino. However, bootleg aside, it looks great in an ensemble. It also gets points for having the graphics on the back. So many bootleggers just don't commit all the way, and leave out the details on the back — this piece did not disappoint.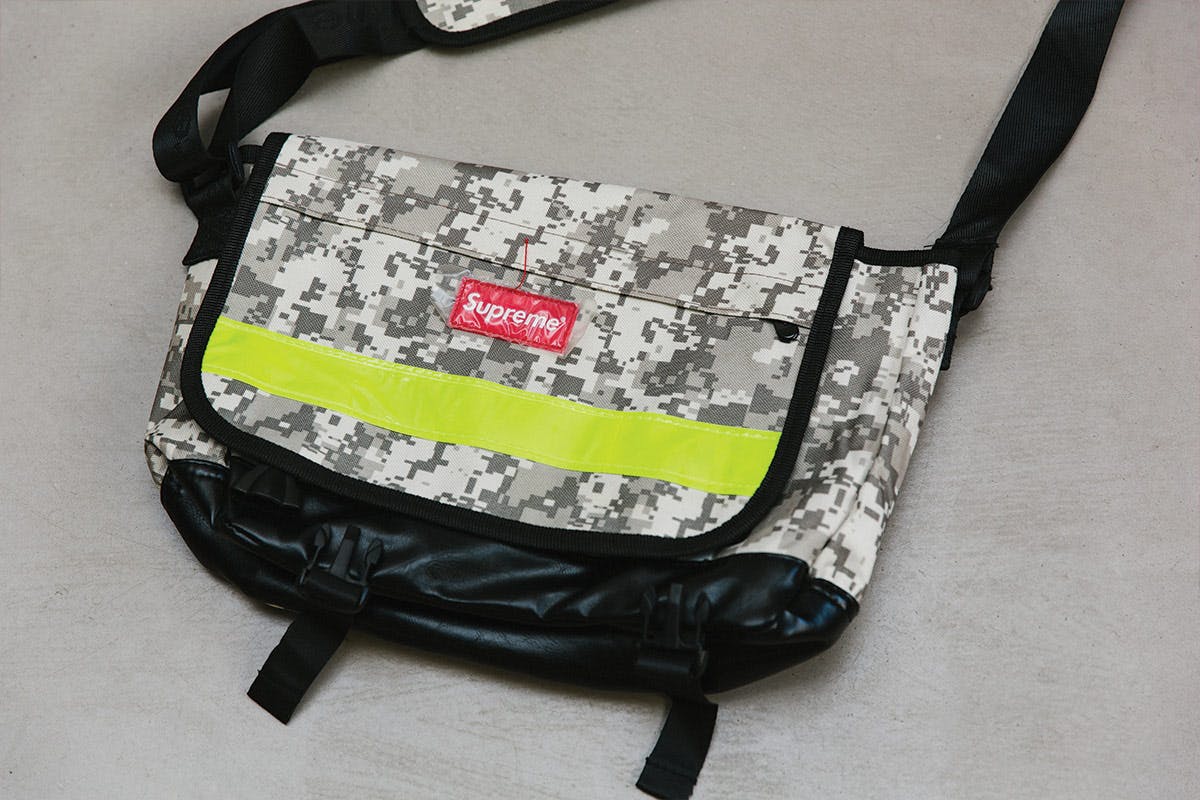 Price: 40 HKD = $5 USD
Quality: 3 out of 10. This is probably the worst quality item we found, and it shows in the price tag. Pleather bottom and poor stitching throughout. This is the bag you lend your friend when you don't expect it back. And would you look at all those loose threads?
How it Fares: 7 out of 10. To be honest, not too mad at this one seeing as we paid five bucks for it. I like that they left a protective covering over the Supreme (that one bit was probably the most expensive component) and that they added a real reflective strip to the messenger bag.
Good from Afar, Far from Good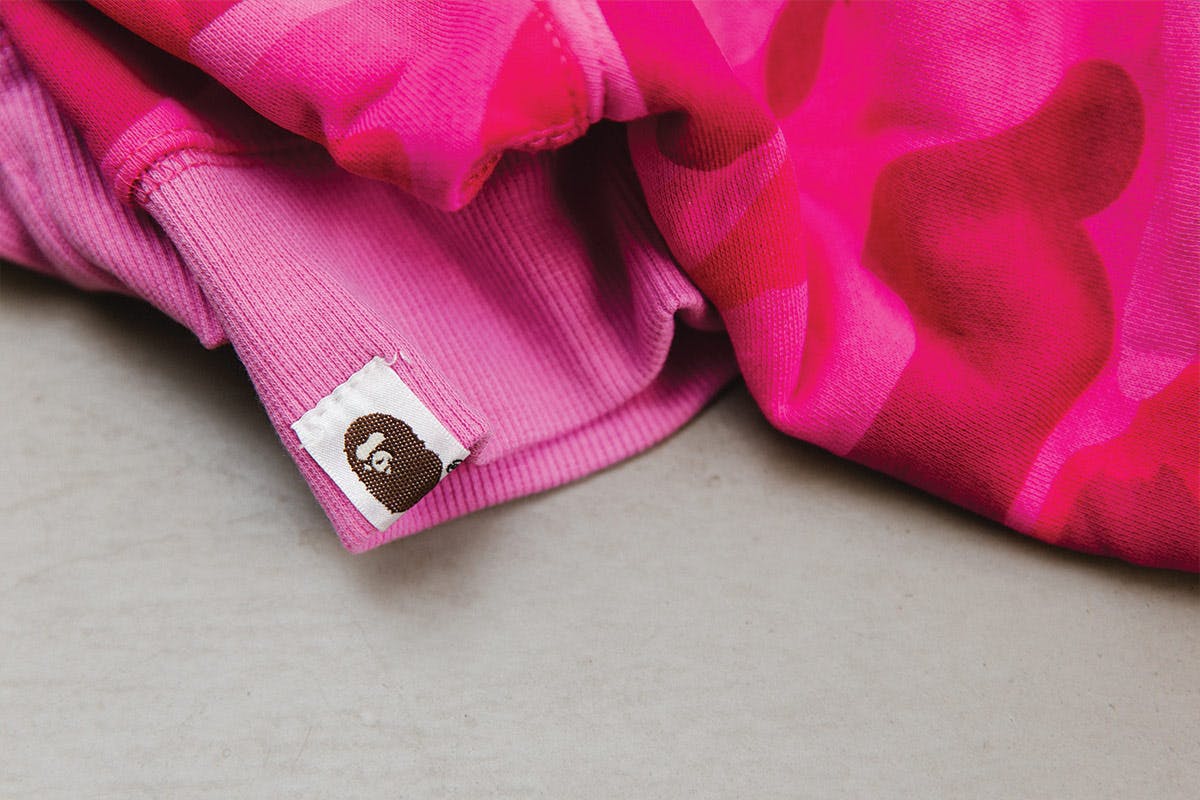 Price: 150 HKD = $20 USD
Quality: 7 out of 10. If this was a blank, I'd say it's passable, but it's not. It's supposed to be BAPE. It's pretty heavy duty, but I can already tell this is going to shrink, and would you look at that fufu logo?!
How it Fares: 6 out of 10. Way too bright which makes the camo look washed out, and not as pronounced as the real one. Tags are all off, including the length of the hoodie. Good from afar, but far from good.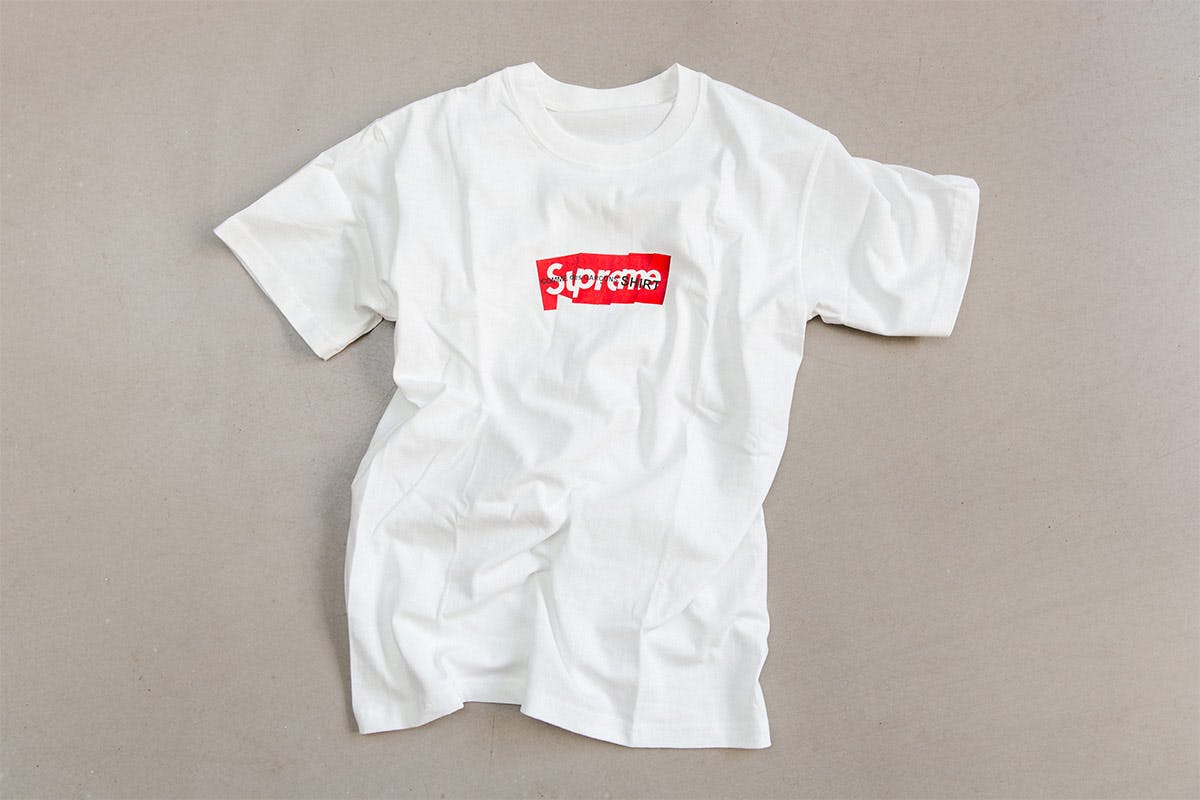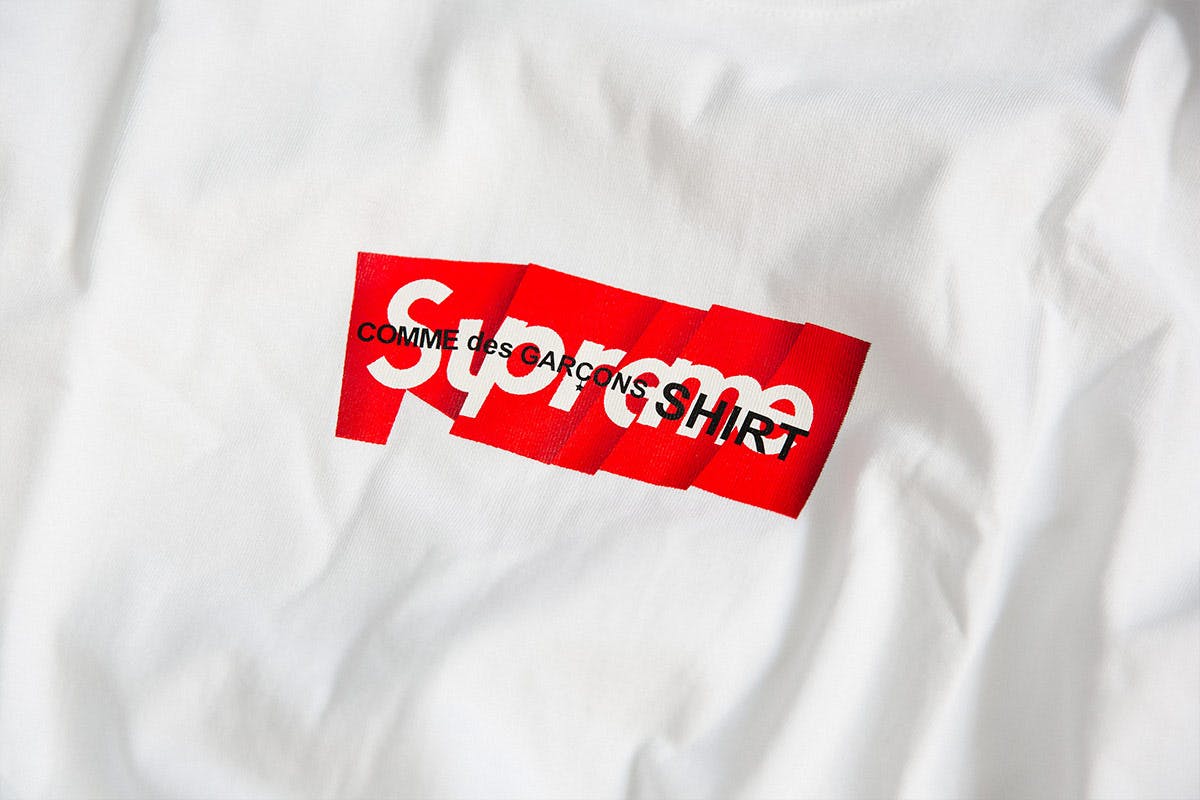 Price: 130 HKD = $17 USD
Quality: 8 out of 10. Good ol' 100% pre-shrunk cotton. Feels quality, but upon closer inspection of the CdG x Supreme Box Logo, you will immediately know something is off.
How it Fares: 2 out of 10. I'm just disappointed in this. It's so close to perfect. They had one job to get the logo right, and they fudged it all up. I suspect they produced these before they had the proper AI files, and were going off web images. That logo has no right being on there.
Grade-A Fakes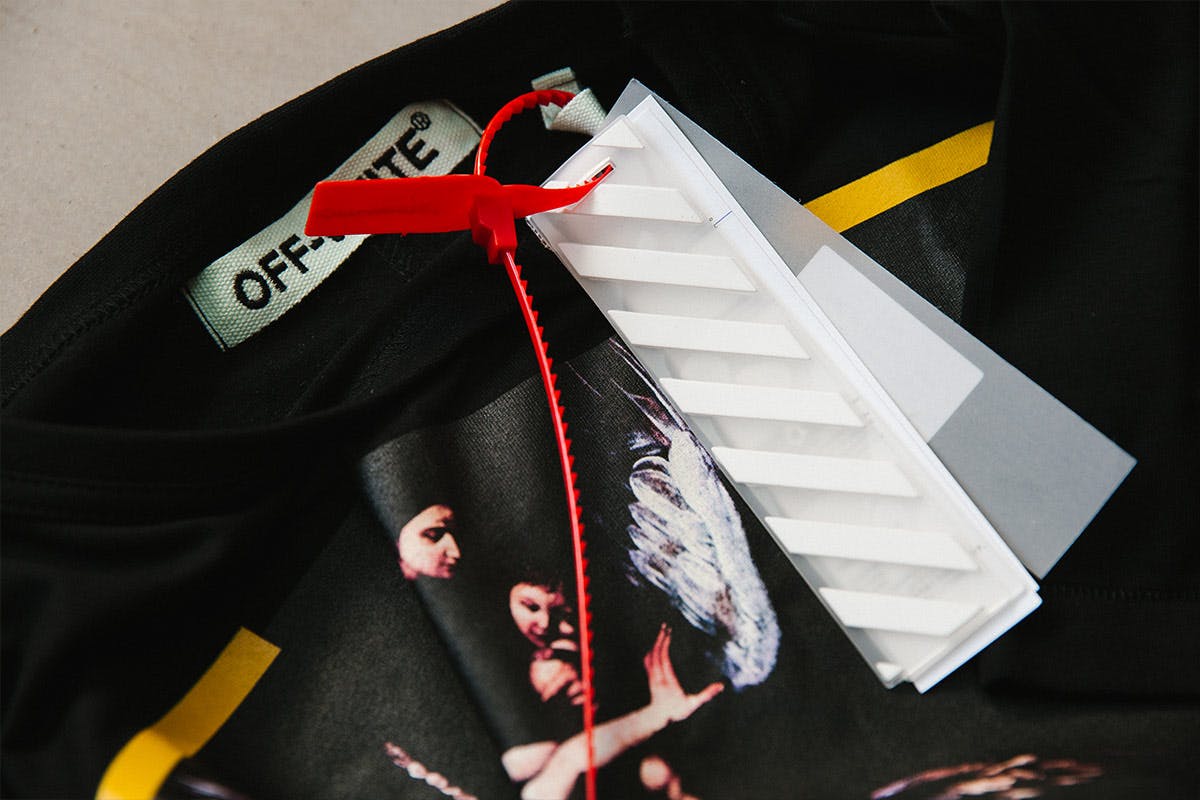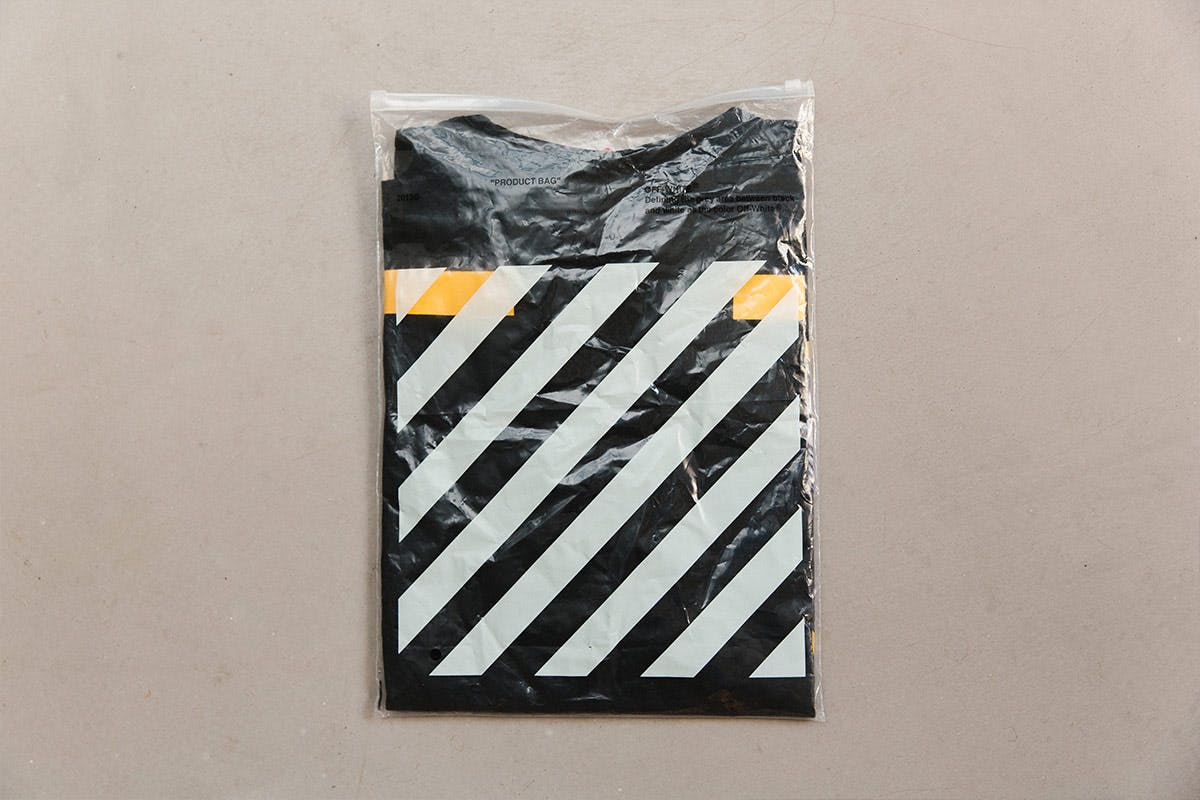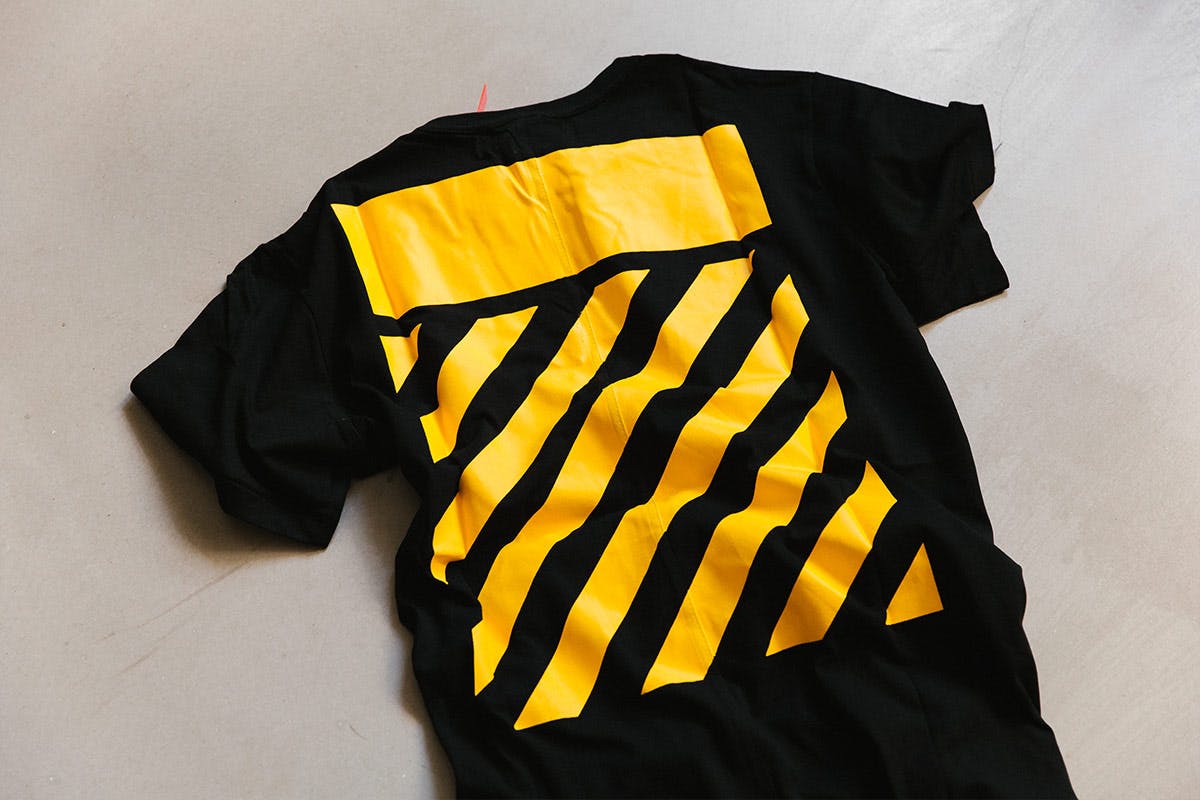 Price: 180 HKD = $23 USD
Quality: 10 out of 10. Everything about this is quality. The packaging, tags, graphic print. I couldn't really wrap my head around it.
How it Fares: 9 out of 10. Great lengths went into making this tee. The only thing I noticed was a missing trademark symbol. Shirt was crisp.
Price: 170 HKD = $22 USD
Quality: 9 out of 10. Another decent replica. This is probably due to the amount of time the "PLAY" line has been in circulation. They've definitely got the formula down for faking CdG PLAY.
How it Fares: 10 out of 10. Throw this on over a white shirt and no one will be any the wiser.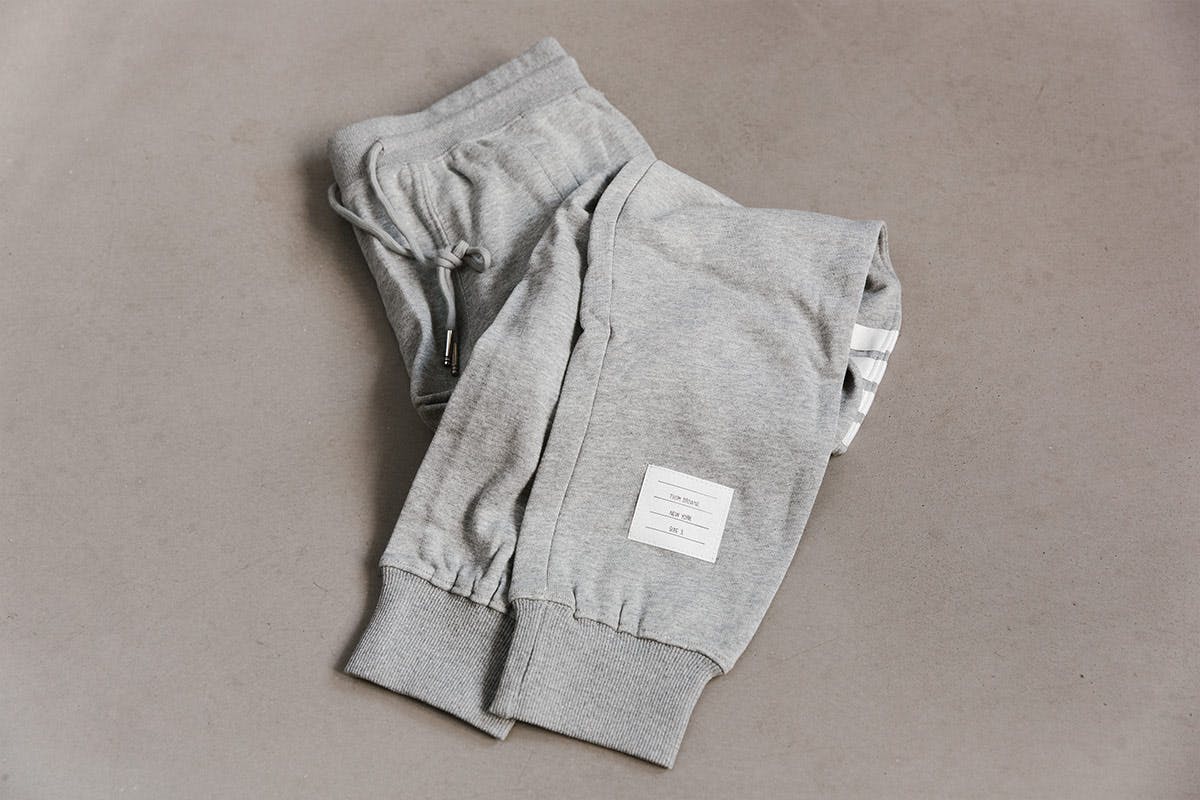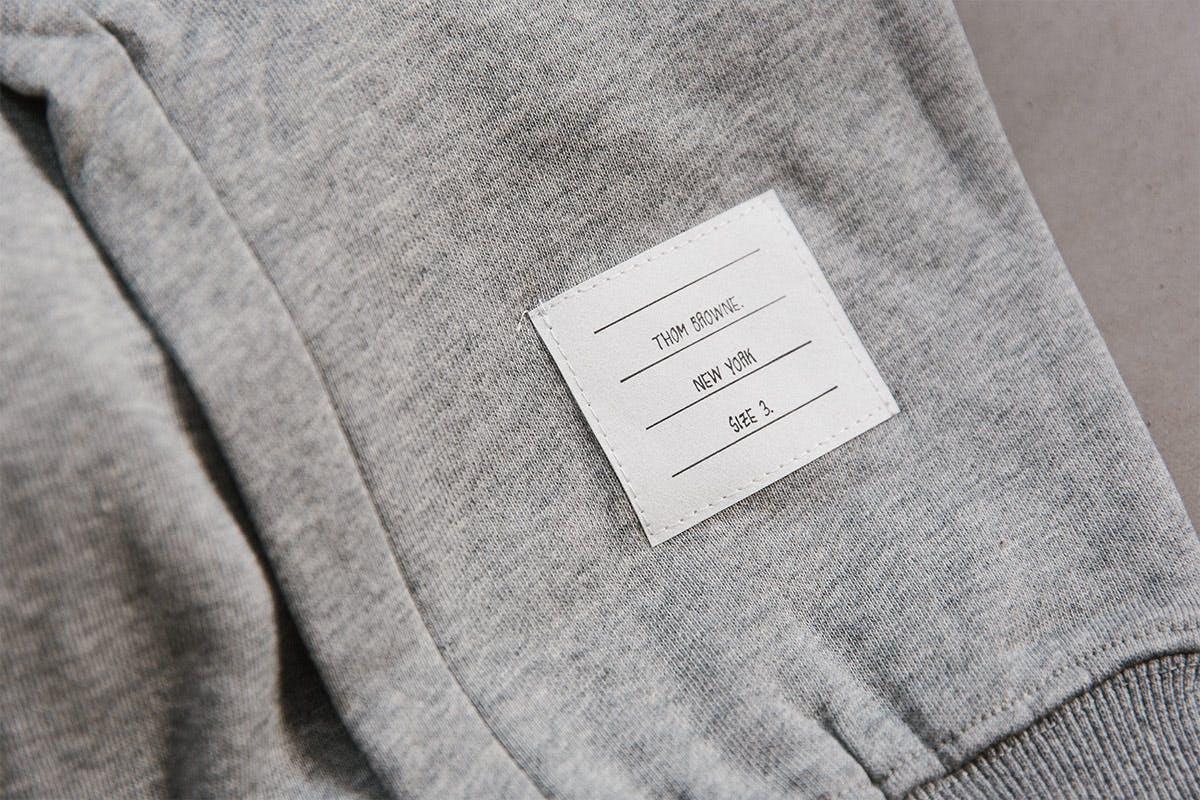 Price: 120 HKD = $15 USD
Quality: 9 out of 10. Very comfy sweats. The elasticated cuffs didn't feel like they'd be getting sloppy anytime soon. Material was thick and warm. The metal aglets are a nice touch.
How it Fares: 10 out of 10. We had the real pair side-by-side and we kept choosing the fake ones as the real pair. The only large difference is in the cut — these ones were a tad baggier.
The Looks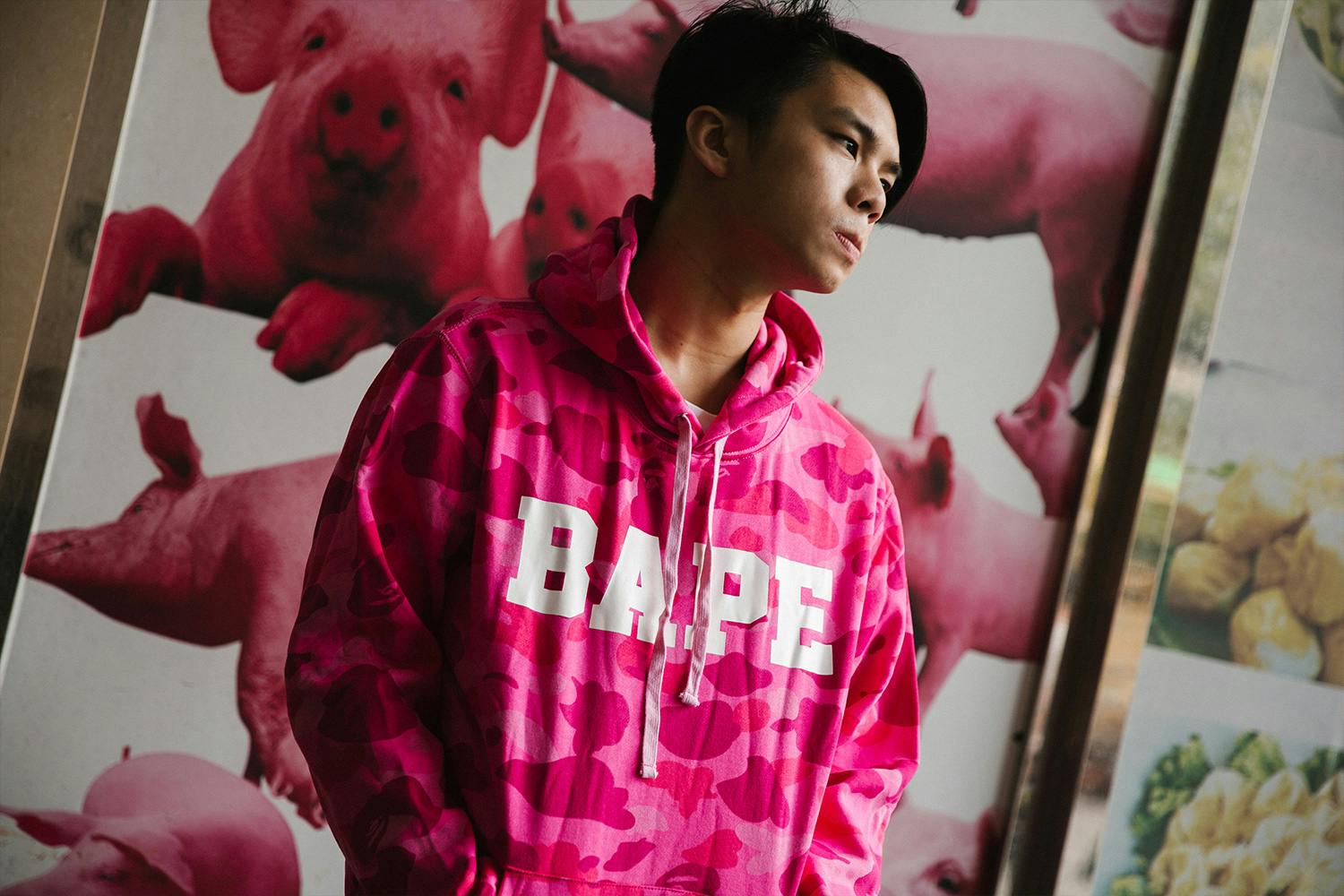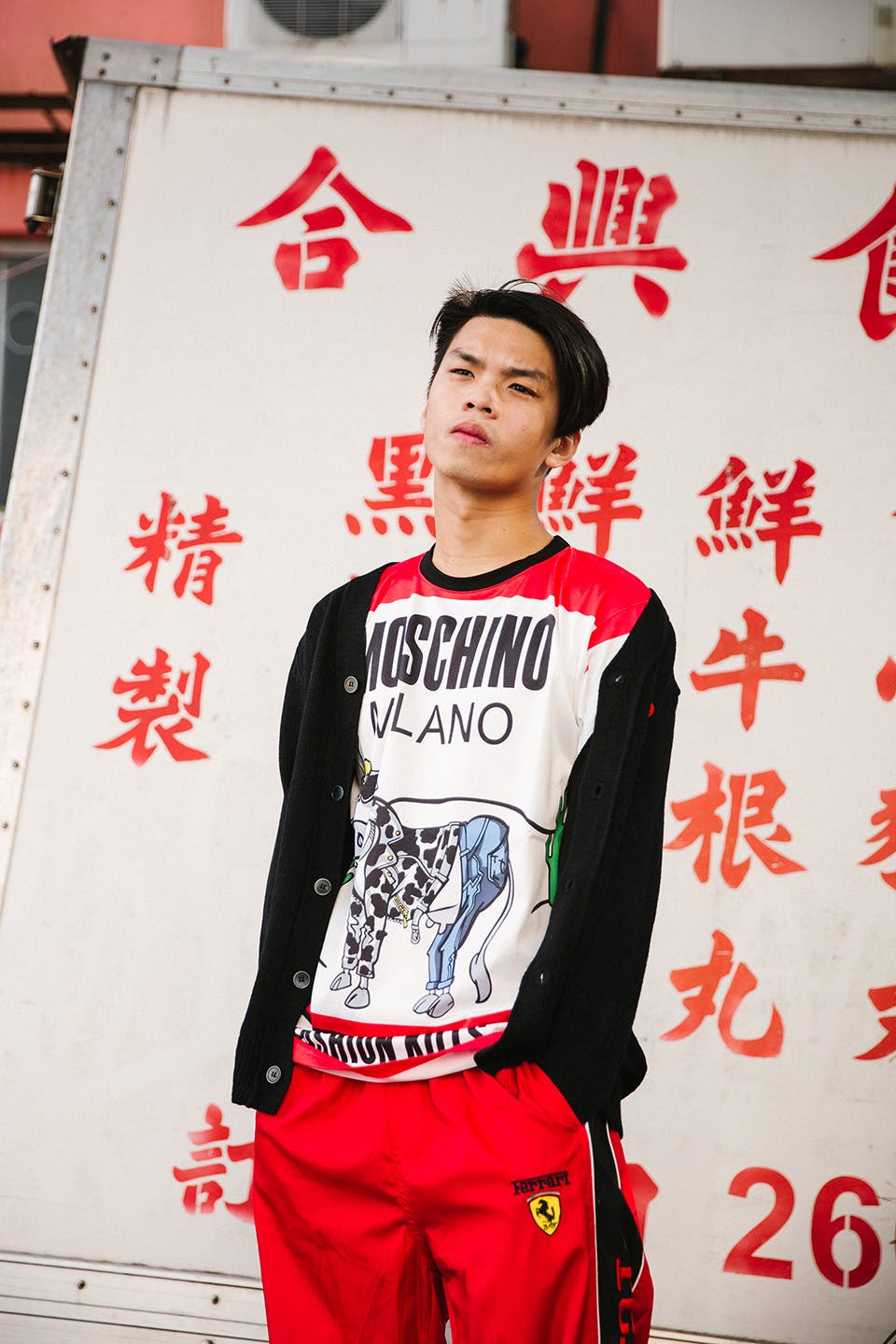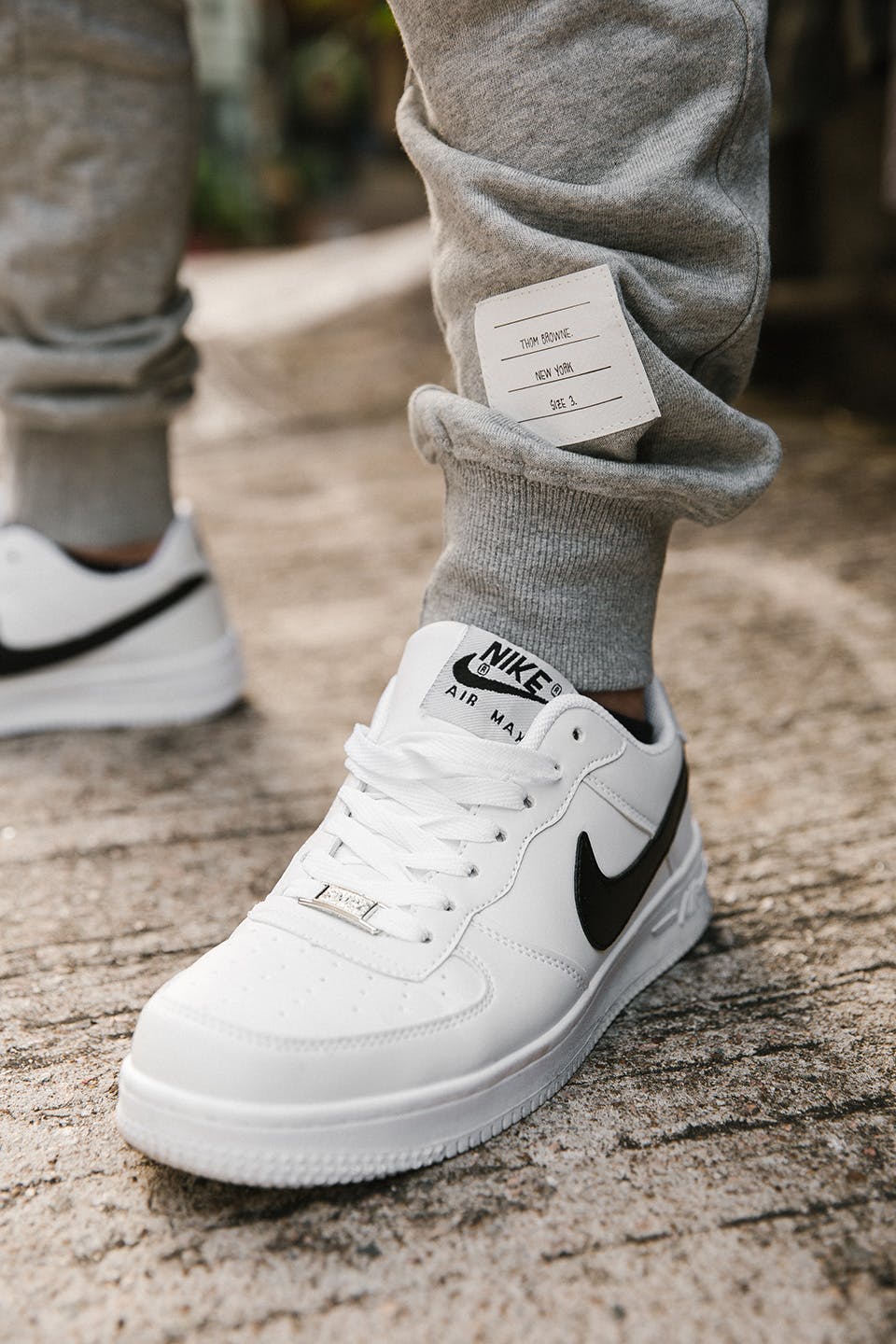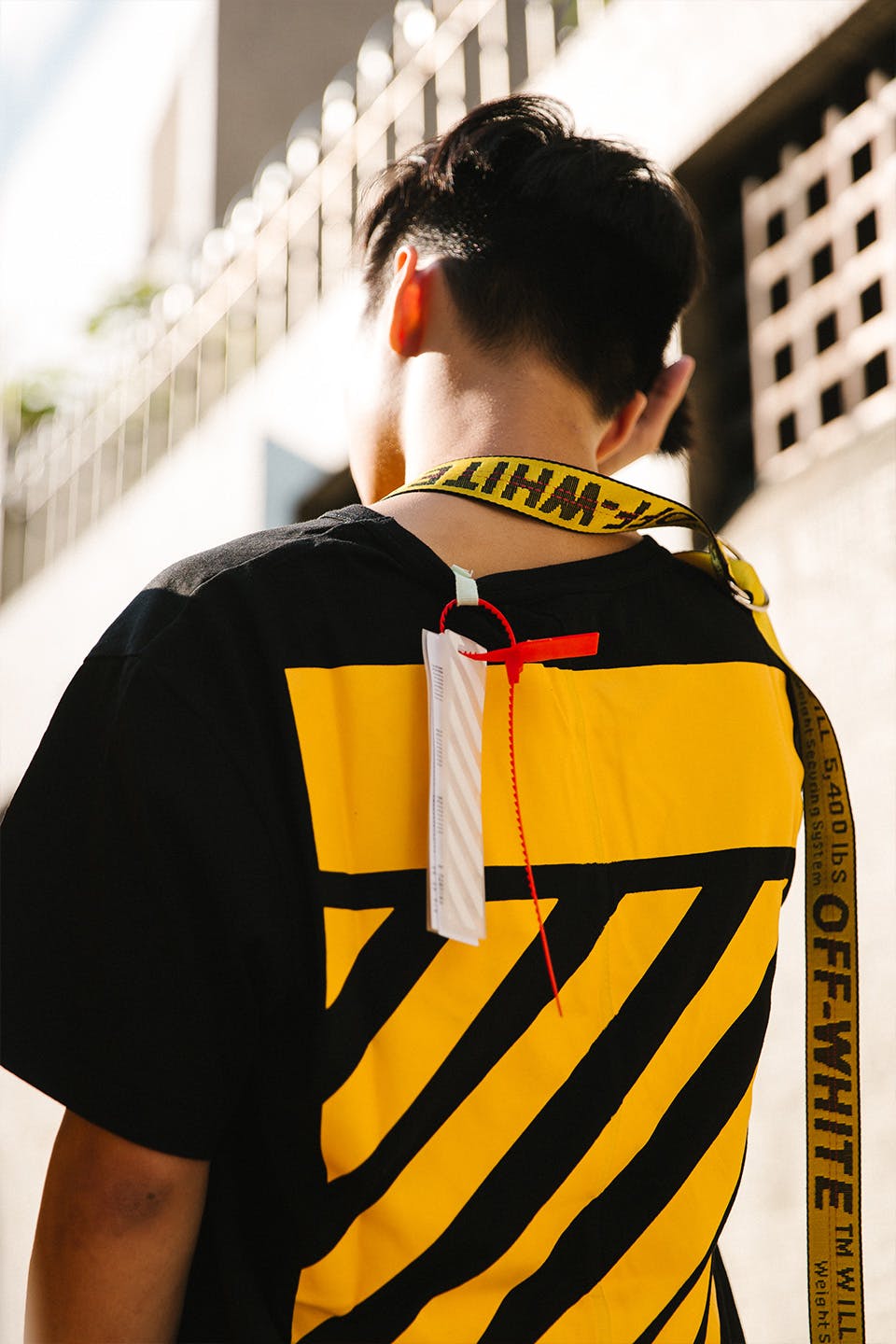 Modeling the fits will be our trusty friend, Hoyee Li. I've known Hoyee for just over a year, and he's normally stateside working/hanging with the good people over at Fruition, but as luck would have it, he was in town for work, and down for the cause. The funny things is that before Hoyee moved to the States, he grew up in a public housing estate, selling pirated DVDs and working as a spotter for his crew. As you will see above, there's just no better person who embodies the Hong Kong streets, and can pull off these looks. Enjoy.
Check out our report from the bootleg markets of Tbilisi, Georgia, while you're at it.