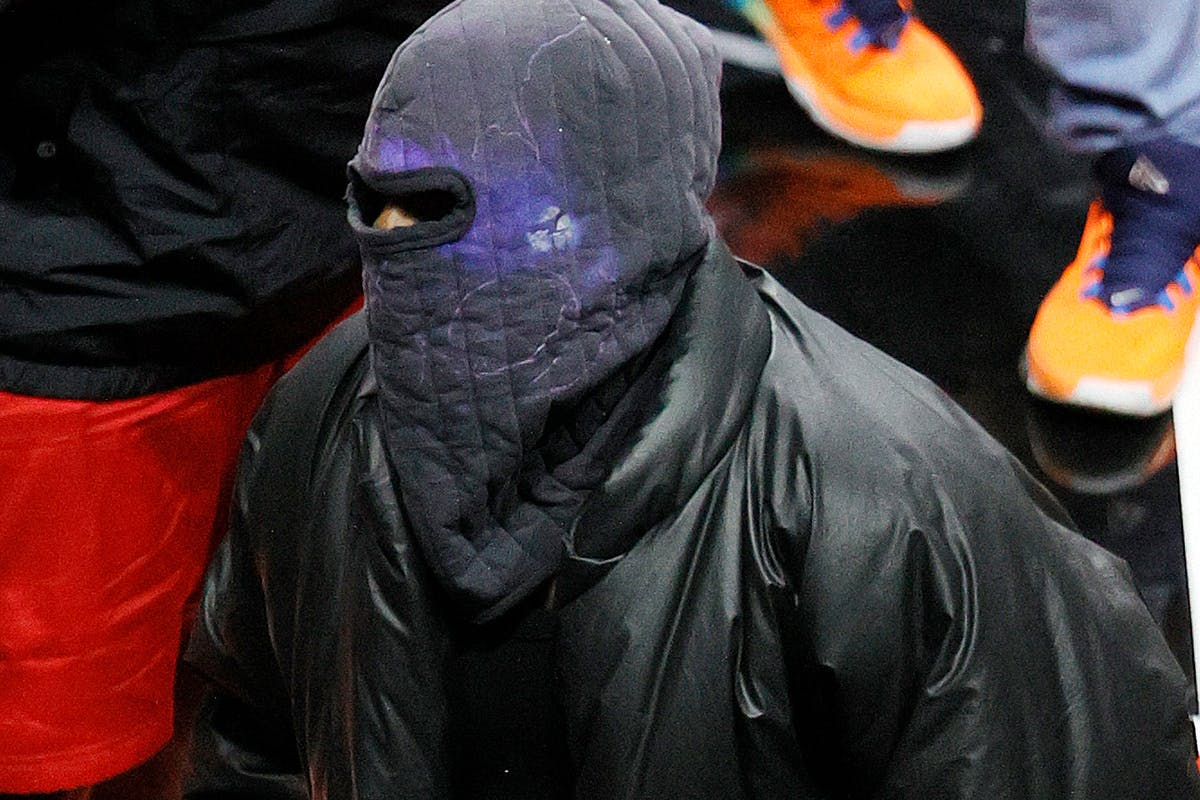 Earlier this week, it was announced that Kanye West had enlisted Balenciaga artistic director and longtime friend Demna Gvasalia to act as creative director for the second DONDA listening party. It takes place on August 5, once again at Kanye's new home — the Mercedes-Benz Stadium in Atlanta. This second instalment of the Mercedes series is set to coincide with Ye's long-awaited new album release, but we'll see about that.
The news of Demna joining the DONDA party naturally brought with it speculation. Would he have a hand in a revamped, less pared-back stage design to that of the first event. Would he be designing DONDA merch? Would he be named as a producer on the record, à la Matthew Williams and Playboi Carti? Those questions are yet to be answered. What we do know, so far, is that Demna is already having an influence on Kanye's stadium-dwelling wardrobe.
In the IG leak above, which we can assume shows his on-stage look for Thursday's event, Kanye wears head-to-toe Balenciaga in all-black. The absolutely wild jacket, inspired by Siberian bear-hunting quilts from the 1800s, comes from Balenciaga's FW20 collection — remember? The show that put climate change front and center via art director Nicke Bildstein-Zaar's flooded runway. Maybe that's a taste of what's to come for the Mercedes-Benz arena on Thursday. It all fits, after all. Floods, Christianity. etc., etc.
Adding weight to the claim that a pair of cargos will go with anything. And I mean anything. Kanye is sporting a simple pair of black cargos — also by Balenciaga — alongside that statement jacket. Demna has certainly left his mark of DONDA-era Ye already.
Whether or not Kanye plans to wear the fit above on stage, it's a marked change from the all-red look that graced the stage at the first DONDA listening party; a change that might leave some at GAP feeling a little bit sore. If this look is more your thing than Kanye's nod to Akira, though, we've picked out some options to do your goth boy summer thing with below.
Shop two looks inspired by Kanye West's Balenciaga 'DONDA' fit below.
Want to keep browsing? Head to the Highsnobiety Shop for more products that we love. Highsnobiety has affiliate marketing partnerships, which means we may receive a commission from your purchase.