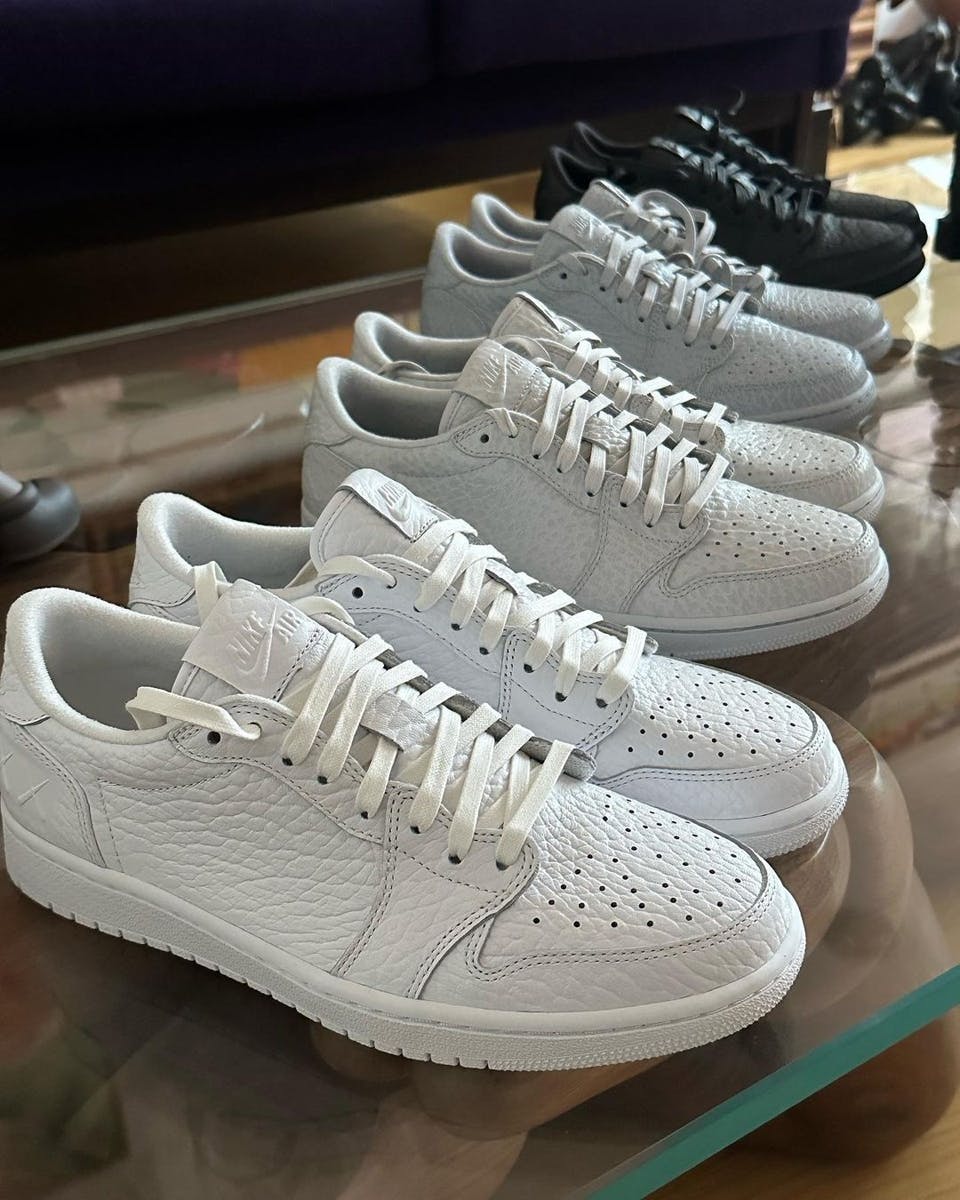 As much as it pains me to say this, the above Air Jordan 1 Lows by KAWS aren't for sale - and probably won't ever, for that matter.
In an Instagram post, KAWS, a.k.a. Brian Donnelly, stated that his Air Jordan 1s were "never intended or available for sale." Pain.
KAWS' Air Jordan 1 Lows are undeniably clean takes, materializing in four understated colorways to "match [KAWS'] daily uniform," per the IG post.
Each shoe also arrives with a tasteful pebble leather upper, resembling animal skin texture. Meanwhile, KAWS' unmistakable "XX" motif — as seen on his beloved Companion figure and The North Face collabs — decorates the heel.
The New York-based artist clarified that the Air Jordan 1 Low sneakers are his personal pairs, designed with the Jumpman in 2017 — the same year his coveted Air Jordan 4s dropped.
Indeed, if the AJ1 Lows were to see a public release, I suspect the low-top sneakers would be just as hyped as the designer's grail-worthy AJ4s (they're fetching up to $6,000-plus on the resale market, as we speak).
KAWS' announcement was essentially a response to the circulation of potential unauthentic "sample" pairs, which began floating around the internet on December 12.
The sneakers, rumored to exist in only eight pairs, look nearly identical to the ones in KAWS' rotation, save one detail — the floating hands print on the insole.
"...Black line art hands inside are not my original design, so, I'm not sure if there is now counterfeit ones floating around," KAWS stated.
"This is a PSA to say if it's out there to buy, it's most likely not authentic. So, save your money!"
Well, there you have it: myth busted and dreams of copping crushed. I guess, it's back to fantasizing about dream KAWS x Jordan collabs.
​​To stay updated on everything happening in the sneaker world, check out the best sneakers to add to your rotation this week, follow @highsnobietysneakers on Instagram, and sign up to our newsletter for early access to the best drops sent straight to your inbox.
Shop our favorite sneakers