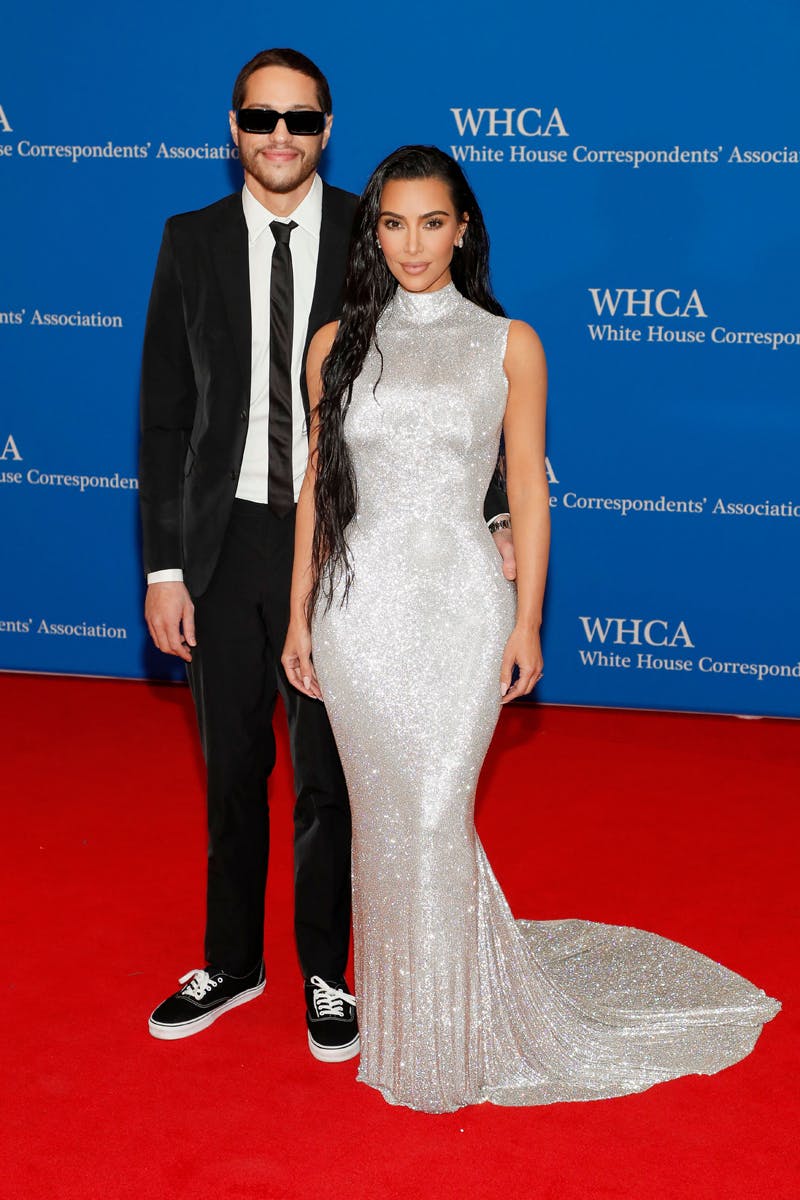 So, uh, Pete Davidson's still pushing the Vans agenda – well, more like the suit and Vans agenda. And, judging by his latest red carpet 'fit, he's not giving up on his initiative anytime soon, I fear.
Since Davidson skipped out on Hulu's The Kardashians red carpet shenanigans with girlfriend Kim Kardashian, paps probably went home disappointed that night as they didn't get the couple's first red carpet moment.
Davidson made up for it (almost literally) during the 2022 White House Correspondents' dinner on April 30, as the couple — who already made it IG official — decided to make their relationship red carpet official.
One might say Davidson attempted to recreate his ensemble from The Kardashians premiere, opting for a strikingly similar black and white Prada suit — this time adding a tie — and sunnies and Vans Authentic black and white kicks.
While Kim K. doesn't shy away from matching her boyfriend's Vans steez, she didn't take that route for dinner — though she's been bouncing between Yeezys and Vans in her casual style as of late.
Instead, she continued her love affair with Balenciaga (as expected), pairing the brand's custom crystal dress with clear platform heels.
While we've all accepted that Kim Kardashian's going to wear Balenciaga 99% of the time — with 1% reserved for her Prada days — I honestly can't say I'm super shocked to see that Pete Davidson gave us yet another suit and Vans combo either.
We're talking about the SNL actor known for an nonchalant, scum bro style. Not to mention, he's earned HighSnobiety notoriety for "giving us nothing" in his overall vibe, though the internet's constant thirst over him would say otherwise.
Sure, it was a White House dinner, and his look passes the vibe check and potentially the dress code for the event. So, yeah, maybe it wasn't the best time and place for Davidson to shake things up a bit.
Perhaps, Pete Davidson will spice things up (and give us more) for his next red carpet appearance. Then again, who am I kidding? Three times will probably be the charm for his suit and Vans push.