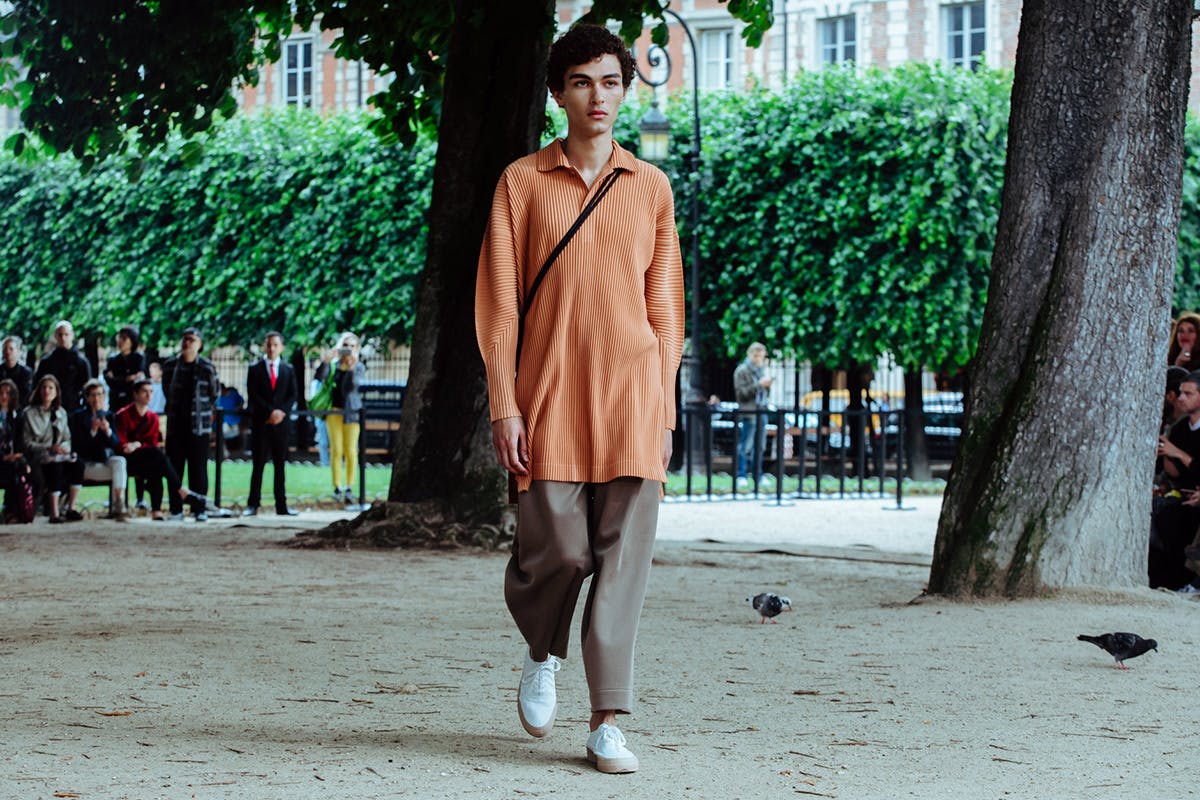 Spring is finally here and you can tell from the weather's flippant changes. Within the last two weeks, London has experienced sunny days along with ones where snow has sporadically fallen from the sky and New York has switched from highs of 70 Fahrenheit to lows of 23.
This means we're not quite ready to ditch our waterproof jackets and boots, but on those days when we're led to believe summer has come early, I realized that I was totally ill-equipped on the pants front. Not saying that I would have broken out the shorts this early into the year, but some lightweight pants would have definitely been welcome.
In place of thick denim and quilted pants, we're eyeing up a welcome return to the boundless comfort of linen, nylon, and silk when the warmer weather sets in.
As such, we hit the internet to bring you a carefully considered list of lightweight pants for summer that give your legs some room to breathe. From workear staples turned summer appropriate to formal trousers crafted from lightweight fabrics, check out the selection below.
Scroll to shop lightweight pants for men.
A-COLD-WALL* Portage Pant
Technical fabrics make good transitional clothing. The Portage Pant is equipped with enough pockets for your daily needs and the adjustable cuffs makes these a staple for any wardrobe.
Acne Studios Loose Fit Trousers
Rising temperatures mean that the last thing you want is a pair of slim-fitting trousers sticking to your sweaty leg. Acne Studios has the solution with these loose-fit designs, which is convenient since we keep finding new levels of appreciation for wide-leg pants.
LOEWE x On Men's Technical Running Pants
Running pants have one main job and that is to keep you cool, but thanks to Loewe they now also look great. This pair stops you from over-heating through ventilation holes and breathable polyester-blend fabric.
Dion Lee Split Frayed Trousers
Everyone loves a nice pair of khaki's. The Sydney-based designer gives your shins some much needed breathing room with this edgy pair in moss green.
and wander W Weave Windy Pants
and wander's Windy Pants are made from Pertex Equilibrium to give you maximum comfort during those humid summer days. The reflector print and stitching also adds a nice subtle touch for any fit.
Honey Fucking Dijon x Steven Arnold Satin Pants
Not only is satin super smooth and comfortable, but it's also incredibly lightweight. The thin translucent white fabric acts as a canvas displaying art by Steven Arnold, a protégé of Salvador Dalí who became a queer icon in the 1960s and '70s.
Snow Peak Takibi Light Ripstop Pants
There's no denying durability and comfort one feels in ripstop pants. Snow Peak continues their lineage of flame-retardant trousers in a neutral beige finish.
Dries Van Noten Palmer Tape Pants
The contrasting stripe running down the leg of these pants might be reminiscent of those worn in the military, but don't be fooled into thinking these come in the same sturdy, heavyweight material. Cotton, polyester, and nylon blend fabric keep these pants light.
Stone Island Lightweight Cargo Pants
If you didn't get the memo belts are out and stretchy waistbands are in. Stone Island plays it safe with their classic cargos, adorned with side pockets and elastic cuffs.
Dries Van Noten Parton Trousers Green
Silk isn't only for pajamas and Dries Van Noten is here to prove it. Crafted in a bold green hue, these airy pants feel weightless as they float around your legs.
Converse x Come Tees Floral Chino
Created from recycled 7.3 oz canvas fabric, these trousers will not only turn a few heads but also keep you at a suitable temperature.
Issey Miyake Cropped Jersey Trousers
Although its not quite summer yet you can still get that summer vibe with these plissé jersey trousers. The all-over ribbed feel adds a nice lightweight touch, and they're cropped so you can show off your kicks.
Want to keep browsing? Head to the Highsnobiety Shop for more products that we love. Highsnobiety has affiliate marketing partnerships, which means we may receive a commission from your purchase.