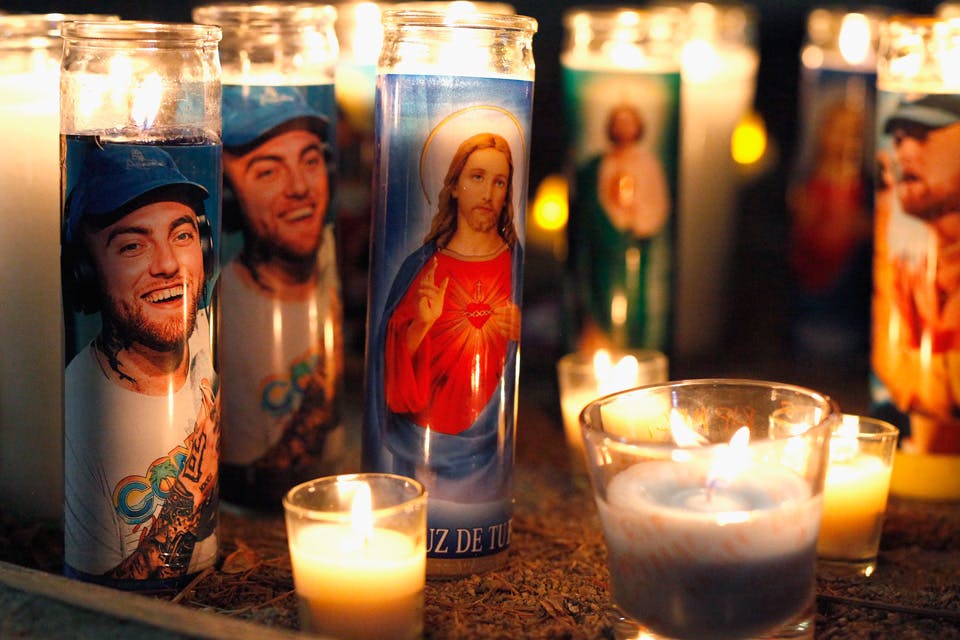 Thousands of Pittsburgh residents mourned the loss of Mac Miller yesterday at a vigil in the late rapper's hometown.
Four days after Miller died of an apparent drug overdose aged 26, fans congregated to pay their respects at his favorite childhood hangout, Frick Park's blue slide playground, which inspired the rapper's 2011 debut album. The vigil was presented by fan Brandon McCaslin of local label Nightfall Records and promoted via Facebook.
"Mac Miller has left a legacy in our city that is irreplaceable," McCaslin said, as reported by the Pittburgh Post-Gazette. "His breakout with Wiz Khalifa in the music industry paved the way for the entire Pittsburgh music scene. He became a beacon of light for our city and continued to shine even when he outgrew it. We'd like to make sure that light never dims."
According to reporter David Highfield of local station KDKA, around 2,200 people were in attendance. The blue slide in the park was given a fresh coat of paint earlier in the day. The rapper's grandmother gave a short speech. "He would be so excited," she told the crowd. "I wish he was here, but he loves you all. He loves Pittsburgh and everything you have done for him."
Fans also signed a petition to rename the playground after Miller.
Speaking to reporters on Monday, Pittsburgh Mayor Bill Peduto responded to the idea of a name change: "There are strict rules on naming of public assets within the city now. I believe it's three years after someone has passed that you can then name something after them. This was basically done in order to not have politicians naming things after themselves while they're still in office."
The evening was rounded off with the lighting of candles and singing.
Mac Miller, born Malcolm James McCormick, was found dead at his San Fernando Valley home on Friday, September 7. He was 26. Prior to his death, Miller had released his fifth studio album, Swimming.
If you or anyone you know are struggling with addiction, please reach out to the National Council on Alcoholism and Drug Dependence (NCADD) or Substance Abuse and Mental Health Services Administration (SAMHSA) for assistance, even if you just need to talk.
Next, revisit eight Mac Miller songs that changed our lives.