The time has come. It's time to see who will nail the Met Gala's Great Gatsby-adjacent theme (or not), whether TikTok's 'fit predictions will prove their investigative track record, and if the Anna Wintour answered Highsnobiety's guest list requests.
With fashion's biggest night out plopped right on the first Monday of the month, it gave celebrities a chance to fly in over the weekend — you know, to get settled and show their faces in the Big Apple's streets to be like "I'm here for the Met, guys."
Of course, familiar faces coincidentally flooded NYC, grabbing coffee, attending a fitting or two, and hitting up some parties in their best 'fits. Hold up now; save some drip for the Met, guys.
If Met Gala 2022 turned out to be a bust — which may happen if a super pregnant Rihanna skips out along with Zendaya — you can definitely get your fashion fix with the pre-Met Gala fashion show in the very streets of NY. Make sure to give your compliments to Travis Barker and Kourtney Kardashian (and not their tongues), the bare midriff, and the Loewe body.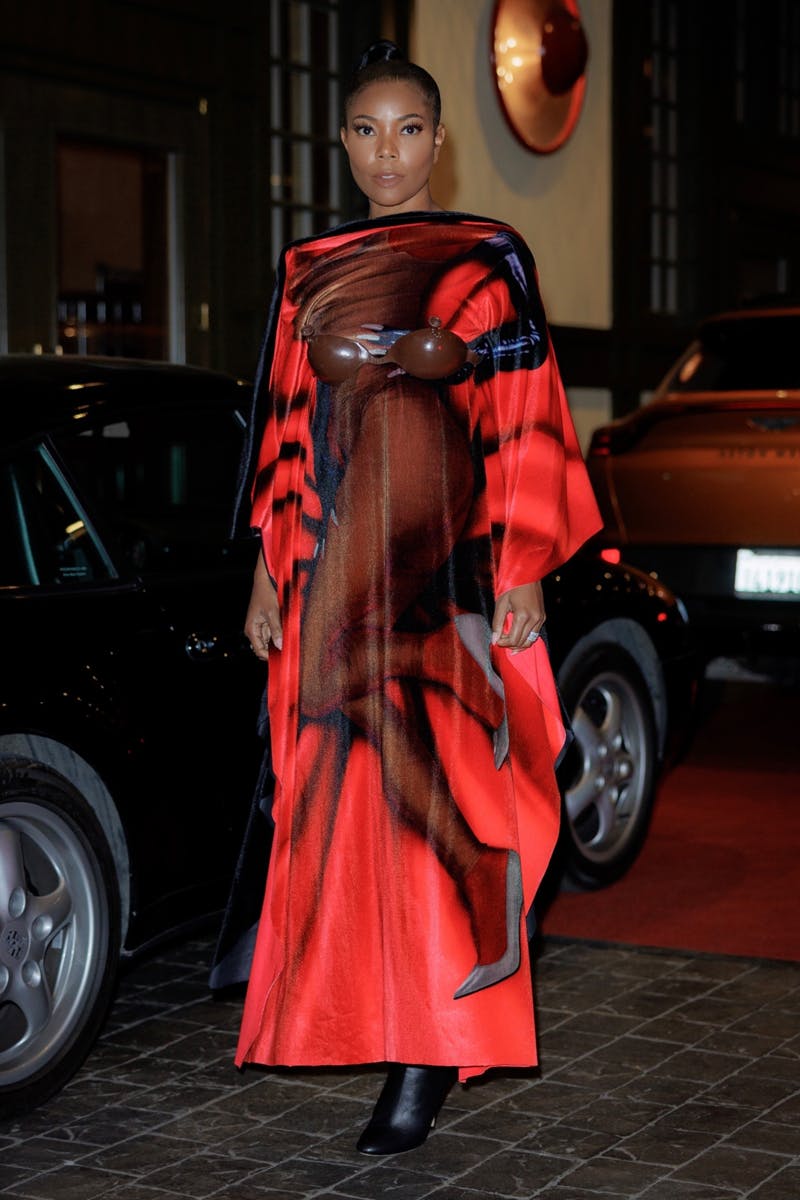 Gabrielle Union stepped out in Loewe FW22. That's it, that's the tweet.
Amongst her other stylish instances this weekend, Gabrielle Union's Loewe moment made me question whether she even needs to go to the Met now because this look is "it."
Kris Jenner took some style notes from Kim Kardashian's Balenciaga tour for SNL, going for a neon pink trench coat for her pre-Met street style moment.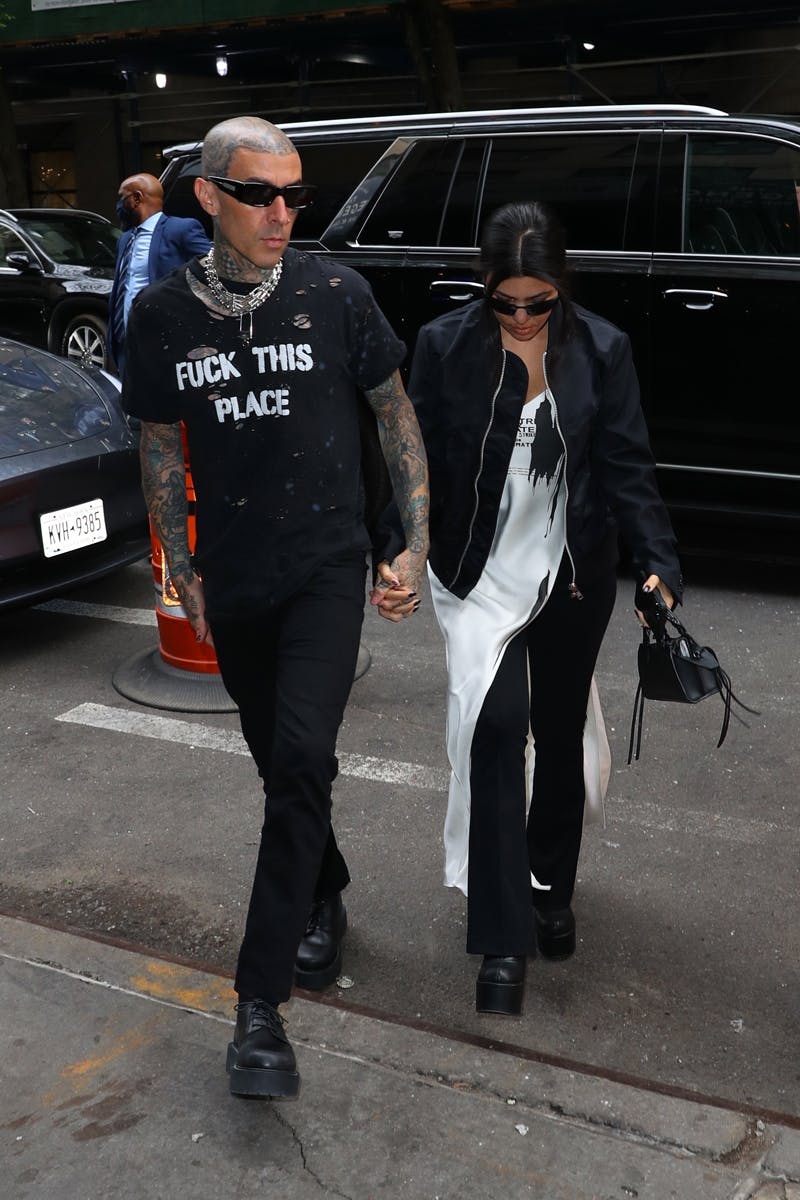 Based on his "Fuck This Place" shirt, I'm not sure if Travis Barker even wants to go to the Met.
Well, he's there now and joined by his fiancee Kourtney Kardashian, who matched his rockstar fly in a black bomber jacket, white silky longline top, flared trousers, and platform boots.
Perhaps, they'll actually attend an afterparty tonight versus another fake hitch.
Gigi Hadid opted for some bare midriff action, appropriately done with a Miu Miu cropped sweater top. She rounded off the look with black embellished pants and derby shoes.
Ah, yes. Kendall Jenner is also on board the toned-tummy train, going for a classic Kendall 'fit with a neutral brown jacket, white crop top, and stone-colored pants.
This year's Met Gala and its white tie dress code don't call for risqué moments (but, when have celebrities ever followed the rules?). So, with this AMBUSH chain dress topped off with platform heels, Olivia Rodrigo decided to get hers out of the way (I'm here for it, honestly).
While attending a party with Kendall Jenner, Hailey Bieber wore a not-so-normcore ensemble, including a full KNWLS look. She also gave her sneaker collection a break, opting for brown mules.
HoYeon Jung gave us a preppy style moment while prepping for the Met Gala (I see what you did there, HoYeon). Can someone say dark academia?!
With the world's obsession with the Squid Games actress, she's expected to steal the show at the 2022 Met Gala red carpet. I mean, she's already doing so, and the event hasn't even started yet.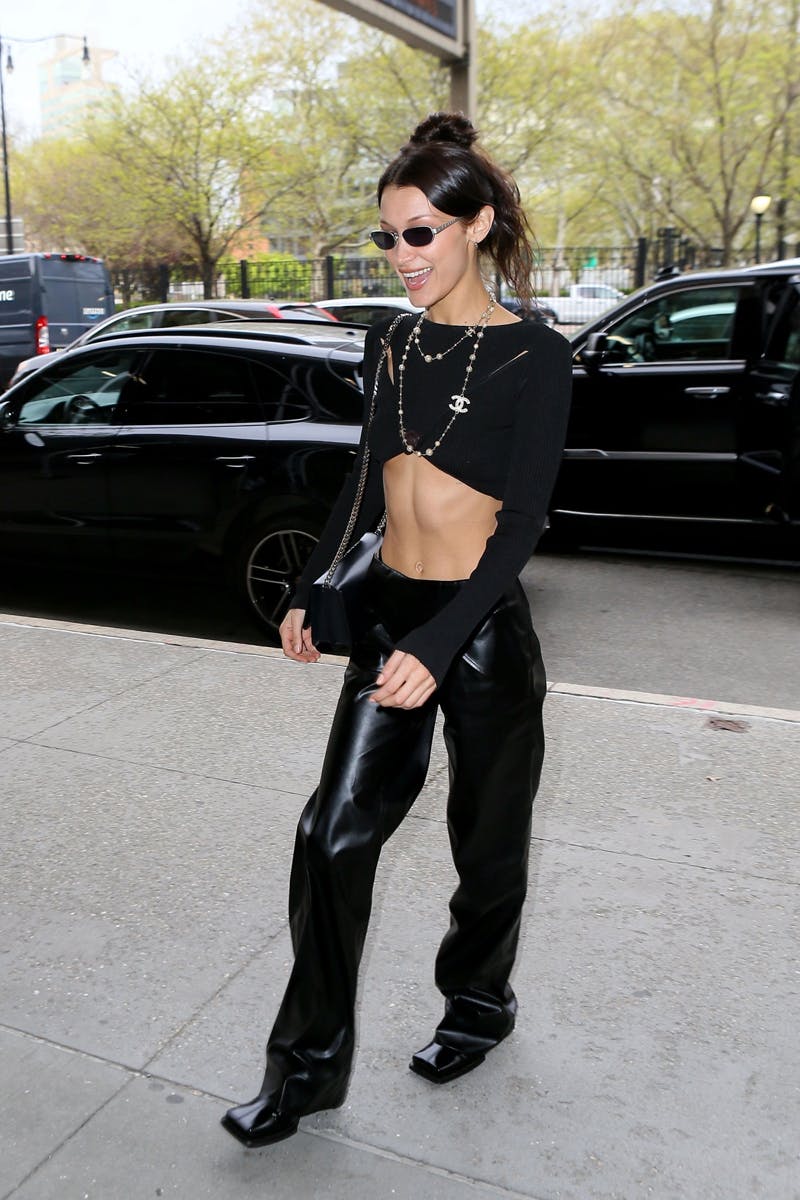 Hello? It's Bella Hadid on the phone, and she's joining the pre-Met midriff agenda.
I'm aware of Hadid's noteworthy street drip, including her impressive shoe game, so this latest style moment is just another one for the collection.