It was only last night, October 10, when I met a shadowy figure in an after-hours car park to cut a black market deal for a pair of box-fresh Air Max 97s "Silver Bullet" that had long since sold out. Think of a scene out of The Americans, only instead of nuclear blueprints, we were dealing with highly sought-after sneakers.
On second thought, maybe my booze-addled mind from the weekend is playing tricks on me — it was actually 2016, and I probably bought the 20th-anniversary reissue kicks from a pockmarked teenager online, rather than some mysterious hawker. But whatever. The point is that it didn't feel so long ago, which is why I'm disappointed to learn that Nike has already teed up another re-release for the sneaker, this time for its silver jubilee, or 25th anniversary. The shoe, if you really want it, is set to arrive in 2022.
Shop our favorite sneakers
Everybody knows the story of the silver Air Max 97 by now. It is the greatest Nike creation of all time. A conceptualist tour de force inspired by the Japanese bullet train that, in the same vein as Fabio Cannavaro and Caravaggio, fast became a thing of Italian legend. It is unhinged Y2K porn; when I look at those undulating wave panel uppers, my mind is overwhelmed by images of Tony Blair, the Trainspotting VHS piracy warning, and David Ginola on the cover of FIFA '97.
Or, as my old mucker Aleks Eror once put it: "Late '90s futurism seeps from every stitch, and its metallic finish is so similar to other great designs of the era, like Sony's MZ-E900 mini-disc player. They look like they were made for one another, to match harmoniously as part of a single streamlined outfit. And this isn't some mere coincidence, rather, it's a snapshot of a wider consciousness of the time, one that manifested itself physically in the products of that particular moment in history."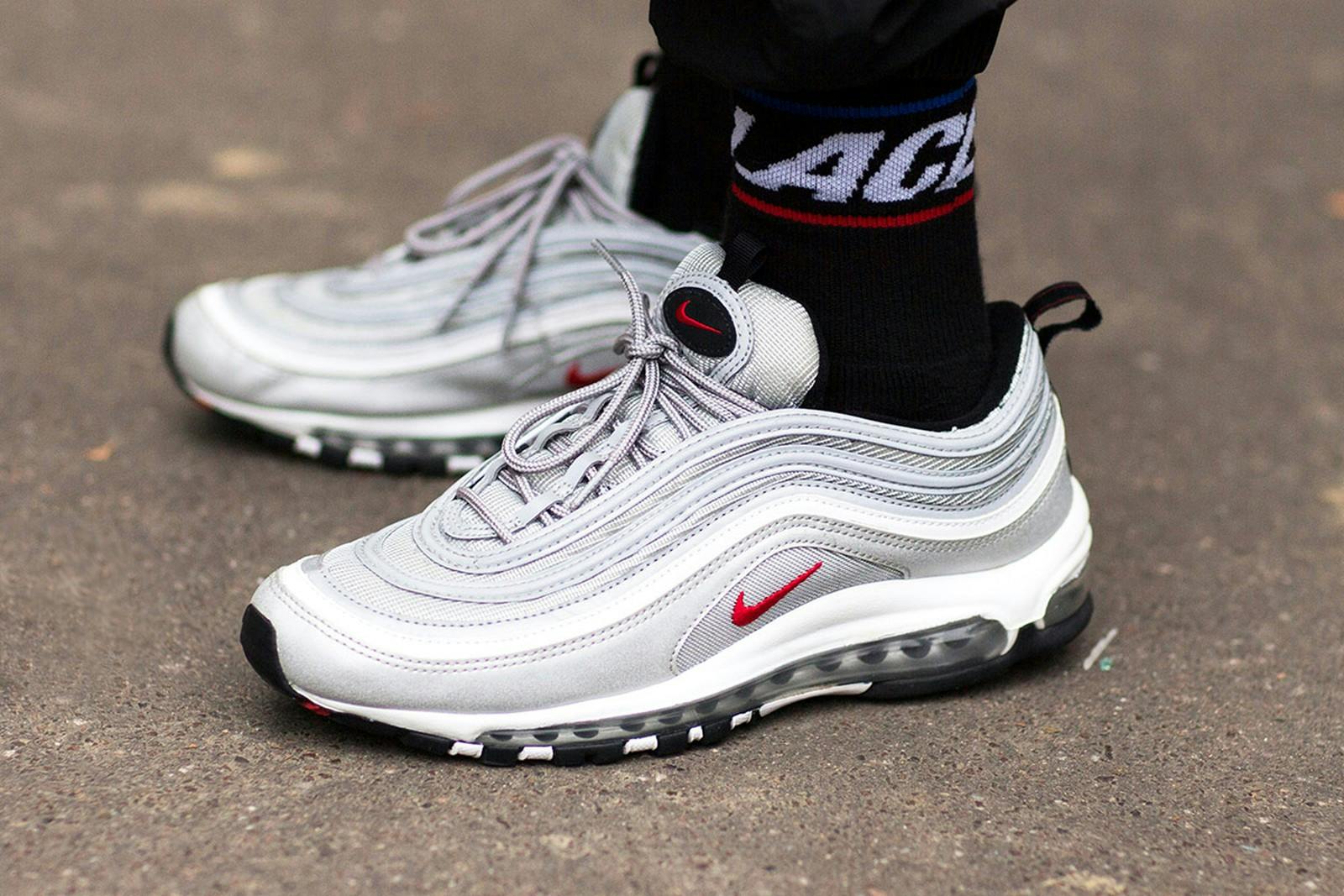 Eror's take — written in 2016 — was that a shoe like the 97 should remain "fossilized" in time as a '90s, retrofuturist masterpiece. A harbinger that, like pager devices or an Ask Jeeves cache, stands as a humbling reminder to humanity's naivety when it comes to predicting the future. Honestly? I can see that point, but I'm not that precious. When done right, a re-issue can be a nice educational lesson for the younger generation, while bringing shine upon the original designer (in this case Christian Tresser).
The 20th anniversary AM97 was initially released as an Italy exclusive and came with a neat little Italian tricolor on the tongue and the heel. It was wonderful storytelling that led people down rabbit holes of post-Paninari style and Spice Girls-era club culture. That should have been plenty. Instead, Nike lined up collabs with everyone from Riccardo Tisci to Sean Wotherspoon to Skepta, as well as a general release that saw it occupy just about every shelf available in JD Sports. It might have sold heaps, but at what cost did the overall cool factor suffer? It was no surprise at all when the Air Max 98's return felt decidedly more muted 12 months later. People were tired of the same trick.
I get it, 25 years is a landmark moment. But are we going to end up in a rinse and repeat cycle where a zombified version of the 97 comes along every so often between now and, well, forever? If that is the case, how long before its potency is reduced? When do people begin rolling their eyes and the stories become cliché? This is a shoe that is too good to be locked away in an archive, but as a personal appeal on behalf of good taste everywhere, please Nike, do not rip the piss with it.