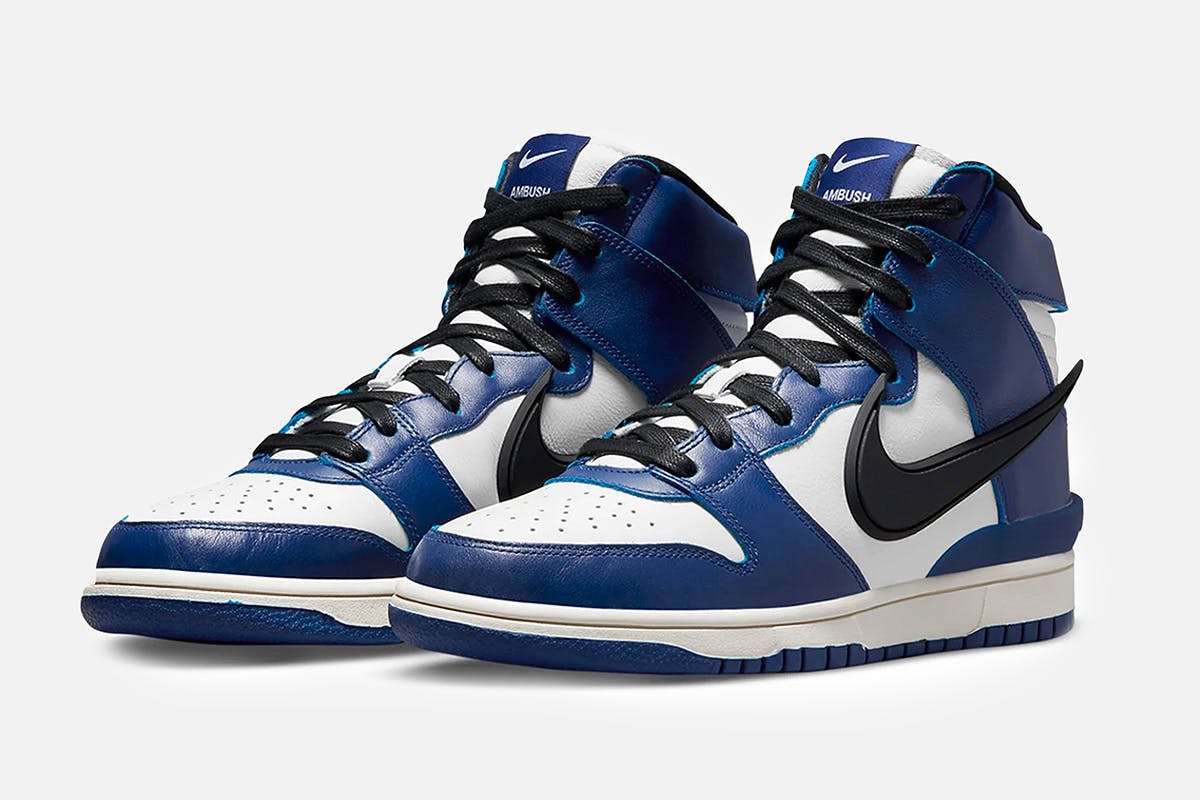 Offspring, one of the UK's largest sneaker retailers, pissed off a lot of sneakerheads during its release of the AMBUSH x Nike Dunk High. To dissuade winners of the raffle from turning around and selling the sneaker for profit on the resale market, Offspring employees destroyed the shoeboxes and sold the sneakers separately.
Several buyers filmed the employees smashing boxes at the cash register and voiced their displeasure on Twitter and Instagram. As retailers continue to find creative ways to ensure sneakers end up in the hands of people who are actually going to wear them, the reactions online sparked an interesting discussion about where retailers' efforts are best focused.
It's no secret that mass resellers have a bad reputation in the sneaker community, as people want to get their hands on limited sneakers without having to jump through too many hoops or pay too high a price premium, and resellers make that more difficult. When people or collectives end up getting their hands on a large part of the stock just to turn around and flip all the shoes for a hefty profit (right after posing on Instagram with a wall of hyped sneakers), it's understandable that people would be pissed off.
It's also understandable that retailers want to avoid bots and large-scale resellers from getting their hands on too many pairs from one drop. Inventive anti-bot protection has included fake online listings, launching separate websites for special drops, and trying to regulate the raffle sign-up process as much as possible (something Offspring generally does very well).
Union Los Angeles was praised by large parts of the sneaker community because the retailer made customers answer a unique question before checkout, something bots would not have been able to do without prior knowledge of the question's existence during the checkout process. Other retailers, such as Slam Jam and Wish ATL have gamified the raffle process in the past to deter multiple bot entries. But did Offspring's latest stunt cross a line?
In destroying the boxes, Offspring achieved its goal of decreasing the resale value of the sneakers and dissuading some people from trying to sell them for a profit. Sneakers resell for a lot less without the box, proof of purchase, and other items that came with the sneakers at purchase. The term "OG all" is used on buying and selling groups to denote that the sneaker arrives in original packaging and with all accessories intact. Resale platforms such as StockX don't accept sneakers that have a damaged or missing box, making it impossible to flip Offspring's AMBUSH Dunks. So, from that perspective, Offspring's methods were effective.
But some would argue that individuals who got lucky and won the raffle and later decide to flip their pair — for whatever reason — are not the problem. It's the large-scale resellers that get pairs backdoored or use bots to sign up to raffles hundreds of times over. Instead of destroying boxes for individual raffle winners, it might be more effective to try and set up formidable bot protection.
So then it could be argued that Offspring's attempts were, at best, an annoyance to people who bought the sneakers and, at worst, a publicity stunt that doesn't really solve the root problem.
Sneaker collectors are weird people and obsessive about certain things. There's a reason some people wear crease protectors in their shoes to avoid them looking worn, or why other sneakerheads put plastic bags or sneaker condoms on their shoes to avoid them getting dirty or wet when it rains. Some sneakerheads are equally obsessive over the boxes — even if they plan on rocking their shoes.
Whether it's to store the shoes in, or because boxes like the AMBUSH x Nike Dunk High box are special edition with special co-branding on them, there are many valid reasons why someone would want to have an intact box for their pair of sneakers without planning on reselling the shoes. Saying "you don't wear the box" is a silly argument when you consider the importance of the sneaker box. Nike SB has been divided into different eras based on the design of the shoebox and collaborators sometimes put as much effort into the box as they do the design of the shoe. Imagine destroying a Tom Sachs box or a Piet Parra x Nike box?
So how can retailers and brands keep sneakers out of the hands of large-scale resellers? How can they be inventive enough without crossing a line? Does that line even exist?
Would it have been better to require people to wear the shoes out of the store? Should it have been communicated ahead of time that the sneakers would be sold without the box? Was it necessary to smash the boxes in front of the customers and then post a photo to Instagram with the caption "we don't wear boxes"?
Those are all valid questions, some of which don't have a right or wrong answer. Based on the discourse on social media following Offspring's stunt — where both viewpoints were equally championed — it seems there is no one-size-fits-all answer. Maybe Offspring's attempts were misguided, however, the key is that Offspring (and many other retailers) are trying to keep sneakers out of the hands of resellers. It wasn't the biggest hit this time, but maybe next time it will be.