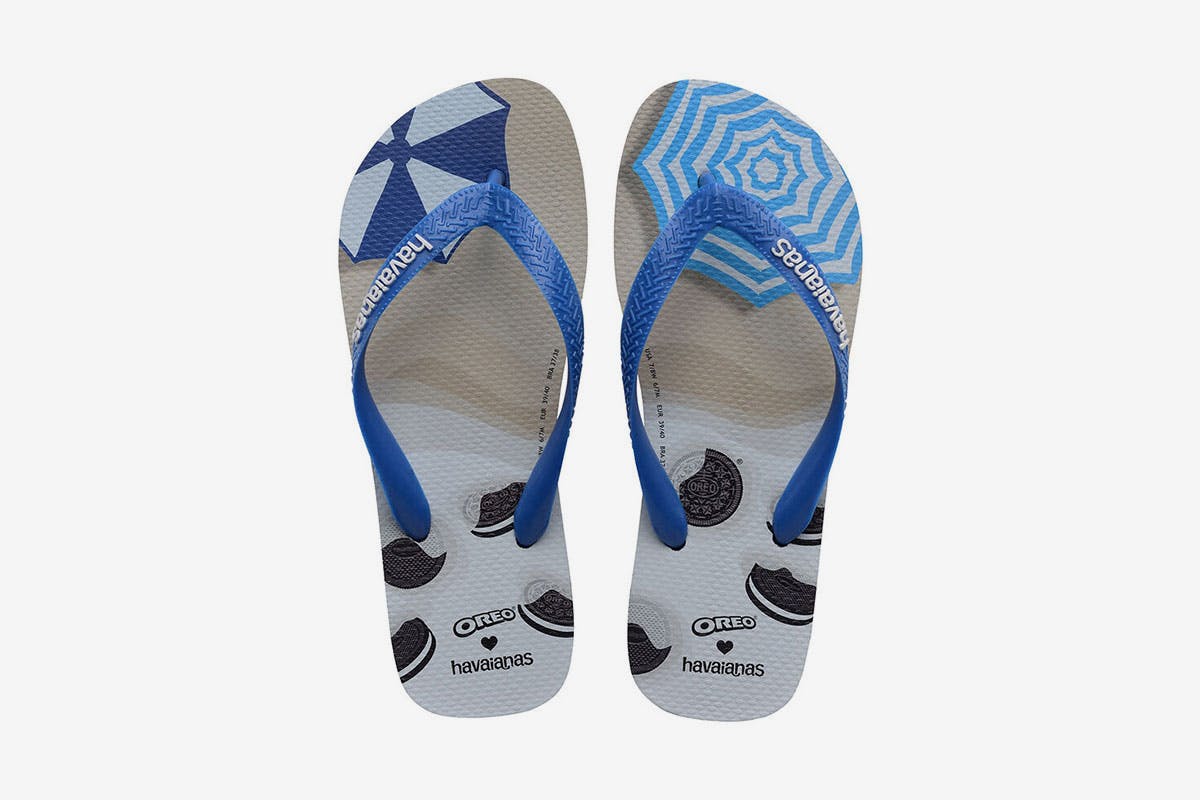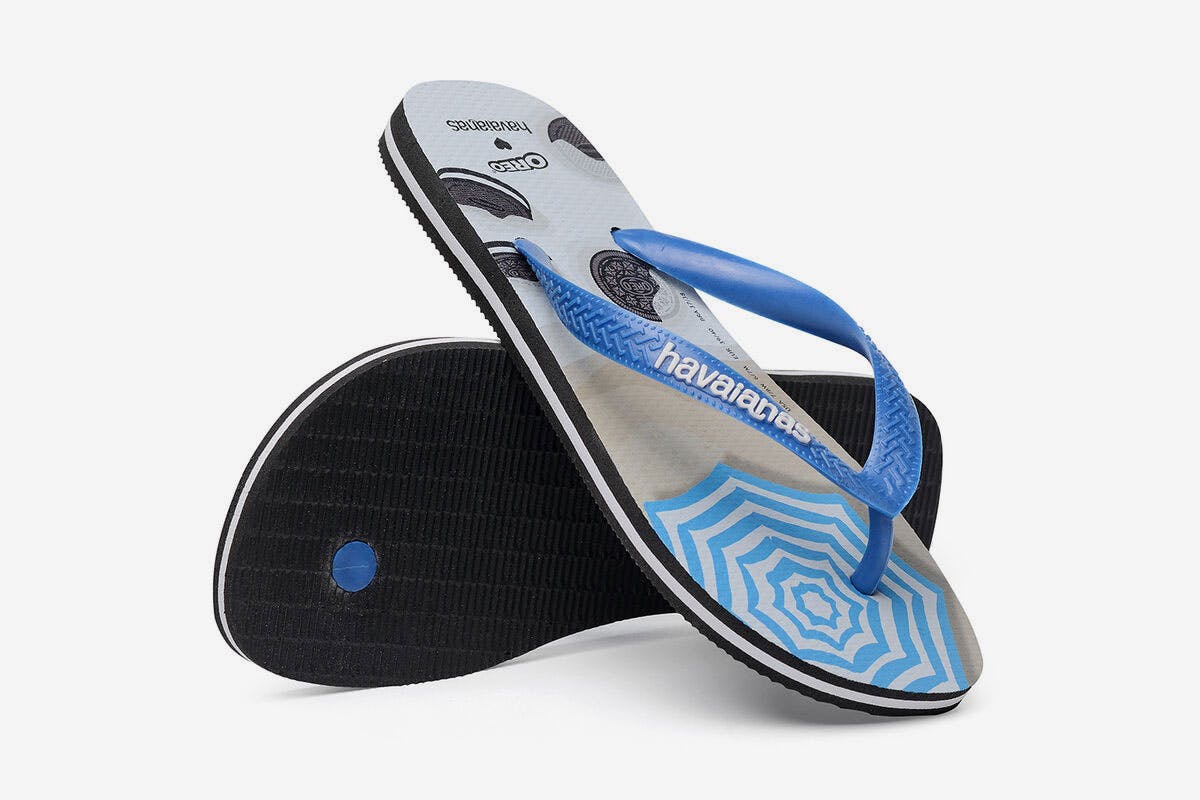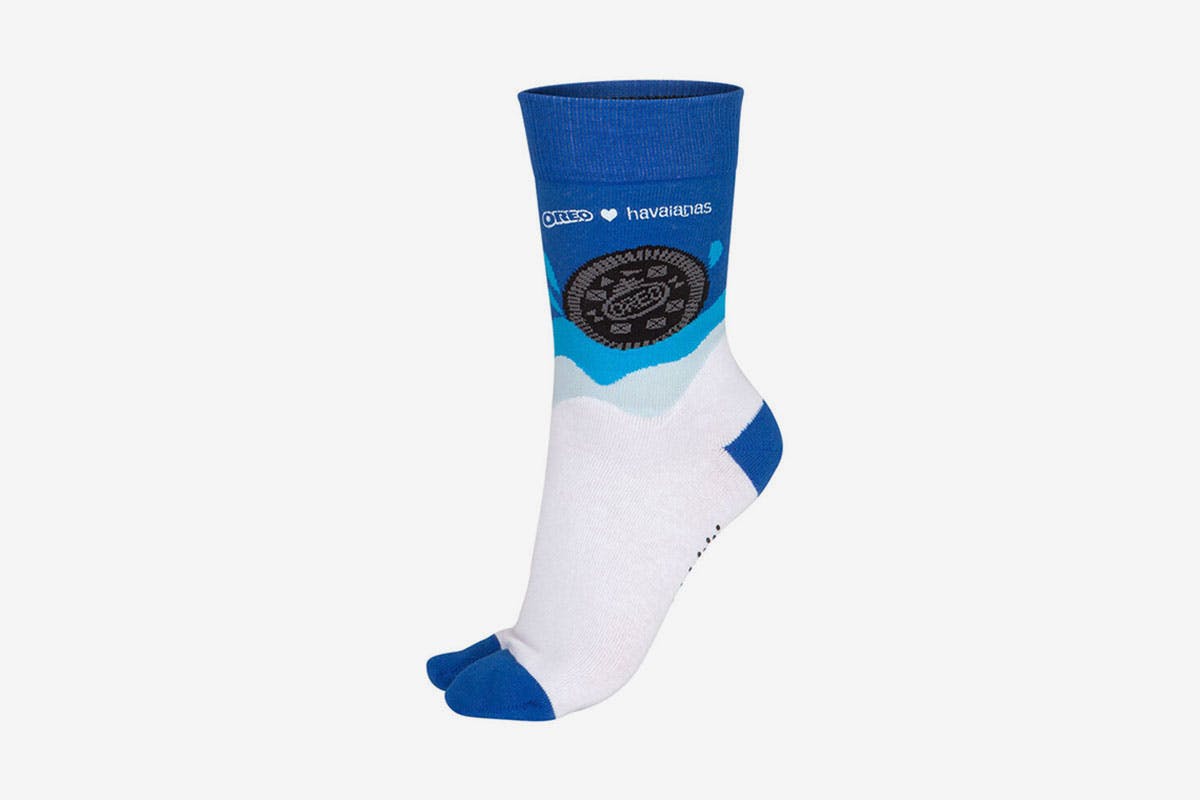 Fashion-food crossovers aren't exactly new (see: Vetements' vegan burger and Telfar's White Castle collab) but Oreo x Havaianas is unlike anything we've seen before.
The cookie purveyor and footwear giant have joined forces on chocolate-scented flip-flops. Yes, you read that correctly: soon, you can wear sandals that look like Oreos and make your feet smell like them, too.
Havaianas' OG flip-flop is updated with Oreo blue straps and a "layered" midsole that recalls the black-and-white profile of the cookie sandwich. Printed on the insole of the shoe — which is currently available to purchase at Havaianas' website — is an illustration of Oreos swimming beach-side in an ocean of milk.
Complementing the delectable slip-ons are a pair of Oreo-printed socks and an Oreo-shaped earphone case.
As bizarre as an Oreo x Havaianas team-up seems, the two are well-suited: after all, Oreos are milk's favorite cookie and Havaianas are everyone's favorite flip-flops.
This isn't Oreo's first fashion rodeo, either — in early 2020, the company partnered with Supreme to drop red versions of the iconic cookie, stamped with the streetwear label's instantly recognizable box logo. (Now sold out, they're available on eBay for $8,000.)
That same year, Oreo worked with three influencers to debut a collection of cookie-printed T-shirts, sweaters, and bucket hats.
As Jon Moy wrote for this very website, fashion and fast food are a match made in heaven. Just as customers scrambled to try Popeye's chicken sandwich (remember that pre-COVID moment in history?), streetwear fans line up to cop the latest Supreme wares.
Oreos aren't much different. "Rare" flavors of the cookie — like cotton candy and Oreo's limited-edition Pokémon packs — can fetch thousands of dollars on resale sites, thanks to diehard cookie-eaters.
Oreo x Havaianas might not be edible, but it's sure to go down in history as one of both brands' most collectible — and fragrant — drops ever.