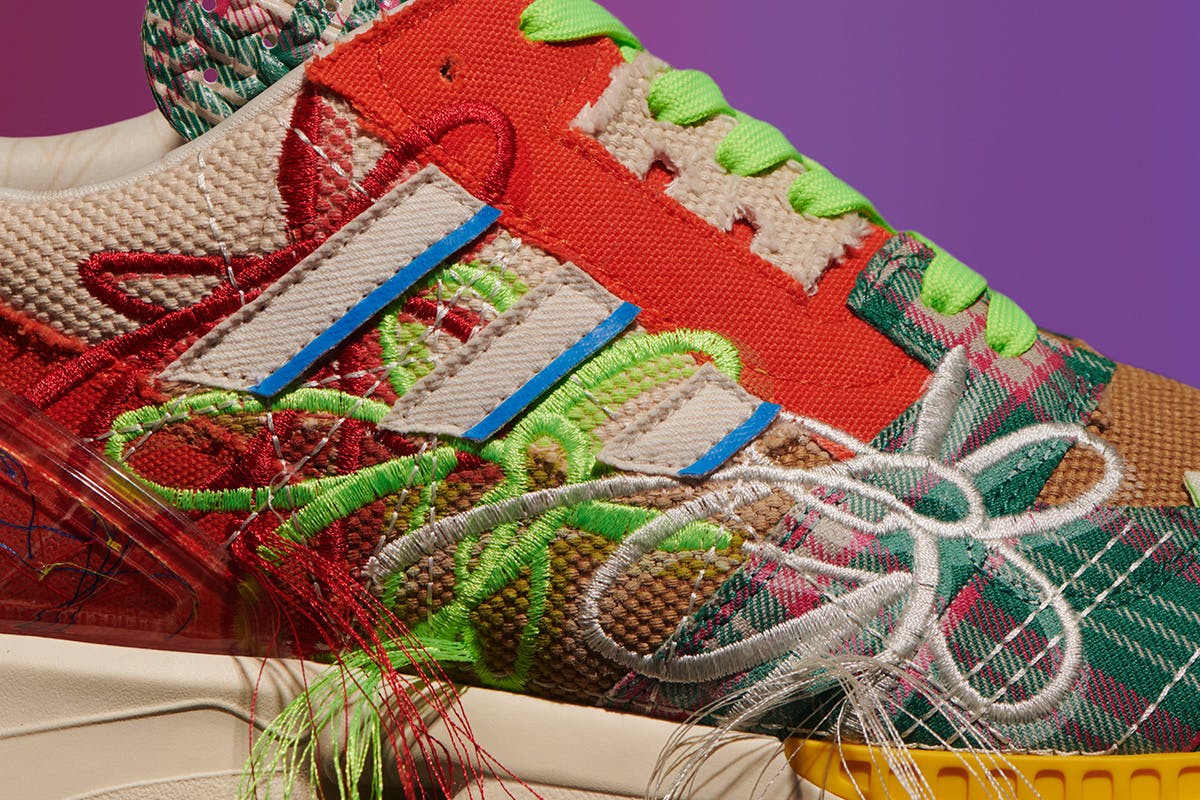 The connection Sean Wotherspoon has to his upcoming collaborative adidas ZX 8000 — and the Superstar before it — was not many years in the making. It developed quickly, like falling in love unexpectedly.
"The archive is when it all started to come together," he says. "It was like, 'Holy shit!' I was able to make all these dope connections to things that have always been relevant to me, that I'm now finding out are super relevant to adidas."
One of those findings was the adidas ZX range. Like Wotherspoon, the range is known for its fearless use of color — a major reason the rave scene took so kindly to it in the UK in the early '90s. "I was born in 1990, so I was a little young for the rave culture," says Wotherspoon. "The ZX — just like the Superstar — I don't have much of a connection to in my past, but I love falling in love with something."
And fall in love he did, while rifling through adidas' archives to learn more about the brand. "When you dig back into the archive and you start looking at these old ZX models, they used a lot of light blues, light greens, light yellows, and these are all colors that have just been so true to me," Wotherspoon continues.
Anyone who is even remotely familiar with Wotherspoon's work — be it one of his countless collabs or his product selection for Round Two Vintage — knows that Wotherspoon loves colors. That love really shines on his ZX 8000, which is a patchwork of materials, textures, and contrasting shades.
Without having any previous connection to the range, Wotherspoon was able to make a ZX sneaker that was both true to the range's cultural roots, while staying unabashedly true to himself.
That clash of color makes the ZX somewhat hard to style for most, though no harder than the Overkill or IRAK collaborations. When asked how he imagines his XZ 8000 should be styled, Wotherspoon is on-hand with some helpful tips.
"I went through two different phases in my design life as to how I like things to be styled and worn with my product. I was first really into just super top-to-bottom, boom, in your face, color fits," he explains. "Now, I want the shoe to be [the] focus, and I like everything else to be toned down. I love seeing denim with my sneakers."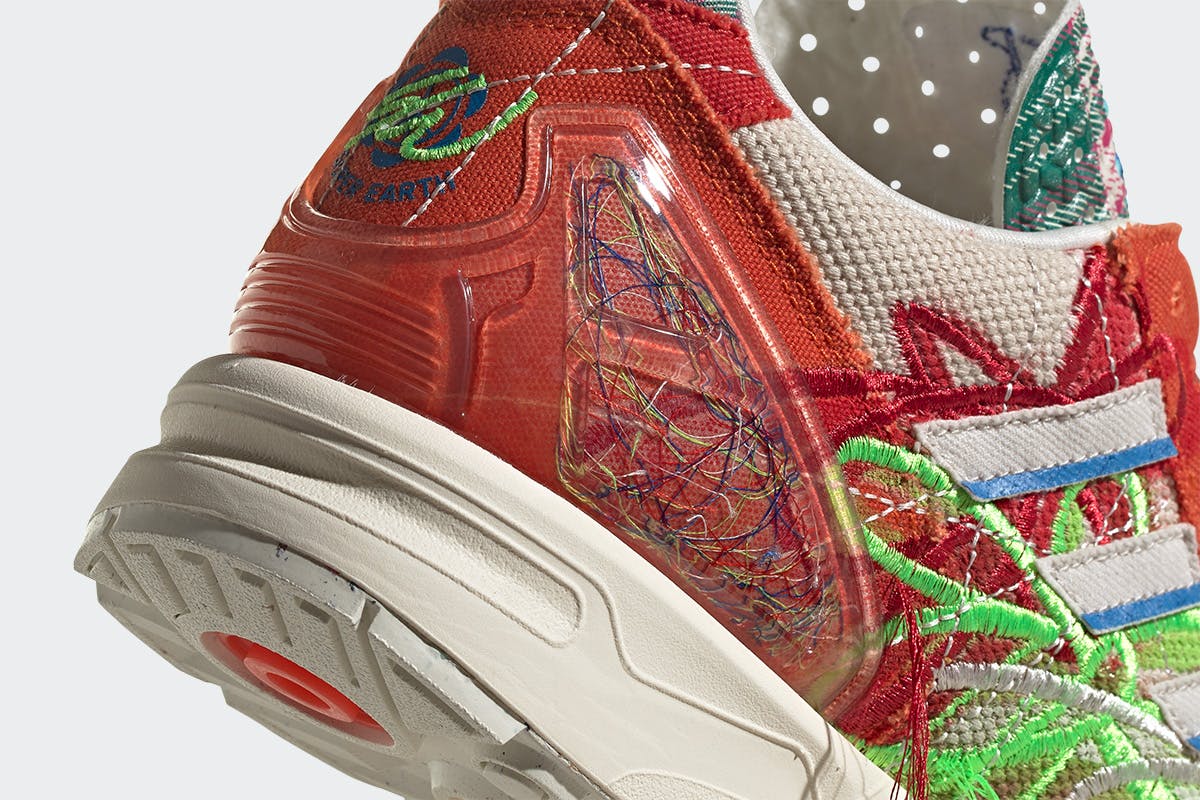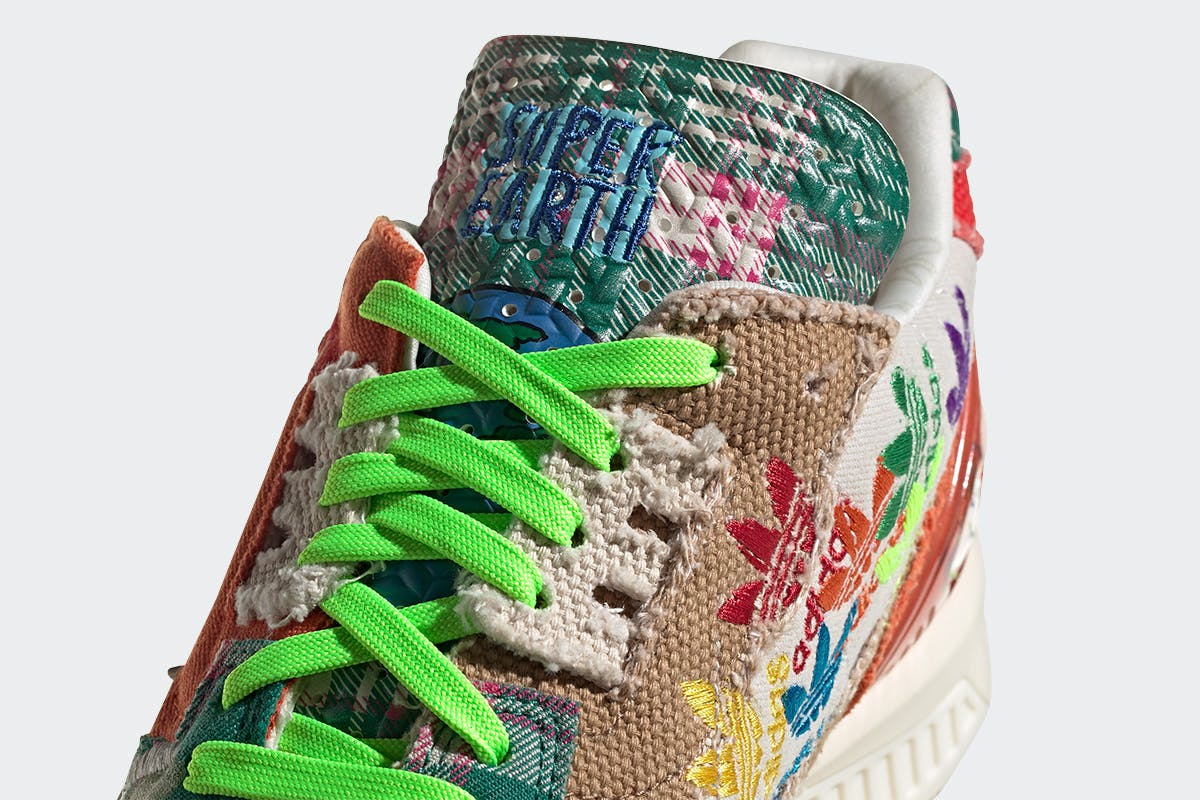 Wotherspoon isn't picky about what kind of denim, but would definitely like to see people wear a nice, plain T-shirt with his kicks: "You should never be limited to one color, but it has to be a light tone. Try not to go too dark."
The Sean Wotherspoon x adidas ZX 8000 falls under his "SUPER EARTH" project with the Three Stripes, and the ZX's aesthetic is clearly a continuation of the design language first expressed on his Superstar collab. "I want Super Earth to be one continuous story," Wotherspoon explains. "We carried over the little bit of flower embroidery that you see on the toe box."
Flowers are central to the theme of SUPER EARTH. When Wotherspoon uses the term, he's trying to say that we literally live on a planet that is super. With the design, he wanted to shed light on Earth's different beauties — one of them being flowers.
"Man, flowers are just beautiful, dude," beams Wotherspoon, grinning from ear to ear. "If you look into a flower, you're being exposed to maybe 25 different shades of a color that you may have never known existed. Your brain can't think of those colors."
Another key feature of his SUPER EARTH projects has been the Samba tongues that have been used in place of the sneakers' original tongues. Wotherspoon, who grew up playing soccer and wearing adidas, absolutely loves the Samba.
When the topic is brought up, he gets visibly pumped up that someone noticed. The story gets cooler, though, as Wotherspoon explains that the tongues are actually vintage Samba ones that adidas had leftover in its factories. "We didn't create new tongues. This was an ode to sustainability, as adidas didn't need to make a new Superstar or ZX tongue," says Wotherspoon.
While the Sean Wotherspoon x adidas ZX 8000 is the next collaboration in what appears to be a multi-release partnership, the Round Two co-founder won't rule out a soccer-focused project. "I would love to do a cleat. I want to do a full kit. We can even do our own Super Earth Cup," he beams.
The Sean Wotherspoon x adidas ZX 8000 is set to be released on April 16 via adidas Confirmed and select retailers worldwide. Head here for more information on the drop.