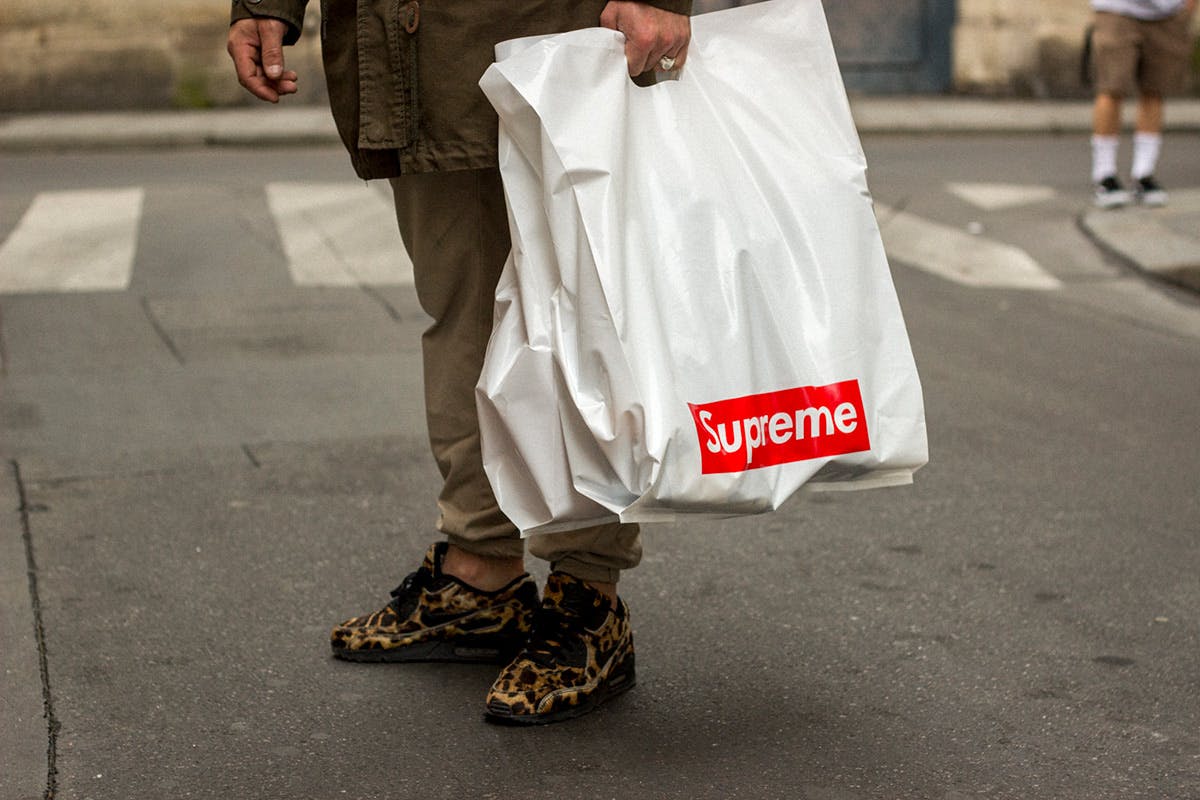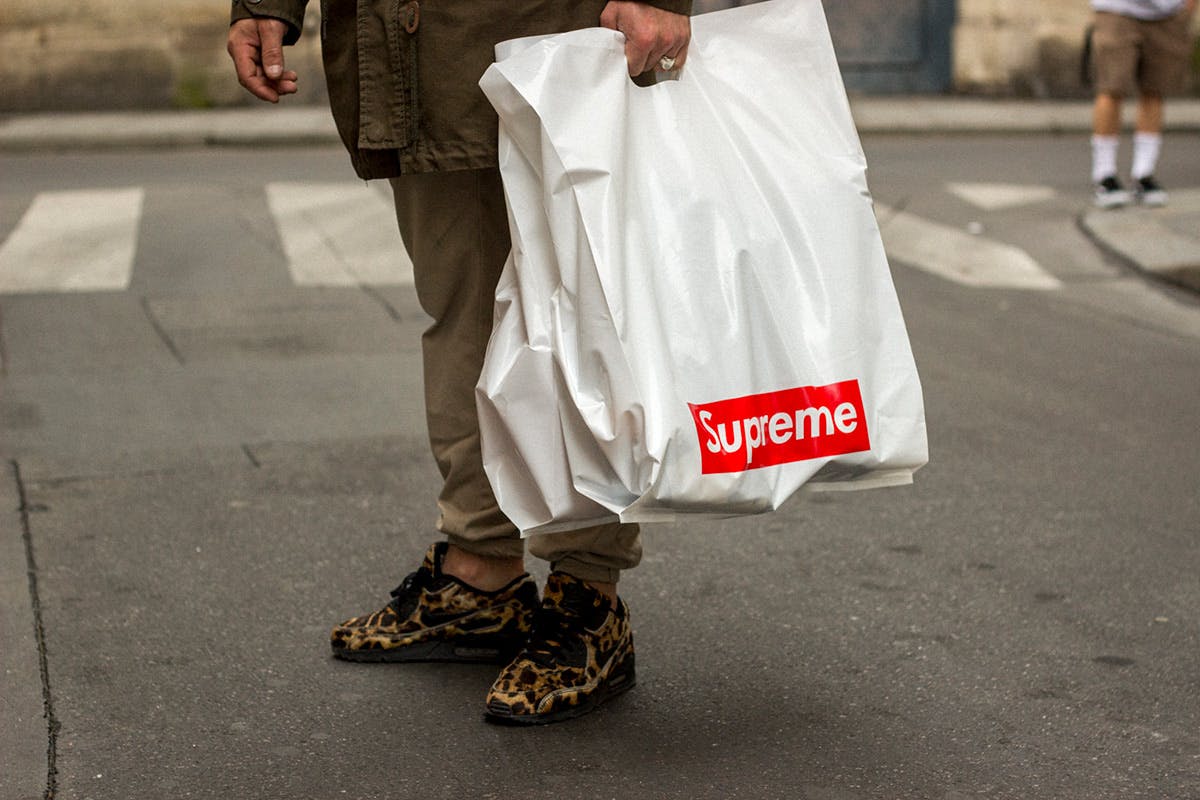 Everyone has questions, and we usually take to Google get an answer. You know the drill. Begin typing your question into Google, and the search engine magically hits you up with a multitude of autocomplete suggestions before you've even finished typing.
Take Supreme for example. It's the streetwear heavyweight we all know and love, but there are a lot of people out there curious to know more about the streetwear phenomenon. You just have to start typing "Why does Supreme..." to get a flavor for the types of questions people are asking about the global streetwear cult.
We've decided to answer Google's most searched questions about Supreme in an effort to finally satisfy all those eager to crack its code. And, for all of you interested in the breaking questions regarding VF Corp's recent purchase of Supreme, you can find some of the answers here.
Where to Buy Supreme?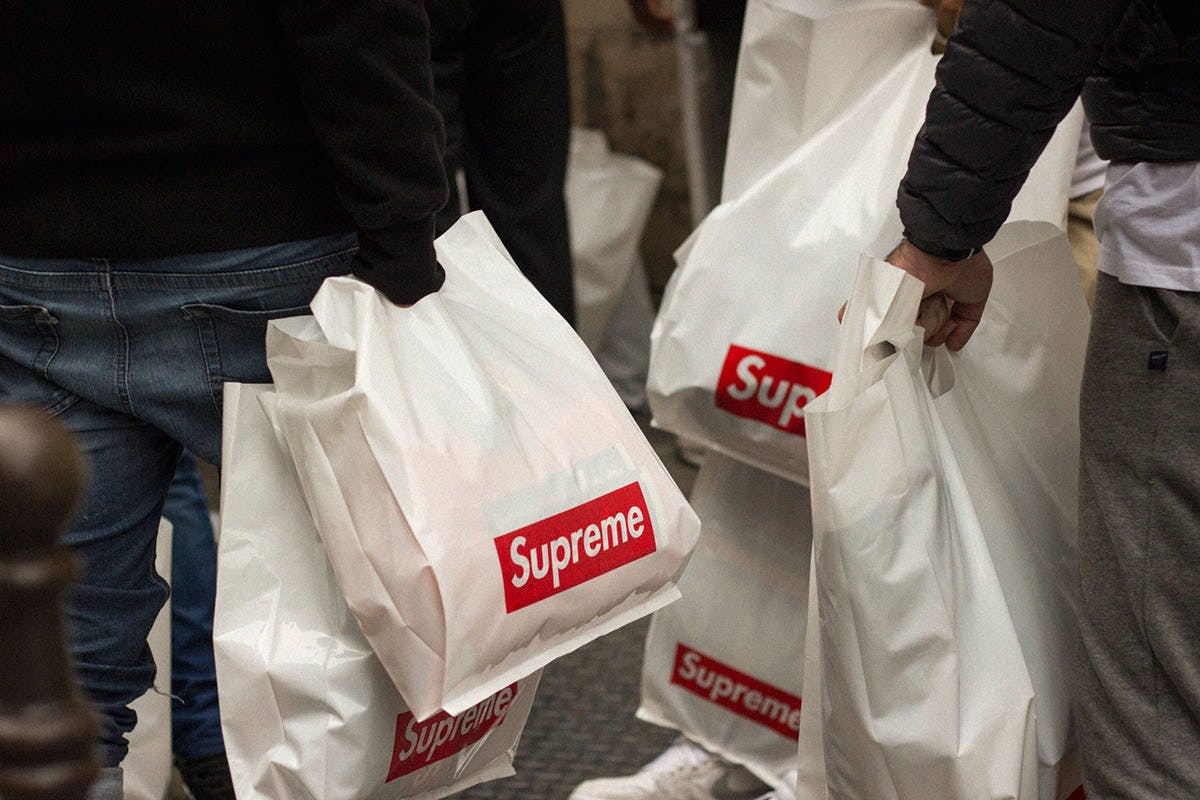 Some firmly believe that copping Supreme is a bonafide art form. Others just put it down to luck. But there are the two answers to this loaded question and they're both resolutely simple: in-store or online.
Before the onslaught of e-commerce, and before Supreme basically became the world's most coveted and collected brand, the only place to cop Supreme was at its original flagship location on Lafayette Street in downtown Manhattan.
However, it's no longer 1994, and Supreme clothing is no longer confined to a tightly-edited in-crowd. It's now a global phenomenon and currently, the brand counts 10 stores worldwide, in the US, UK, France, and Japan.
Supreme doesn't sell its wares anywhere outside of its own stores or website, with the sole exception of Dover Street Market's New York, London, and Tokyo outposts. Adrian Joffe, president of Comme des Garçons and Dover Street Market, told the New York Times that Supreme is among the top three best-selling brands at DSMNY, where it is located beside Gucci on Floor 7.
So, if you're lucky enough to be anywhere near a bricks-and-mortar Supreme or a Dover Street Market location, then, by all means, keep an eye on Supreme's weekly drop list and head to the store on drop day to join a snaking line of streetwear kids all decked out in their box logo finery.
Of course, there's always the Internet. On a "drop day" the traffic on the Supreme site can increase by as much as 16,800%, as thousands of trigger-happy streetwear fans try to cop simultaneously. Luckily for you, we've already written an in-depth guide to buying Supreme online.
If you've failed to cop the drop through official channels, then your only option is to face the resellers. Nowadays, there is a multitude of options out there. From physical stores to Instagram resellers to eBay to websites wholly dedicated to flipping fashion such as Grailed, there are tons of options out there — just be prepared to pay a lot more than retail.
Why is Supreme a Thing?
Well, this is more of a subjective question. Supreme is a bit more than "a thing" at this point. The brand has evolved into a global cult with its own myths, legends, iconography, and loyal disciples. Everybody wants a piece of Supreme.
Much like obsessive fans of a sports team that ritually unite to support on match day, Supreme loyalists line up at its stores on "drop day." Each and every week, the brand will launch a limited-run of new products that are all guaranteed to sell out.
Even though prices for products immediately hike on the resale market, Supreme still maintains its rarity, fairly standard pricing, and a short run of products, despite knowing full-well they could charge more and sell more. It's a patchwork of reasons that makes Supreme so addictive, but it's fair to say Supreme is more than "a thing" at this point, it's the sovereign ruler of streetwear.
Supreme's defining feature beyond "hype" is the fact that it wholly rejects convention too. While its recent LV collab may have upset die-hard skate loyalists, the brand has always indulged in diverse collaborations, ranging from highbrow artists like Damien Hirst and George Condo to totally off-beat unions like its 2002 collab with 360 Toy Group.
It's this history of weird and wonderful collaborations that makes Supreme the sartorial version of a cultural encyclopedia in this day and age. Time and time again, the brand manages to soak up and a spin-out a smorgasbord of inspirations and references, and streetwear heads go crazy for it. That's why it's a thing.
Why Does Supreme Use 666?
For its SS17 collection, the brand dropped its "666" pieces, emblazoned with the number of the beast in some cutesy-corporate graphic treatment that riffed on the logo of motocross oil company STP. Supreme's SS17 collection is also rife with political undertones, featuring plenty of Barack Obama graphics and even an ode to Emiliano Zapata, an anarchist horseman whose mission was to expel corruption from Mexico.
And when you consider 666's biblical definition, then it wouldn't be entirely illogical to make your own allusions as to why Supreme chose to use the number in a collection that seems to dwell on our present situation of widespread dissent.
That's probably giving the brand way too much credit, though. Supreme has always loved subversion. The brand has a history of incorporating tongue-in-cheek humor and profanity into their designs. Take Supreme's FW13 collection for example, where the brand peddled the "Piss Face" zip-up hoodie with a quotation, attributed to the skateboarder (and longtime Supreme collaborator) Mark Gonzales, that read: "I've never wanted to piss on someone's face more than I want to piss on yours."
Why is Supreme So Popular in Japan?
The brand has six stores in the country, compared to just two in the U.S. In a recent interview, former Supreme store manager Alex Corporan explains the popularity behind Supreme in Japan: "I believe it was around 1997 when I really started noticing it. It felt like the scene as a whole became something the Japanese culture was very attracted to. The Japanese enthusiasts really dig the New York style and, at that time, it was such a heavy subculture."
In another rare Supreme interview, the brand's founder (and notoriously press-shy messiah) James Jebbia told the late, great Glenn O'Brien in an Interview Magazine story about Supreme's strategy in Japan.
He explains that Supreme never actually targeted the Japanese market. "We never pandered to the Japanese customer. We still don't. It's more like we're just trying to make stuff for that real pain-in-the-ass, picky New York kid. And I think that the kids in Japan could see that and say, 'Okay, yeah, that's legit. There's nothing else quite like that going on.'"
Why Does Supreme Resell for so Much?
Reselling Supreme has become a peculiar global fashion ecosystem of its own. Given that sneaker culture more broadly has fueled a $1 billion secondary market, it's no surprise that flipping streetwear's most prized brand is a truly lucrative business venture.
Reselling Supreme simply involves buying clothing from the skate-inspired men's fashion brand at retail prices, and then waiting until the items have sold out at Supreme's physical stores and online shop, and then putting those items up for sale on anything from dedicated Facebook groups, forums, eBay, Instagram or websites such as Grailed, all at significant markups.
Why? Because there is money to be made, and all of Supreme's drops are produced in limited quantities. Take into consideration that it's literally the most hyped brand in the world, and the fact demand for Supreme totally outstrips supply, then you can probably get why resale prices can literally skyrocket.
In David Shapiro's piece "Flipping Supreme" in The New Yorker, the writer explains that in Japan, "Supreme goods can cost twice what they do here [in the U.S.] at retail." In any case, the psychology behind the crazed brand devotion that drives Supreme's cultural cache is a whole other beast, but it's a commitment to the cult of Supreme that really inspires someone to spend $2,600 on a used jacket.
Why Does Everyone Like Supreme?
Supreme commands a devotion from its loyal fan base like no other brand. The weekly drops at any of its 10 stores are seen as a ritual-like pilgrimage for many; school kids blow off school and even grown adults will skip work just to get something as useless as vintage Supreme-branded incense sticks.
Supreme's carefully crafted veneer of impenetrable cool goes beyond its quality clothing or its diverse collaborations. It's really down to the brand being a pioneer of scarcity and exclusivity, yet somehow still maintaining accessibility to even the most pedestrian of shoppers, such as a thrifty 15-year old who has saved up $148 in an effort to buy the brand's signature box logo hoodie.
Yet, Supreme can just as easily seduce the hardened fashion obsessive who has a few spare thousand dollars to spend on the Louis Vuitton x Supreme collab once it drops later this year. The brand's reach has broadened in recent years, and it has a lot to do with streetwear and high fashion becoming one in the same.
There's no universal answer to this question that's been a contentious point of discussion on numerous forums and subReddits. In large part, Supreme's popularity is down to its founder James Jebbia's core creative and business philosophies.
Even though Supreme is now the Chanel of downtown New York, its origin story as a cool hangout for tastemakers and cultural enthusiasts alike still remains true. Yes, people outside of Jebbia's original target audience are buying into Supreme, yet the integrity of the brand's belief system remains intact.
More so, the clothes Supreme peddles is no longer considered a niche subcategory of menswear. It's come to embody how men around the world dress today, and Supreme is definitely no longer overlooked by lofty fashion titles either.
Supreme also just happen to make good clothes. Chinos are made with military-grade reinforcement, hats are constructed with a hardy square brim, and T-shirts cane come twice as thick as standard. The brand's latest collaboration with Louis Vuitton (who actually sued Supreme seventeen years ago) is yet more solid proof that streetwear has gone mainstream.
How to Become a Supreme Clothing Model?
We hate to be the one to crush dreams, but you probably won't be fronting a Supreme guerrilla campaign anytime soon. Supreme's models look like blunt-puffing skate urchins, underground filmmakers, cult actors, graffiti artists, musicians, and rappers because they all are.
Supreme has cast many high-profile icons in its past campaigns, from Kate Moss to Chlöe Sevigny, to Morrissey to Ryan McGinley, to Lou Reed to Lady Gaga and Tyler the Creator.
When its campaigns aren't fronted by such recognizable names and faces, the brand turns inwards to its coterie of friends and family, so unless you're a close associate of Supreme's inner-circle or are approached directly the brand, there's no formal process to becoming a Supreme model or getting "sponsored" by the brand with free gear.