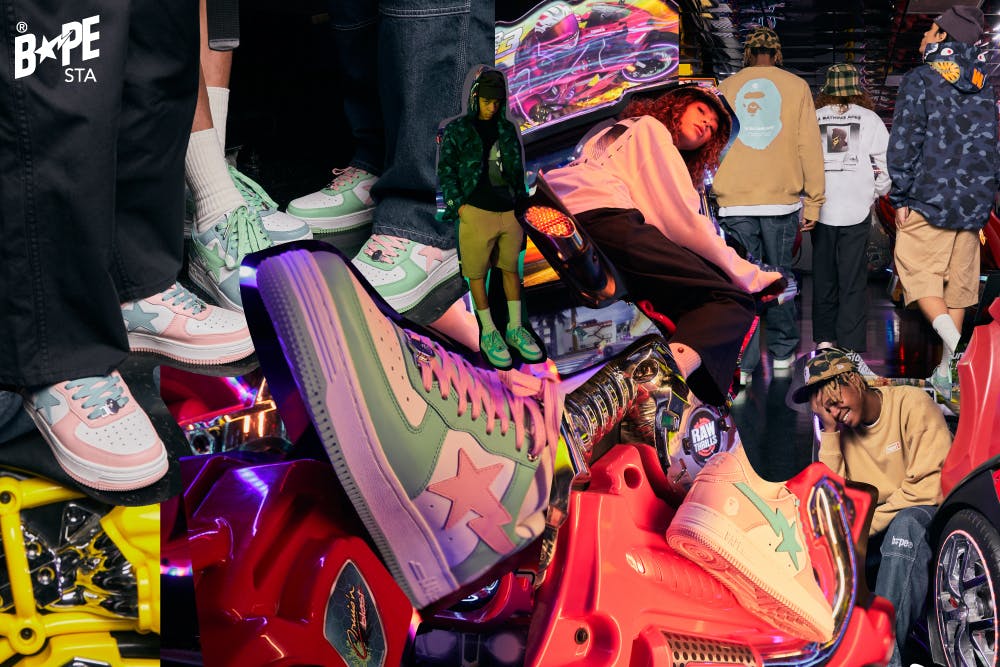 The news that JJJJound, that Canadian curator of cool, was dropping its own BAPE STA sneaker woke me up to a realization I should've grasped months ago: 2021 was the year of the BAPE STA.
Now, this was basically by design: early this year, BAPE announced that the BAPE STA was coming back in a big way, from refreshed colorways to new models.
True to its word, BAPE dished out covetable colorway after covetable colorway, from colorful camouflage kicks to beautiful, washed-out hues.
Then, there were the new BAPE STA models, including a strappy mid-top to the very Dunk-ish SK8 STA
It speaks to how far the OG Air Force 1 bootleg has come over the past few decades.
The BAPE STA's impact basically speaks for itself — being inexorably tied to NIGO will do that — and everyone wants a piece to this day.
Need examples? In the past year alone, the BAPE STA was reworked by Hajime Sorayama, COMME des GARÇONS, Gunna, The Weeknd's XO label, Coach, Stadium Goods (its first sneaker collab), and a little company called Highsnobiety.
There were even BAPE STA-inspired Reeboks, a sort of bootleg-ception that belies simple definition.
Don't forget that these all dropped while BAPE was creating its various seasonal collections and dishing joint efforts with everyone from Canada Goose to UNO.
Point is, the BAPE STA has long stood apart from its Nike inspiration thanks to an ample dose of cred provided by its legacy.
But 2021 was the year in which the BAPE STA reasserted streetwear dominance; not just as a streetwear classic but as one of the most essential shoes offered by a brand that isn't headquartered in Portland or Herzogenaurach.
​​To stay updated on everything happening in the sneaker world, check out the best sneakers to add to your rotation this week, follow @highsnobietysneakers on Instagram, and sign up to our newsletter for early access to the best drops sent straight to your inbox.