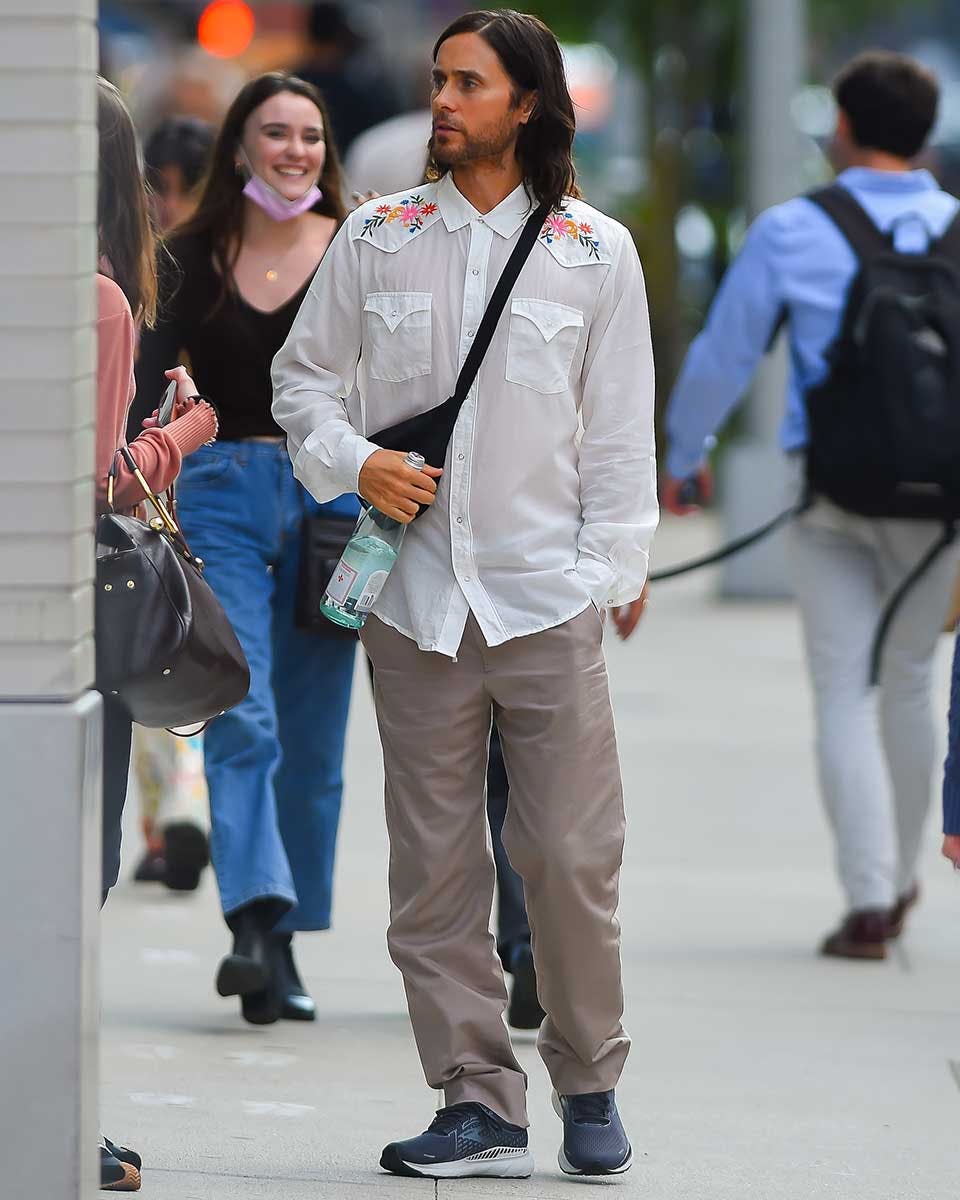 Jared Leto isn't a dad but he sure dresses like one sometimes. It's weird, one day he's looking slick enough to set the internet alight, the next, he's gone tourist.
The House of Gucci star was spotted strolling in New York dressed kinda elderly in a Double Rainbouu white shirt — looks a little like a Spring/Summer 2017 shirt from his beloved Gucci, actually — straight-legged slacks, Brooks running shoes, and a tiny from his band, Thirty Seconds to Mars.
It'd have been perfectly elderly had Leto slung that fanny pack 'round the waist, but unfortunately he opted for the hipper crossbody look.
He's apparently a big fan of that little bag, as he wore it to NYFW as part of a bizarre tie-dyed outfit that still got upstaged by Larry David.
I'm a big proponent of comfortable walking shoes so don't consider this a callout by any means. It's incredibly important to stay comfortable while strolling the Big Apple. In fact, props for wearing cushioned walking shoes so elderly that they actually miss the chunky runner wave. Seriously, I'm all for it.
Wouldn't kill Leto to unbutton a little, though — guy's got his shirt tightened all the way to the neck. Relax a little!
Seriously, I'm just surprised to see Leto on vacation mode. This is a guy so Guccified that his love for the brand has become a meme.
And that's to say nothing of his appreciation for finer things from brands like Fear of God.
To be fair, it's probably too much to expect anyone, even a stylish celeb, to have the always-on swag of A$AP Rocky and Rihanna, the quirk of Lil Uzi Vert, or even Steve Harvey's flair for the dramatic.
Sometimes, you just wanna give the stylist a day off and dress like Ben Affleck.
All that being said, don't think that this casual 'fit is Leto letting his luxurious guard down. Beyond the snazzy shades, his assistant or handler is keeping him hydrated with bottles of Acqua Panna, because famous people are too good for Poland Spring.