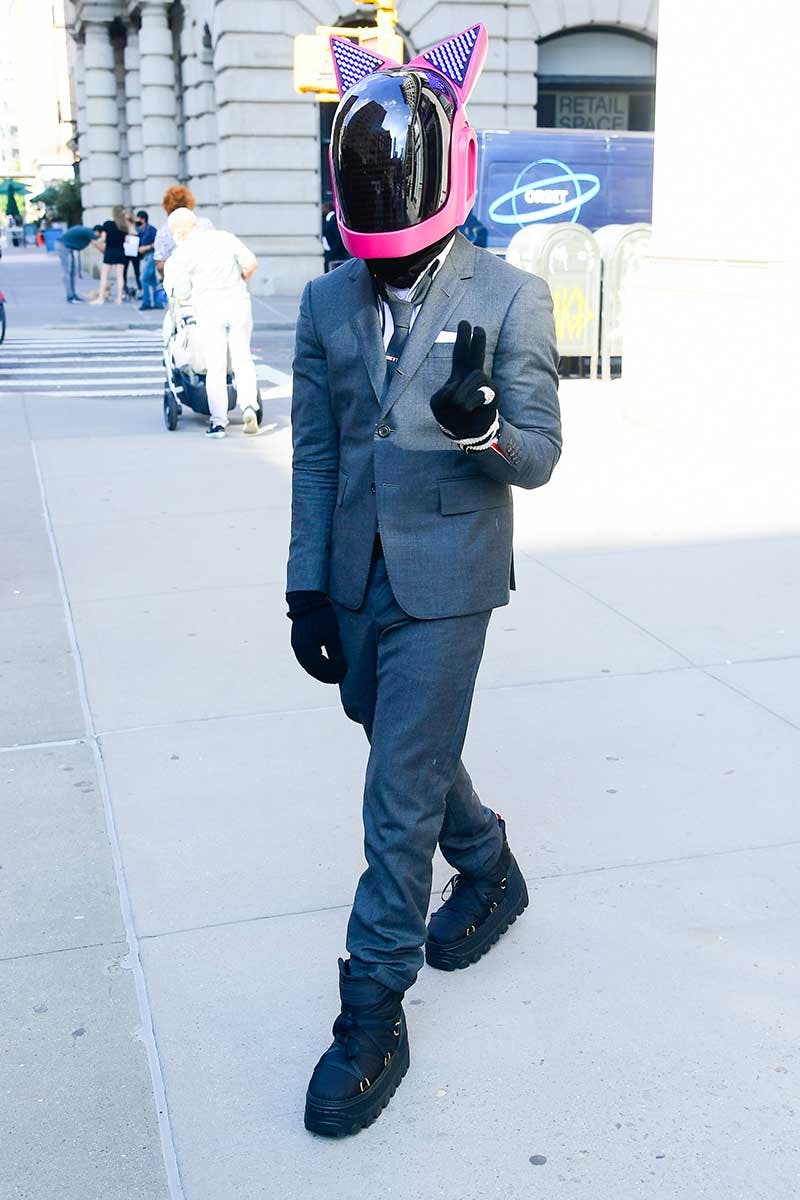 No one outdresses Lil Uzi Vert. The rapper's extremely outré style has made many a streetstyle roundup, sometimes only because he always swings for the fences, though no one can ever accuse him of not dressing himself — Uzi's IG bio has long touted his lack of a stylist.
Still, that doesn't mean that Uzi doesn't appreciate a professional's touch. On October 7, he was spotted departing Thom Browne's flagship store in New York's Tribeca neighborhood fully kitted out in the designer's shrunken grey suit, down to the matching tie and puffy ski boots.
This being Uzi, though, he had to mix in a striped long-sleeve T-shirt, black gloves, and, oh yeah, a giant pink helmet kitted out with light-up cat ears.
Uzi's helmet pretty closely resembled the on-stage gear worn by Daft Punk, custom-designed for the group by Tony Gardner.
It's funny when you think about how Daft Punk's helmets were originally intended to obscure their identity; though Uzi's includes a face-shielding visor, its color and extremities make his identity all too apparent.
Considering that the electronic duo broke up back in February, Gardner probably has enough time to make another for someone like Uzi, assuming he did make this one.
A long-time Thom Browne fan, Uzi starred in the designer's Thanksgiving 2019 campaign and has worn Browne's gear infrequently on his own time.
Of course, his wardrobe is nothing if not diverse: besides his infamous forehead diamond and recent Human Made collab gear, Uzi was also spotted sporting Playboi Carti's thus-unreleased Narcissist merch.
Actually, when Carti's merch leaked last month, it apparently included a very expensive motorcycle helmet. Wonder if that's where Uzi got the idea for his bespoke headpiece — or was it the other way around?
As inimitable as Uzi's style is, his fans are often divided. Some find his 'fits a little much and others are very into it.
Turns out, Uzi was posing for a GQ shoot but I wish it was something more seasonal, like Uzi was pulling a Grimes and setting us up for Halloween greatness.