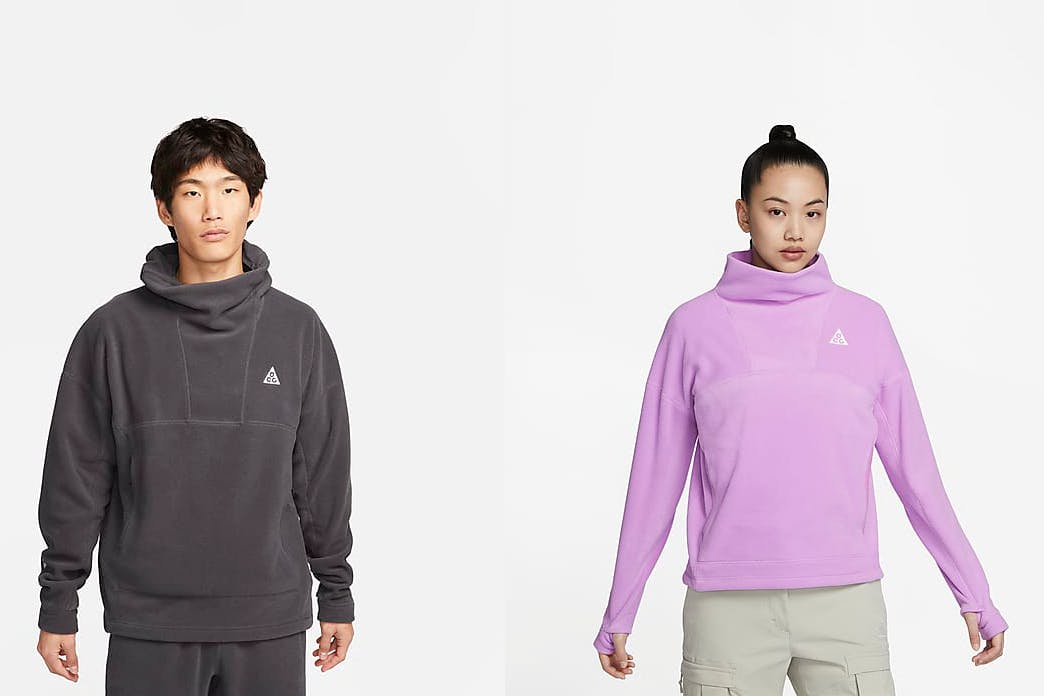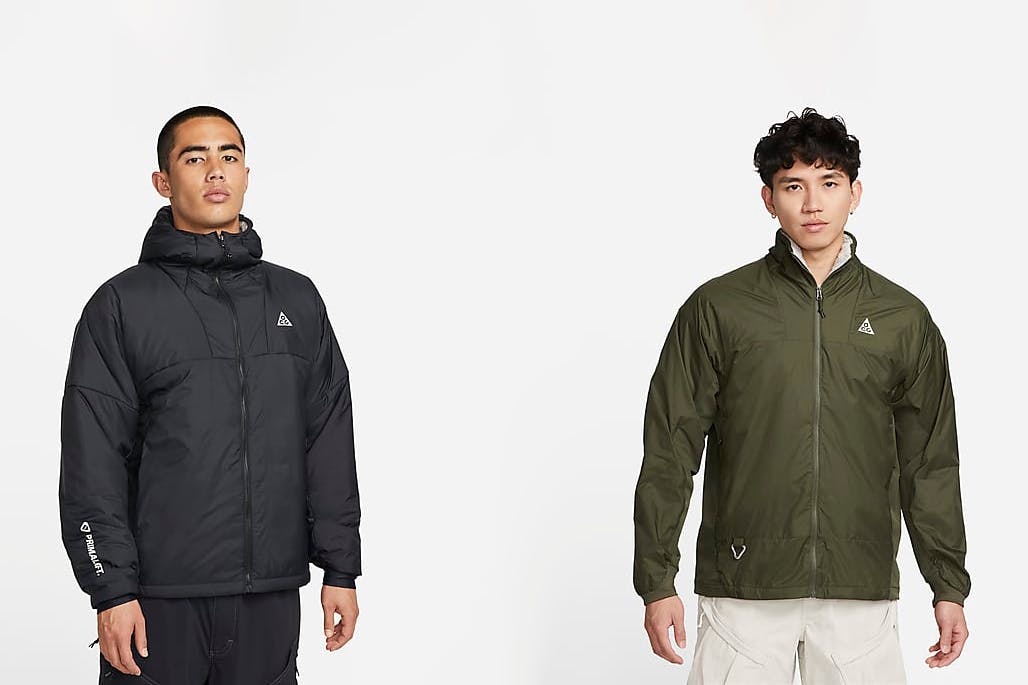 There are zero actual hikers using the phrase "gorpcore." That's okay, because it's really more of a descriptor than a label you intentionally sign up for. Still, one has to wonder if gorpcore is wearing out its welcome (both the phrase and the hiker-leaning fashion movement), given that the trend, such that it is, really peaked post-pandemic.
It's likely that gorpcore the trend will wane sooner or later but gorpcore the idea probably isn't going anywhere. Weatherproof outerwear is too useful, technical sneakers are too comfortable, and the outdoorsy aesthetic is too appealing to ever die.
That's why gorpcore will never die and why Nike ACG, the Swoosh's adventure-focused sublabel, will never run out of seasonal material.
For Spring/Summer 2023, Nike ACG isn't straying from its comfort zone. Yep, more retro-leaning aesthetics updated with contemporary tech — fans will be happy.
Standout outerwear includes a high-neck fleece pullover, a new take on the insulated Rope De Dope jacket, Therma-fit hoodies, and lightweight micro shell jackets fitted with carabiner clips.
Perfect partners for the seasonal pants, which range from generous "Smith Summit" cargo pants complete with action pleats and self-belts to washed-out sweats.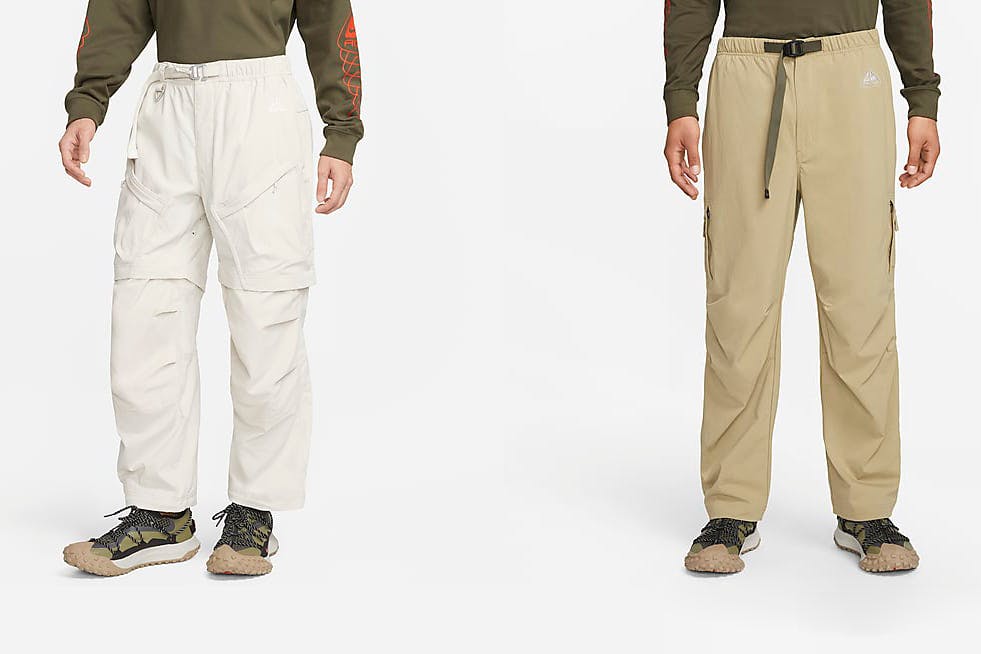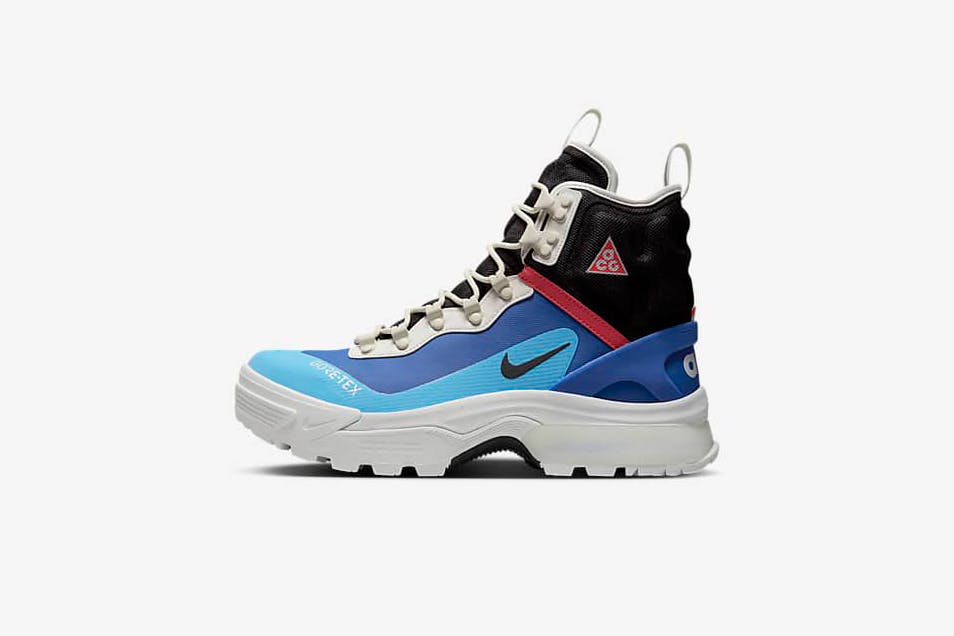 You can see the hybridization of the old and new — new-school functionality from Nike's high-spec textiles, throwback vibes from the faded jersey sweats and charmingly out of time packable gear. It reflects the dichotomy of ACG's stylistic thrust.
"Our biggest advantage is to bridge the gap between the city and the outdoors," ACG creative director James Arizumi told us a few years ago.
"The beauty of that is that, with this whole consciousness of sustainability, the Earth, and recycling, and being aware of what the planet means to us as a species and what our responsibilities are, we're able to get a kid in the city that has only been told about recycling and how it's good for the planet, but has never actually seen the real impact, to then live and see it."
There are new colorways of the ACG Air Zoom Gaiadome (no relation to the classic Goadome boot), the Mountain Fly Low, and Lowcate. Familiar fare for ACG heads, who can expect the SS23 ACG collection to launch on Nike's site, stores, and stockists shortly.
Nike ACG will long outlast the term gorpcore, a term that refers to a style of clothing that's been popular since wayyyy before new Arc'teryx stores and The North Face jackets were fodder for the content machine.
Even when "gorpcore" is gone, the hard-wearing clothing will last forever.
Shop our favorite products