In Europe, when you use the words "terrace" or "casual," you tap into a subculture both ubiquitous in its backyard and obscure to outsiders. The terraces were where football fans stood before the introduction of all-seater stadiums, and the casuals were those fans most dedicated to style as they walked into those arenas. So when adidas recently reissued the Trimm Trab sneaker in its OG colorway, the German sportswear giant knew it was reviving a bona fide terrace classic.
Released in 1975 as part of a campaign to get lethargic West Germans to exercise more, by the early '80s the Trimm Trab had become the sneaker of choice for UK football casuals dressed in European designer sportswear by labels such as FILA, Sergio Tacchini, ellesse, Stone Island, and Lacoste (Fred Perry was a local favorite). In fact, it became so associated with the terraces that to this day the word "trabs" is slang for sneakers in Liverpool, one of the UK's most football-obsessed cities and a major center of casuals style.
Early in Nick Love's 2009 remake of classic 1989 hooligan film The Firm, Bex, leader of West Ham's Inter City Firm, can be seen trying on a pair of blue Trimm Trabs in a store. Lacing them up, he turns to the film's protagonist Dom and says, "There is only one trainer." And while plenty of classic models were also terrace favorites, this short tribute is a testament to the Trimm Trab's status among football casuals — arguably Europe's first sneakerheads.
And the Trim Trabb isn't the only cult terrace sneaker to come back into vogue. A few years ago, Europe descended into full-blown Stan Smith mania. I remember a trip to Paris in summer 2015 where it felt like every second person was wearing a pair of the iconic tennis sneakers.
The Stan Smith was reissued in 2014 after two years off the market. As i-D put it around that time, "Stan Smith is to trainers as Levi's are to jeans and Kim Kardashian's Instagram is to selfies: the ultimate expression of the form."
When I bought my first pair in 2007, however, the only people you saw wearing them were those whose tastes hadn't changed since the '80s or wannabe casuals such as myself. But with the reissue came Raf Simons applying his own deft touch to the silhouette and suddenly it exploded.
Although no other casuals silhouette has come close to achieving the Stan Smith's level of prominence in the current market, the adidas Gazelle has probably come closest. The 2016 "Vintage Suede" pack saw the '60s icon reissued in three classic colorways that reminded the world of its understated style.
Like the Trimm Trab and Stan Smith, the Gazelle was an ever-present on the terraces in the '80s and enjoyed a revival in the '90s Britpop era, with Noel Gallagher of Oasis one of many to bring back the style. (Incidentally, Oasis' great rivals Blur had a song called "Trimm Trabb" on post-Britpop 1999 album 13.) The Gallagher brothers, lest we forget, are rabid Manchester City fans, and the two have probably done more than anyone to nudge terrace style into the mainstream — aside from Drake, of course.
If you've read to this point, you'll probably have noticed a pattern emerging: every sneaker discussed so far is by adidas. And that's without mentioning the adidas Originals SPEZIAL collection — a big influence on the resurgence of terrace fashion — the Campus, or the Samba, a sneaker so popular among Liverpool fans that since 2011 they have been spraypainting a pair gold and giving them to the fans' players of the season.
The Three Stripes was doubtless the biggest footwear brand among football casuals, but it isn't the only one to keep the flame alive. In recent times, old-school Reebok matchday favorites have experienced a return to prominence through collabs with Palace and Gosha Rubchinskiy. Likewise, last year, Italian label Diadora mined its history as a casuals favorite by enlisting West Ham hooligan-turned-author Cass Pennant to pose in its B.Elite silhouette for a promo campaign.
Before the casuals look became de rigueur, British football hooligans were more likely to wear Dr. Martens-style boots. This was part of a skinhead subculture that shifted from Jamaican-influenced, music-loving, and largely peaceable in the '60s to its infiltration by the far right in the '70s and '80s. And as hooliganism became the "English disease," these elements started to commingle — although simple club rivalries remained the hooligans' primary motivation.
As well as the greater availability of international products as European markets opened, the shift toward sneakers on the terraces could have been driven just as much by practical considerations as by style and commerce. With rival fan "firms" getting into brawls outside stadiums, wearing something better suited for running — either from opposing fans or the police — was merely logical. Likewise, clothing choices — ditching team colors for designer gear — gave away-team fans an element of camouflage.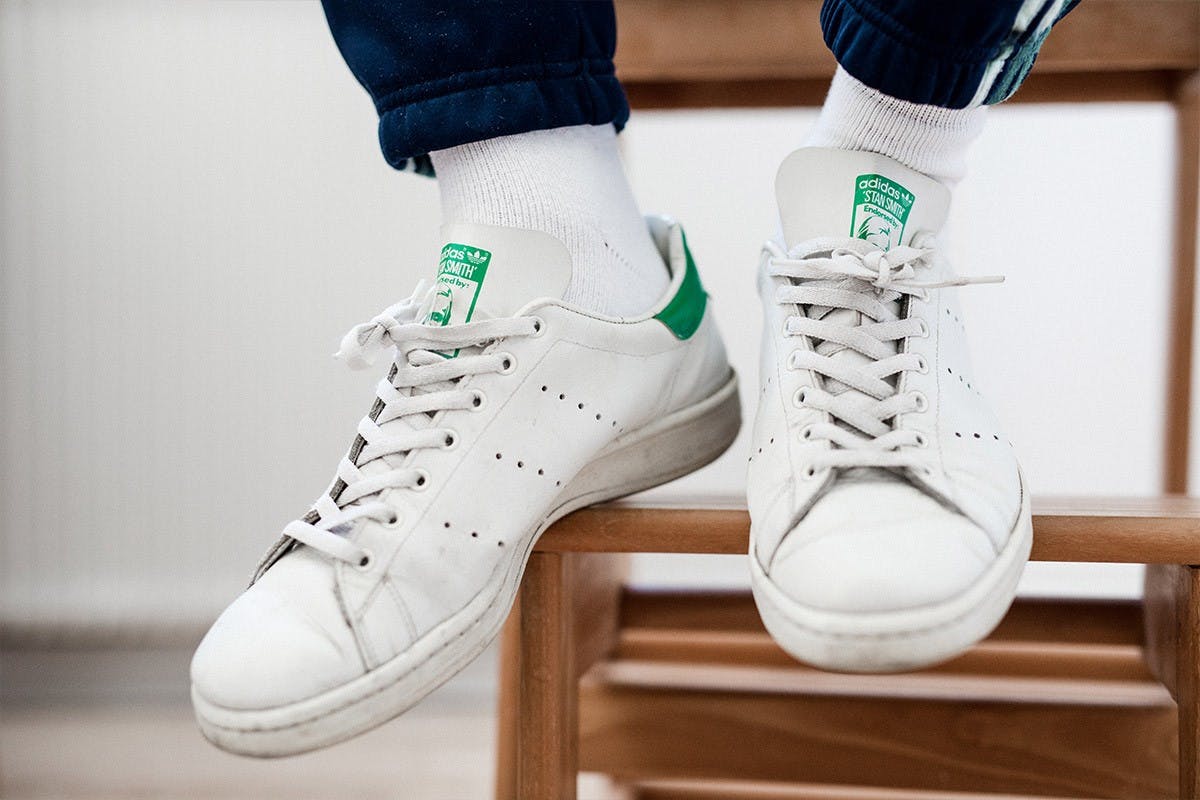 That's not to suggest all casuals were hooligans, although there was a lot of overlap. But since the end of English football's hooligan era in the late '80s and early '90s, the resurgence of terrace style from the Britpop era onwards has been about the look alone.
It's said that fashions fade but style is eternal, and there's a simplicity that makes silhouettes such as the Stan Smith and Gazelle timeless. Unlike chunky sneakers, there's no ironic contrarianism, only what's simple, smart, and classic. The popularity of terrace-favorite sneakers will experience its peaks and troughs — you don't see quite so many Stan Smiths these days — but these shoes will never be the subject of mockery among future generations like bellbottoms, mullets, and perhaps the Balenciaga Triple S. Familiarize yourself with these terrace icons, because they're not going anywhere.
To stay updated on everything happening in the sneaker world, follow @Highsnobietysneakers on Instagram, check our sneaker release date calendar, and subscribe to our sneaker chatbot on Facebook to receive lightning quick updates to your inbox.