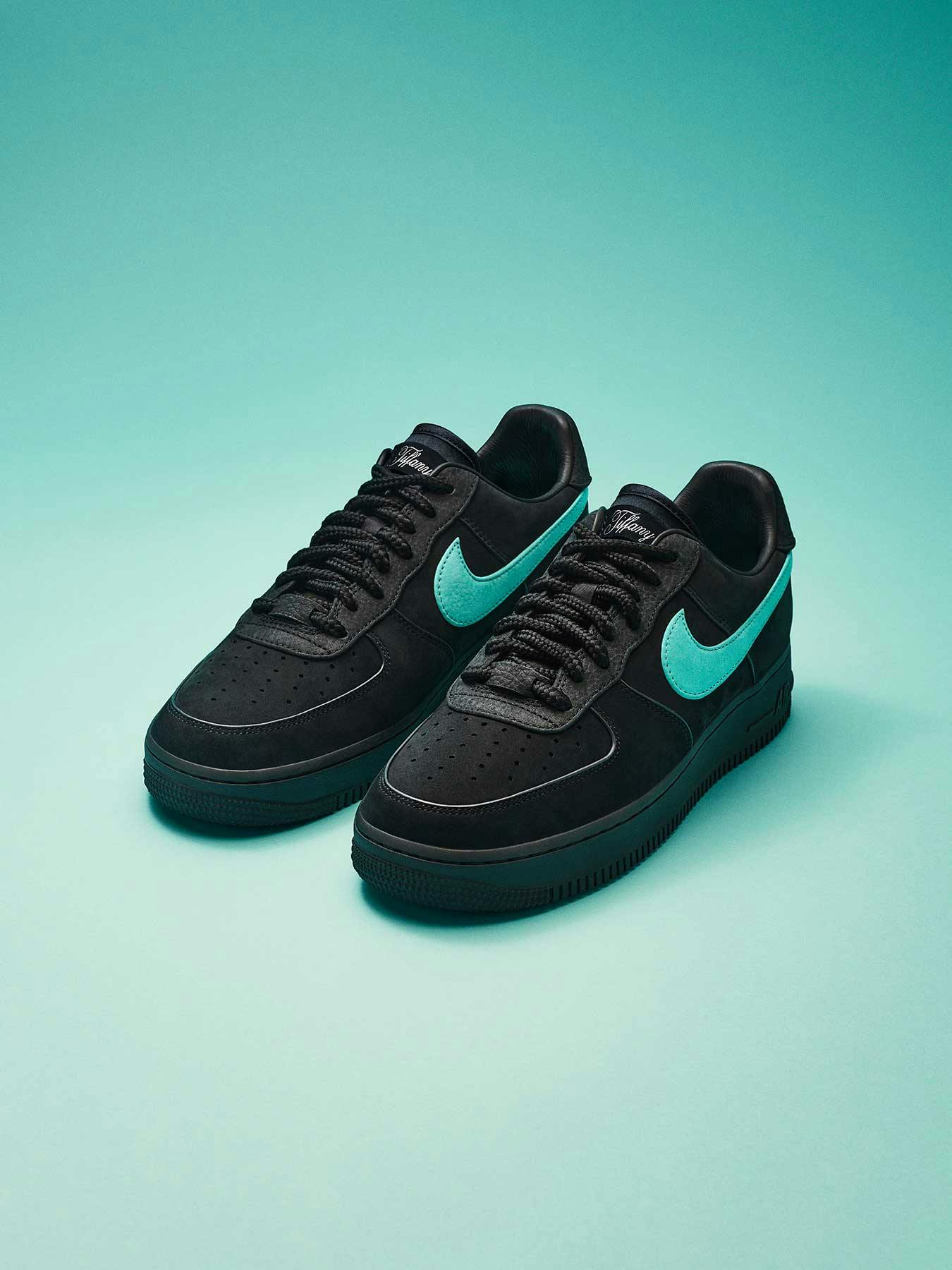 Tiffany & Co.'s spin on the Nike Air Force 1 was poised to be, as the collaborative campaign states, "legendary." Two titans of taste taking on one of the world's most popular sneakers — slam dunk, no?
Depends who you ask. Folks on social media have... some thoughts. But me? Tiffany & Nike's AF1 is as good as luxury sneaker collabs get.
There's a lot to like here, even on a purely objective level. Let's see: an incredibly wearable shoe made of cushy black suede, thoughtfully accented with grain leather, rope laces, a Tiffany Blue-tinged Swoosh, and, for good measure, chunks of silver embedded into the heel.
You don't really see big ticket footwear drops with this much restraint. And you definitely never see sneaker collaborations at this scale with prices this reasonable.
$400 is a lot for a shoe, no doubt, but remember that prices for Dior's Air Jordan 1 began at $2,000 and the Louis Vuitton Nike Air Force 1 tipped the scales with a whopping $2,750 price tag. Yes, the Louis Vuitton AF1 was manufactured in LV's facilities with LV textiles but that's still quite a leap.
Not that either pair was attainable through normal methods, of course: they all sold out instantly. Expect Tiffany's Nike AF1 to do the same.
The raffle on Tiffany's website, for instance, was immediately flooded with entrants. Note that with only 1,837 pairs ever to be produced, Tiffany's AF1 was never destined to be around for long.
Despite all of this, despite the admirably approachable design, the not-so-crazy price tag, and the nifty accessories offered separately for true aficionados, the general sentiment about the Tiffany x Nike AF1 is... underwhelmed.
Instagram comments alone range from "the box [is] the nicest thing about this" and "Why not make them white?" to "I've never wanted a shoe less" and "Very underwhelming."
And that's some of the tamer reactions. But would anyone really have been happy with anything else?
One Instagram commenter described their ideal Tiffany x Nike Air Force 1: "tumbled white leather, stitched Tiffany 1837, blue Nike swoosh, premium embellished laces with a slight feminine yet unisex design," as if that shoe wouldn't have inspired equal outrage over its simplicity.
Admittedly, there's a joke-y history to the black Air Force 1 but we're not talking about $75 shoes you buy at the mall.
Tiffany's AF1 is the sort of patiently premium high-end team-up I like to see from high-end labels that work with Nike. Tastefully understated branding, quietly plush construction, a subtle statement with just enough flair to stand out.
Take the Tiffany logo off and you've still got a pair of shoes that's easy on the eyes and just as easy to wear.
We don't need more OTT luxury collabs or tryhard sneakers. We don't need more of anything, really, but I welcome stuff that's as thoughtful as the Tiffany AF1.
You have to realize that this thing likely went through round after round of revision, with Tiffany and Nike's respective teams going back and forth on the design. The fact that the end result looks this refined is a testament to the folks' willingness to acknowledge that less is more.
Above is the second pair of Tiffany x Nike Air Force 1s, seen by a sneaker leaker in early 2023.
Similar design details are in place, like the mixed material vamp, rope laces, and silver on the heel but the sneaker's Tiffany Blue colorway and black Swoosh are much louder than the original Tiffany AF1 that's releasing on March 7.
For the same reason that black sportscars are slicker than yellow attention-grabbers, the black suede Tiffany x Nike shoe speaks to the sense of understated grace that Tiffany & Co. itself epitomizes.
Behold some AI-generated renditions of a would-be Tiffany x Nike sneaker.
Covered in diamonds, crystals, and shiny silver, these imagined shoes are borderline unwearable, verging on pure tackiness. Fun ideas, to be sure, but think about the ideals that Tiffany epitomizes: class, craft, and humble sophistication.
The luxury jeweler puts pomp and circumstance behind those inimitable Tiffany motifs. Why should its Nike collaboration be any different?
Shop our favorite products