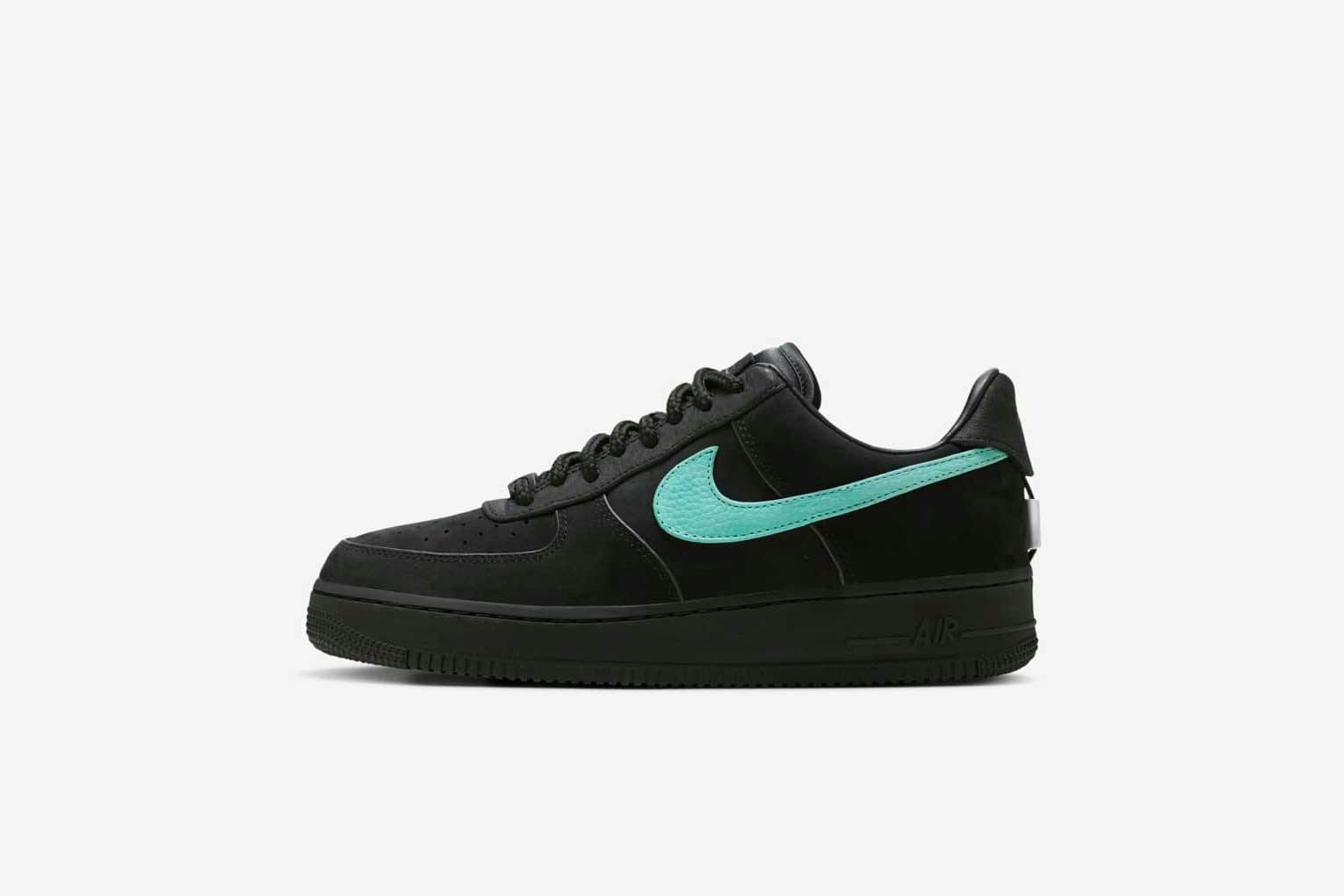 Tiffany & Co. and Nike's Air Force 1 collaboration is finally releasing over a month after it was initially revealed. Sneakerheads and fans have been divided on the black sneaker since its debut but one thing is clear: Tiffany's AF1 is gonna sell out the second that it drops.
Officially named the "Air Force 1 x Tiffany & Co. 1837" (SKU: DZ1382-001), Tiffany and Nike's shoe collab represents a major luxury partnership that Tiffany itself immediately deemed "legendary."
The Tiffany Air Force 1 follows the trend of Nike issuing big team-ups with LVMH labels like Louis Vuitton and Dior.
The latter of which oversaw an extended Jordan Brand collaboration but Louis Vuitton, like Tiffany, tackled the low-top iteration of the Air Force 1. Makes sense: why not tackle arguably the most popular Nike model ever made for your debut Swoosh collab?
So, like it or not, the Tiffany Air Force 1 is a big deal. Below, all the frequently-asked questions about Tiffany and Nike's AF1 answered ahead of the release date.
How many Tiffany Air Force Ones are there?
Only 1,837 pairs of Tiffany and Nike's Air Force 1 "1837" sneakers will be produced.
However, there are apparently two Tiffany x Nike Air Force 1 "1837" sneakers.
The shoe's black colorway is releasing on March 7 but there is reportedly a Tiffany Blue pair that's been revealed by Tiffany executive Alexandre Arnault.
When & where does the Tiffany Air Force 1 drop?
Tiffany's Air Force 1 dropped March 7 at 10am EST via Nike's SNKRS app and in-store at Tiffany's refurbished Fifth Avenue "Next Door" flagship (6 E. 57th Street) and Soho store (97 Greene St).
Select Nike retailers are reportedly also releasing the Tiffany AF1.
Note that the above release information is exclusive to the black Tiffany x Nike AF1; the Tiffany Blue AF1 is still unconfirmed to see wide release.
How much does the Tiffany Air Force 1 cost?
Tiffany and Nike have priced the Air Force 1 sneaker collaboration at $400.
Some sneakerheads took umbrage at the price in light of the design. Compared to the logo-laden Louis Vuitton Air Force 1, Tiffany's take merely sports premium black suede, a Tiffany Blue Swoosh, and sterling silver heel decal.
However, Tiffany's AF1 costs nearly $2,000 less than Louis Vuitton's collaborative shoes so maybe it's not such a bad deal after all.
Currently reselling for about $900 on the secondhand market, Tiffany's AF1 is still comparatively more affordable than the LV pair.
Does the Tiffany Air Force 1 come with accessories?
No. Tiffany and Nike are releasing their sterling silver accessories separately from the Air Force 1 sneaker.
These accessories include a silver toothbrush, whistle, and shoe horn, all co-branded with Tiffany and Nike logos. They'll be sold by Tiffany alone, alongside a bespoke silver shoebox weighing 23lb.