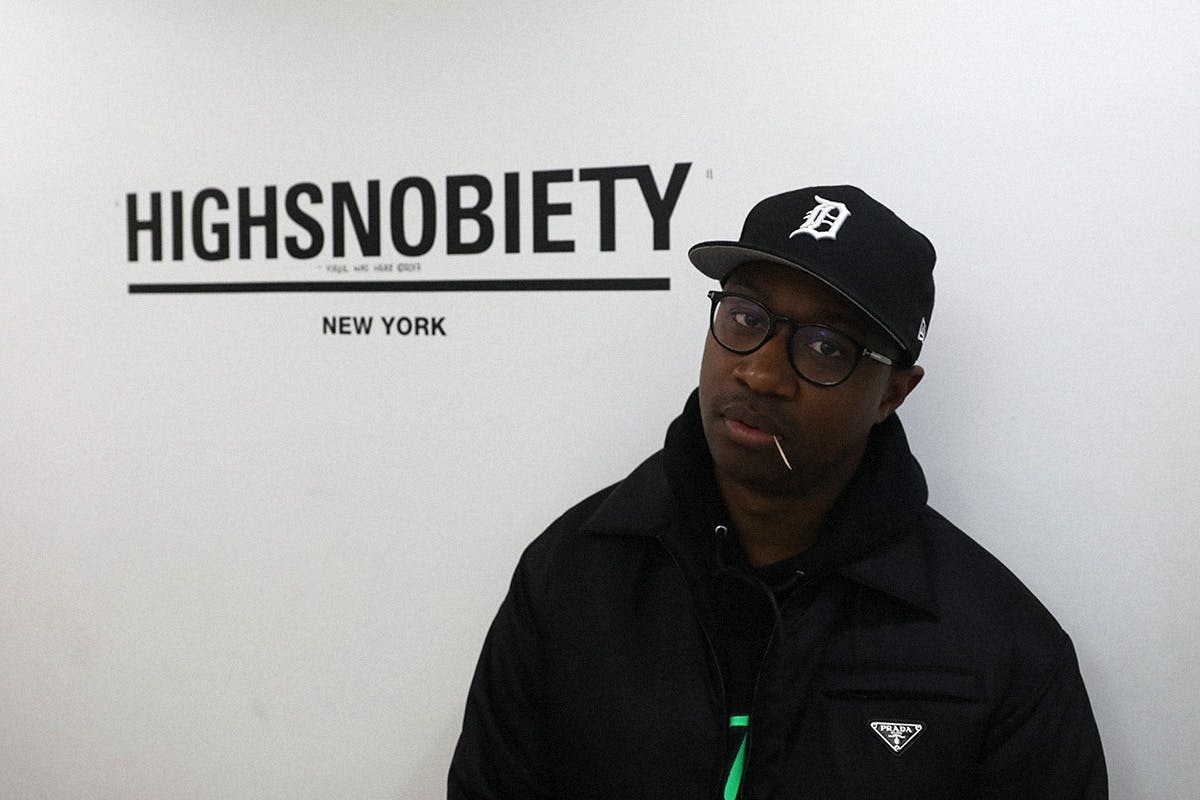 Noah spent the past Super Bowl Weekend in Miami, rounding up the most swagged out players at the NFL Honors red carpet. Now he's back in New York City in time for NYFW, Black History Month, the month of love, and a new episode of The Dropcast joined by Curtains aka Dior and Jordans. The rapper-turned-brand-consultant keeps himself under the radar, but his contribution and impact on the fields of music and fashion are hard to keep lowkey.
Before the quick hits take us through the highlights of this week's news in products and fashion week, the cast starts off by paying respects to the late J. Scott of A$AP Mob (2:34). Curtains was especially shocked by the news, being one of many individuals who shared recent moments with J. Scott prior to the DJ's passing.
Nike's new collaboration with StrangeLove is one of two shoes dropping just in time for Valentine's Day. While it brings out mixed feelings, J Balvin's upcoming Air Jordan 1 sparks all-around support (5:34). The reggaeton artist is on a roll as the first Latino to collaborate with Nike, not to mention his star-studded performance alongside Shakira, Jennifer Lopez, and Bad Bunny at the Super Bowl Halftime Show as he rocked his own sneakers. Curtains forecasts a slew of fit battles centered on the upcoming drop with Murakami leading the pack.
The below interview is a written version of 'The Dropcast' Episode 97. It has been edited and condensed for clarity.
Curtains: You could go so many different places with it. I feel like people are going to be having fit competitions.
Jian: 100%.
Noah Thomas: The fit's gonna be the same color scheme as the shoe. Just wait till we see that.
Jian: I mean, I already have the Dries jeans for that. Even though 99% of people are just going to wear black jeans, Rick pants, or something really low key.
Curtains: Takashi Murakami's going to go hard.
Noah Thomas: But it's not even fair when he does it though because he really will put on a costume though.
Curtains: He got a stylist or something? He's been really dressing lately.
Jian tops off the ethnic pride by showing support for Sandy Liang's upcoming Vans collection. Curtains expresses disappointment in the lack of sherpa apparel and designers collaborating for the sake of a collab, which leads to a heated conversation on the topic (11:03). He dishes more hot takes on Kiko and ASICS's new collab and calls for a standalone release of the sneaker's sole (14:29).
Curtains: She did no shearling or sherpa?
Noah Thomas: No, no fleece. 
Curtains: She's made sherpa and shearling her thing.
Noah Thomas: It's in the collection, but they're shoes. Would you do fuzzy Vans?
Curtains: I don't know what Vans is, but I think this collection, just knowing the designer—not having any sherpa or shearling apparel is a big miss.
The unexpected collabs start with Ermenegildo Zegna's and Fear of God's merging of craftsmanship and tailoring with Italian manufacturing, which has the cast highly anticipative of what the partnership will bring (16:55). Highsnobiety recently welcomed its own collaboration with Maison Margiela, marking the first time that the luxury fashion house has released co-branded products (19:32). Last but not least, Highsnobiety also brought the 'Colette, Mon Amour' documentary and merchandise capsule to New York City this week (21:42). The complete collection is exclusively available on the Highsnobiety Shop and at KITH's Soho store.
In anticipation of All Star Weekend and Curtains' appearance on The Dropcast, this episode's Question of the Week (QOTW) asked "Who's the flyest NBA rookie?" (24:24). Before loading up voicemails from listeners, Jian asks Curtains to drop a name. He delays by dropping a lesson on the finances of rookie athletes before naming Nickeil from the New Orleans Pelicans while Jian picks the Wizards' Rui Hachimura.
Curtains: Rookies don't make that type of real bread. They don't make real, real money. Zion making real money.
Jian: Still, if you're a rookie in the NBA, you're making more than the average dude. You can comfortably buy Balenciagas.
Curtains: Yeah, but they haven't had freedom to really spend your money yet. These kids are 18, 19 year olds, they were never fresh before then, and to be in the NBA you've gotta be focused on basketball. So where are you getting a fit off? Your tech fleece game is going to be on point, but where are you getting a fit off?
After a discussion of the NBA's dress code, Curtains was asked "Which trends are you gonna kill in 2020?" during his guest segment (32:16). First off, he makes a call for action to simmer down on the collab mania and work on making them extra special. Curtains is asked about his namesake shoe, the Dior Jordans, which he digs as a low and kills the Jordan 1 mids.
Curtains isn't feeling the Mule of the Week, which Noah reveals to be ALYX's newly dropped leather clogs (39:31). He compares it to the CDG and monochromatic black Chucks, to the hosts' collective disbelief and disappointment.
After a deep roast sesh, Jian and Noah rejuvenate by talking about their newest pieces in "What'd You Cop?" (41:37). Being the consumer and shopper that he is, Curtains' cops are too much to list. Even so, he revealed his most flex-worthy purchase of the week to be a signed Glenn Ligon print.
Stay on the lookout for the next QOTW which will be posted on Highsnobiety's Instagram, and leave a voicemail on The Dropcast hotline at 833-HIGHSNOB (833-444-4766) for a chance to be featured in a future episode.
Relevant Links
J. Scott Was Talented, Influential, and Loved
Here's Where to Buy StrangeLove's Valentine's-Themed Nike SB Dunk Low
J Balvin Unveils Upcoming Nike Air Jordan 1 Collaboration
The Air Jordan 1 "UNC to Chicago" Drops Just Ahead of Valentine's Day
Sandy Liang's Vans Collection Is Everything '90s
Paa Brings New York's Most Low-Key Stylish Dudes to the NYFW:M Runway
Kiko Kostadinov's Latest ASICS Banger Is Dropping This Week
Ermenegildo Zegna Announces Ambitious Collaboration With Fear of God
Maison Margiela Reveals First-of-Its-Kind Collaboration With Highsnobiety
Our New 'Colette, Mon Amour' Merchandise Capsule Is Dropping Soon