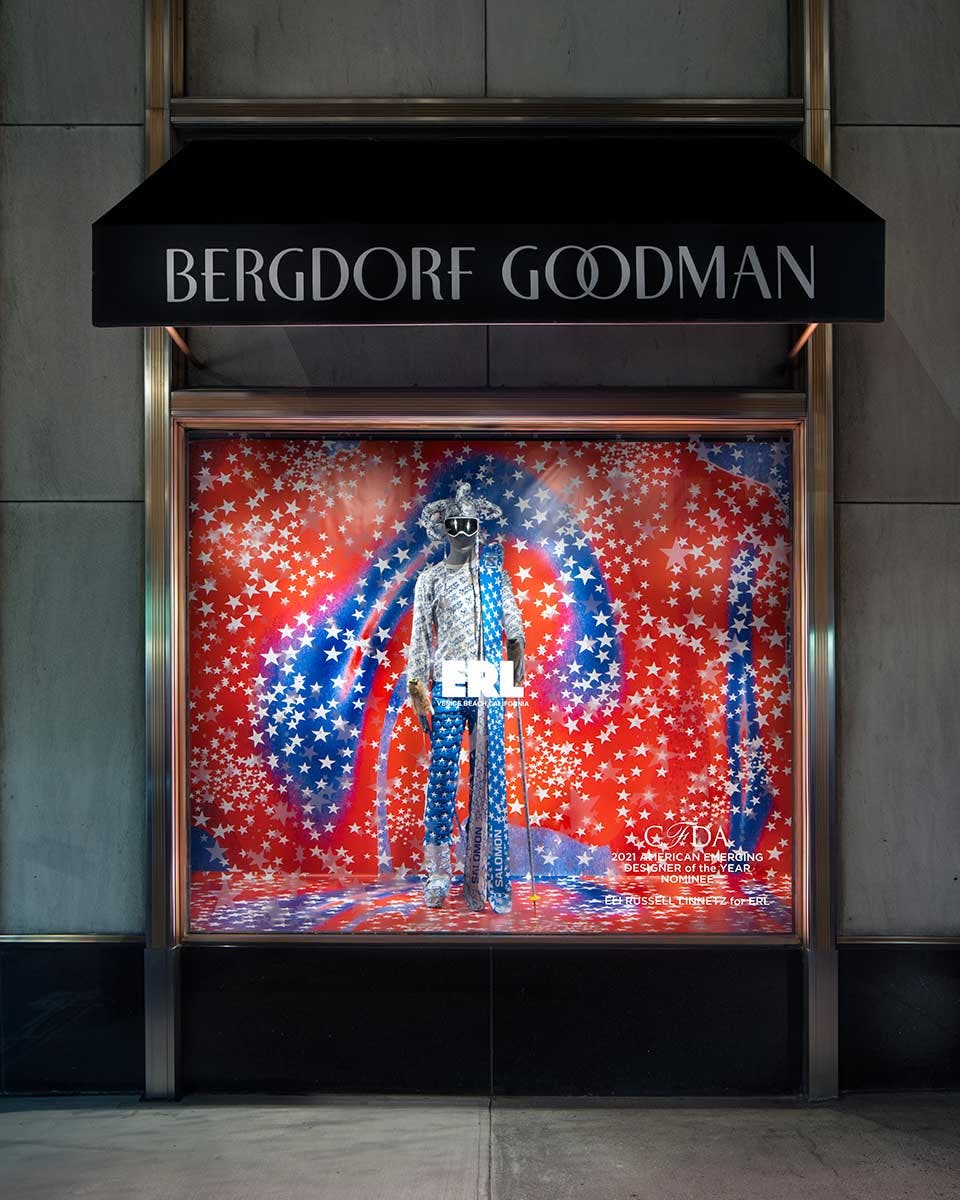 You could convincingly argue that any number of designers "won" 2021. Balenciaga, Gucci, Fendi, I'm open to arguments for all. But, as far as indie designers go, it'd be hard to top ERL's year.
Founded by Eli Russell Linnetz in 2018, ERL is a fashion brand but it's also Linnetz' creative outlet.
Having cut his teeth doing art direction for the likes of Lady Gaga and one Kanye West, the young Venice Beach-based creative does it all.
"Everything I do just comes out of me, it's organic," Linnetz said. "It'll be, like, this feels fun, this feels right, and I'll do it."
2021 has been nothing if not productive for the restlessly creative Linnetz, who cranked out a perfume, his most fully realized ERL collection to date and joined Highsnobiety's latest "Not In Paris" event.
But ERL's biggest moments of 2021 came when Linnetz scooped a nomination for CFDA's "Emerging Designer of the Year," dressed A$AP Rocky in a headline-dominating quilt for the Met Gala, appeared in The Met's "In America: A Lexicon of Fashion," and became the first person to ever rework Bergdorf Goodman's facade in the New York retailer's 120-year history.
Oh, and that all happened in the span of one week.
"The timing was a total surprise," said Bruce Pask, the Men's Fashion Director for Bergdorf, who also recently organized an excellent Greg Lauren pop-in shop. "It was thrilling to be affiliated with ERL that week, we were part of this tryptic of major moments."
On the flip side, "I really don't even think about collabs or hype at all," said Linnetz. "I'm on my quest to follow my vision. After I finish [a project], I'm done thinking about it."
Linnetz' organic, artistic approach manifested in a series of truly out-there designs for Bergdorf — before landing on the all-over red, white, and blue star pattern, Linnetz toyed with a giant animal installation.
"The original concept was a giant bear the size of the building," Linnetz laughed. "I thought, 'There's no way they'll go for this,' but the Bergdorf team was like, 'Let's do it.' They fought against the city and the ordinance people until we just had to move on."
"Bruce and his team were so on board the whole way through. They had so much energy and life and excitement, truly inspiring."
"Eli's a commercial artist," continued Pask. "He knows there are different needs and he had the flexibility to [work with us]. We tried to make every idea he had happen — Eli makes you want to work it out for him, he makes you want to advocate for him. It's not something he does overtly, you just want to fulfill his vision."
After finding a happy medium between Linnetz, the Bergdorf team, New York building regulators, and landlords, the team set about remaking Bergdorf's iconic facade with the red, white, and blue stars and stripes pattern from ERL's FW21 collection.
"it was so exciting when we installed it and people walking by were taking pictures," Linnetz recalled.
"I feel like a lot of the time, branding is so contrived. We wanted to use art alone to bring people into a store. I just wanted it to feel like it's exploding out at you."
"Eli was not shy about highlighting the items," Pask said. "But it wasn't like, 'This is the vision and the clothing is secondary.' It all supports each other, the clothing is as vital as the artwork."
Given that Goodman's — Bergdorf's menswear store — specializes in low-key luxe like Brunello Cucinelli and is planning a Casa Zegna exhibit for the colder months, ERL's flashy, flipped Americana may seem an odd match but it's really just representative of Pasks's respect for the distinct perspective of both Linnetz and COMME des GARÇONS CEO Adrian Joffe, who oversees ERL's production and distribution.
"I'm such a fan of Adrian," said Pask. "I find his vision compelling and mesmerizing, he's an amazing, amazing person. CdG is serving as a bit of an incubator for creatives and, knowing they have the production capacity, its hugely generous. It has a lot to do with enhancing not just their stores but the greater industry."
It's even enhancing Bergdorf itself.
"COMME des GARÇONS and Adrian never tell me what to make," finished Linnetz. "I start from scratch every season, I don't think about sales or what people would want from me, but the fact that people wear ERL is exciting. It's a streamlined vision from my studio — which is just me and two other people — to what's on the rack. "
"There's so much hubris about what it means to be a 'fashion house.' Everyone on the outside looks at what I'm doing as the culmination of something, but even this [Bergdorf project] is the seeds of something about to grow. It's hard to believe because it seems so impactful, like working with Bergdorf, Rocky, and the Met, but I'm just doing what feels right to me."