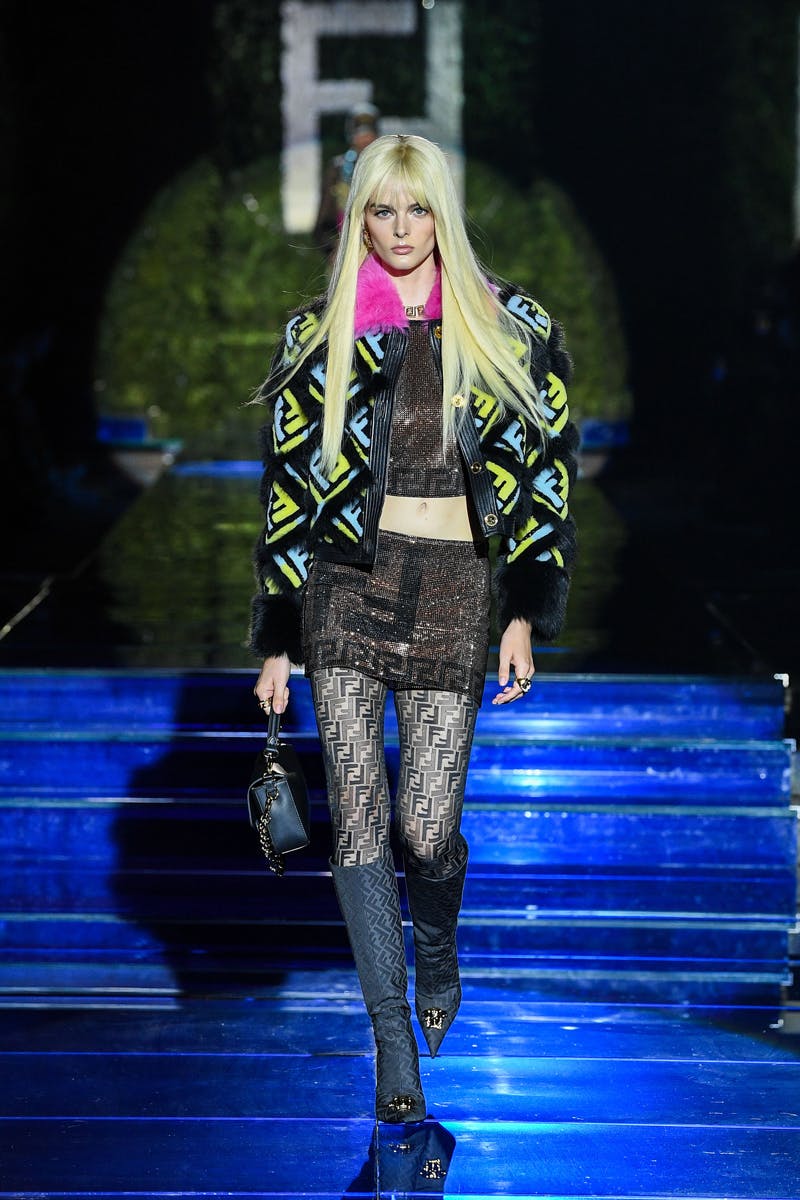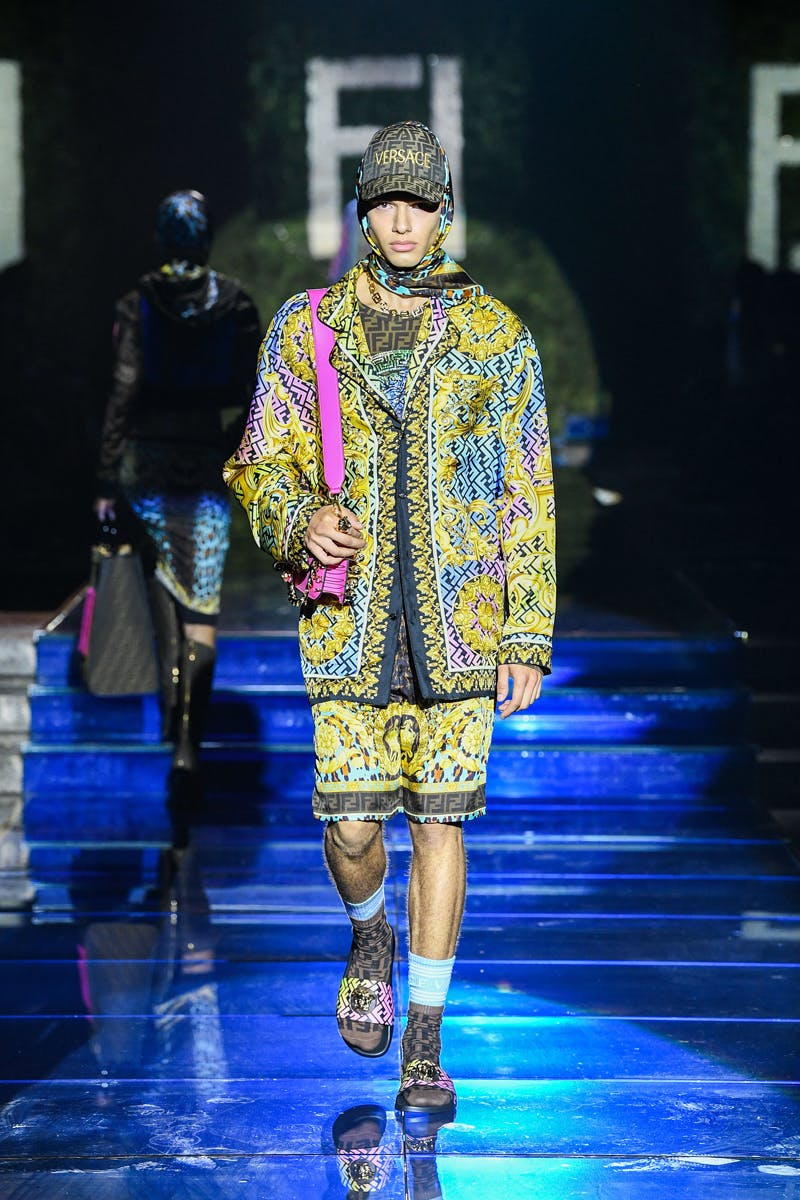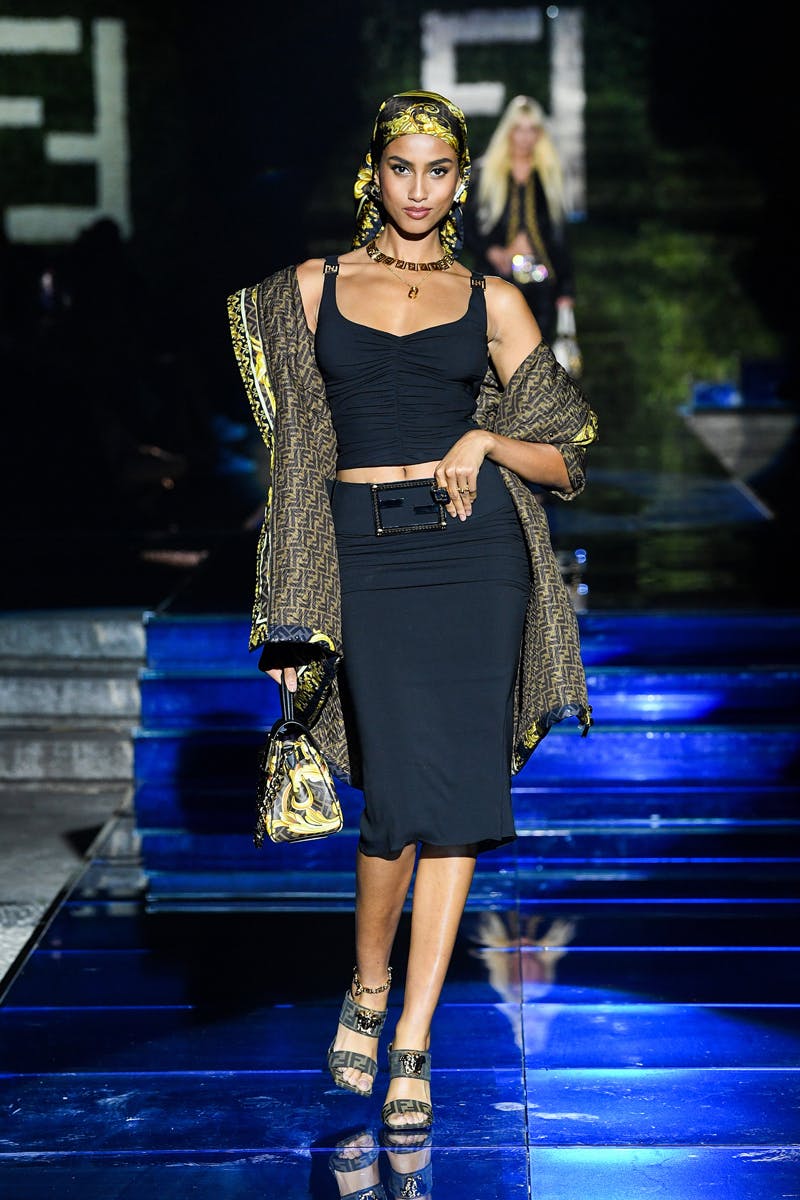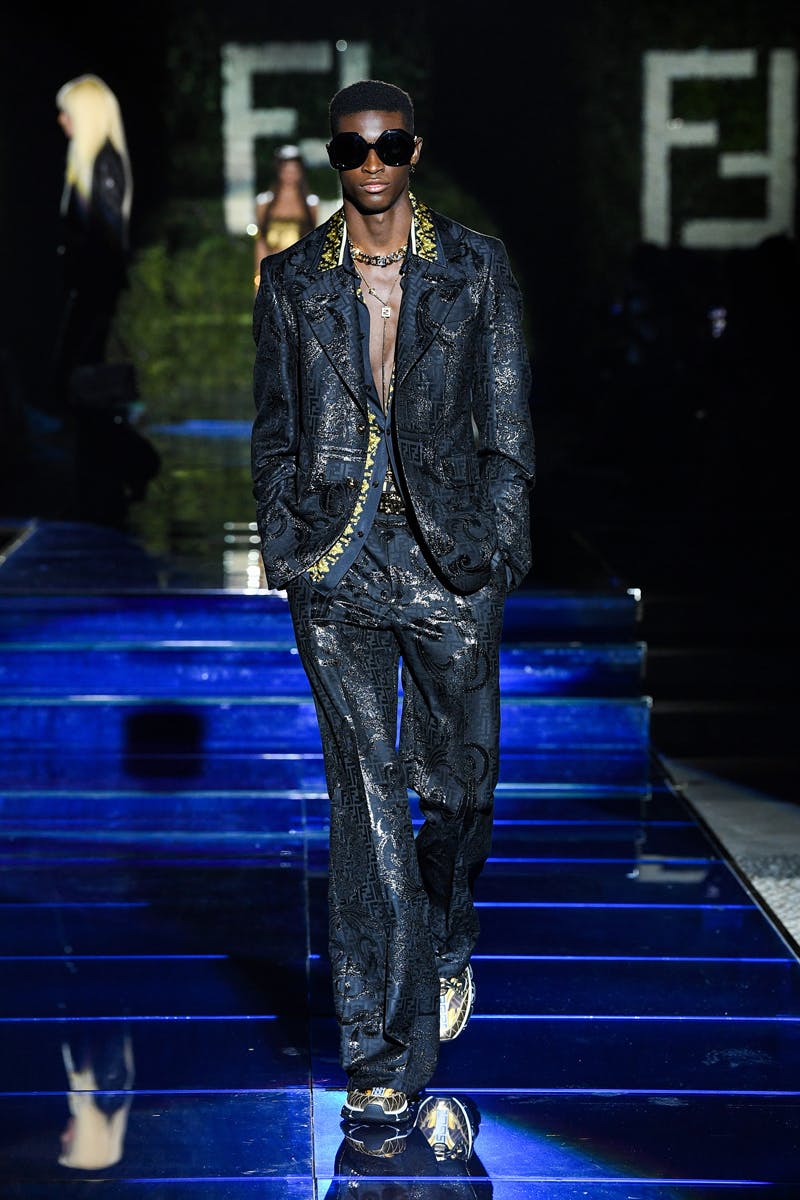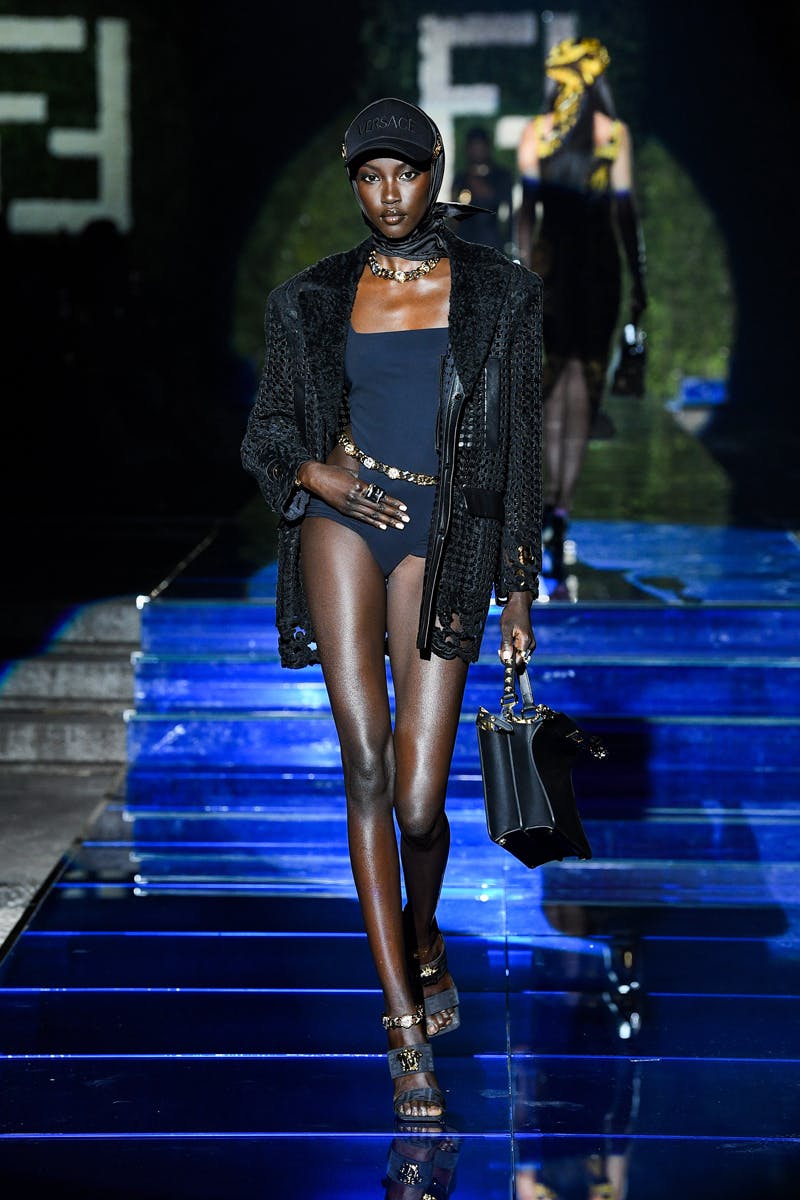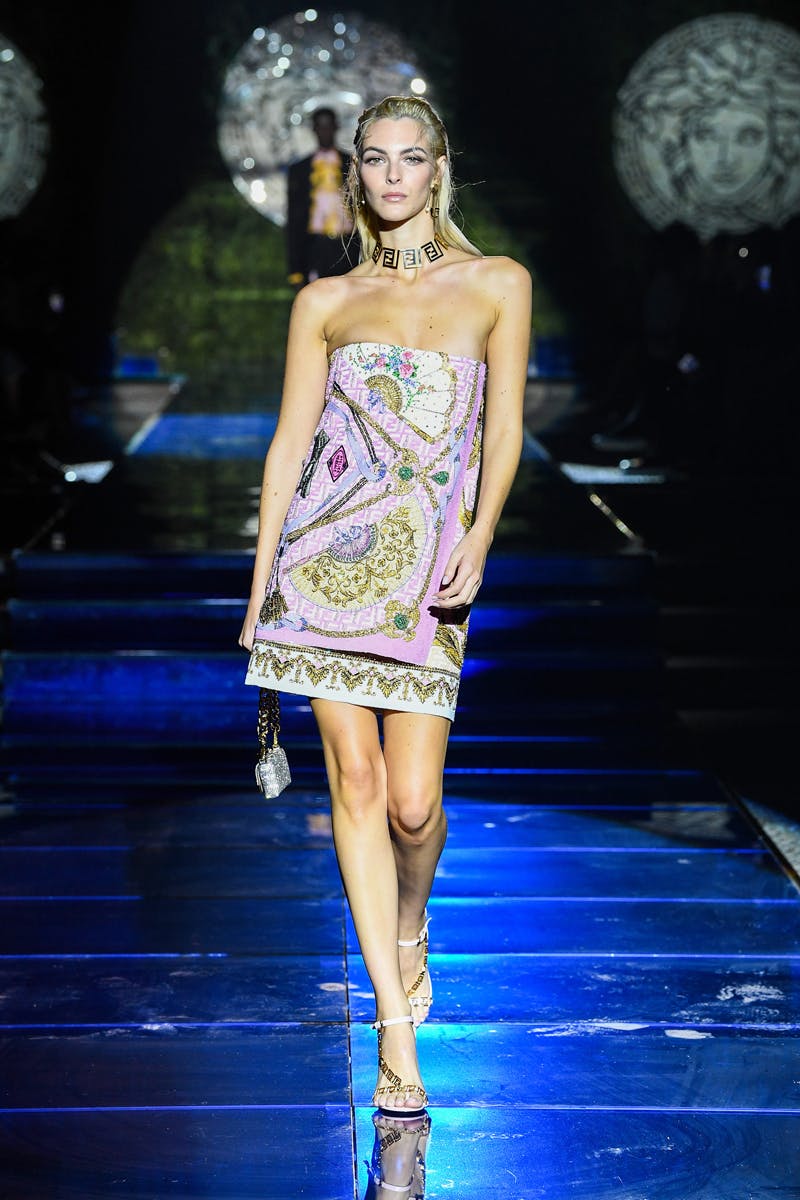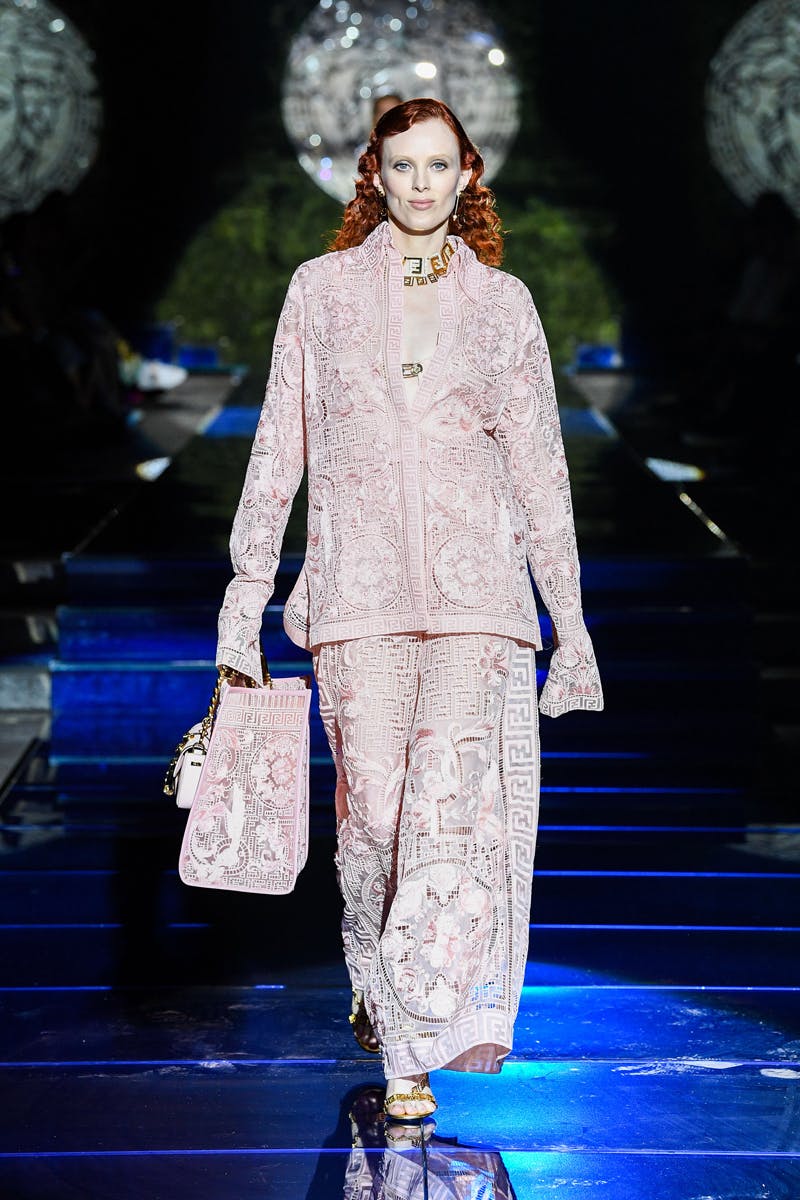 Remember Gucciaga? Balengucci? That ol' song and dance is so 2021. Now, it's all about Fendace.
Yup, Fendi x Versace. or Versace x Fendi. Or, as Kim Jones calls it, Fendace.
Called "The Swap" in the same way that Gucci x Balenciaga was termed a "Hacking Lab," Fendace merged elements of both brands into an extensive, flashy mélange.
"Swap" is an appropriate descriptor, given that Fendi's Kim Jones and Donatella literally traded roles, according to show notes, and the collection was thus split in two: Jones took over the first section of Versace-centric pieces while Donatella oversaw the second selection of Fendi-focused fashion.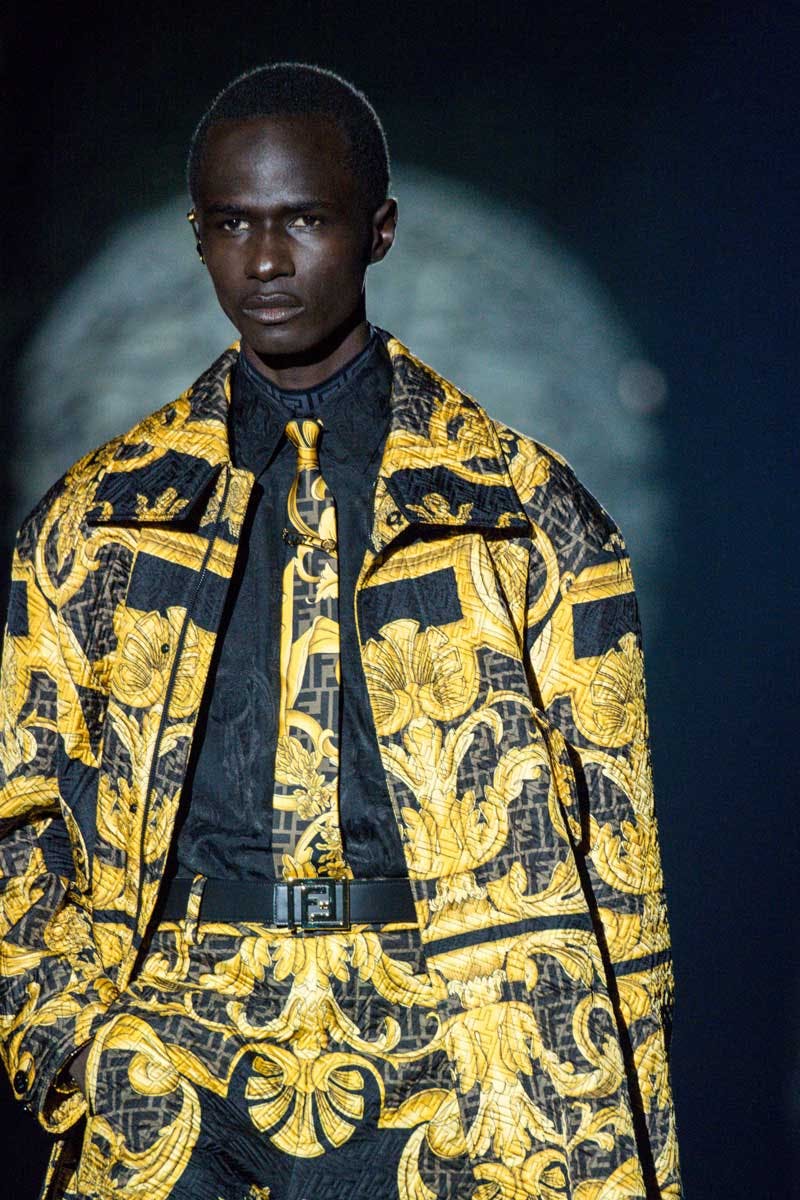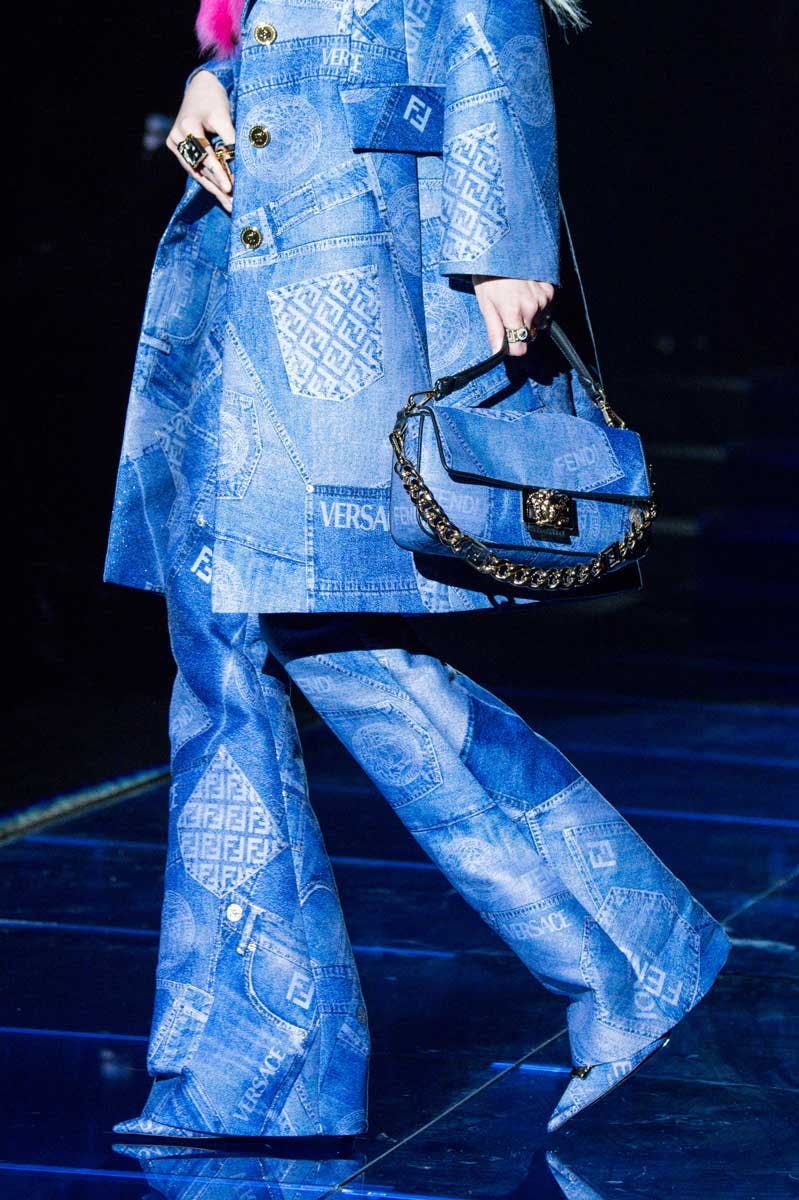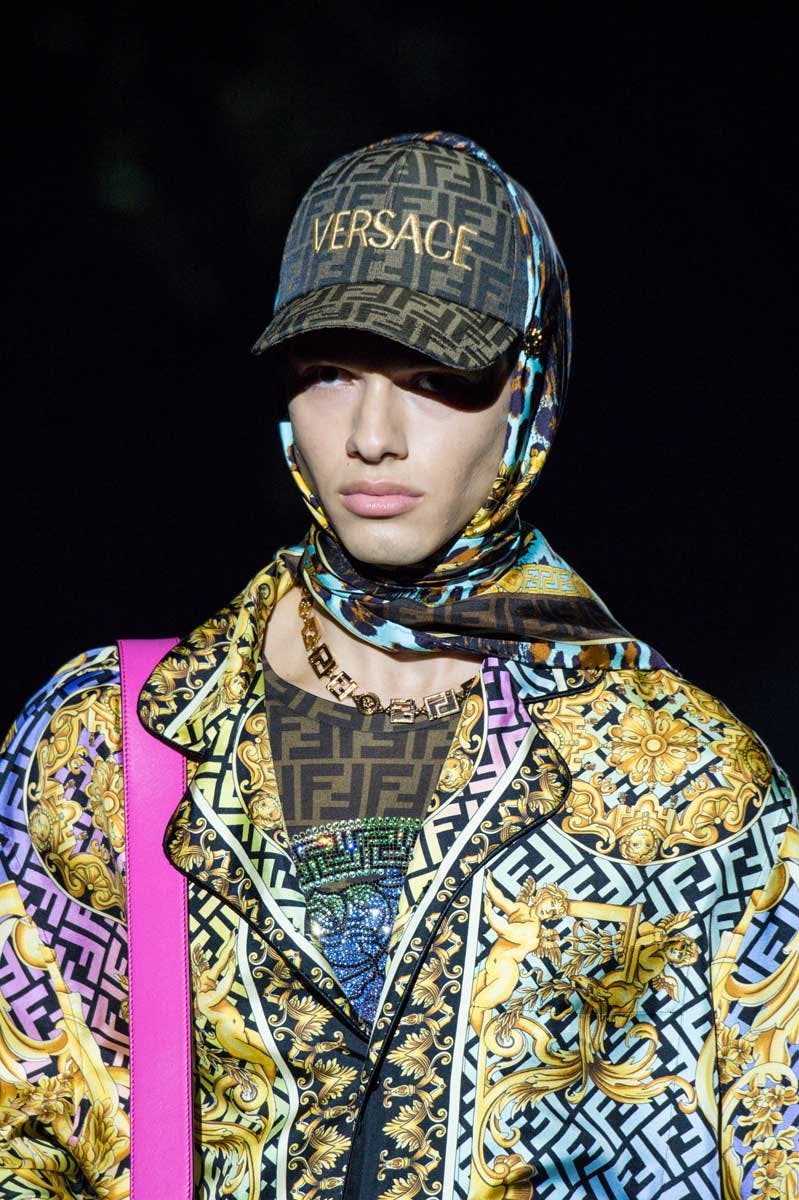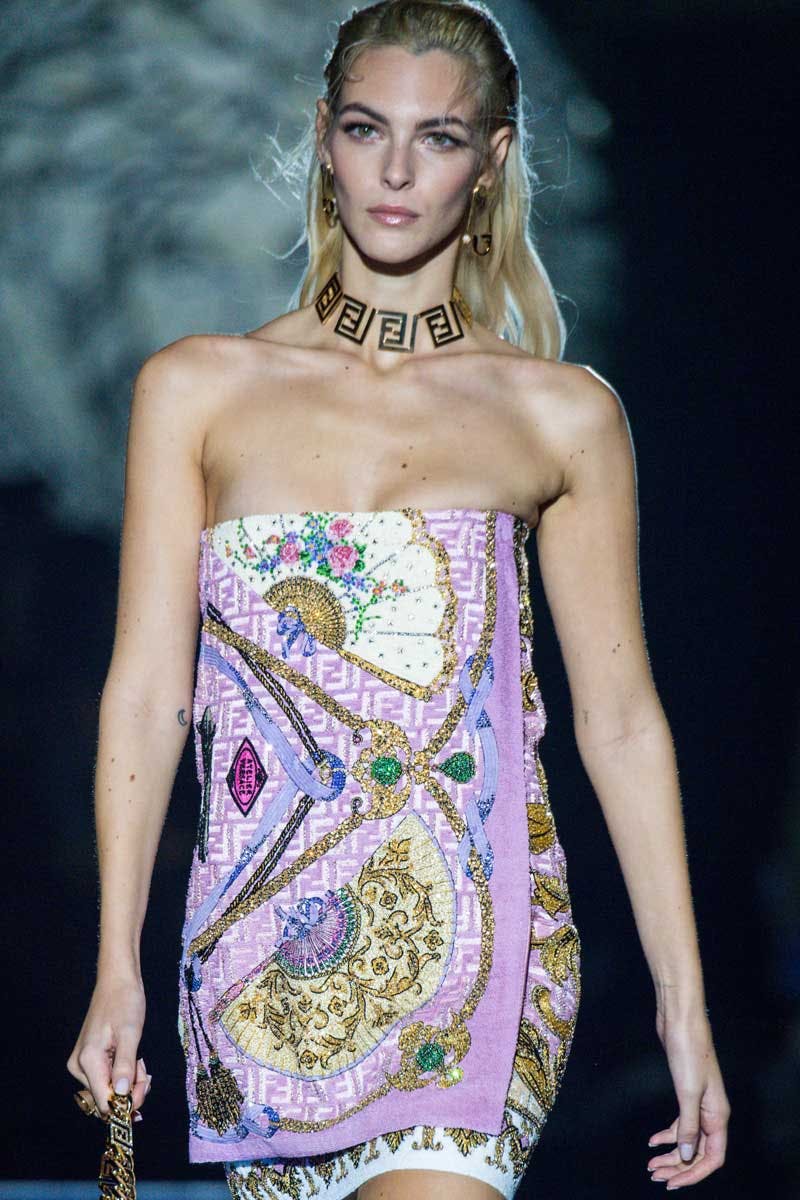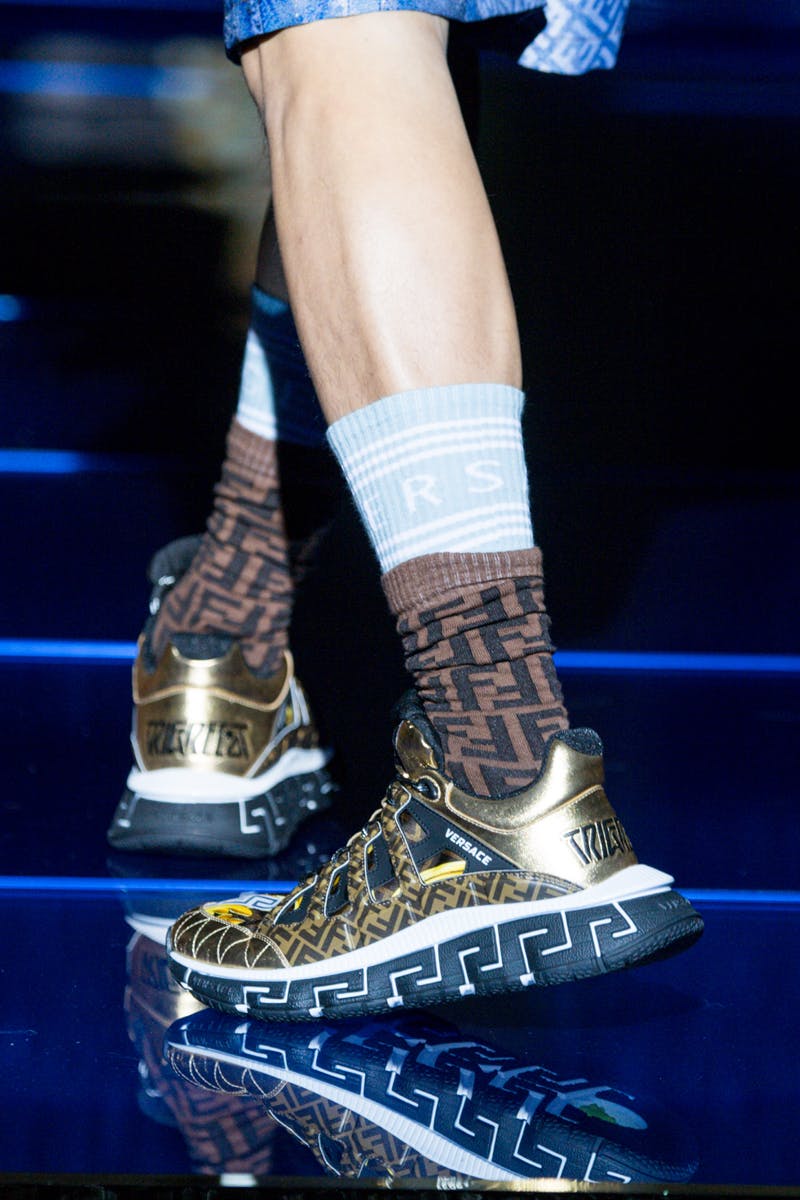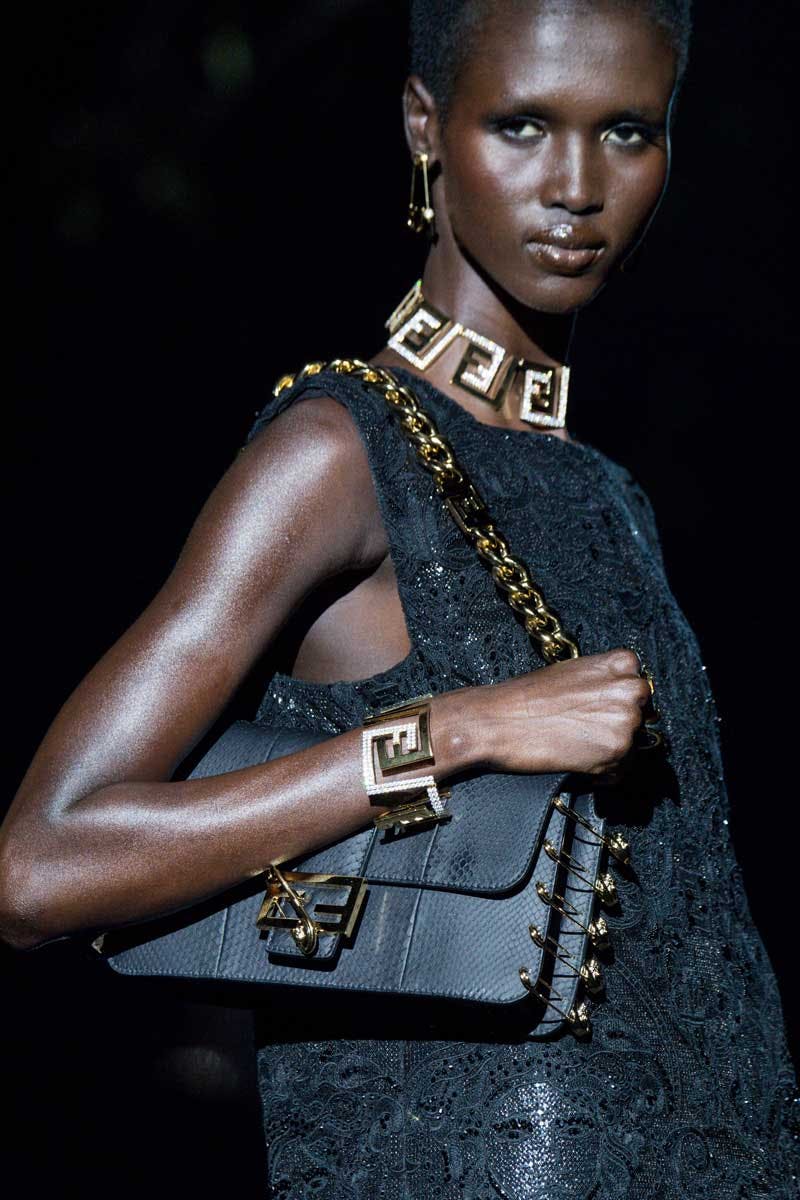 "Friends, idols, mentors... It's the beauty of togetherness," said Jones.
Jones and Silvia Venturini-Fendi's Versace By Fendi section kicked off with gold coats, co-branded socks, and jewelry that merged the logos of each luxury house — the Fendi monogram meshed with Versace's Greek Key. There were Fendi cues in the breezy shirts and Baguette-shaped handbags, yes, but this first round of clothing really was a Versace affair, all glitz, glam, and gaudy.
Loads of big earrings (shaped like safety pins), gold heels, baroque-printed swimsuits, and glistening dresses both lived up to the Milanese label's lurid legacy and tied into Versace's mainline Spring/Summer 2022 collection.
Then, Drake's "Way 2 Sexy" began blaring on loop as Donatella's Fendi By Versace hit the runway. A big, immodest song for a big, immodest collection.
Rainbow-hued trench coats, monogrammed suiting, enormous logo-laden tote bags, and belt buckles accompanied some very Y2K miniskirts (realized in silk printed with faux denim patchwork) and clutches, upending Fendi's subdued styling with Versace flair. Sparkles, gilded accessories, baroque prints, Medusa heads: it's all here and then some.
Of course, there's also a "FENDACE" logo.
Revealed via the above live stream on September 26, the Versace x Fendi "swap" — which the labels frustratingly refuse to deem a "collaboration" — is part of a shared Pre-Fall 2022 collection that releases in May 2022.
Way before that, though, an Instagram post uploaded this past summer by Kim Kardashian West — who knows a thing or two about marketing and is currently sporting a blacked-out avatar — initially set the Versace x Fendi rumor mill a-spinnin'.
These inter-industry link-ups are pretty new, with the stage set primarily by Balenciaga x Gucci earlier this year.
And, like Gucciaga before it, Versace x Fendi unites two different luxury conglomerates: LVMH owns Balenciaga and Fendi, Kering owns Gucci, and Capri Holdings operates Versace.
Is Fendace luxury's high-water mark for team-ups, though, or is it the precise second when these kinds of affairs jump the shark?
From The North Face x Gucci to the many Moncler moments, all this high-end intertwining has been pretty exciting and certainly lucrative, if only due to the immense attention on social media that follows every big reveal.
On the other hand, some have pointed out that these constant (non-)collabs are kinda exhausting. Too bad, as we're likely only just entering a new era of countless luxury "hacks" and "swaps."