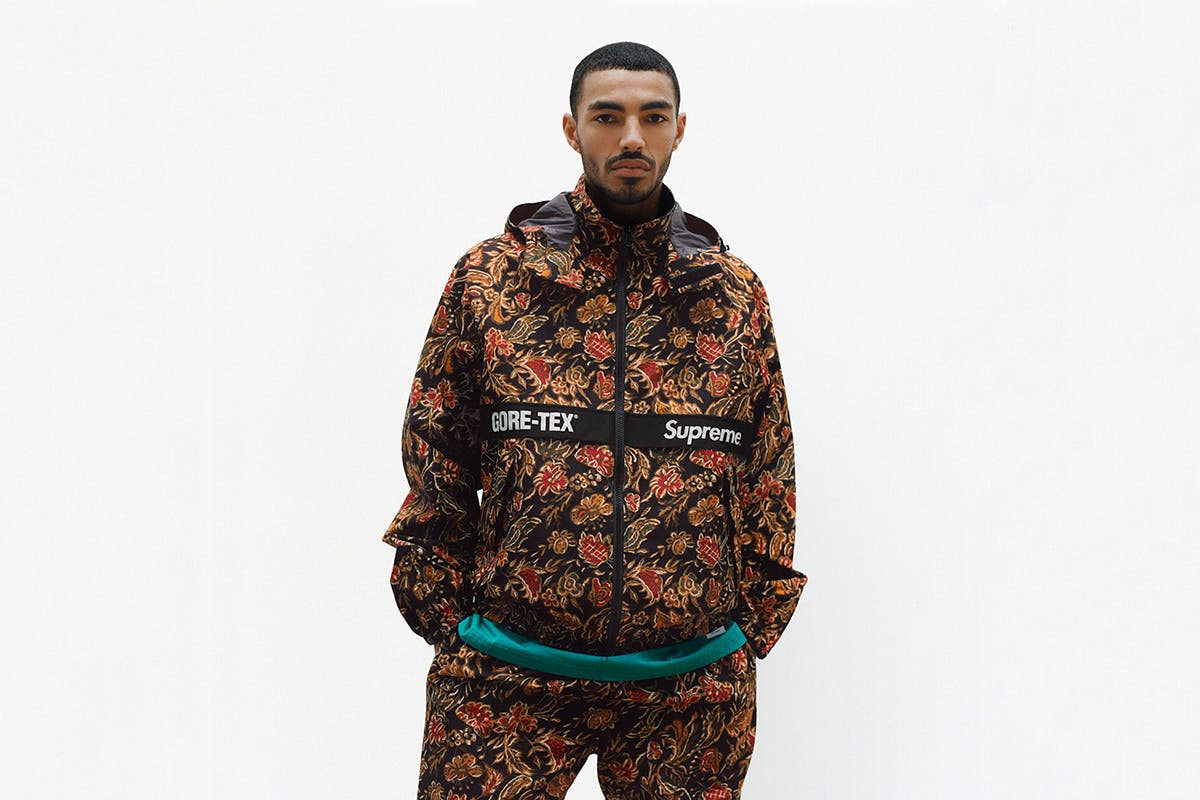 Revolutionary at the time of its invention in the late 1960s by W. L. Gore and Associates, GORE-TEX is a microporous material that lets vapor (or sweat) escape, while remaining completely waterproof from the outside. Created by stretching out a heated rod of Teflon (Polytetrafluoroethylene), the material is used by brands across categories, from cosmetic surgeons to mountaineering brands.
While the former have found it to be a useful tool for performing rhinoplasty and lip filler treatments, the latter have made the material synonymous with extreme weather jackets and hiking boots for the past few decades, establishing GORE-TEX as the Kleenex brand of waterproofness, so to speak.
For a while, it's been associated with the frumpy, shapeless and practical wardrobes of people who couldn't care less about style; the antithesis of the sneaker and streetwear elite. But recently, GORE-TEX has done a slick job of straddling both realms, catering to the traditional crowd while earning cool points with a series of sneaker and streetwear collaborations too.
"[When I was] in the U.S. looking at our archives, I saw advertisements that we did in the late '80s with women's streetwear-style boots and trench coats," Andreas Marmsoler, GORE-TEX's Global Head of PR and Sponsorship told Highsnobiety, when we ask if he can pinpoint where the company's relationship with streetwear began. "We've been active in the city-wear/lifestyle garment sector for decades, but it's not that [noticeable] because our communication was geared towards outdoors."
The material's contemporary crossover into the industry first arrived with support from Japan's streetwear stalwarts seven years ago, later making its way to Europe and North America. visvim, nanamica, Arc'teryx Veilance and ACRONYM are just some of the brands that experimented with the fabric as far back as 2011, and since then, so many others in the fashion realms have followed suit: Palace, Stüssy and Supreme all called upon the fabric-makers to work on outerwear with them back in 2014.
Recently, however, GORE-TEX launched a more lifestyle-oriented Instagram account @goretexstudio, dedicated to fashion and sneaker collaborations as opposed to alpine-ready goods.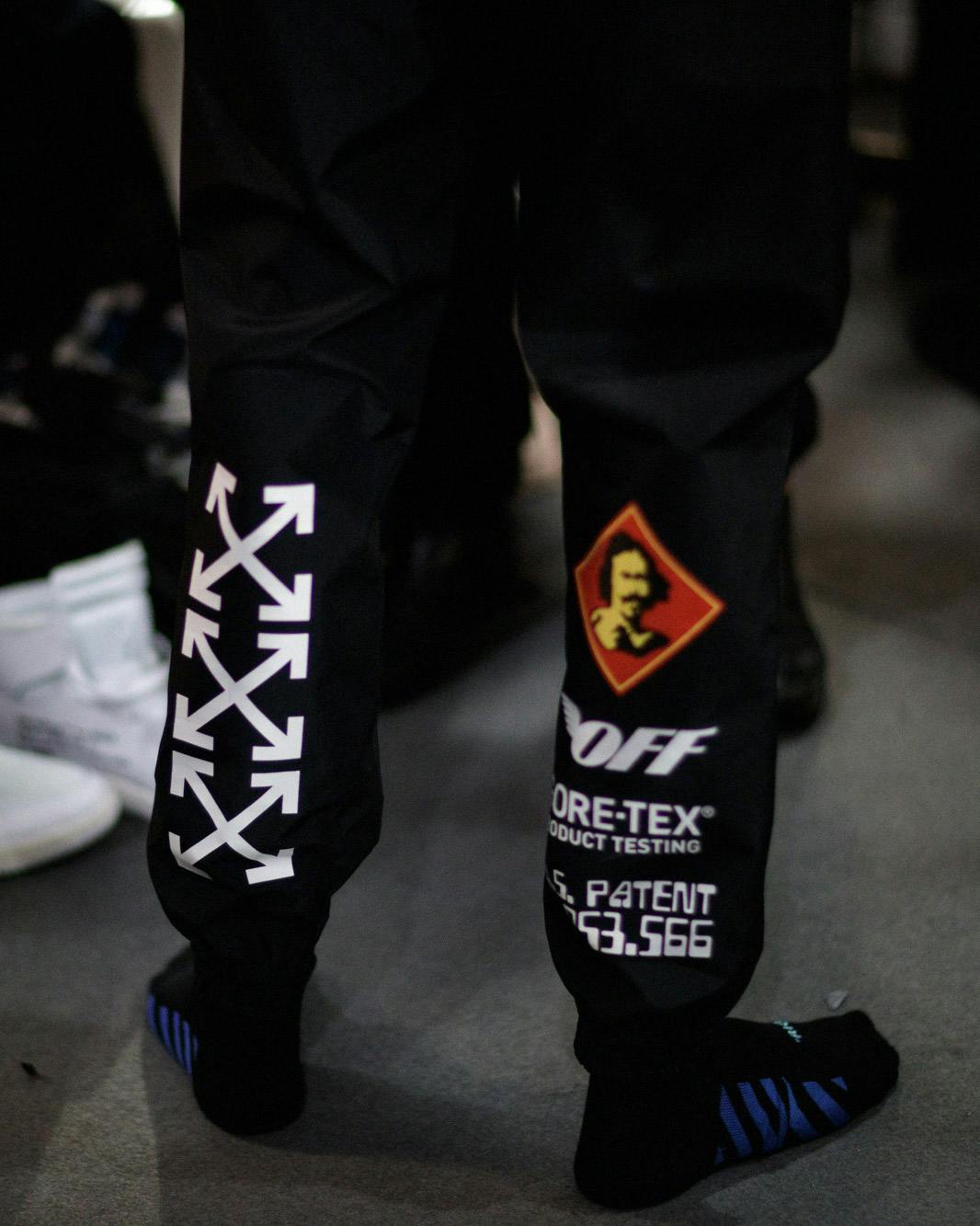 At the core of GORE-TEX's slick streetwear renaissance lies a relationship with Berlin-based agency BEINGHUNTED. The creative consultancy formed by the founder of Berlin's premier fashion boutique, Firmament, Jörg Haas has been working with GORE for the best part of a decade, and is behind some of the brand's most lucrative and visible collabs in streetwear.
"We know both sides and act as the intermediate," Jörg says, but BEINGHUNTED's role is not just one of a middle-man; there's a curatorial element to the work that they do with the brand. "New partners are approached based on a battery of criteria and, of course, their current relevance plays a crucial role, too," he tells us. " [Working together] should be beneficial for both sides: the partner [is] able to work with the most innovative technical fabrics, and Gore get to see exciting new products [that uses their material] in a sector that's not outdoor."
It seems like BEINGHUNTED's influence is working. After using the material in so much of mountain sports range, adidas recently decided to implement GORE-TEX on one of their most desirable, street-ready silhouettes too. They threw away all the perceptions of waterproof sneakers being bulky and unsightly when they dropped their re-upped version of the sleek NMD City Sock in November 2017 – complete with the famous waterproof lining. With its soft, malleable upper, the City Sock wouldn't stand a chance in wet weather, so it makes sense that they decided to flaunt the GORE-TEX's innovative power with their silhouette that was most susceptible to the elements.
Not long after, the classic Stockholm sneaker got its own waterproof treatment, courtesy of a collaboration with Sneakersnstuff. They even put together a comedic clip flaunting just how puddle-proof the GORE-TEX made them.
In less sport-spun realms, Converse's classic high-top silhouette was never the best-equipped choice for damp weather. The news that we'd be getting a pair that kept your feet bone dry was a godsend for those looking for a practical, everyday style. Part of a collaboration with Slam Jam and artist Cali Thornhill Dewitt, their GORE rendition was a pretty swift sell out when it dropped back in November. Its perforated panels, heel tab, white-on-black stitching and camo color schemes meant it wasn't too far removed from the styles synonymous with GORE-TEX's outdoor origins, but it was released alongside a street-ready utility jacket that brought it truly into the coveted realms of cool.
"What we have seen so far are the first steps that these new partners have taken: working with classic styles [and] adapting them for their respective audiences," Jörg says; an idea that Reebok tapped into for its Raised by Wolves collab. Revamping the Classic silhouette with RBW accents on the heels and shoelaces, the black, white and ice blue colorways dropped late last year, and came with GORE-TEX technology in the linings. The simplicity of the Classic Leather style seems to lend itself perfectly to GORE-TEX and Raised By Wolves' inventive treatment.
Raised by Wolves co-founder and Highsnobiety Magazine Editor-in-Chief Pete Williams noted, "Technical gear is a necessity of life in Canada, and that GORE label always stood out as the stamp of a top-end garment. It also wasn't ever something I could afford as a kid, so GORE pieces were elevated to an even higher status. Plus, honestly, the name is just cool as hell. It's been a goal of mine to work with GORE-TEX since the inception of RBW 10 years ago, so it was a dream-come-true when Reebok agreed to bring them in as a third partner for our collaboration. Truly the best in the game."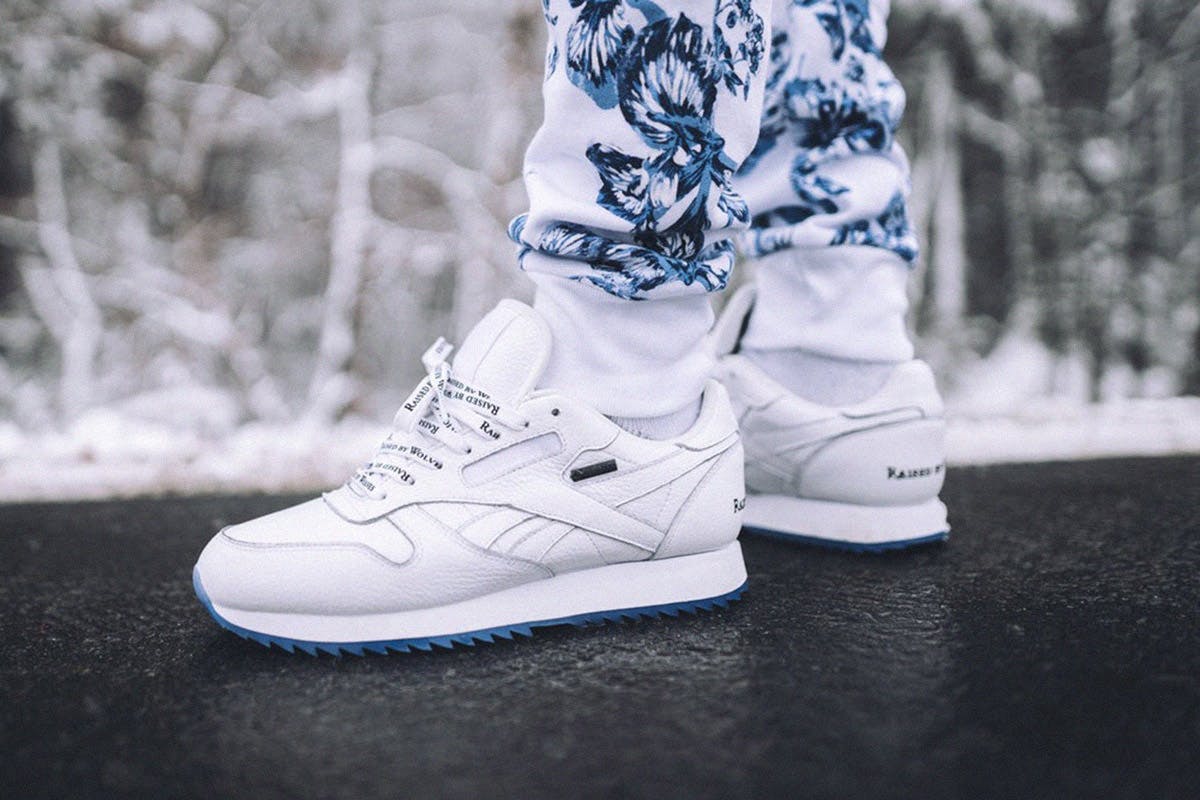 The salience of GORE-lined sneakers this season has played a huge part in pushing GORE-TEX into the streewear consciousness, but its reputation in high-fashion circles – one tied to the concept of luxury, not functionality – increased tenfold with the arrival of Off-White's FW18 "BUSINESS CASUAL" collection.
Among the dyed leathers, distressed knits and deftly made tailoring, there were GORE-TEX branded cross-body bags in a variety of colors that left the front row salivating. It couldn't have come at a better moment: after a killer fourth quarter working with some of the most prolific sneaker brands in the world, how better to kick off 2018 than by working with one of the most lusted-after fashion labels of the past half decade?
"It was part of looking from our side in the market [and deciding] who we would like to partner with," Clemens Piekarz, GORE's Head of Strategic Marketing in Lifestyle tells me of the hyphen-heavy link up. "Virgil was interested in providing a functional element to his collection. It was a couple of years ago [we first spoke], and we worked on that collaboration ever since, making Off-White familiar with our products and what we have to offer."
In an email statement, Virgil told Highsnobiety that he's been "a long time admirer of GORE-TEX's technical ability to perform." "I thought it was a unique opportunity to give something you can't necessarily see with the naked eye an identity," he added, "[one] that can be seen from across the street."
Of course, while every brand seems to reap the benefits of GORE-TEX's purpose, a master of subversion and style like Virgil flips the concept on its head, making art out of something that was once merely practical.
For Supreme's FW18 season, the brand unveiled a trio of GORE-TEX pieces: a heavy-duty, 700-Fill down parka and a two-piece nylon tracksuit, all of which came with highly visible GORE-TEX branding.
The previous year, for FW17, Palace unveiled some similarly visible GORE-TEX gear, which sported oversized logos on the sleeve and Palace-branded seam taping.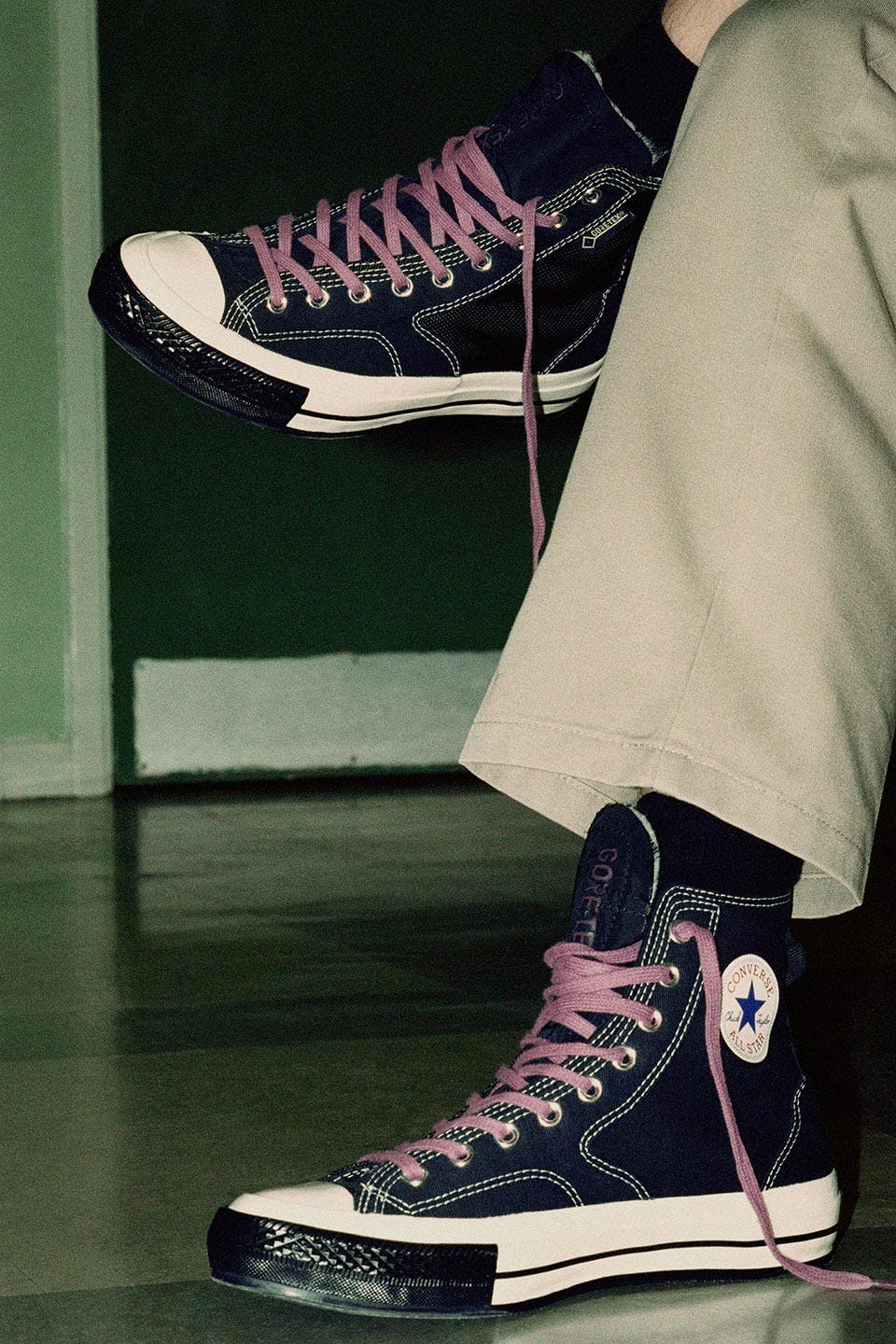 Functionality was once a synonym for uncool, and GORE-TEX's perception as a must-have for the hiking boot crew meant that, bar a few sporadic collabs, their name wasn't all that common in streetwear circles. But times have changed: the prevalence of consignment sneaker stores and the seemingly incessant nature of sneaker drops now forces us to be a little more selective, considering the benefit of keeping our kicks in pristine condition and asking ourselves, "What might these be worth 10 or 20 years down the line?" In those cases, the presence of GORE-TEX in a silhouette's design is super valuable.
In Clemens' opinion, the maturing nature of the sneakerhead means that practicality and style play equal parts in their spending habits too. "They want to be prepared for all kinds of conditions and situations, but there's a high need to represent a brand, and to look a certain way," he says. "They're demanding that [functionality] on a daily basis."
Anybody who's been in the sneaker circle for longer than a hot minute will know that tech trends come and go; it needs to be more than an interesting quirk to have any sort of staying power. But the salience of GORE-TEX on the feet of our sneaker elite is a trend we should all be getting on board with – if we should even be calling it that.
"For us it is important that this project is one that will progress over time," Jorg says. "It is necessary to keep an eye on the "hype" factor... it's our top priority to stay away from this being [just] a trend." BEINGHUNTED have got it right here. In ten years time GORE-TEX could, in theory, be in the linings of every sneaker on the market. And we won't know how we ever lived without it.
To stay updated, follow @Highsnobietysneakers on Instagram