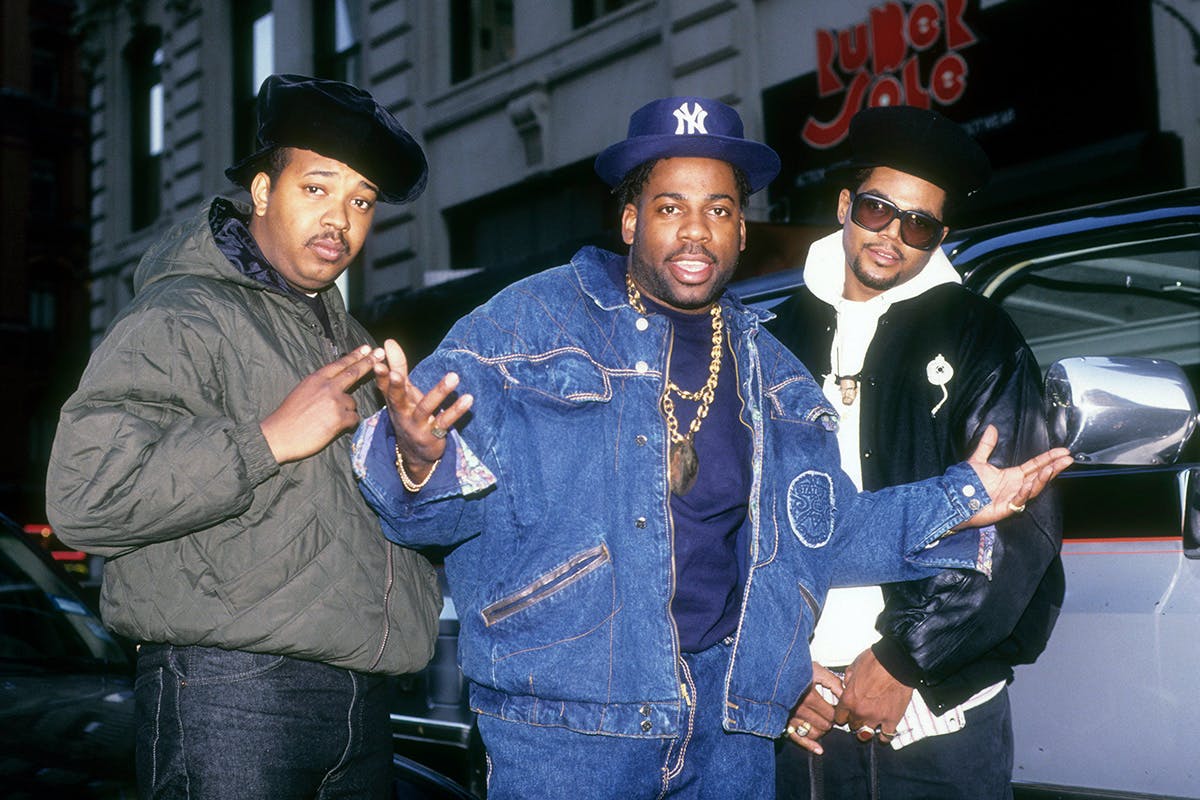 The presence of denim in hip hop culture and the varied ways in which jeans are a staple of hip hop fashion is now a certified. But during the gestational era of hip-hop culture — recently fictionalized in Baz Luhrmann's The Get Down and forever immortalized in the photography of Jamel Shabazz — the notion of casual denim dungarees was still in its infancy. The 1970s proliferated the idea of jeans as acceptable casualwear, bringing with it bell-bottomed silhouettes and DIY details like patches, ripped knees and decals.
In New York City, an East Village boutique called Limbo gets credit for being the first retailer to wash new jeans for a worn-in effect in 1965. The idea caught on, and Limbo partnered with local artists to trick out the jeans further, embellishing them with decals and patches.
Denim's importance to rock and punk subculture has long been reinforced by films like This Is England and even museum exhibits like the V&A's exhibition on 1960s style and music, but it's been equally important to hip-hop and street culture.
Here's how denim's washes, silhouettes and important brands have shifted throughout the years and evolved in hip-hop style:
Late 1970s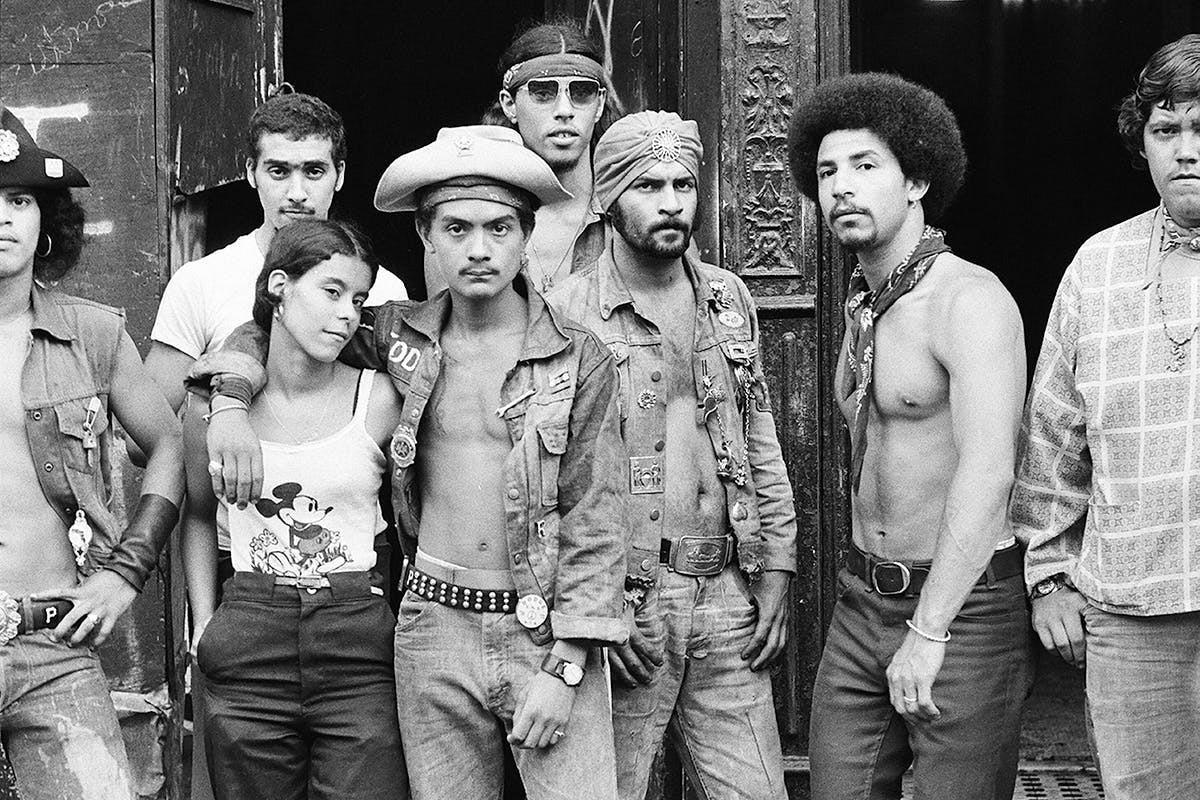 Post-war hippies and the golden age of disco popularized bootcut flares, but classic straight-legs remained prevalent among young fans of the burgeoning hip-hop scene. The versatile pants offered ease of movement and a high degree of versatility, which meant they could be rocked with everything from an era-appropriate knit polo shirt to an opulent fur coat.
In a decade where high style was characterized by stretchy polyester, shiny satin and chintzy velour, hard-wearing denim dungarees symbolized a utilitarian sense of rebellion.
How to wear it now: The Ami Blue classic fit denim offers a classic cut that perfectly emulates the kind of fit worn by the characters in Baz Luhrmann's The Get Down.
Early 1980s
As hip-hop evolved as an art form and proliferated around the country, the disco-inspired uniforms that characterized groups like Grandmaster Flash and the Furious Five (shouts to Kid Cowboy) and Afrika Bambaataa and the Soulsonic Force (Indian headdresses and all) shifted to reflect the everyday uniform of the kids who were intrinsic to the culture.
Denim jeans and denim trucker jackets provided an authentic contrast to showy performance wear, reinforcing the very real message behind the music. Pioneering groups associated with Sugar Hill Records paved the way, with acts like Funky Four Plus 1 often wearing head-to-toe denim.
The group also has the honor of being the first rap act to perform on Saturday Night Live. The DIY style of punk influenced the styles of the era, with flocked letters, embroidery and airbrushed art being used as a means to customize jackets and jeans, imbuing them with a sense of individuality, or as a way to rep your respective set.
Meanwhile, in Jamaica, reggae style mirrored the utilitarian uniform of hip-hop. Immortalized in films like Rockers, slim denim was often paired with Clarks footwear, brightly-colored mesh tanks, flocked-letter T-shirts and Rastafarian headwear, predating streetwear's obsession with reggae motifs. Legends like Peter Tosh and Burning Spear perfected a casual style that mixed camouflage military jackets and bright colored T-shirts into the style paradigm.
How to wear it now: Enjoy a pair of John Elliott grey straight jeans with a healthy dose of DIY influence. Hand-drawn mixture of scribbles from his kids and drawings of his own add to the vintage appeal, while a stovepipe fit perfectly channels the aesthetic of the era's burgeoning subcultural uniforms.
Mid 1980s
When you say "old-school" hip-hop style, most people will think of one group: Run D.M.C. Their uniform of straight-leg denim, unlaced adidas Superstars with a popped tongue and Cazal eyewear became the stuff of subcultural legend.
On the West Coast, N.W.A. ushered in a more militant era characterized by dark denim with black coaches jackets and snapback hats. In a way, this mirrored the unofficial uniform of the rapidly mobilizing Black Panther movement — dark trousers, a powder blue shirt, leather jacket and a black beret. Meant to fit within a variety of budgets while still keeping a look consistent, this militant attitude sets the stage for a more politically-charged movement in hip-hop.
Rock and rap met in the middle, not just with Aerosmith and Run D.M.C.'s "Walk This Way" but with the Beastie Boys, who mixed American hooliganism with screeching raps and party anthems perfect for suburban rebellion. Cuffed jeans over high tops took what was happening in rock-and-roll and channeled it through the filter of hip-hop culture.
Meanwhile, a new trend emerged on album covers for Philly hip-hop group Three Times Dope's Original Stylin' and even L.L. Cool J's debut album, Radio—Air Jordan sneakers.
How to wear it now: The Nudie Jeans black straight-leg jeans are an all-around staple for all occasions and with long-lasting quality. Whether you rock them with a coaches jacket and snapback or go full Run DMC with a pair of vintage Cazals, a shearling coat and adidas Superstars, they'll definitely complete the look.
Early 1990s
90s hip-hop fashion is arguably one of the most influential aesthetics that is still relevant today. One of its iconic looks was the ripped jeans. They channeled thrash rockers and rap's evolution as an anti-establishment voice — Chris Rock wore a pair of ripped jeans with "Grape" Jordan Vs on the cover of his second album, Born Suspect. Groups like De La Soul infused an element of African tradition into rap, which came to a head when Arrested Development won two 1993 Grammys for "Best New Artist" and "Best Rap Performance by a Duo or Group."
The image of the "roughneck" was reinforced by icons like Tupac Shakur, who showed up at the 1993 Soul Train Music Awards in a coordinating Carhartt denim chore coat and denim pants, with Rosie Perez in tow. Shakur and his contemporaries ushered in a baggier era of hip-hop style, updating its classic utilitarianism with a cultural edge — like when Pac had his signature "THUG LIFE" motto embroidered on a pair of Carhartt overalls.
How to wear it now: The Hidji signature denim from Who Decides War channels grunge style with these distressed ripped jeans, featuring up-cycled denim panels from previous styles of denim.
Mid-1990s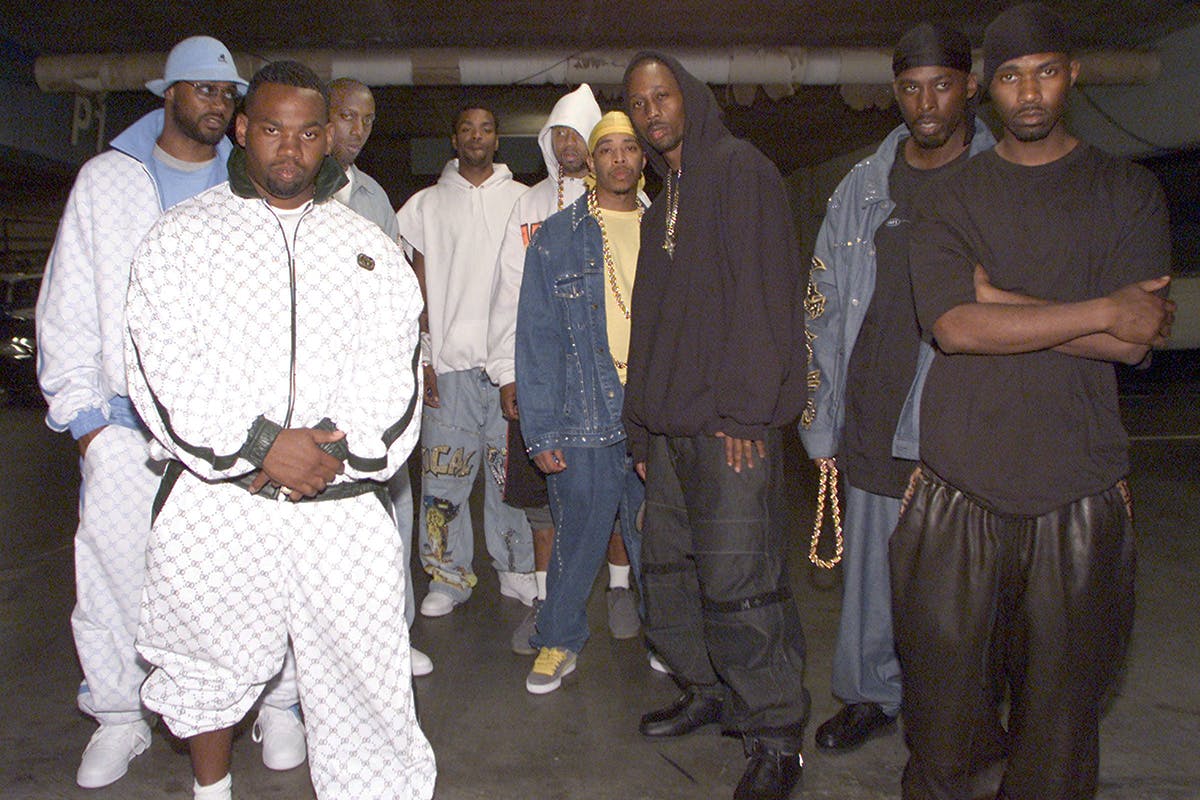 Hip-hop style in this age was characterized by oversized workwear and plenty of denim. The back art of Mobb Deep's The Infamous featured baggy light jeans draped over a pair of wheat Timberland boots — a rap classic if ever there was one. New York hip-hop style solidified as a mix of hard-wearing, blue-collar staples and repurposed military and outdoor gear, like heavy parkas.
Rap was further legitimized by luxury brand co-signs. Tupac Shakur walked in a 1996 Versace show, and Grand Puba and Snoop Dogg did for Tommy Hilfiger what Raekwon did for Ralph Lauren. Instead of clothes that reflected the reality of the streets, rappers became the new symbols for aspirational style, and that meant a wealth of new brands and labels were incorporated into the culture.
This enhanced awareness of labels and designers benefitted the burgeoning streetwear scene, which saw brands like Stüssy, Supreme and A Bathing Ape proliferate. Savvy artists and people in the culture capitalized on this gap in the market, and a parallel industry of so-called "urban clothing" sprouted up. Daymond John's FUBU becomes a hit, and nets him enough money to eventually become one of the sharks on "Shark Tank." His brand skyrocketed when L.L. Cool J incepted a Gap Easy Fit jeans to plug FUBU.
Wu-Wear, Johnny Blaze and Triple 5 Soul were stocked in of-the-moment boutiques like Yellow Rat Bastard, and plenty of graffiti writers turned to clothing as a means to legitimize their art. Stash and Futura opened up shops like RECON/NORT and the stage was set for sneaker and street culture as we know it.
How to wear it now: Bring out your inner roughneck with a pair of Carhartt WIP overalls. Ideal styling options would be an oversized waffle knit thermal, a classic pair of wheat Timberland boots and a safety orange beanie.
Early 2000s
Hip-hop's infatuation with all things designer evolved into an obsession with designer jeans. The movement is characterized by denim with intricate back pockets that do the flexing on a wearer's behalf. True Religion, Antik Denim and Evisu are worn by rappers like Jay-Z (still with a hyphen) and 2 Chainz (still known as Tity Boy). The crunk era of rap reflected the hair era of rock, tall white tees with oversized designer jeans and crisp white Air Force 1s became a prevalent uniform.
The wide-leg craze of the '90s still reigned supreme, as legs were baggy and waists sagged down to reveal whatever designer boxers people were flaunting underneath. Carpenter jeans with hammer loops served as a roughneck alternative to basic blues, and every other guy was likely rocking a pair of boot cut denim, which thankfully has fallen by the wayside now.
In certain circles, logo'd-out jeans with the iconography of NBA teams became sought after. But a big shift happened on October 17, 2005, when NBA commissioner David Stern instituted a league-wide dress code in reaction to the way players like Allen Iverson dressed off the court. Baggy sweatpants and denim had to be traded in for business casual suits. It would be a long, long time before NBA players became regarded as style icons again (just look at Shaquille O'Neal's sleeveless suits as an example of how bad things were).
How to wear it now: AAPE Black Denim Jeans are the perfect throwback to this era of hip-hop style, replete with a straight, baggier fit and the iconic A Bathing Ape logo patches at the front. Tall tee optional. Air Force 1s mandatory.
Mid-2000s
A burgeoning interest in made-in-America goods and items built to last was spurred by the American recession. "Raw denim" was reintroduced at a mass level, with brands like Nudie Jeans, A.P.C., 3sixteen and Iron Heart catering to casual denimheads and blue-handed aficionados alike. It wasn't just side-parted beardos with a penchant for flannel and Red Wing boots getting in on the action either, but the same types of dudes who'd queue up for Supreme and Jordan retros, too.
Jeans became simpler and skinnier on a cultural level when a new era of rappers came into prominence. Pharrell bridged the gap between skaters and rap fans with his signature style and slimmer-fitting jeans. He made it okay to dress apart from the pack and do your own thing, which encouraged countless other acts. His own line, Billionaire Boys Club, enlisted Japanese artists like Sk8thing to design full-zip hoodies with waffle all-over prints and jeans with dogs embroidered across the crotch.
The old notion of designer denim was reinvented to be about quality, fit and silhouette. Of the new guard, Hedi Slimane led the pack by redesigning Dior's denim line with extremely skinny fits and avant-garde washes. Helmut Lang lay the groundwork for the future of hip-hop fashion with some highly influential collections and pieces like painted jeans and bondage-strapped bomber jackets before leaving his eponymous label in 2005.
Kid Cudi and Kanye West rapped the praises of Hedi Slimane's denim artistry on the track "Christian Dior Denim Flow," further solidifying hip-hop's relationship with the fashion world.
How to wear it now: Classics earn their provenance over time, and will truly never go out of style. A.P.C.'s Petit Standard Selvedge jeans still encapsulate the mid-2000s denim craze while remaining as relevant as ever. If you want to cheat your way out of earning your fades, consider A.P.C.'s Butler program, which sells well-worn pairs of A.P.C. denim at plenty of their retail outposts.
Now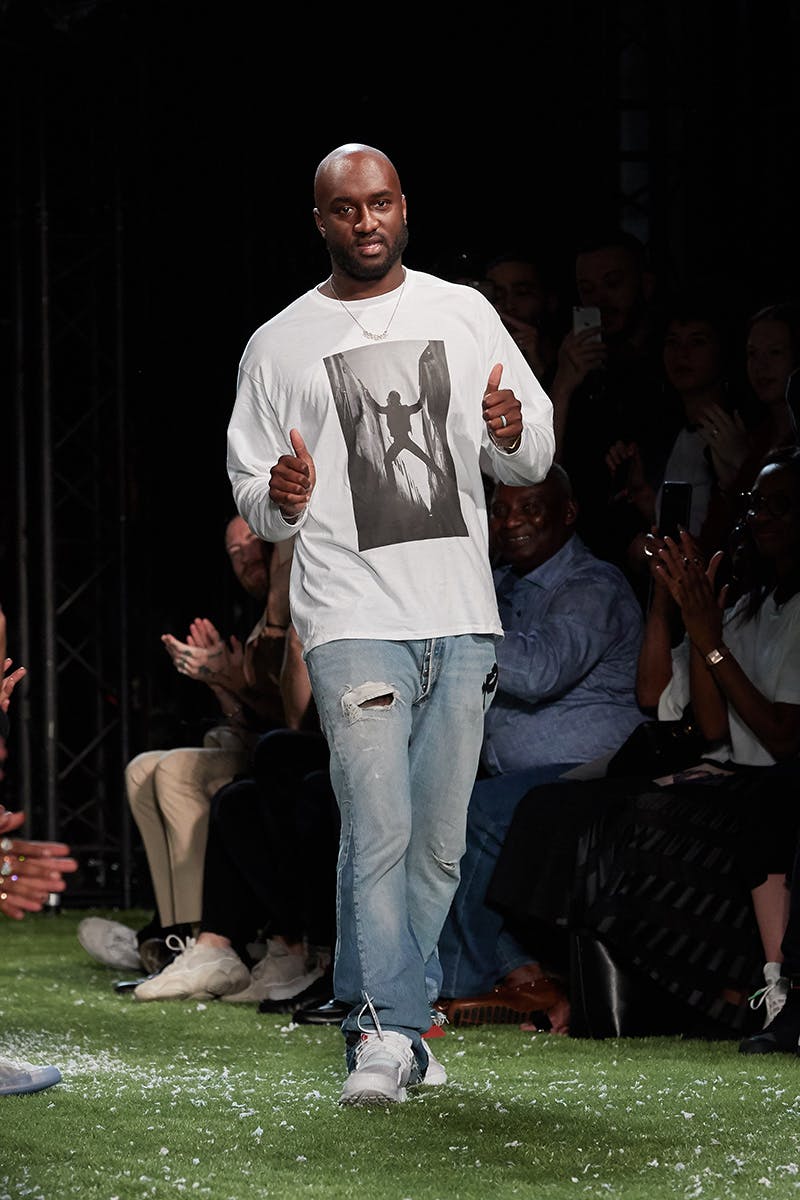 Denim trends come and go with the modern pace of the fashion industry. For a second, biker jeans from brands like Balmain became all the rage. Next minute, it was all about extremely skinny cuts and super-distressed denim from Saint Laurent. Kanye West's collaborations with A.P.C. and Virgil Abloh's collaborations with Levi's signal that hip-hop has gone from a rebellious art form to a driving cultural force.
The new guard of hip-hop style is led by artists like Young Thug, Travis Scott and A$AP Rocky, who push the envelope with genre and gender-bending 'fits. And, in a perfect example of the fashion snake eating itself, nostalgia-influenced denim has seen the rise of wider-leg denim with light washes and higher rises that dads everywhere would approve of.
The modern age of denim and hip-hop style is a borderless world where people can pick and choose styles as they wish. However, before we arrived at this point, many of the culture's style pioneers had to pave the way for individuality to reign supreme.
How to wear it now: Kusikohc Multi Rivet Jeans offers a relaxed straight fit that remains a status symbol among the hip-hop style set.
Next up in the hip-hop style rewinds, have a look at the history of skinny jeans in hip-hop, or the history of jewellery.