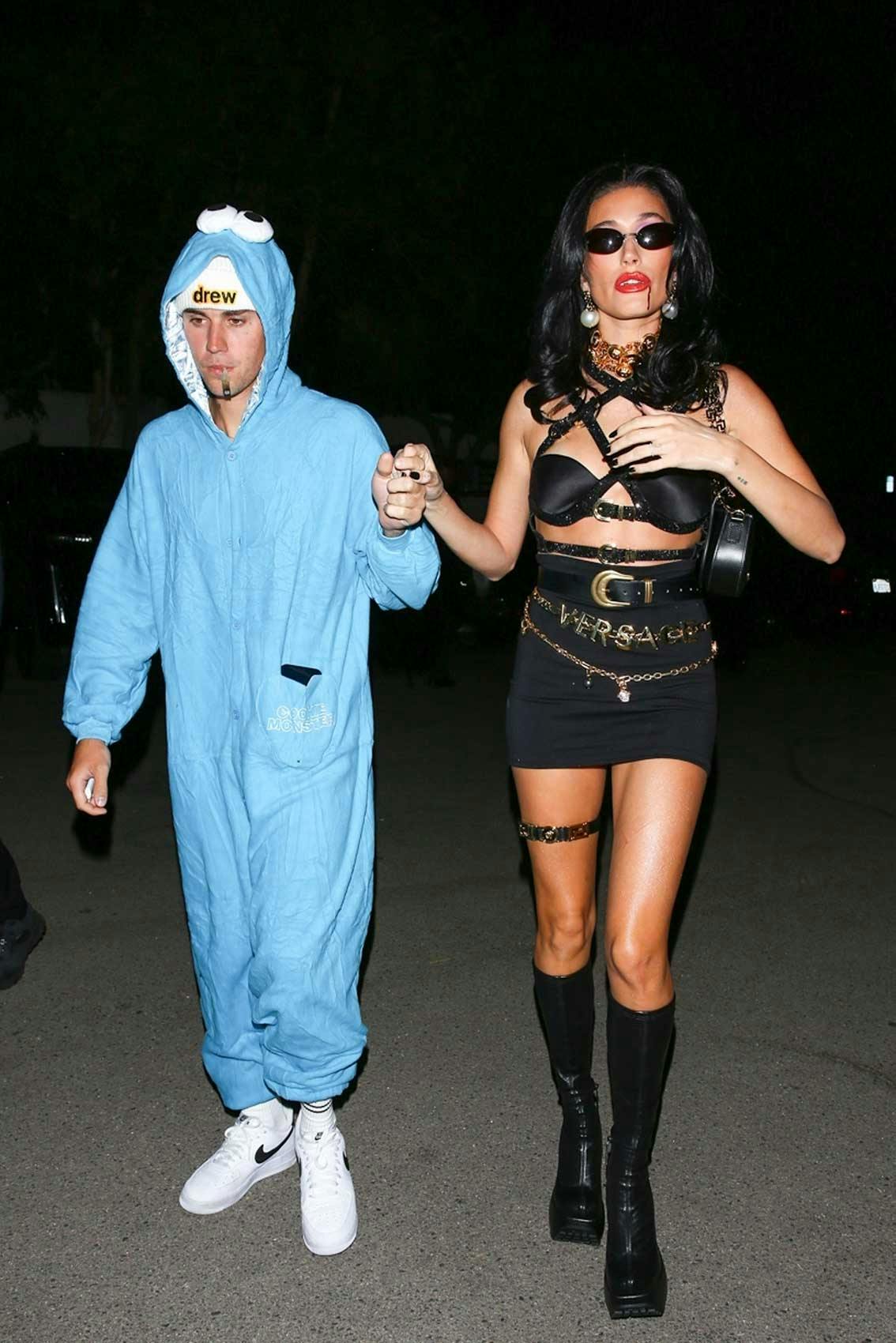 Hey, it ain't always easy figure out what to wear on the spookiest night of the year. Just look at Justin and Hailey Bieber's Halloween 2022 costumes, a perfect study in opposites. High effort meets, well, no effort.
It's not exactly "worst costume" material but the Cookie Monster onesie that Justin Bieber wore to the October 30 Halloween party at Peppermint Nightclub is about as basic as last-minute Halloween outfits get.
Folks, wearing character-themed pajamas does not a costume make. Sorry but them's the rules.
Maybe it'd be acceptable if there was some intent here, maybe a cookie jar prop or something, but it's really just a lazy mashup of Bieber's Cookie Monster "costume," perpetual Drew House beanie, Air Force 1s, and a big doink. Oh, and he forgot a button.
Like, "Cookie Monster with the munchies" isn't an inherently bad idea. Bieber's take on it is just wildly low effort.
And that's not necessarily a bad thing either, unless your partner is putting enough effort into their Halloween look to really make your costume look bare bones. In that case, maybe you'd wanna try just a little bit harder.
Hailey did indeed put a modicum of effort into her Halloween costume. Heck, she put in a whole bunch of effort.
The idea itself is far more interesting than what Justin ended up with, too: Hailey Bieber is a Versace vampire. Fun! Flashy! Y2K without being cliché! Age appropriate without being an instantly-dated "sexy" pop culture reference!
Maybe it's not the cleverest outfit ever but it took some work and that's what counts.
Hailey even wore a variation of those Versace heels, simultaneously riffing on a trend and staying on theme (vampires are usually pretty tall, right?).
Seeing the Biebers together presents a funny dichotomy, juxtaposing Hailey's provocative luxury against Bieber's DGAF Sesame Street homage.
The end result looks less like a cute couple's costume and more like mom and dad forced the cool older sister to lug her unwilling kid brother around for the night. Gotta protect 'lil Justin from the fentanyl those very real drug cartels are definitely handing out to unsuspecting trick or treaters.
That's not terribly uncommon for the pair, to be honest, given Justin's recent predilection for enormous Balenciaga compared to Hailey's effortless off-duty model flair.
To be fair to Justin, perhaps he's just tired of Halloween parties. He's already been to a few seasonal events with Hailey and did actually dress up in a complementary costume.
We could all use night off, even if it's the one night of the year that you're supposed to wear something weird, wild, impressive.
And the next best thing, should you be forced to go out anyways, is to wrap up in a onesie and light a blunt. Certainly doesn't look super interesting but it's better than nothin'!
Shop our favorite products