This article was updated on December 7
Another day, another day of surprising Pete Davidson news.
At this point, I guess I shouldn't even be surprised – he's dated Ariana Grande and Kim Kardashian (we're still not over this) – but I mean, come on.
Now, the comedian has made his way to Instagram, and has somehow taken over the Calvin Klein account.
Yes, you read that right.
On December 6, Calvin Klein's profile picture had been changed to an up-close picture of Pete Davidson in a CK-branded cap with "Pete here." in the bio, leaving fans wondering what the hell was going on.
Later that day, Davidson jumped on a live stream with a special guest: Machine Gun Kelly.
The two ate cereal, snapped pictures, and chatted to fans, hanging out in CK outfits — essentially Pete's usual look — and eventually stripping down to their underwear. Basically, a boys' night?
The next day, on December 7, the duo appeared on Calvin Klein's Instagram Live around 1 p.m. EST with a pre-recorded scene of Pete and Kelly getting their nails painted as they talked about "being losers" and getting cornered by security in New Orleans.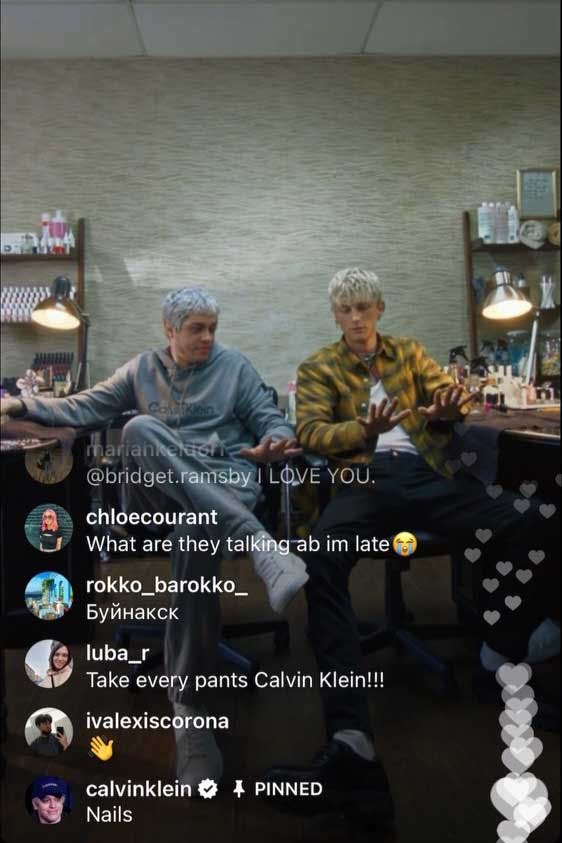 Davidson also reposted his initial selfie with the caption, "this shit's confusing."
Fans of Pete Davidson were thrilled to see him back on the 'gram, as the comedian has usually keeps a very low profile free from social media platforms.
Machine Gun Kelly is currently dating Megan Fox, and the couple has been spending a lot of time with Kourtney Kardashian and her new fiancé Travis Barker.
Pete has apparently been a welcomed addition to the group of scrawny tatted white dudes since he started seeing Kim Kardashian as he's already taking his friendship with MGK to the internet at large.
According to Calvin Klein, we're in for a handful of surprises this holiday season, the next one being Squid Game actress Hoyeon Jung's surprise appearance.