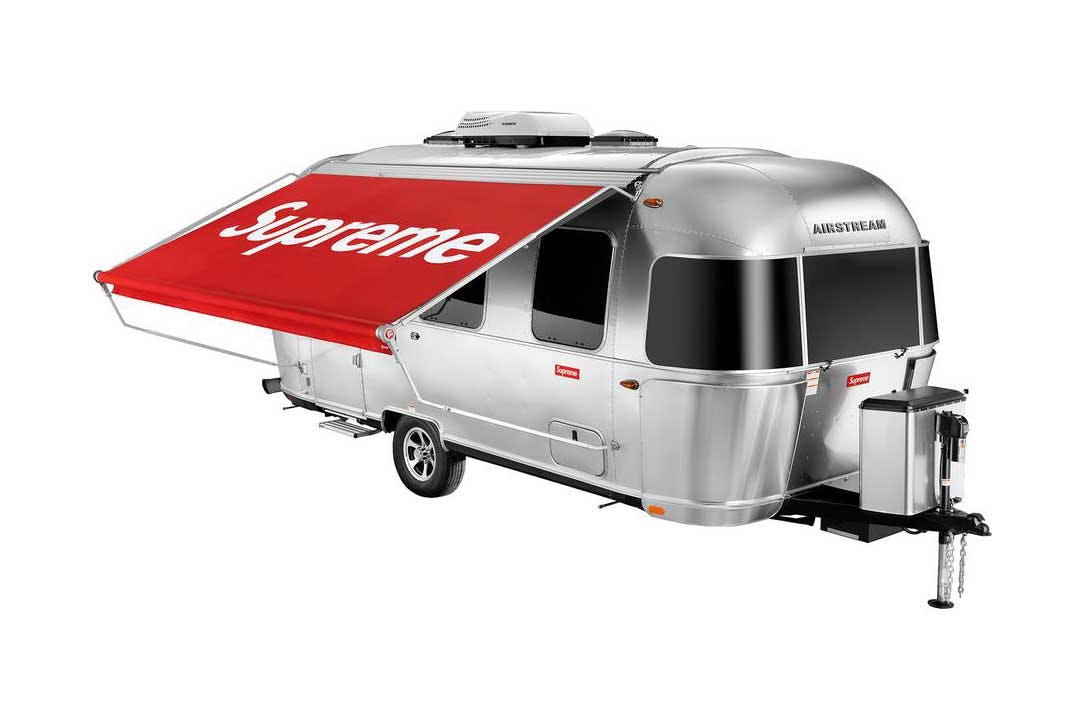 This article was published on May 31 and updated June 2
Not all drops are created equal but Supreme Spring/Summer 2022 is getting pretty close. It's been one of the biggest and best Supreme collections and ages and, even as we enter June, things ain't slowing down.
From Supreme mac 'n cheese to another round of Harmony Korine T-shirts, the good stuff has come hot and heavy for SS22, arguably peaking in Supreme's insane collaboration with Airstream.
Dropping on June 2, the Supreme x Airstream Bambi 22FB travel trailer is exactly what is sounds like: a 22-foot single-axle trailer capable of sleeping four Box Logo-wearing fuccbois comfortably, complete with shower, kitchen, bathroom, and closet space for all the Supreme Nike jackets one would need for a weekend away.
It ain't a coincidence that Supreme's latest editorial set Julia Fox in an airplane, you know.
Supreme's saying that it's time to travel again, even if you're only capable of venturing into the great outdoors inside an aluminum box decorated with Supreme logos (it also comes with a free Supreme bedspread, if the interior shots are to be believed).
Priced at $90,000, the Airstream trailer is well out of the budget for most Supreme die-hards — hell, most Supreme customers in its native New York probably don't even have cars.
So, fans are instead eyeballing a couple comparatively affordable drops: a couple shirts and skate decks in collaboration with longtime friend of the brand Futura (makes sense) and a plastic lighter holder for lanyards (?!).
They might be surprised to know that these can be had all day on Amazon or wherever else for pennies on the dollar but, then again, I guess they don't say "Supreme" on them, so there's that.
Pretty funny that folks are more interested in some plastic cases than a giant trailer but, on the other hand, it's a hard pill to swallow except for the most dedicated Sup heads.
And yet, the collection dropped online on June 2 — yes, a $90,000 trailer was released on Supreme's website — and the Airstream trailer sold out as quickly as the plastic lighter clips. It takes all kinds, huh?
Even still, Spring/Summer 2022 has been especially solid for Supreme. As Highsnobiety's Sam Cole put it, this season "feels like the Supreme is recontextualizing [what we've loved the most over the years] to suit the current era."
The collaborations — Nike, Dr. Martens, The North Face, Stone Island, Burberry — alone make SS22 one of Supreme's best in ages.
What better way to cap SS22 than with a drop that puts even Supreme's Hastens bed and Honda dirt bike to shame?