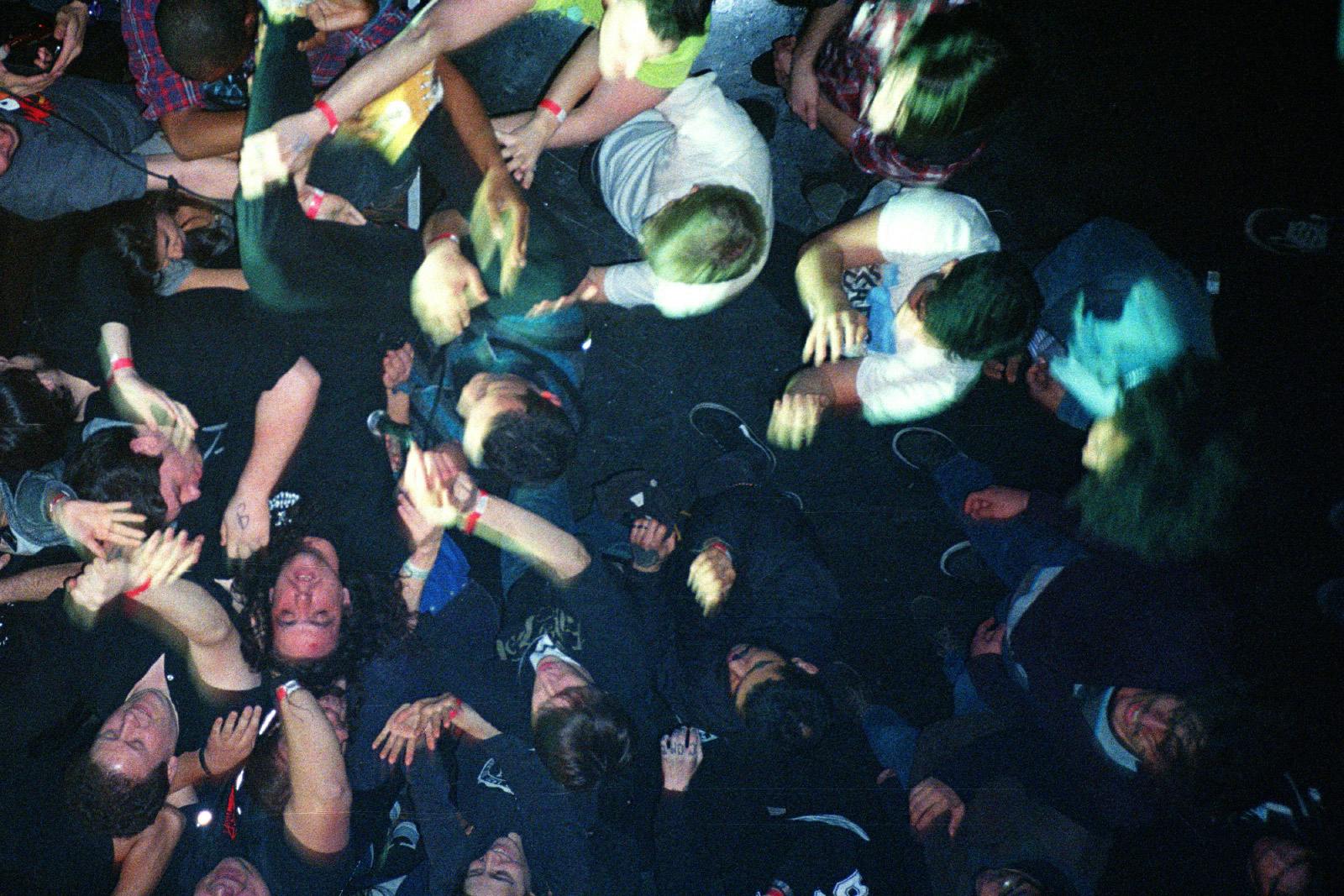 This story is from Issue 19 of Highsnobiety Magazine. You can buy it here.
Lee Spielman and Garrett Stevenson transpose the lessons learned from a lifetime in hardcore punk to run their brand Babylon with integrity and the ultimate goal of longevity.
Lanky, long-haired, and covered in tattoos, Lee Spielman sticks out at the Slauson Super Mall. The massive South Los Angeles shopping center holds hundreds of vendor stalls that sell a wide variety of Nike sneakers (some bootleg, some legit), grills at $100 per cap, video games, herbal medicine, tattoos, Gucci belts (of questionable authenticity), Pan-African art, and everything in between. Spielman, however, is prowling the tight aisles of the mall on a specific mission. Tucked away in a corner is a booth devoted to T-shirt airbrushing. "If you want some shit airbrushed he's the guy," explains Spielman.
Spielman and his longtime business partner and bandmate, Garrett Stevenson, have an idea for their brand Babylon that entails an airbrushed design of the line's signature burning palm tree logo. Airbrush T-shirts first rose to prominence in New York City in the 1970s, alongside the birth of hip-hop and modern graffiti.
The style never went away, but recently huge names in fashion such as Alexander Wang, Heron Preston, and Kanye West have utilized airbrush designs for their respective companies. Rather than have one of their designers emulate airbrush style, though, Spielman and Stevenson are going direct to the source, tapping the guy that has been airbrushing on Slauson Avenue long before the fashion industry took notice.
Today is a normal day for Spielman, who spends hundreds of hours in LA's garment districts going over fabrics, cuts, and patterns with wholesalers who are otherwise unaware of the worlds of streetwear and fashion. Spielman and Stevenson, both California born and bred, have the sort of ground-level LA street knowledge that allows them to draw from sources untapped by most brands in the same marketplace. This grassroots, no-shortcuts approach comes from nearly 15 years of playing in their hardcore punk band, Trash Talk.
Trash Talk was originally formed in 2005, but Spielman and Stevenson have been participating in hardcore since long before the group's inception. The duo's years in the subculture have shaped Babylon. They keep a do-it-yourself ethos in every facet of the brand, combined with an intense focus on community. Beyond hardcore's visible influence on Babylon's graphics, their storefront, open from the brand's birth in 2015 through 2018, was reminiscent of a small-town punk venue or skate shop. With a skate bowl and private room where kids could hang out in the back of the store, Babylon's flagship was far more than a retail space. It was a place where youth could congregate, share ideas, and create.
At a time when many streetwear brands carry a vibey, cool-guy disposition that can make their shops feel hostile, Babylon had a refreshingly welcoming policy, accessible to all regardless of whether they were interested in punk, skate, streetwear, hip-hop, fashion, or any of their adjacent cultures. "As long as you're not coming in here being a fucking weirdo, it doesn't matter," Lee had previously said of the store. "This place is just as much ours as it is yours."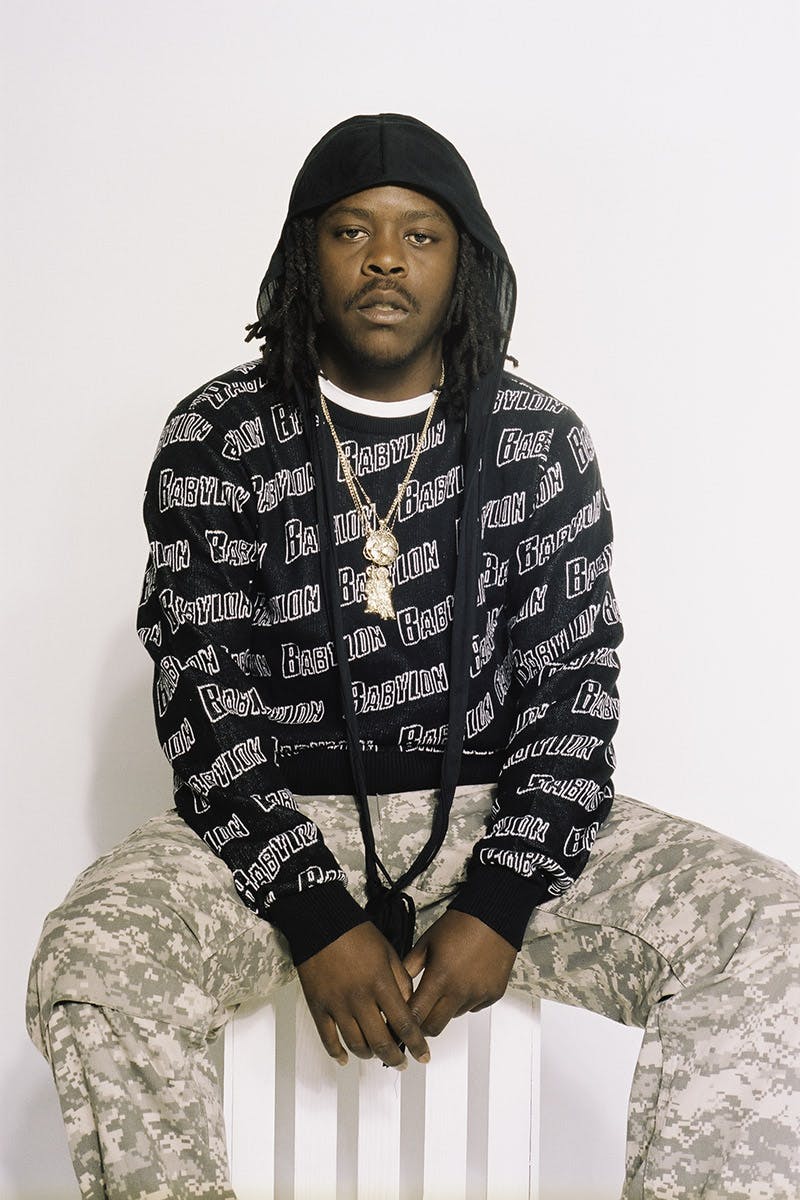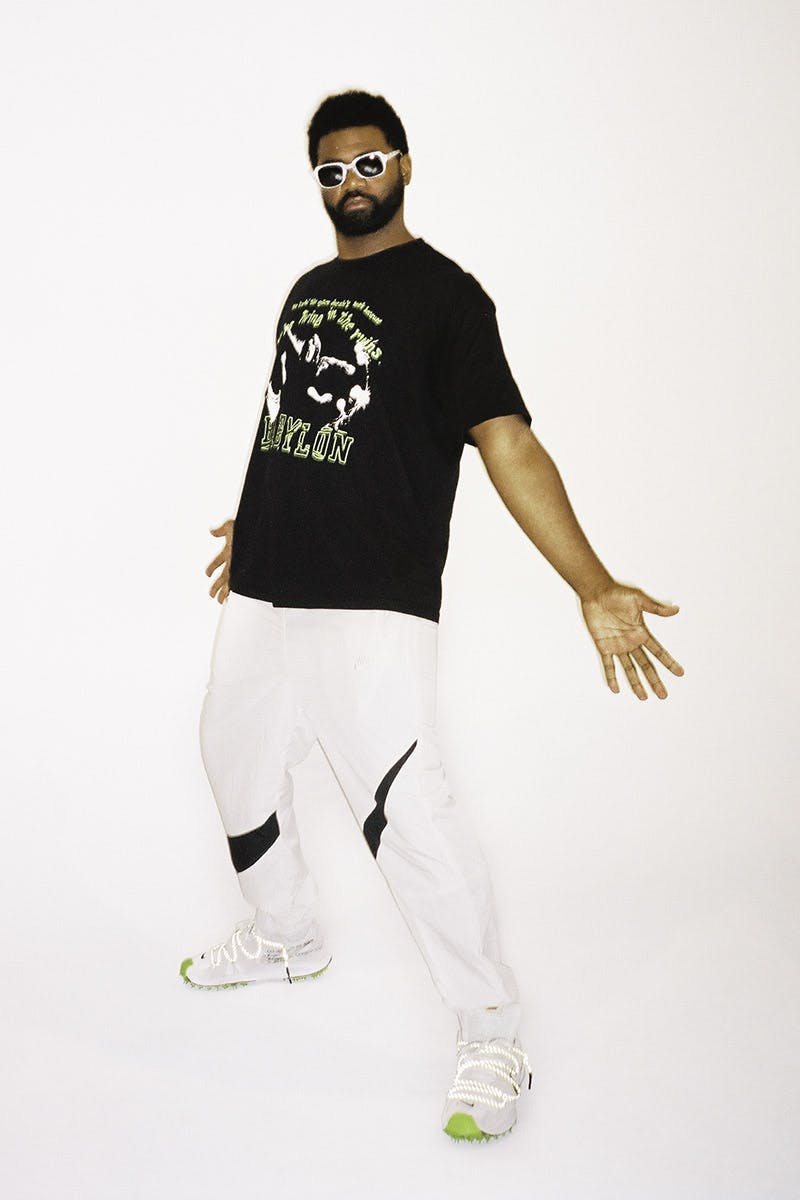 The streetwear landscape might be highly saturated — and brands come and go in the blink of an eye — but Babylon is built upon one of the firmest foundations of any young company. Hardcore is frequently referenced and exploited by others in streetwear and fashion, but very few owners and designers have the genuine connection and credibility to the subculture that Spielman and Stevenson possess. The way that Babylon creates, collaborates, and does business is all grounded in the lessons that the duo learned through a lifetime in hardcore, and that ethos is the pillar that will give Babylon true longevity.
Babylon's roots go back to Sacramento, the city where Spielman grew up and where Trash Talk was formed. "When I was 14 years old I was just a bad kid," recalls Spielman. "I was painting graffiti, running around with other fucked-up kids, doing stupid shit. My father passed away when I was 11 and I was on a wild one. Didn't really give a fuck about anything, got kicked out of middle school." Spielman was assigned to another school farther away from his home, and had to take a city bus to reach it. On that bus, Spielman met a kid named Jason who introduced him to Bad Brains, and who would become one of his best friends.
"That music blew my mind," says Spielman. "I wanted to know where it was happening. Jason ended up taking me downtown to this place called West Coast Worldwide that was a 'post no bills, if you don't know where it's at you don't know where it's at' punk spot. I was a 15-year-old kid trying to find something, anything – any sense of community. I was going through it; it was a weird time in my life. And then I found this place. It was six shows a week every single week, and it was with people like me. Fucked-up kids with fucked-up pasts and childhoods, but inside of those walls it didn't matter. There was a release of energy through punk and hardcore that I had never felt before."
Spielman spent so much time at West Coast Worldwide that the staff eventually put him to work. He began by sweeping the floors, then was assigned to doing sound for bands. It was run by an older head in the scene that also had a band and would go on tour, and soon enough Spielman was booking bands himself. He didn't have a computer, so he'd hit up artists by sending emails from the library. "We would make fliers for the shows, unlock the venue, clean it, set everything up, do the door," he recalls. "I would manage the money and pay out the bands. I was paying electric bills [and] water bills at age 16."
The knowledge Spielman gained from maintaining West Coast Worldwide at such a young age would prove invaluable when it came to operating Babylon's storefront. Aside from the practical facets of running a venue, such as paying rent and other overhead expenses, he acquired a more spiritual understanding of the importance of creating a place that can foster a community and serve as a home away from home and refuge for kids that would not otherwise have that sanctuary. The experience of running a punk venue also gave Spielman a leg up when he decided to launch his own band.
"When Trash Talk started, I had made so many contacts through years of booking shows that I could sit at a computer and hit up every single person that I ever booked a show for to set it up," says Spielman. At the same time, Stevenson was going through the process of learning how to independently press vinyl for Trash Talk's records. "You can either go to one place and they do everything, or you figure out the best place for each part," continues Spielman. "You get the cover printed with one spot, get the label made somewhere else, have the vinyl pressed, then bring it all together. We like finding the best resource for each job." That process of tracking down the ideal individual components to create the best product possible is one that would be essential to Babylon.
For the entirety of its existence, Trash Talk has been a thoroughly DIY operation. Management duties are handled by Spielman and Stevenson, except for the two albums the band released via Odd Future Records and Columbia, during which Christian Clancy (Tyler, the Creator's manager) helped them navigate the major label system. "Garrett and I have always said no one is going to care about your own shit as much as you. So if you want some shit done right, you gotta go do it yourself. Someone is going to drop the ball somewhere for you," says Spielman. That hands-on management style is one that Spielman and Stevenson would come to employ with Babylon.
"We've been making clothes, printing T-shirts, and dealing with production for nearly 15 years through Trash Talk," explains Stevenson. Beyond apparel, Trash Talk had also been unintentionally creating community spaces, the most notorious of which was the "119" warehouse where Trash Talk's members lived for several years. "Our inner circle has always lived in warehouses in LA," says Spielman. "We would build out our own compounds where we could do everything ourselves. At 119, we built a recording studio, we were making zines, we built mini ramps in there. We had OSGEMEOS and Neck Face come blast it out, so every wall was painted. It was like our clubhouse for everything that we liked. Everyone in LA knew about it, but you couldn't pull up unless you knew us." With Babylon, Spielman and Stevenson looked to recreate the energy that 119 carried, albeit open to the public.
In 2014, the duo would get their first opportunity to produce a retail space through a Trash Talk collaboration with Converse. "We built out a store on La Brea for the release," says Spielman. "It was a boutique but we put a ramp inside, and neon signs. Ari Marcopoulos did photos for the campaign that we hung up; I fire-extinguished the whole side. Afterwards, me and Garrett were like, 'Fuck, it would be sick to have this forever; two days isn't long enough.'"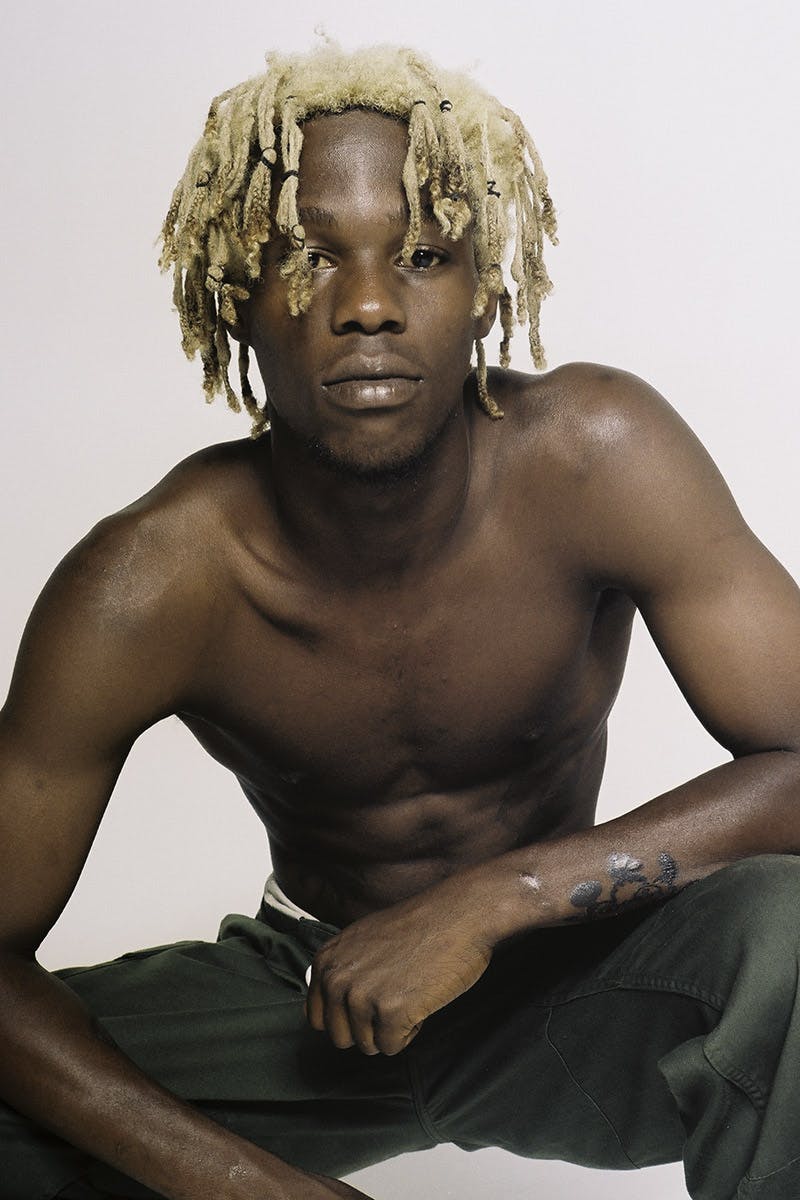 Spielman and Stevenson were equipped with the wherewithal to execute the production of a brand through their experiences as Trash Talk, but knew that finding a physical place within which they could build a community was integral to their vision for Babylon. "We wanted to do more than just sell T-shirts online," says Stevenson. "That was a big thing for us starting out. Coming from the punk community, playing shows and creating a vibe in a space, the sense of having a home base, [that] was really important for us."
"We looked for hella long to find that spot," recalls Spielman of the process of locating the building that would become the Babylon storefront. "We toyed with the idea of going to Fairfax, but we felt like we didn't need to piggyback off someone else. If you build it, they'll come. We wanted to make our own shit and let the work speak for itself." They found an old house off Highland Avenue, an isolated area with no neighboring shops. But the vibe showed promise: there were palm trees over the building and there was room to build a bowl in the backyard. They essentially had carte blanche to do whatever they wanted, and what they wanted was to build the kind of skate shop kids could turn into a home base.
"Those are the places that formulate what you like going into adulthood. You get to kick it with the older heads and you learn new things," says Spielman. Around the time they were opening Babylon, LA shops felt more alienating than welcoming. "We wanted Babylon to have an open door policy. Come hang out and learn about things. On the internet, you can dig deep and find what you like, but nothing replaces the tangible physical experience of seeing things and meeting other people in person. For us, it was about building a place to be able to showcase and teach kids and have them walk away with more than a T-shirt."
Loyalty and pride in where you're from is a recurring and important practice for Spielman and Stevenson. "California is a big, big influence for us," says Stevenson. "It's really in the DNA of us as people and us as a brand. Especially with our visuals, we always try to keep things true to where we are and where we're from." Spielman continues: "Garrett and I are California through and through. I can't imagine living anywhere else. Worldwide, when people ask me, 'Where are you from?' I say, 'I guess just California.'" Babylon is intrinsically Los Angeles, but not just in their graphic presentation. "The crazy shit about LA that's different from New York or anywhere else is you have everything here," says Spielman. "We have a fabric district, we have a zipper district, we have a button district."
Towards the end of the 2010s, as the latest wave of streetwear brands such as The Hundreds, Diamond Supply Co., and Staple hit the malls of middle America, there was a sudden spike in DIY companies that retained the subversive and disruptive nature that made streetwear pioneers like Supreme, FUCT, and Stüssy initially appealing to a rebellious, young, and independent customer base. Labels like Stray Rats, dertbag, FreedMinds, and Divinities gained traction and showed a new generation of kids that it was possible to start a brand out of their bedrooms. A side effect of that rise, however, was a sudden outpouring of even younger streetwear companies. By 2013, a year after Hypebeast ran an article titled "Children are The Future: An Interview with Phil Post of dertbag and Kobi McLemore of Death Precision," it seemed that every kid had their own brand.
When Babylon launched in 2015, they were noticeably above the fray of competing young streetwear upstarts. The brand had a storefront complete with a skate bowl from day one, but beyond that, Babylon's clothes were markedly different from anyone else in the same space as the brand. Since Babylon's inception, everything they have released has been cut and sew, featuring custom fits and handpicked fabrics — a stark contrast to the cookie-cutter model of Alstyle graphic T-shirts and Champion 50/50 hoodies nearly every other fledgling brand employs.
"We knew from the jump that everything had to be custom," says Spielman. "If you're gonna pay a decent amount for goods, it should be quality. I don't understand how kids are charging $50 for a Gildan tee; it's unfair. For Babylon, everything has always been custom-fit tees, woven labels, hang tags. That attention to detail comes with everything we do; it's what's special to me. We make American-made goods where I go downtown hunting for fabric and find the shit that we like and want to use. Then we spin that and find the patterns we want to use, I'm buying zippers and buttons, and all the while going back and forth with our production guy. We're constructing garments from the ground up. We didn't just type off a CAD, send it off, and wait for it to come back. The process is literally from our hands to yours."
Spielman and Stevenson are Babylon's sole owners, and the majority of the work is divided amongst the two of them. Spielman handles production, relationships, and is on the ground on behalf of the brand in Los Angeles, while Stevenson is responsible for most of the design and creative work from Australia, where he moved two years ago. When it comes to graphics, hardcore is often referenced by streetwear brands, but few can claim the culture with the same legitimacy as Spielman and Stevenson.
"I never draw from one specific place," says Stevenson. "Everything always comes back to some punk rock shit for us, though." Spielman continues: "One thing that's crazy to me is people are left and right starting brands with aesthetics that aren't true to their values. Like, 'I'm gonna start a punk brand because I like the Sex Pistols.' The brands and owners that I look up to, they have a story. I want to look at a brand, research it and go back 25 years and find out why. Like, why were they doing this, or why does this brand look like that; why did they make these kinds of moves?"
Babylon's deep-seated ties to hardcore makes the brand an enticing collaborator to corporations seeking validation from the subculture as an inroad to connect with youth. Since their first collaboration between Trash Talk and Converse, Spielman and Stevenson have deftly navigated working with larger companies in a way that stays true to Babylon's ethics. "Whether it's building ramps with Budweiser or doing a skate video with Converse, we just always try to make sure that everything ties together with the ethos, or what we're about as a brand, and gets our community involved," says Stevenson.
When it comes to working with other brands, Spielman and Stevenson look for collaborators who they have genuine admiration for and share history with. "I don't like doing things for no reason," says Spielman. "So every project we do is either someone we've had a long-term relationship with, someone whose heritage we respect, or someone who's an actual peer of ours, and a friend." On the surface, the multiple collaborations that Babylon has executed with Off-White™ may seem out of character, but Spielman and Stevenson have had a lengthy relationship with Virgil Abloh since long before the idea for Babylon had even come about.
"Trash Talk used to play Chicago and Virgil would come out. Before all this crazy shit, he'd stand on the side of the stage and bug out," says Spielman. "And at the time he was working for Kanye, it was a trade of worlds. We were in Paris last month and he was saying, 'Yo, going to those shows blew my lid off about how there are no limits. It can be extreme, you can do whatever the fuck you want.' We're not doing those collabs because Off-White™'s popping; every time we work with them, it's to do something more than just throwing logos on a T-shirt." Their first collab featured a 50-page zine by Sandy Kim and a T-shirt with matching artwork. It was followed by an anti-corporate-inspired capsule themed around quitting your job. They feted that release with a Japanese installation inside a charred office building.
"We've supported Virgil and he's supported us on a ton of different levels before Babylon and before him working at Louis Vuitton," Spielman adds.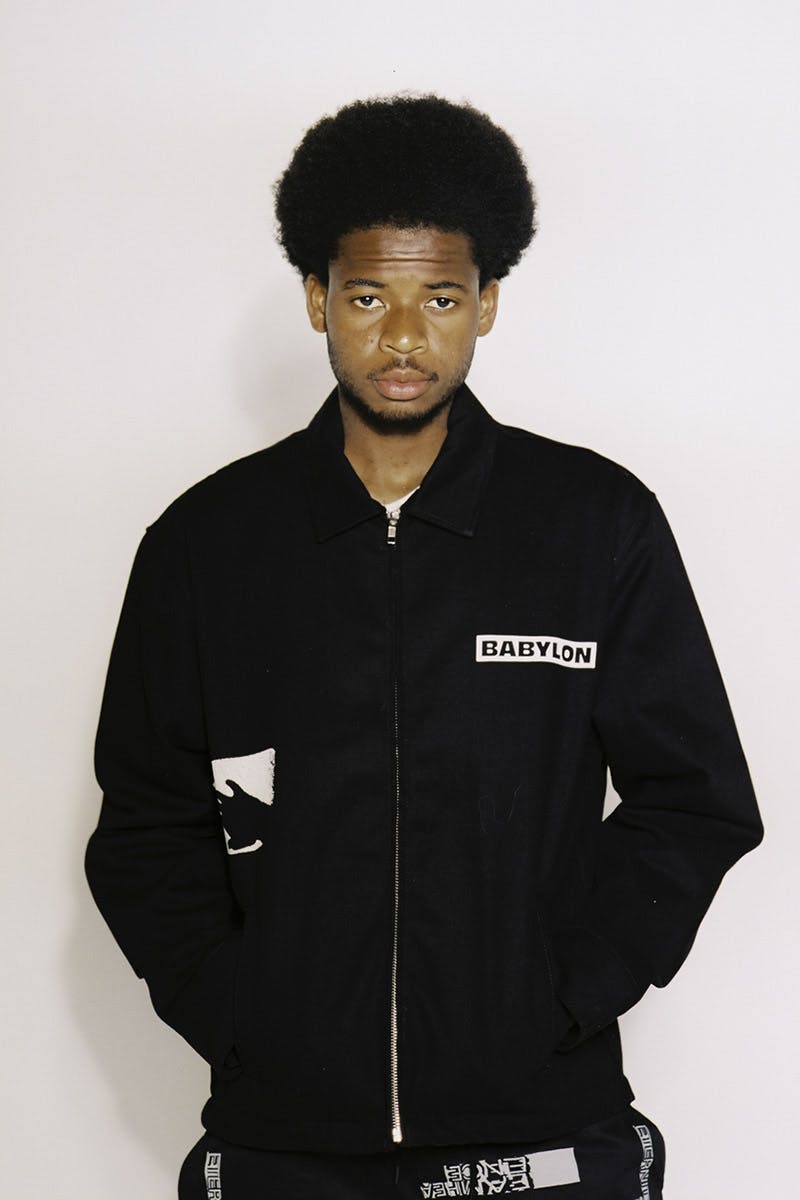 The meticulous craftsmanship that goes into every Babylon piece makes the brand appeal to Japanese customers, an audience that Spielman and Stevenson recently capitalized on with a Tokyo pop-up shop featuring collaborations with storied Japanese names such as NEIGHBORHOOD, READYMADE, BOUNTY HUNTER, Wasted Youth, and Kosuke Kawamura. Spielman and Stevenson's ability to infiltrate the Japanese marketplace comes from a long-standing relationship they share with Verdy, who runs Girls Don't Cry and Wasted Youth. Verdy has always had an infatuation with punk and fashion in Ura-Harajuku, interests which inform his designs. Long before the hype and attention surrounding his name, Verdy was a fan.
"I first heard about Trash Talk when they came to my hometown Osaka for a show in 2009," recalls Verdy. "Their set was so good that I became a fan in that moment. I remember being so happy being able to meet them for the first time." Verdy would help the band book Japanese tours and often join them on the road. As Verdy's brands began to get a foothold, he would tap Spielman and Stevenson for guidance in Los Angeles, and when it came time to bring Babylon to Japan, the duo turned to Verdy once again.
"When I went to their shop in LA, I met many people, including skaters and rappers," says Verdy. "They always come to support my pop-ups in Los Angeles, and I've also had some of the skaters from Babylon skate for my Nike SB video. When they come to Japan, my team helps with their pop-ups and events. It's fun to work together across the world, kind of like a touring band. I think Babylon is unique not only in America but across the world. I like how they have the same energy and mix hardcore punk music with clothing. Their graphics are some of my favorites; each feels like its own song to me."
Spielman and Stevenson have always managed to maneuver between worlds that are insular and averse to change and outsiders. From featuring King Krule and Wiki on a Trash Talk record they released via Odd Future Records, to collaborating with brands such as Off-White™ and GUESS, the duo are able to cross into unpredictable areas without surrendering the values and mindset they garnered from years spent in the hardcore community. "There are not many brands that get to ride the line that we do," says Spielman. "I trip all the time, because with some of the accounts we sell to, we'll be next to Fucking Awesome and Stray Rats. And then you go to another account and we're next to ALYX and Margiela. We got Off-White™ kids buying Babylon and we got Fucking Awesome kids buying Babylon. It's a wild mix where we take things that we really like and roll it into one, and are still just doing it our way. I would be really bummed if we just had to do the same shit over and over again; that would get so boring."
In speaking with Spielman and Stevenson, the theme of longevity and creating something that will last with Babylon is constantly brought up. "Last week we were in Tokyo talking with Hikaru Iwanaga from BOUNTY HUNTER," says Lee. "That fool was in front of his store in Harajuku and was like, 'I've been sitting in this chair smoking a cig here for 25 years.' That shit is so ill to me. Like, find your spot, plant your feet, and it's yours."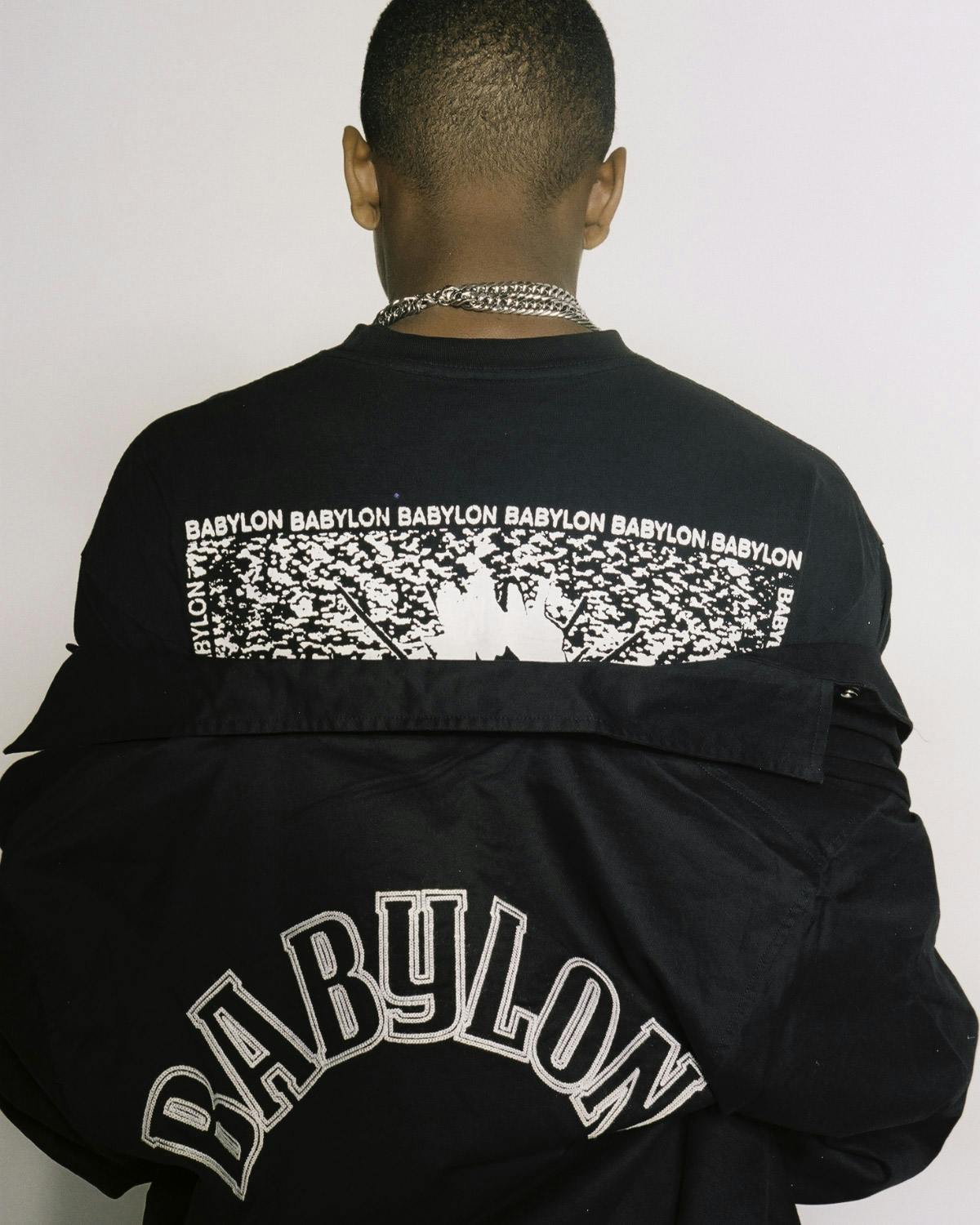 Last year the old Babylon storefront closed due to a combination of the lease being up and Spielman and Stevenson feeling ready to move to a larger space, one where they could do more and dig in for the long haul.
"All the mistakes we learned from opening a shop the first go, this new one is gonna be dialed to exactly what we want," says Spielman. "The old place was a moment in time for us — just because that shop on Highland doesn't exist anymore doesn't mean that it didn't happen. There were so many experiences, memories, and stories out of that spot." Spielman and Stevenson are currently in the process of securing a 10-year lease for the next Babylon storefront.
After only four years, Babylon has managed to establish a firm brand identity rooted in hardcore and its hometown of Los Angeles, and foster a diverse community that welcomes creative youth from a wide spectrum of fields. Spielman and Stevenson have executed collaborations with everyone from Spitfire to Off-White™ to Budweiser, without ever compromising their brand's integrity. With an impregnable foundation in place, Babylon's broader mission is to spread the vision Spielman and Stevenson have built to other cities across the globe.
"I'd ideally like to have us do what we're doing immediately but scale the brand to where we can have the vibe that we have in LA everywhere, making places where we have that sense of community everywhere," says Stevenson.
"I've realized from touring, doing pop-up shops, and throwing parties for Babylon around the world – it's the same type of kid everywhere," continues Spielman. "When we do a pop-up shop in Tokyo and you see a mob of kids skating down the street to it, it feels like the same mob of kids skating down the street in LA. The only difference is they're Japanese. I would meet kids at the shop all the time who'd be like, 'I came from Switzerland; I got off the plane and I came straight here.' Because they see Babylon online and they're like, 'Damn this is ill, I relate to it and want to be a part of that.' A lot of cities don't have places like what we've built where it's a community of like-minded kids. We want to provide that place for them."