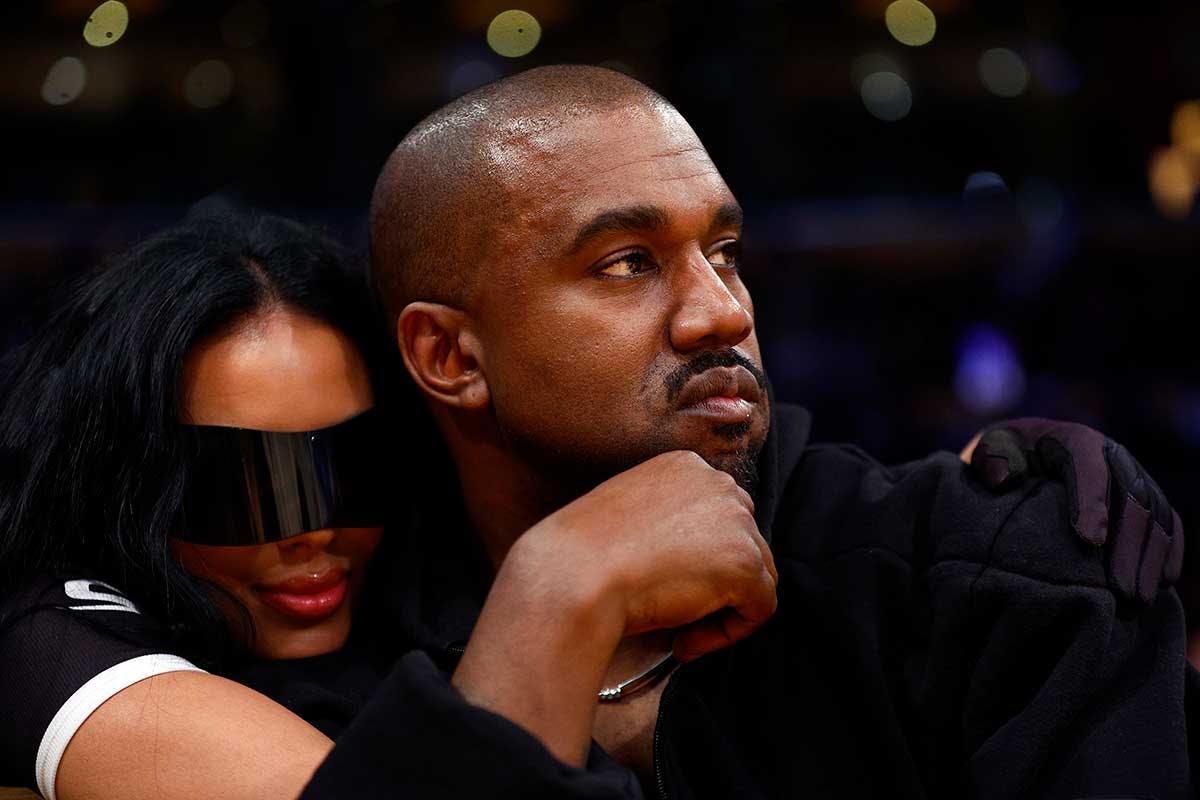 This article was published on March 16 and updated on March 17 to reflect Kanye's Instagram suspension
Feels like every other week, the general public is forced to acknowledge Kanye West's intermittent Instagram outbursts. Having dragged everyone from Billie Eilish to D.L. Hughley to, uh, Peppa Pig, into his noxious orbit, the endless drama has even harshed the mellow of Ye's most die-hard devotees.
In case you mercifully avoided the endless Kanye news cycle over the past month or two, all you really need to know is that Ye's been uploading and deleting childish Instagram callouts of former friends and random celebrities even after he broke up with Julia Fox and released DONDA 2 via Stem Player.
Pete Davidson, the central target of Ye's ire (followed by Davidson's beau, a newly divorced Kim Kardashian), again fled Instagram after incessant hounding from Kanye's followers, though he did attempt to make peace with Kanye via text according to supposedly leaked texts.
The rapper has taken to calling Davidson "SKETE," which sucks, and "killed" a figure that resembled Davidson in his "EAZY" music video, which doubly sucks.
Even Kanye's new relationship with girlfriend Chaney Jones hasn't slowed his thumbs down, though perhaps that's the doing of Ye's new media head, Jason Lee. Is Ye keeping the heat on Pete, Kim, and the rest because of Lee? Unsure, but possible.
Though I'm not entirely certain that Ye's Instagram tantrums aren't carefully concocted attention grabs — after all, his IG followers ballooned from about nine million in October 2021 to over 15.5m in March 2022 — they're definitely wearing out even his die-hard followers (not unlike how YEEZY drops are wearing out sneakerheads).
Kanye's Instagram posts are deleted nearly as quickly as they're uploaded but I snagged some screenshots of comments left on the particularly whiney things he published on March 15 and 16.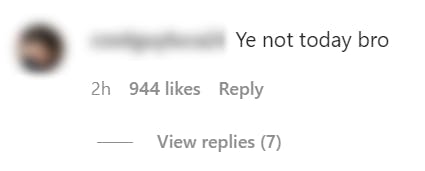 No cherry-picking here: sure, there are plenty of utterly obsessed Kanye fans who'll defend their idol to the death, regardless of whatever dumb stuff comes out of his mouth or goes on his head but these are some of the top comments on Kanye's most recent posts, with plenty of likes and like-minded comments.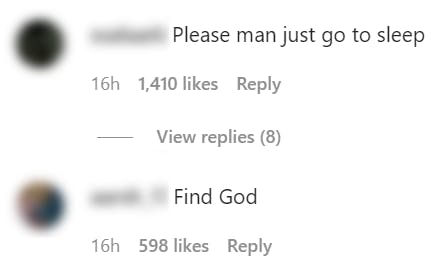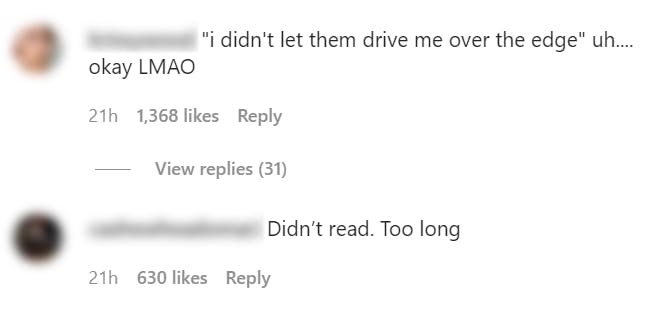 Even the disciples on r/WestSubEver, perhaps the most sycophantic of the Kanye-focused Subreddits, are feeling a breaking point. One choice comment: "Bragging about bullying someone into a mental breakdown ain't p... We get it Kanye u don't fuck with him, no need to keep posting."
Like I just said, there's ample support for Ye's unhinged antics — dude has a big, devoted audience who know that leaving positive comments might get them reposted in one of his screenshots — but there's an upswell in backlash, too.
But does it even matter? Like his pal Joe, Kanye's too big too "cancel" because of some mere public embarrassment or boneheaded flare-up.
There's a guy planning to teach a Kanye West class in college, for christ's sake.
Kanye's music, clothing, and sneakers ensure cultural relevancy and people want to consume all of the above regardless of his cringeworthy one-sided squabbles or friendships with alleged rapists (speaking of cancel culture not affecting the rich and famous).
Plus, as Trevor Noah noted in his response to Kanye, Ye's a naturally charming guy. Disarmingly sincere, hard-working, even funny at the best of times, it's not hard to see how Kanye keeps winning people back even as he pushes them away.
Even if a bunch of fans jump off the Kanye bandwagon, they'll probably get right back on for new YEEZY GAP drops or Ye's next album.
Suffice to say, Kanye can keep posting his IG tirades and "kill off" as many Pete Davidson stand-ins as he likes in music videos — for better or worse (or much worse), Teflon Kan ain't going anywhere.
Or so it would seem — on March 17, Kanye was booted off Instagram for 24 hours.
No doubt that the victim narrative will be only amped up when he returns, even though Ye was reportedly suspended for his own one-sided harassment.