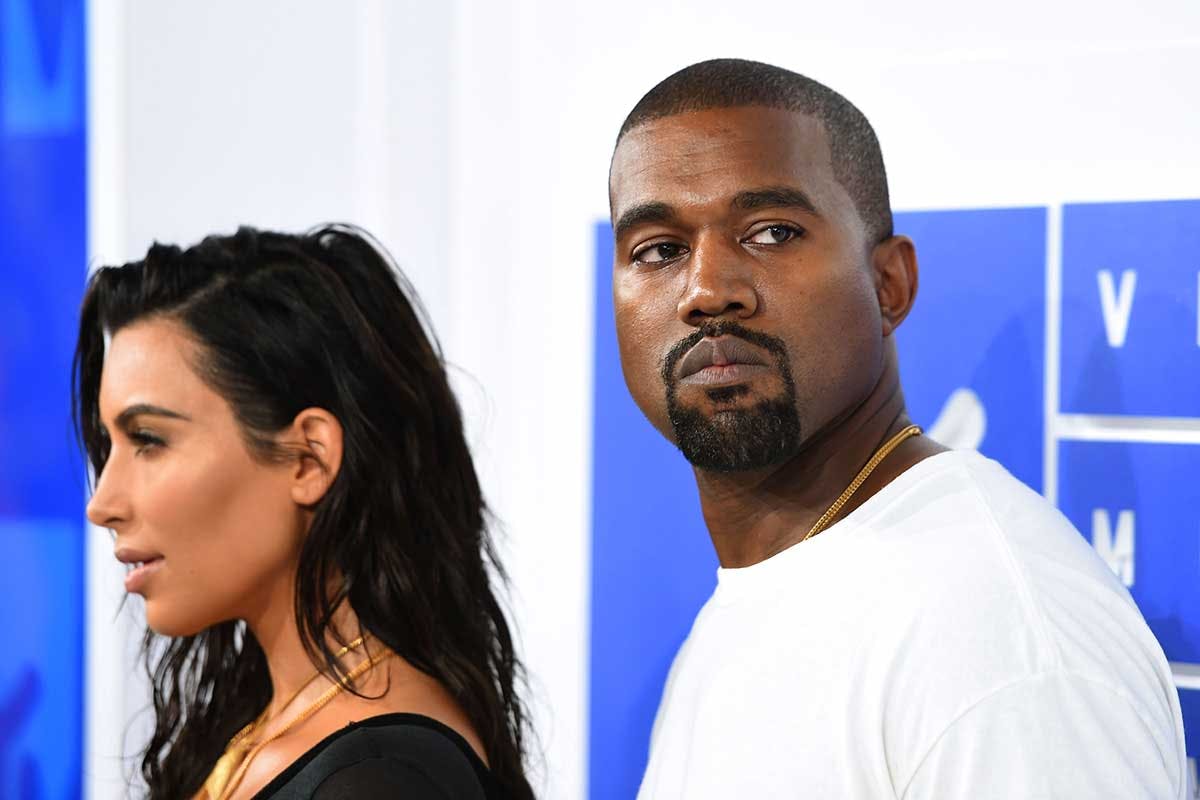 This article was published on February 5 and updated on February 10
First, Nike vs. StockX. Now, Kim vs. Kanye. Legal battles were trending on February 4. The most recent bit of Ye-incited drama is especially petty, though.
Things began early in the day on Kanye West's Instagram, where the DONDA 2 rapper vocally (and unnecessarily) expressed public disapproval of his eldest daughter posting on TikTok.
Ye's post included a screenshot of North West on TikTok with the all-caps caption, "SINCE THIS IS MY FIRST DIVORCE I NEED TO KNOW WHAT I SHOULD DO ABOUT MY DAUGHTER BEING PUT ON TIKTOK AGAINST MY WILL?"
This pushed Kim Kardashian, North's mostly patient mother who had long tolerated Kanye's outbursts, too far.
She replied to Ye's Instagram post with a Notes App message in her IG story.
In it, Kim explained that "Kanye's constant attacks on me in interviews and on social media is actually more hurtful than any TikTok North might create," describing herself as "the parent who is the main provider and caregiver for our children."
"Divorce is difficult enough on our children and Kanye's obsession with trying to control and manipulate our situation is so negatively and publicly is only causing further pain for all. From the beginning, I have wanted nothing but a health [sic] and supportive co-parenting relationship because it is what is best for our children, and it saddens me that Kanye continues to make it impossible every step of the way."
Of course, Kanye was ready to issue an immediate response to his estranged wife.
"What do you mean by main provider," Ye thundered in the caption to another post that screenshotted Kim's Story (What's up with the screenshots?). "America saw you try to kidnap my daughter on her birthday by not providing the address. You put security on me inside of the house to play with my son then accused me of stealing. I had to take a drug test after Chicago's party 'cause you accused me of being on drugs. Tracy Romulus, stop manipulating Kim to be this way..."
Mr. West rarely holds his tongue when it comes to his thoughts and opinions but it's still surprising to hear him mention Tracy Romulus, KKW Brands' chief marketing officer, by name.
In addition to working on the business spectrum with Kim K., Romulus is also a longtime friend to the Kardashian-Jenner family and was formerly Kanye's publicist.
Meanwhile, possibly advised to refrain from lengthening the extraordinarily public social media fiasco, Kim has not responded to Kanye's latest round of posts.
I say posts, plural, because the man who refers to himself as Yeezy is on one and still going at it.
He recently posted a section of TikTok's age guidelines that reference user age policy, as some kind of oblique jab at Kim for allowing the 8-year-old to use the platform (TikTok purportedly refuses access to users under the age of 13)
Ye calls out TMZ, asking for an apology for "spinning the narrative" on him and Kim's recent social media fallout, and thanks conservative con artist Candace Owens for sticking up for him (Kanye randomly tweeted his own support for the famous grifter a couple years ago).
"I WILL NO LONGER PUT MY HAND THROUGH BLENDER TO HUG MY CHILDREN," Ye screams, again in all-caps. "I DREAM OF A WORLD WHERE DAD'S CAN STILL BE HEROES."
"I WANT TO BRING MY KIDS TO MY HOME TOWN OF CHICAGO TO SEE MY BASKETBALL TEAM PLAY FOR 7 THOUSAND PEOPLE, AND KIM IS STOPPING THAT. HOW IS THIS JOINT CUSTODY?"
Accompanying the caption is a screencap from his upcoming Netflix documentary Jeen-Yuhs.
Things got even more bizarre when Kim Kardashian's cousin reached out to Kanye West with messages of support.
Kanye expressed he no longer wished to discuss the matter, however, and she moved on... to asking him for YEEZYs. Precisely, she types, "Is it safe to buy Yeezy's on StockX? Andrew wants Beluga's."
According to West, this is not the first Kardashian family member to reach out, taking his side in the heated clash.
Much like the Drake-Kanye feud last year, Ye then takes things to a dark place: he claims that Kim has been gossiping that Ye's put a "hit out on her."
"I BEG TO GO TO MY DAUGHTER'S PARTY AND I'M ACCUSED OF BEING ON DRUGS," he continues. "THEN, I GO PLAY WITH MY SON, AND I TAKE MY AKIRA GRAPHIC NOVELS, AND I'M ACCUSED OF STEALING. NOW, I'M BEING ACCUSED OF PUTTING A HIT ON HER. THESE IDEAS CAN ACTUALLY GET SOMEONE LOCKED UP."
Perhaps the most salient and verifiable takeaway here is that Kanye's a big Katsuhiro Otomo fan, which checks out.
This distressing exchange even got to the point of, apparently, Kim getting a new number to avoid Kanye's presumed frantic messages. He was easily able to get her number.
Especially in light of Kanye's actions in 2021, this is all extremely bizarre.
During Kanye's Drink Champs interview and Free Larry Hoover concert with Drake last year, he essentially asked for Kim Kardashian to become his wife again, mere months after he "remarried" Kim at a DONDA listening event.
Then, new year, new Ye.
Julia Fox becomes Yeezy's new girlfriend and fashion muse. I mean, he even gifted Fox and her friends some Hermès Birkin bags in celebration of her birthday on February 2.
He also gave Kim Kardashian a custom-painted Birkin for Christmas in 2013.
Kim K., meanwhile, handling her business with her $3.2 billion-valued SKIMS brand.
She's even found apparent romance with Saturday Night Live star Pete Davidson.
Kim Kardashian also continued her love affair with Balenciaga, which might've been sparked by Ye perhaps in an effort to keep their flame alive.
But Kimye is dead and even some of Ye's most ardent supporters are getting tired of his antics.
"Someone take this mans phone," one commenter said. "Ye stop posting this on social media pls," another pleaded, as others concurred with comments like "Kanye stop bro enough," "Please handle this privately," and "Ye settle this in privacy my guy."
A fair number of onlookers are split by the extraordinarily public clash but the majority agree that it'd be best to simply know less about the divorce altogether. A Twitter user said it best: "Kim and Kanye... remove us from the chat, pls."
Early on February 8, Ye uploaded and deleted yet another post showing a text conversation he presumably had with Kim demanding an invitation to some event or another. But the kicker is that he tagged a slew of famous folks, including former US President Obama, for some reason.
On February 9, Ye reacted quite poorly to Kim's new Vogue cover story, posting a screenshot of their children from the story with the all-caps caption, "GOD PLEASE BRING OUR FAMILY BACK TOGETHER."
A day later, on February 10, Ye remained on a tear. He screenshotted a story reporting on Billie Eilish stopping her performance a fan could get their inhaler.
Pretty noble of the singer. Unsurprisingly, Ye cared not for Eilish's consideration, instead taking umbrage at an apparent slight of Travis Scott, who Ye's been palling around with.
Remember, Scott's negligence at least partially contributed to the death of several fans at last year's disastrous Astroworld Festival.
But Ye demanded that Eilish apologize for "dissing" Scott on-stage after helping her fan recover.
Ye should probably do his research before issuing another all-caps diatribe, though: the headline claiming that Eilish dissed Scott was total conjecture.
"Literally never said a thing about Travis," Eilish herself said in Ye's comment section. "Was just helping a fan."
Perhaps unwilling to face facts, Ye then launched into a takedown of some random guy who commented on his previous post. It's pretty nonsensical, like most things Kanye's been doing recently, so read at your own risk.
Shop our favorite products