Highsnobiety recently announced the arrival of a new and exciting chapter in our history: the launch of a new retail experience starting with a drop of Prada Linea Rossa on May 22. Here we explore the relationship between the brand and hip-hop. To stay up to date with upcoming Highsnobiety drops, please enter your email address here and follow the Highsnobiety Shop Instagram for more previews.
For decades, a velvet rope separated high fashion from the world of hip-hop, a genre of music once kept on the sidelines, with its artists often only able to experience luxury fashion through high-grade bootleggers such as Dapper Dan. But as hip-hop assimilated into pop music and its faces became some of the world's biggest stars, that barrier has come down.
With a coterie of brands gunning to have their designs spotted on the backs of the genre's cognoscenti, one in particular has risen above all others among hip-hop's biggest stars: Prada. Once synonymous only with leather accessories, elegant silhouettes, and clean-cut tailoring, the brand has experienced a pop-culture resurgence in the 21st century thanks to the pioneering work of creative director and co-CEO Miuccia Prada, whose outward-facing approach has kept the brand fresh.
A 106-year-old fashion house with a stone-set demographic has experienced a monumental switch-up, but how and when did it happen?
To understand the transition, it's important to understand Prada's history as a heritage brand. Founded in Milan in 1913 by brothers Mario and Martino Prada, the company started out as a store specializing in leather goods, suitcases, and handbags. When Miuccia inherited the family business in 1978, taking over from her mother Luisa, the focus shifted. Over the next decade, her creative vision transformed Prada from a leather accessories company into a major fashion player to rival the industry's ready-to-wear gatekeepers, including Chanel and Gucci.
But while those brands earned their status by transforming their emblems into symbols of wealth and affluence, Prada did the opposite. Miuccia prided herself on creating pieces that spoke for themselves without relying on a logo, calling the approach "anti-status." In 1988, Miuccia launched the brand's womenswear collections and menswear followed five years later. By 1998, the brand was expanding at a rapid clip, with 26 stores opening around the world in that year alone.
That same year, the US was in the grip of a rap surge, with DMX, Snoop Dogg, Lauryn Hill, and Master P all releasing conversation-spurring records. At the time, discussion about fashion in hip-hop wasn't as prevalent as it is today. Few of the men in particular strayed far beyond a casual uniform of tracksuits, tees, blue jeans, and sneakers. But there had always been a desire to own the finer things among rappers, and with hip-hop's growth came the opportunity to do so.
"The hip-hop community embraced Gucci, Fendi, Louis Vuitton, and Bally very early, around the '80s," points out Marcus Paul, who styles Pusha-T and Desiigner.
Darnell Lisby, a fashion historian who explores the relationship between fashion and blackness, believes that striving for iconic logos is rooted in rappers' desires, after years of financial and societal struggle, to be seen. "This [the desire for luxury goods] was attributed to the fact that most of them were the first in their families to have excessive spending power, encouraging their gaze to obtain what was and still is considered high style," Lisby says.
In 1996, on her single "No Time," Lil' Kim rapped "I momma, Miss Ivana / Usually rock the Prada, sometimes Gabbana." The following year, on "Gettin' Jiggy Wit It," Will Smith rapped about a girl: "You got-a Prad-a bag with a lot-a stuff in it." JAY-Z, Timbaland, and E-40 followed suit with Prada rhymes of their own.
If Prada's practical if mainly sartorialist menswear didn't reflect male rappers' tastes at the time, Prada Sport, launched in 1997 and later known as Prada Linea Rossa, was closer to the mark. It was as if Prada had predicted the luxe streetwear revolution 20 years early.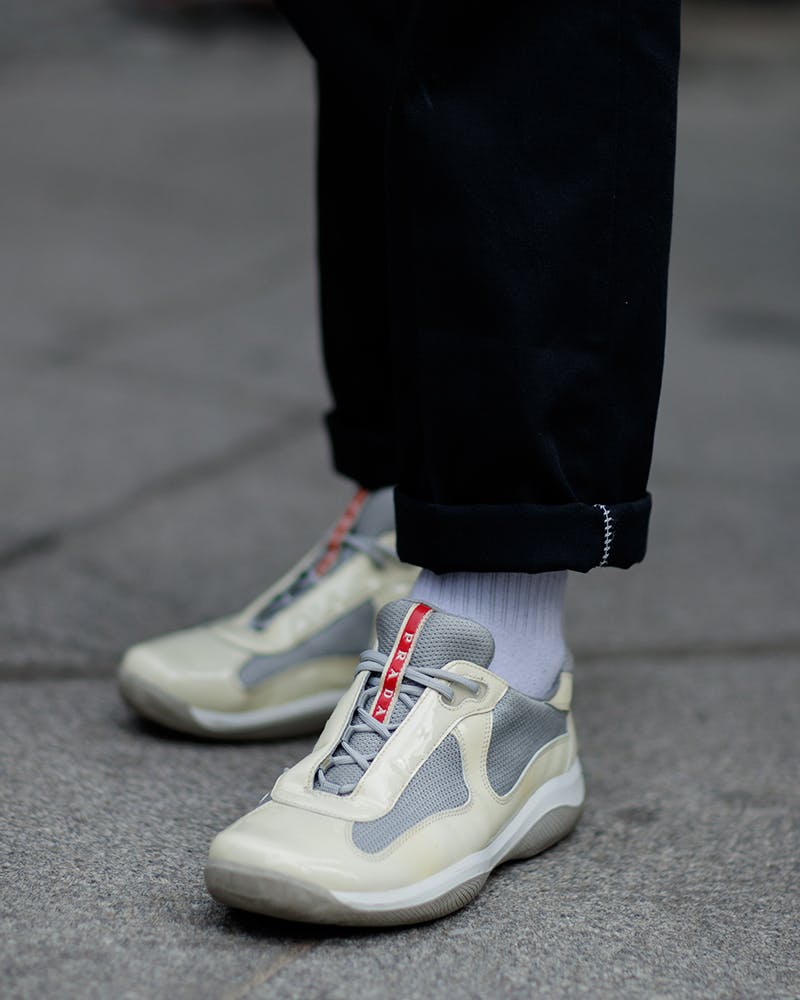 "Miuccia Prada essentially started the trend for high-end designer sneakers," says Paul, citing 1996's America's Cup sneaker, which was introduced for Prada's Luna Rossa sailing team. Prada Sport's thin red line catalyzed a new fashion movement, showing how sportswear and casual shoes could be upgraded for wealthy consumers looking to dress casually in an elevated way.
As the brand discovered new customers, its perception among old ones tilted. "I personally was introduced to Prada when I resided in Italy before hip-hop embraced it," says Paul. "As a stylist, I would introduce my clients to [Prada's] pieces and inform them about the product and the impact [wearing them] could have on their style. So the hip-hop elite would wear Prada, then the hood started embracing it. Eventually, the brand's [general] popularity died down."
But Prada and hip-hop would have the last laugh. Prada enjoyed major critical success, and Linea Rossa continued to pop up in rap culture over the following decade. In the mid-'00s, mentions of Prada in hip-hop tracks spiked, and this time male artists were rapping about the pieces in their own wardrobes.
"Summer rockin' the black Prada kicks without the lace," Bow Wow spat on 2005's "Mo Money." A year later, Gucci Mane rapped on "Street Smart," "Now their feelings are all hurt 'cause I'm rocking Prada shoes." Around the same time, the likes of LL Cool J were being invited to Prada in-store events in LA.
As the '00s became the 2010s, with the streetwear revolution on the horizon, hip-hop's elite had become fashion figureheads. In January 2010, Young Jeezy stepped out in a Linea Rossa beanie and Prada Nevada Bike sneakers. By this point, the Linea Rossa line had been shuttered, but moments like this offered glimmers of what was to come years later. Elsewhere in 2010, Kanye West was seen wearing a Prada camel suit. Shortly afterward, West's then-right-hand man Virgil Abloh was spotted wearing the same Linea Rossa beanie Jeezy had worn.
But what really shot Prada back into the rap world's consciousness was its Fall/Winter 2016 season. Inspired by history's "bad and difficult periods," the collection was designed to invoke action and heroism in the face of adversity. So what better way to dress a coterie of artists who had come from poor neighborhoods to become global icons?
A$AP Rocky's stylist Matthew Henson spotted the collection's Christophe Chemin-illustrated "Impossible True Love" shirt depicting Cleopatra and Elvis kissing and thought it would be a good fit in Rocky's wardrobe. Rocky wore it to a party at Paris Fashion Week, and around a fortnight later, Virgil Abloh did likewise to John Elliott's SS17 show. By the end of the year, Vic Mensa, Kanye West, and Pusha-T had all rocked the piece.
The Christophe Chemin-print Prada shirts were the kind of unambiguously bold fashion statement that rappers and streetwear fans love. It's no surprise Linea Rossa's distinctive red-stripe branding and Prada's masterful understanding of graphics would propel them into the wardrobes of hip-hop artists. The brand has gone from a lack of logos and branding to designs that are unmistakably Prada and flexed as such.
"I was the first to put Pusha-T in the split-print bowling shirt right after his Governor's Ball performance in 2018," Paul says. "Then you started to see the split-print shirt on more celebrities."
Prada's bowling shirts were the biggest vibe of summer 2018. Pusha-T also wore the banana-and-flames version to a Hennessy event, while Gucci Mane wore the same shirt in co-ord form for a GQ shoot later that year.
All of this coincided with a love of Prada's 2017 Cloudbust sneaker, a chunkier successor to the sleeker Prada Sport silhouettes. "The hip-hop community embraced it immediately," says Paul. A$AP Rocky notably wore a pair for the performance art installation he staged to promote his 2018 album TESTING.
Of course, Prada's 2018 relaunch of Linea Rossa tapped into a more general wave of '90s nostalgia, but with major hip-hop figures sporting vintage cuts from the line over the last 10 years, it feels like the perfect time for a reboot with those faces at the forefront. Like a vibrant new chapter in luxe streetwear's rise, the addition of fluorescent colorways in addition to the original monochrome looks suits where Prada and fashion sit today.
Since the relaunch, Kanye West has worn a bright orange Linea Rossa jacket to a Ralph Lauren party during New York Fashion Week, A$AP Rocky wore green and orange Linea Rossa 'fits for a shoot, and Migos stylist Zoe Costello has put the boys in different Linea Rossa hues on tour.
So what's next? Prada's Spring/Summer 2019 collection features slight elements of dandiness, with boisterous floral prints emblazoned on turtlenecks. We've already seen Frank Ocean wear pieces from the collection in his GQ shoot, while Lil Uzi Vert — a proud sartorial risktaker — has the quirkier recent looks locked down.
But whatever does come next, that velvet rope between hip-hop and high fashion brands is long gone. And where Miuccia Prada leads, the hip-hop masses are sure to follow.
To stay up to date with upcoming Highsnobiety drops, please follow the Highsnobiety Shop Instagram and click the button below to sign up for further information.