 Happy Valentine's Day, Snobs.
It goes without saying that we as humans change a lot depending on our environment. Who we're spending time with really determines how we talk, how we act, and of course, how we dress.
I think we're all guilty of going through various fashion phases in our lives, but how much do we actually change our style depending on who we're dating?
So, to really take a look at what I'm calling the "Love Evolution," we're taking a deep dive into ASAP Rocky's various stages – and his love interests along the way.
Roses are red, violets are blue, so let's take a walk down ASAP Rocky's style avenue.
Iggy Azalea
In 2011, ASAP Rocky made his way into the public eye as one of the most exciting young rappers, releasing his debut mixtape appropriately titled "Live. Love. A$AP." It is during this time he is also dating fellow rapper Iggy Azalea – a relationship that we all collectively forgot about.
During this time, Rocky was rocking (see what I did there) what became his signature look: a snapback, grills, and a flannel shirt ideally paired with a hoodie or no shirt at all. This look also made it onto his album cover and was reblogged on Tumblr more times than we can count.
His style featured plenty of Supreme, and he also became good friends with Jeremy Scott and wore a lot of his adidas designs, which would later result in a three-way sneaker collaboration in 2013.
Chanel Iman
After his short but sweet tenure with Iggy, Rocky started dating Chanel Iman in 2013. The two were arguably the most beautiful couple of all time. I mean, a Victoria's Secret angel and a rapper who calls himself "pretty motherfucker" is bound to be a match made in heaven.
During this era, Rocky opted for more tailoring. His hoodies got switched out for fitted blazers and leather jackets, and he put the Saint Laurent Teddy jacket on the map. It quickly became a staple in his wardrobe and became a grail amongst fashion fans worldwide.
Rocky and Iman were together for a few years, and reportedly got engaged in secret during their time together. It is clear that Rocky opted for a more mature look during the relationship, going from bad boy to boyfriend material.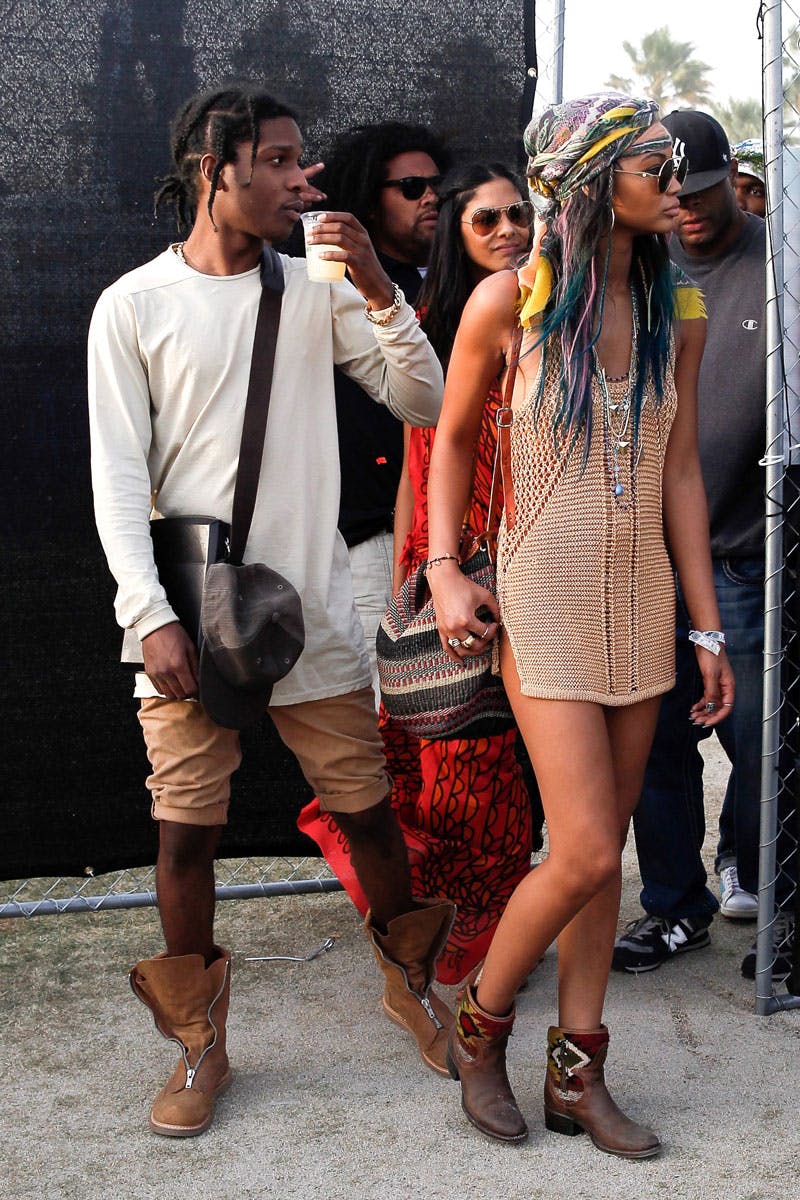 After a few years, the relationship came to an end after the two couldn't make their busy schedules work. It was a sad split, but it gave us plenty of outfit inspo to keep us going until his next relationship.
Kendall Jenner
After cementing his title as a fashion icon, rumours that Rocky was dating Kendall Jenner began flying after the two were spotted partying together in 2016.
At the 2017 Met Gala, their relationship became public after that one iconic bathroom mirror selfie, but didn't last very long.
During this time, Rocky was wearing plenty of Needles shirts, and tailored coats, and ditched his sneakers for sleek derbys. However, the rapper was also frequently spotted in Vans, which would lead to another sneaker collaboration in 2021.
2017 was really Rocky's year when it came to fashion, and after the split with Kendall Jenner, we started seeing the singer experiment with a whole new style.
All of a sudden, we started seeing him throughout the fashion month circuit, pulling up in eye-catching pieces from Gucci, Balenciaga, and more. Who could forget the inflatable puffer vest? The same year was also when luxury had really become synonymous with streetwear, and ASAP Rocky became the poster child for the ever-growing trend.
Of course, this gave us plenty of iconic moments that will go down in fashion history, such as the Raf Simons NY knit photograph, which ultimately led to the song "Please Don't Touch My Raf" being created. Rocky was often seen wearing Simons' Calvin Klein pieces, as well as his eponymous label. Basically, ASAP gave us so many grails, and was all the buzz in streetwear forums and across social media because of his eclectic style.
Rihanna
At Virgil Abloh's Louis Vuitton Menswear Spring/Summer 2018 show, Rihanna and ASAP Rocky sat next to each other in the front row, and the rest is history. Well, not quite, but their style back then foreshadowed what would become the most stylish couple in the world.
In 2019, they walked the British Fashion Awards red carpet together, and Rocky wore a FENTY suit designed by Riri herself. Although they weren't a couple at this point, Rihanna split with her boyfriend Hassan Jameel shortly after, and in 2020, dating rumours began spreading.
Then, Rocky appeared in Fenty Beauty's skincare campaign alongside Lil Nas X, and the two spent Christmas together in Barbados. Still, nothing was confirmed, but we all knew.
During this time, Rocky was experimenting a lot with more "feminine" items such as pearl necklaces and statement jewellery and began rocking a headscarf on the regular. The babushka became synonymous with Rocky, and birthed a whole new trend.
In 2021, their relationship was finally confirmed, and they attended the Met Gala together. There, Rocky wore a quilted blanket designed by ERL (a brand he's been wearing a lot), alongside Riri who wore a Balenciaga Haute Couture gown. However, he took the blanket off and rocked a tuxedo-style suit, letting his girlfriend steal the spotlight.
Since the two began dating, we've been given so many iconic looks, and the two continue to share clothing items and inspire each other to experiment with fashion. In January 2022, the couple revealed that Ri was pregnant with what is undoubtedly the world's flyest kid. The pregnancy reveal was of course, iconic, and Rihanna's pink coat and Chanel jewellery covering her belly will go down in history as one of her most memorable looks. However, Rocky wore a denim Carhartt jacket and some plain leather trousers, opting for a more laid-back look.
This has become a recurring thing in their public appearances. Rocky has toned down his eclectic fashion to let Rihanna take the spotlight – something that he's clearly very happy to do.
During Paris Fashion Week in 2022, a very pregnant Rihanna showed up to the Gucci show alongside Rocky, wearing a metallic headpiece and a big purple fur coat, and the rapper opted for hockey-style gloves and a big Gucci briefcase, paired with a simple black suit.
They've given us so many incredible couples looks over the few years they've been together, and at the 2023 Super Bowl, Rihanna announced that they are pregnant with their second child whilst wearing a custom Loewe outfit, an Alaia jacket, and MM6 x Salomon sneakers. Rocky was of course, in the crowd supporting his baby momma, wearing a leather bomber jacket with her Super Bowl ad stitched onto the back. Being a supportive boyfriend never goes out of style.
So, does finding true love mean that you finally also find your true style? In the case of ASAP Rocky, we'd say so. From fashion killa to one-half of the most iconic power couple today, Rocky's style journey is undoubtedly one for the Highsnobiety Hall of Fame.