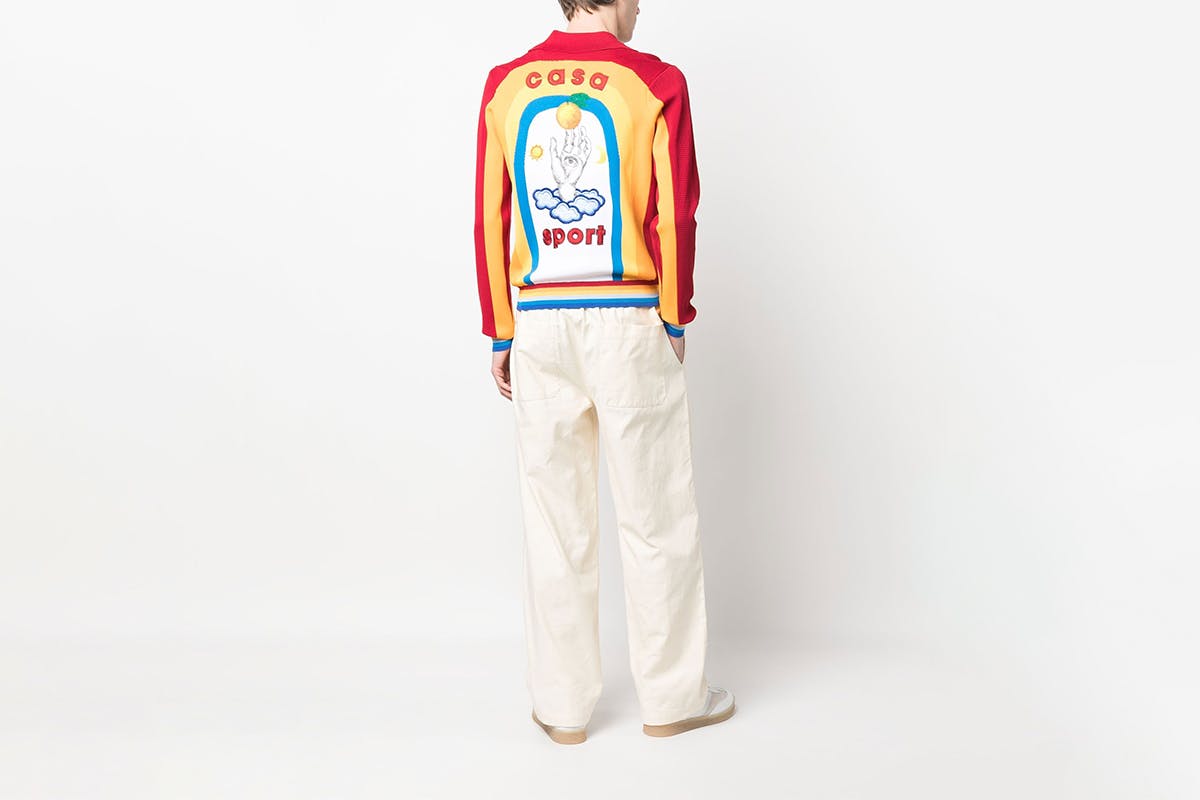 Few pieces of clothing have experienced a glow-up like the track jacket. Beginning life as a purely utilitarian garment in sports, it didn't take long before it infiltrated the world of lifestyle clothing. Once it had settled into the everyday wardrobe, it filtered through into luxury. Essentially, the humble track jacket traversed the hierarchy of clothing in around 50 years.
Nowadays, luxury track jackets are a permanent fixture in high-end collections. From Gucci to Balenciaga, each house has its own idea of what a luxury track jacket should be. If you ask Gucci, it's a vehicle for retro exploration — neutral hues and vintage detailing aplenty. Ask Balenciaga, though, and you'll see that the tracksuit jacket is also the ideal way to make a comment on the space — or lack thereof — between the throwaway and the refined.
That's perhaps what has made luxury track jackets so well-loved. They're a blank slate for expression. They're versatile for the wearer, ideal to throw on when the sun dips behind a cloud, and can be styled with just about everything you throw at them. We're firm believers in the luxury tracksuit jacket, so we rounded up 10 of the best you can shop right now.
Shop 10 of the best luxury track jackets below.
FEAR OF GOD Track Jacket
Kicking it off on a neutral note, Fear of God brings us a timeless essential to our rotation. Home to its muted colorways, this nylon black jacket is the perfect transitional piece to pair with some oversized trousers or your favorite slouchy joggers.
Kapital Jersey Track Jacket
It seems Kapital's Americana references are not only seen in its popular denim craftsmanship but in its track jackets, too. Kiro Hirata adds the brand's iconic playful motifs in classic souvenir style along the arm.
Wales Bonner Kola Track Jacket
Wales Bonner's colorful, '70s-leaning style has taken the fashion world by storm. Breaking away from its playful prints, this track jacket stays anchored in the '70s with its striped ribbed trims and semi-shiny polyester material.
Casablanca Colorblock Track Jacket
Want to incorporate some '70s vibes in your closet? Casablanca is the place to do it. The brand always serves when it comes to tracksuits, and this track jacket is proof. Make this the center of your all-white fit or go all out with fun colorways.
Moncler Zipped Track Jacket
Moncler has been curating the best ski gear for over half a century now, and we are still in awe of it. Its contemporary style is seen in its famous quilted jackets, knit accessories, and on its track jackets, too. This Moncler track jacket has a refined yet also casual cut for you to dress up or down.
Gucci Striped Track Jacket
With Michele's departure from Gucci, the fear of the brand losing its retro aesthetic is all too real. This vintage-looking track jacket feels like it's been taken out of a Gucci store back in the '70s and brought straight to your closet. Spice your outfits up a notch with this old-school gem.
8 Moncler Palm Angels Logo-patch Striped Track Jacket
Palm Angels is no stranger to creating the most iconic tracksuits in the luxury streetwear field. With the help of Moncler, the Italian brand brings the Americana '90s retro vibe to our winter wardrobe with some bold pieces. Opt for this black track jacket to ease the burden of outfit picking.
AFFXWRKS Balance Track Jacket
AFFXWRKS's technical experimentation is always present in each of its designs, and this shell track jacket just confirms it. The jacquard textured material and boxy tailoring prove the menswear label's deep focus on detailing and structure.
VTMNTS Stripe Track Jacket
VTMNTS relaxed fits are instantly recognizable, and this oversized track jacket is no exception. The bungee-style drawstring at the hem is key to giving this piece that loose fit you are searching for.
Kid Super K Track Jacket
KidSuper's childish take on each of its pieces is a playful yet modern touch every wardrobe needs. We see witty graphics and fun colorways in each item. This time, Colm Dillane takes us back to the '80s with a bold cotton track jacket.
Want to keep browsing? Download the Highsnobiety app for all the hottest products and brands from the the Highsnobiety Shop. Highsnobiety has affiliate marketing partnerships, which means we may receive a commission from your purchase.