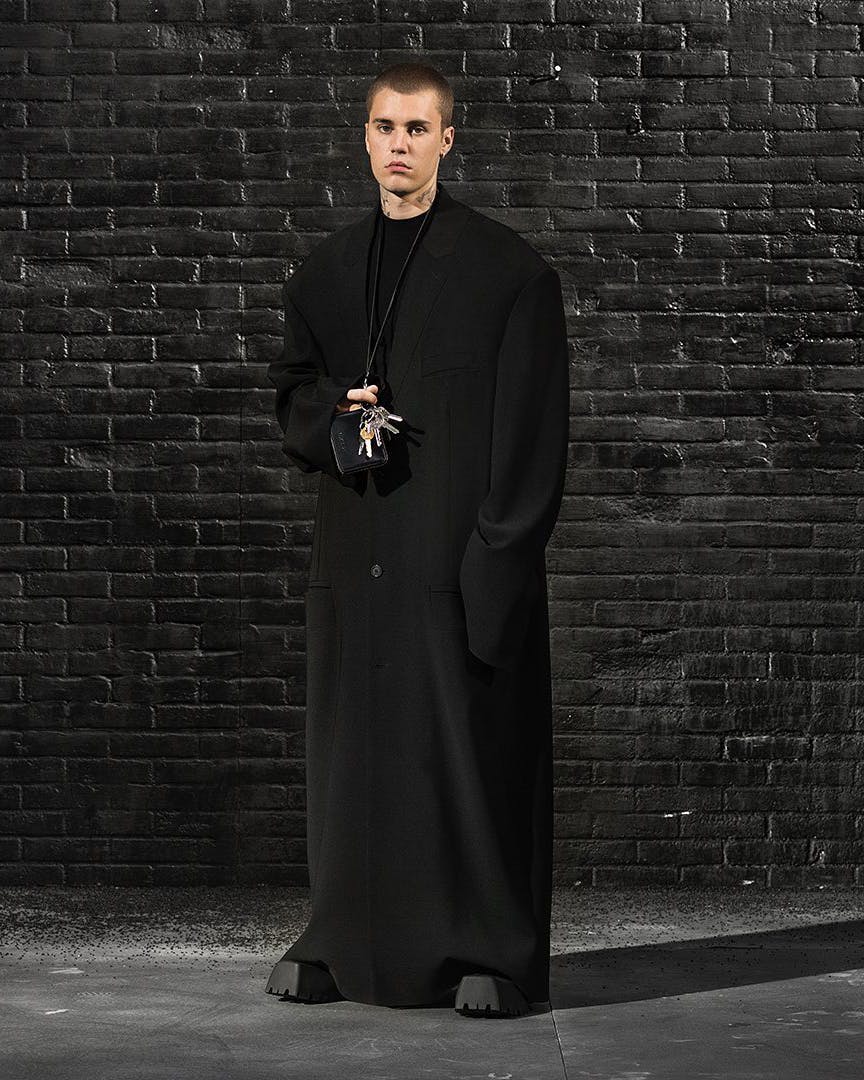 Few celebrities have more uneven style than Justin Bieber. Some days he looks cool, others he's slouching around, and — on rare occasions — he's simply crushing it in Balenciaga. Today is one of those days.
Just like it did this past summer, Balenciaga deleted all of its previous Instagram posts in late November and restarted its feed with a fresh Bieber 'fit to plug some new merch.
This time, Bieber is straight coolin' in Balenciaga's massive, $3,350 "Engineered Coat" from the new "Unisex" collection, affecting a skirt-like silhouette as his massive mantle scrapes the ground.
Bieber's also showcasing the Essential Small Wallet and ultra-chonky Trooper Boots, which you can barely see beneath his coat.
Honestly, I love it.
My fellow editors at Highsnob described Bieber's look as "couture janitor" and "Berghain garderobe troll" and our commenters called it "Uncle Fester" but, personally, I love a man (or, really, anyone) in enormous, shapeless outerwear.
One of my all-time fave Japanese retailers has mastered the style and I've been glad to see Balenciaga bringing big shapes to the forefront of the luxury biz with its recent offerings.
Bieber's blobby look is part of the Spring 2022 Unisex line but it's not like Balenciaga taking a different tact for Summer 2022, down to the beefy footwear.
Balenciaga label or not, unisex clothing is a tricky proposition for most casual consumers.
"Unisex" is a tricky term to apply to clothing design — like genderless garments, unisex apparel must cater to a vast variety of body types.
That's extremely tricky when creating clothing with only a few fit models and attempting to appeal to different tastes and ,thus, unisex apparel is often rather shapeless, sexless, and huge.
These are the shapes that I love, though. I much prefer slouchy shapes to anything that actually reveals the human form — insert Yohji Yamamoto quote about coats — but I am curious how popular Balenciaga's gargantuan layers actually are among its core clientele, who prefer to pair its big windbreakers and hoodies with slim trousers, if Instagram is anything to go off of.
It's one thing to sell clunky sneakers to the masses but it'd be a really neat trick to get everyone shrouded in billowing Balenciaga cloaks.
If anyone can convince people to turn to the jumbo side, though, perhaps it's Bieber.