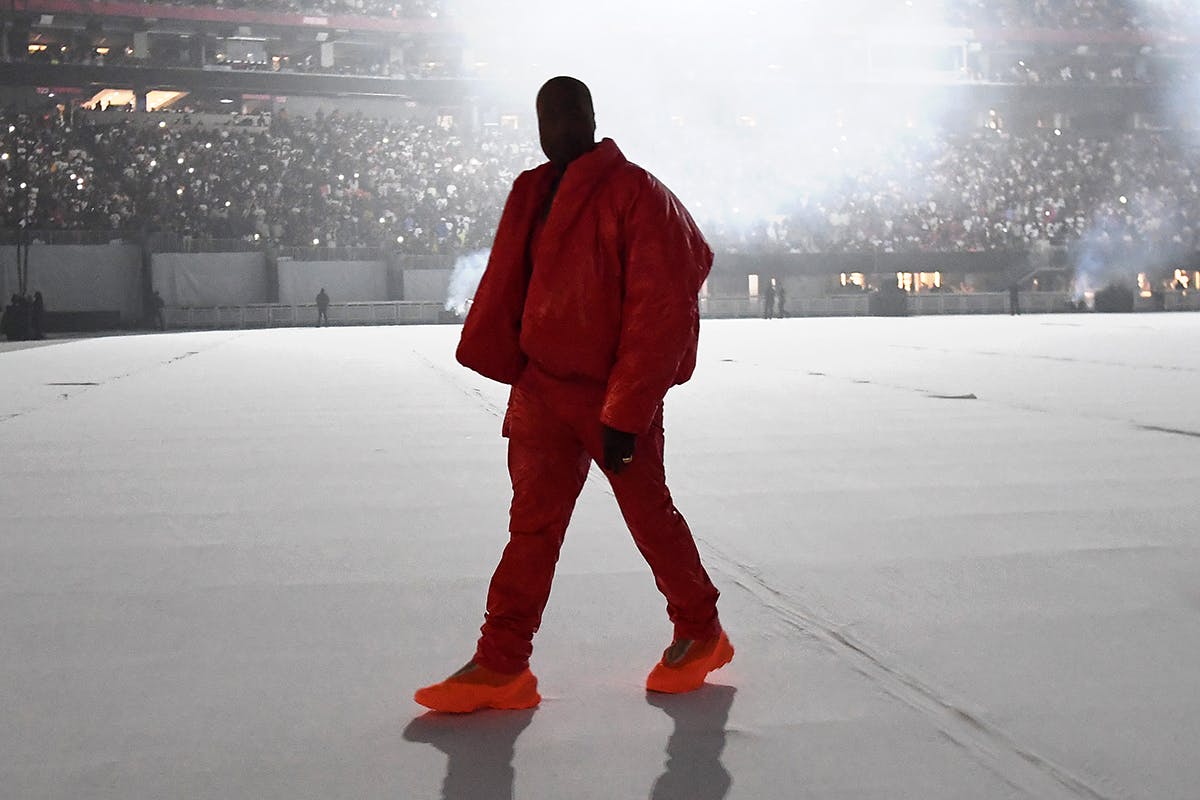 Another day, another Kanye West write-up. I'm as used to the mile-a-minute Kanye coverage as you can get, I think, but weeks like this are a lot to take in. So let's rewind and review what exactly the hell Kanye did for the first week of August, because, even as someone desperately clinging to the cutting edge of Kanye and DONDA-related news, I've already almost forgotten what happened seven days ago.
Sunday, August 1
Kanye's camp confirms another DONDA listening party, coinciding with the rearranged release dates that crawled from late July to early August. Oh, and apparently Kanye had been living in Atlanta's Mercedes-Benz Stadium since the first concert on July 23.
Monday, August 2
YEEZY day. YEEZY SUPPLY, the dedicated space for Kanye's adidas imprint, reissues a selection of retro sneakers that range from muted 700s to earthy Powerphase colorways.
Tuesday, August 3
It's revealed that Balenciaga creative director Demna Gvasalia had a hand in the latest DONDA event, prompting speculation about special merchandise and reflection of 'Ye's recent Balenciaga obsession.
Wednesday, August 4
The calm before the storm, a relatively peaceful breather in between the week's big Yeezy moments.
Thursday, August 5
D-day. And, by that, I mean DONDA day. Kanye kicked off Thursday by live-streaming his bizarre backstage routine, ranging from working out to trying on his spiky Balenciaga outfit to hanging out with Chance.
A new Sha'Carri Richardson Beats ad launched shortly after, debuting a song that had nothing to do with DONDA. Then, Kanye once again took to the stage of the Mercedes-Benz Stadium.
Kim Kardashian wore a Balenciaga gimp mask. New merch was revealed (and resold). A red YEEZY GAP jacket launched. DONDA did not.
Friday, August 6
Kanye hangover. The first YZY SND album debuted. DONDA did not.
Saturday, August 7
iTunes is now showing DONDA with a release date of August 13 while some other sites suggest August 15, despite the various assurances this past week that it would supposedly release on August 5, 6, and then 7. YEEZY SUPPLY has a two-week countdown running. Kanye may still be living in the Mercedes-Benz stadium. And unverified audio leaks of DONDA surfaced on platforms including TikTok.