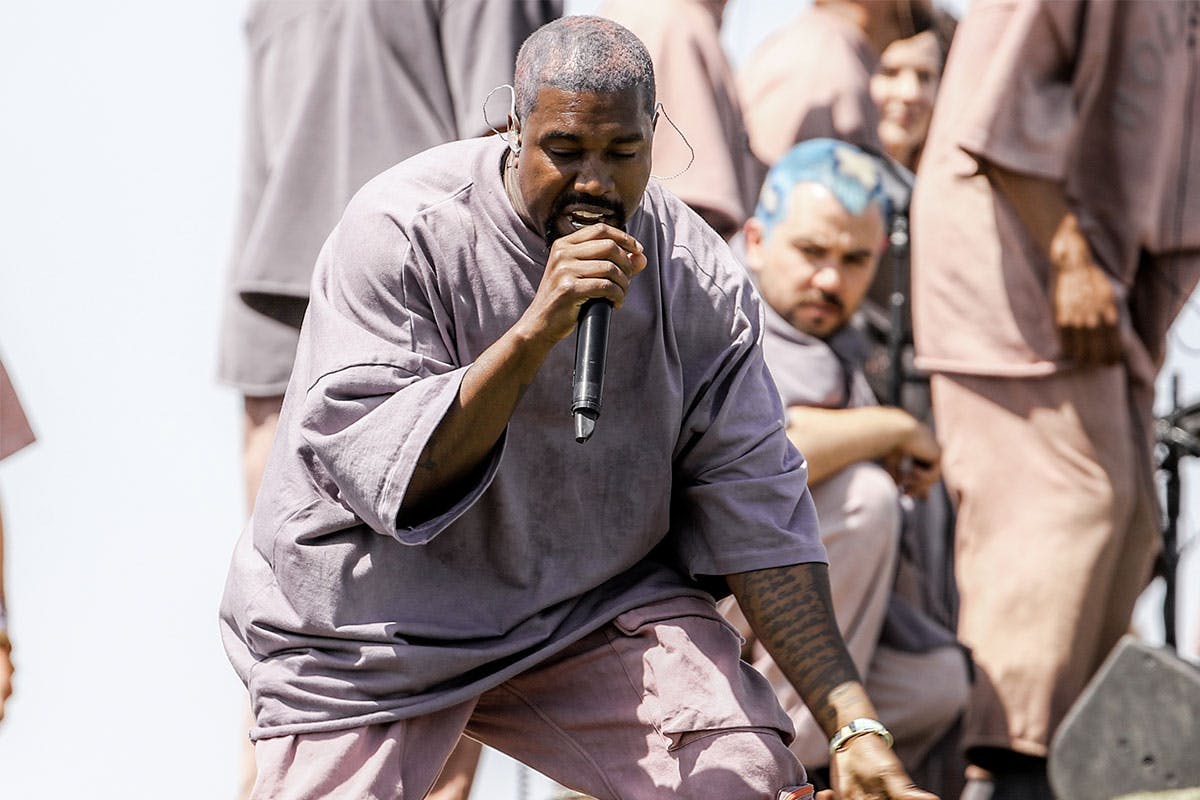 Today, October 25, will supposedly mark the arrival of Kanye West's highly-anticipated new album Jesus Is King. Serving as his ninth studio project, the drop will mark his first album release since moving away from secular music — when it actually arrives, of course.
That isn't to say that Jesus Is King has necessarily gone the way of YANDHI. The arrival, Kanye assures, is imminent, and the delay is down to adding finishing touches to certain tracks. Read the explainer tweet below.
In the absence of an actual album, Ye delivered on fanfare, in the form of listening sessions, Sunday Services and Thursday night's premier of the album's accompanying Nick Knight-directed IMAX documentary. According to the first critic reviews, it looks like the wait might be worth it.
While we keep the prayers up for Jesus Is King here's everything we (think) we know about the album.
'Jesus Is King' release date
Earlier this week, Kanye promised that the project will finally drop today, October 25. At the time of writing, however, we're still waiting.
Of course, we've learned the hard way that West's release dates are by no means binding,
Kanye first revealed the launch date during a Jesus Is King listening event at George Washington University, reportedly telling fans that his long-awaited album would arrive on October 25. While no video of that moment from the event has since surfaced, various attendees confirmed the announcement on twitter.
Before that, Kim Kardashian had originally taken to Instagram to announce a September 27 release date. West later West confirmed his wife's statement. After his September 15 Sunday Service in Atlanta, he flew to a small town in Indiana to introduce an acoustic band called Infinity's Song, and personally announced the date. Watch a clip from the announcement below.
Obviously that date came without an album. Kardashian then posted an Instagram Story stating that Kanye would be holding a listening session on Saturday, September 28 and would drop the album on Sunday, September 29 instead.
The album didn't come on the 29th either, however, this time around fans were dubious about the release date. On October 1 last year, Kim famously tweeted that YANDHI would arrive on Black Friday – November 23, 2018 –  adding "TRUST ME it is worth the wait." For this reason, Kim's tweet about Jesus Is King was met with a mix of hopefulness and suspicious, as well as many, many clown memes.
The 'Jesus is King' tracklist
Jesus Is King will be an 11-track project when it finally arrives. The latest tracklist Kanye posted on October 25 and you can view it above.
Of course, this could still change: Kanye keeps delaying the album's release date while he makes tweaks to the tracks. Last month, for example, Kim Kardashian posted a different version that mostly featured the same songs but in a different order, and with ten songs. The first track list had 12.
While some songs from the original listing remain — namely "Selah" and "Water" — the tracklist is almost completely new. In her Instagram Story, Kardashian shared Kanye was doing "Just a few final tweaks to the mixes" before the (then expected) September drop. The musical genius is well known for making very last-minute changes or even amending his album after it's release, so not sure whether this tracklist will remain as is.
Two songs leaked, with the titles "Simulation Baptize" and "Last Name," although it's unclear if either will appear on the album. The former song, which features A$AP Rocky and Pardison Fontaine, certainly has religious connotations. The latter features Ant Clemons, who previously appeared on "All Mine."
Interestingly Kanye has already played one song from the new album, "Water." He debuted the gospel-inspired track during his Sunday Service at Coachella.
The rest of the tracklist has heavy biblical undertones especially "Follow God," "On God," "Selah," "Use this Gospel," "Sunday," and "Up from the Ashes."
Kanye's 'Jesus is King' merch
While the album hasn't dropped yet, Kanye has unveiled a range of merch that's available to cop now over on his online store. The drop includes tees, longsleeves, hoodies, crewnecks, sweatpants, and hats. Everything lands in two colorways — blue and black — and feature the album title, Ye's name, the record's catalog number or "AR13331A," and "33RPM LP."
What did we learn from the listening sessions
Kanye's Jesus is King: A Kanye West Experience events in Detroit, Chicago and New York gave us our best indication of what to expect from the album.
The following day, West held another listening session in Chicago.
Kanye reveals he will no longer make secular music
At the Chicago listening session, West reportedly told the crowd he was done making secular music. According to a tweet shared by Andrew Barber of Fake Shore Drive, West told the Chicago audience at his Jesus is King listening party that he plans to make "only gospel" music from now on.
In a recent interview with West's pastor, Adam Tyson, it was revealed that the rapper believes he has "been radically saved" and wants "to get that message out to the world."
What's more, it seems Tyson is helping West's gospel music journey. "It's not like I'm writing the song. It's all of his work. He's the complete creator, creative kind of guy. He's the musician," Tyson explains. "I'm just making comments the way I see it [on] how to articulate the gospel more clearly, and how to include the component of worship, which that was his idea."
Read the full story here.
What will 'Jesus is King' sound like?
If YANDHI was going to be the spiritual sequel to Yeezus, then Jesus Is King will be just straight up spirituality. Fans are expecting the album to be gospel-heavy and sound similar to the music Kanye has been playing during his Sunday Services. The biblically-themed tracklist seems to reflect this theory, especially with the inclusion of previously-teased "Water." According to attendees of the "Jesus is King: A Kanye West Experience" West announced that we would only create Gospel from here on out.
The first reviews from the listening sessions reveal that the album is not totally gospel. Samuel J. Robinson from Rolling Stones reported that "there are elements of gospel, just as there are trap drums, ambient flourishes, prominent samples, and verses from the Clipse." He also noted that "this may become the rappers' first clean album — it's still, first and foremost, a Kanye West album."
There has been a lot of uncertainty about which features will make the final cut, even from the artists themselves. Young Thug tweeted at Kanye asking him, "is my verse about the devil still on Jesus ??" It is widely speculated that Young Thug would feature on the track, "On God," however West continues to make alterations to the album, further delaying its release.
According to the most recent version played at the listening sessions, Nicki Minaj is no longer featured, however, Lauryn Hill, as well as Pusha T and his brother, No Malice (reuniting Clipse), made the cut.
What didn't make the cut
Most of the Jesus Is King tracks previously seen on the original tracklist have been cut from the new listing. These are "Up From The Ashes," "Clade," "Garden," "New Body," "Baptized," "Sierra Canyon," "Wake the Dead," "Through the Valley," "LA Monster," and "Sweet Jesus." However, some of these might just have been renamed by 'Ye.
Based on Kim's August 29 tweet, which shows scribblings on the yellow pad of paper, Kanye fans speculate that "Breast Plate of Right" as well as "Kingdom," "Strength," "Lion," "Glory" and "Fire" could be titles that didn't make the cut.
Does the release of 'Jesus is King' mean that 'YANDHI' is canceled?
Unfortunately, the emergence of Jesus Is King most likely means that YANDHI will never be released. The album was plagued with multiple delays, while leaked tracks made their way online. It's hard to tell whether the leaks made Kanye want to give up the album, or if he was just interested in going in a different direction musically.
What about 'Jesus Is King: A Kanye West Film'?
Kanye West has dropped a documentary and companion movie to his upcoming album at his live Experience in Detroit. Jesus Is King: A Kanye West Film is directed by Nick Knight and is set to bring Kanye's famed Sunday Service to life in the Roden Crater, visionary artist James Turrell's never-before-seen installation in Arizona's Painted Desert.
Shows start on October 25, tickets are available to purchase on IMAX's promotional website.